Invest in Your Future with Our Top-Rated Cyber Security Course
May 23, 2023
2023-06-22 18:16
Invest in Your Future with Our Top-Rated Cyber Security Course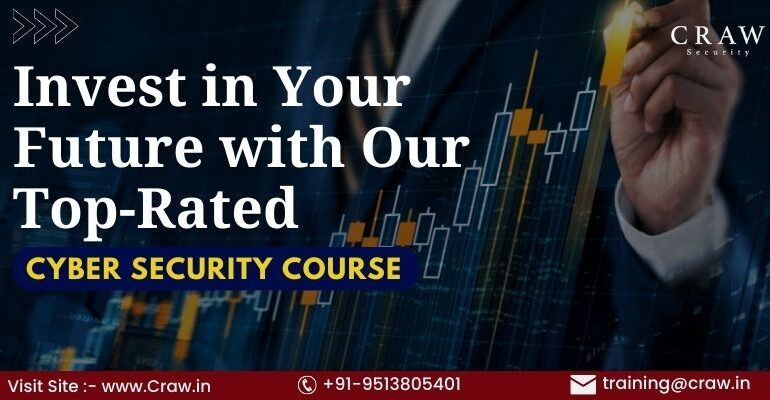 Invest in Your Future with Our Top-Rated Cyber Security Course
Craw Security is offering cyber security courses for IT Students who want to enhance their knowledge and skills in the cyber security domain with the guidance of professionals to start their career in the IT Sector. A lot of students have already registered for this course, as it is considered to be one of the best courses for cyber security. Now, which one of the courses are we talking about? We are talking about the 1 Year Diploma Course in Cyber Security Training in Delhi. You might have a lot of questions about it. Let's find out the answers to that.
Why Our Cyber Security Course Stands Out?
Because of the various reasons are as follows.
Comprehensive Curriculum
We have designed the 1 Year Diploma Course in Cyber Security Training in Delhi with the support of well-qualified trainers that have experience years in the IT Industry while providing cyber security solutions. Thus, it covers a wide range of topics in it that a professional will use.
Experienced Instructors
Craw Security has a team of experienced trainers in the field of cyber security. This one doesn't have to worry about their goals and timing.
Hands-On Learning
We offer virtual labs to the students so that they can practice their skills on the dummy machines to improve their knowledge practically.
Cutting-Edge Resources
We offer a wide range of resources to support the learner's journey in a new career path who wants to enhance their knowledge & skills in cyber security, such as – Ebook, cyber security tools, and many more.
Industry-Recognized Certification
After completing our certification one will be able to apply for various job profiles in MNCs according to their nature of work. That's because our certifications are valid in several MNCs around the world.
What You'll Learn?
One will be able to cover following topic in our 1 Year Diploma Course in Cyber Security Training in Delhi offered by Craw Security.
S.No.
Topics
Define
1.
Network Security Fundamentals
One will be able to gain fundamental concept knowledge related to networking, such as

●        Firewalls,

●        Intrusion Detection Systems, and

●        VPNs.

2.
Ethical Hacking Techniques
One will be able to learn ethical hacking skills to recognize loopholes and prevent unauthorized access.
3.
Threat Intelligence
One will be able to get the threat details beforehand to mitigate it before it executes any issue for tasks.
4.
Cryptography
Learning cryptography will be possible for practitioners to secure data confidentiality and integrity.
5.
Incident Response and Management
One will be able to prepare a better cyber incident response plan.
Invest in Your Future with Our Top-Rated Cyber Security Course
It's the best opportunity for students who want to start a career in cyber security with training and certification. Our Top-Rated Cyber Security Course is specially designed for that thing to accomplish. However, down below are some reasons why one should join this course.
Lucrative Career Opportunities: A lot of people are joining such courses because of the rapidly rising demand for cybersecurity professionals who will provide firms with security solutions to improve their security measures. Thus, one will have a huge opportunity to join the sector as a certified professional.
Job Security: Moreover, as cyberattacks rise day by day, someone is needed in the organizations to deal with them. Only cyber security professionals will have the guts to do that. Then there's no need to back off if you have decided to start your career in cyber security. This course is the best option for you to learn such skills to become one of the professional.
Constant Learning and Growth: In this domain, every year, something changes, and that is the technique and the tools used to provide security against online threats causing disruption in offering services to the users. That means, here, one will need to have the attitude to continue constant learning and growth.
Making a Difference: With the huge demand for cyber security at various levels of departments in a firm, the firm needs more proactive security professionals with quick reflexes in solving issues. Moreover, the government is promoting such professionals to enhance the security of people's privacy.
Frequently Asked Questions (FAQs)
How long is the Cyber Security Course?
It depends on which institution you come into contact with. If you get in contact with Craw Security, you will be able to complete the 1 Year Diploma Course in Cyber Security Training in around 1 year approximately within the guidance of well-qualified trainers working in the IT Industry for years. What are you waiting for? Contact, Now!
What are the prerequisites for enrolling in the course?
Well, you can join the 1 Year Diploma Course in Cyber Security Training offered by Craw Security without any technical background if you want to. However, having the following skills will let you have the best experience in training sessions.
Basic Computer Literacy,
Networking Knowledge,
Programming Skills,
Operating System Knowledge,
Security Fundamentals,
Mathematics & Logic, and
Analytical & Problem-Solving Skills.
Will I receive any support during the course?
Definitely, if you get in contact with Craw Security, you can get much support from the institute in the form of the best trainers, resources, and subject materials. Moreover, you will get the best learning experience in the best learning environment. Thus, you should contact us asap.
Is the course suitable for beginners with no prior cybersecurity knowledge?
The 1 Year Diploma Course in Cyber Security Training is specially designed to train students from basic to advanced. Thus, a beginner can join this course without a second doubt if you want to learn fundamental cyber security concepts.
What career opportunities can I pursue after completing the course?
Following are the career opportunities you can pursue after completing a cyber security course.
Cyber Security Analyst,
Ethical Hacker/ Penetration Tester,
Security Consultant,
Security Architect,
Incident Responder,
Security Engineer,
Cryptographer,
Security Manager,
Forensic Analyst, and
Security Researcher.
Can I work remotely in the cybersecurity field?
Of course, one can get the opportunity to work remotely in the field of cyber security. Several firms promote remote work for cyber security professionals because of the nature and need for flexibility in maintaining security measures.