CompTIA Training Course in Delhi
January 13, 2022
2023-02-24 12:31
CompTIA Training Course in Delhi
CompTIA Certification Courses in India
A huge number of organizations hailing from diverse niches and trades are looking out for world-class tech professionals having good expertise and experience in varied cybersecurity technologies.  In addition to this, many internationally recognized IT Security supergiants are offering their primetime training and certifications for interested candidates.
Book a FREE Trial Class
Training Available 24*7 Call at +91 9513805401
Firstly, to fulfill the high demand for skilled IT experts in several enterprises to lead digital organizational transformation and complete intricate market demands, CompTIA – a renowned cybersecurity certification provider, has come forth and offered many proactive pieces of training and certifications.  As a result, Craw Security – the best CompTIA A+ Training Institute in India and among all other CompTIA Courses.
Moreover, CompTIA Technologies has emerged as one of the leading cyber security training providers for several training and certification programs for IT professionals from several backgrounds.  In addition, CompTIA is one such platform that offers its certification training courses for almost every eligible IT professional throughout the spectrum to choose one's wishful course.
In this pattern, some of the primarily famous CompTIA Certifications are CompTIA A+, CompTIA Network +, CompTIA Security +, CompTIA Server +, CompTIA Advanced Security Practitioner (CASP), and more.
Craw Security a CompTIA Authorized Partner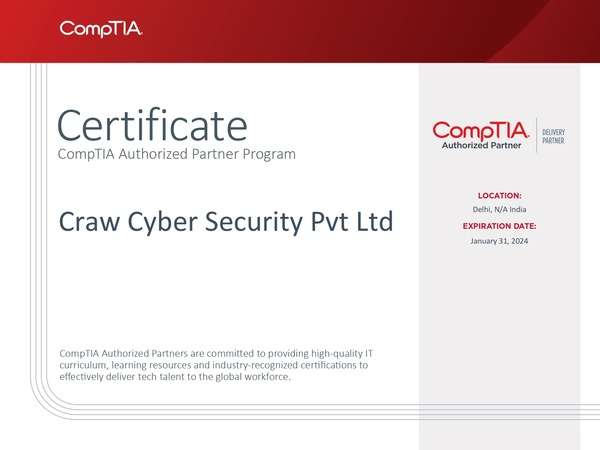 CompTIA offers a range of professional certification and training courses in India. These include CompTIA A+, CompTIA Network+, CompTIA Security+, CompTIA CySA+, CompTIA Pentest+ and CompTIA CASP+. These courses provide industry-recognized certifications to help IT professionals gain the skills and knowledge needed to excel in their field. They also provide an excellent foundation for those seeking to start a career in IT. CompTIA training and certification courses are designed to help professionals stay ahead of the competition and become highly proficient in their chosen field.
In the league of offering CompTIA A+ Training Course in India, Craw Security – the best cyber security training institute in India, offers world-class CompTIA A+ Certification Training Courses under the knowledge umbrella of high-time CompTIA A+ Certification training instructors and mentors.
Most importantly, Craw Security provides this globally recognized CompTIA A+ Certification in the online version through the same category mentorship that we offer in our offline batches at Saket and Laxmi Nagar locations in New Delhi.  Hence, the Online CompTIA A+ Training Course is genuinely facilitated by the same training instructors having many years of authentic experience in transforming their learners with the best of their cyber security knowledge and skills.

The baseline of networking fundamentals from the bag of CompTIA Certification Courses is known as CompTIA Network+ Certification, offered by highly trained and excelled networking professionals as trainers and mentors having several years of world-class experience in training individuals with the best of their knowledge and exclusive self-evolved methodologies.

The CompTIA Security+ Certification is one of the crucial certifications offered by the house of CompTIA Technologies.  A person willing to go into the trade of cyber security can opt for this world-class course of CompTIA Security+ as this high-end cyber security course will provide you with long-lasting cyber security education that a person requires to initiate an outstanding career in the field of ethical hacking and cyber security.

It is the advanced course in CompTIA Certification Courses, highly known by the name of CompTIA CySA+ Certification, that imparts quality cyber security education for all the interested professionals having a decent knowledge and understanding of the varied functionalities of cyber security in some reputed organizations for at least 4 to 5 years.  A person who wishes to update one's career to the optimum level can opt for this CompTIA CySA+ Certification course under the guidance of world-renowned training instructors having many years of authentic training experience.

A same-level course of CompTIA CySA+ Certification delivered for the working professionals of cyber security domain willing to make their careers into the domain of penetration testing.  Hence, this CompTIA PenTest+ Certification undoubtedly establishes a high working difference in a learner's life by updating one's career into the prominent direction of the penetration testing domain.
Moreover, with the help of world-class training instructors at Craw Security, one can be rest assured that the courses offered through the facilities of Craw Security will be remarkable and valuable throughout the world for a sound pentesting career in any reputed organization all over the planet.

It is considered to be the final course in the series of CompTIA Certification Courses that sincerely make a learner a worthwhile cyber security professional.  One can learn this high-time CompTIA CASP+ Certification Course in the final stage of one's learning journey toward becoming a great cyber security expert to functionalize varied cybersecurity operations in any organization.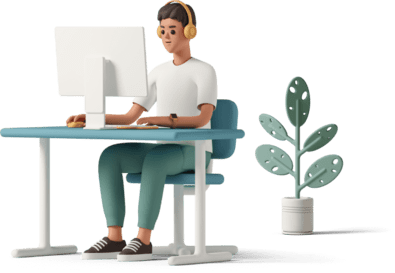 On a basic line, CompTIA Technology is one of the primetime cyber security certification providers throughout the world.  A person can sincerely opt for its world-class training and certification courses that come with a lot of value as well as at a much nominal cost so that every household kid can afford it, hailing from any particular financial background.  In this regard, Craw Security plays a pivotal role in providing its courses at pretty reasonable prices by being its accredited training partner.
Benefits of CompTIA Certification Courses
As a professional, be the highest chosen priority for distinguished recruiters choosing CompTIA as their preferred learning organization on which they rely.
CompTIA Courses will help in getting kickstart your career in the diverse trades of cyber security in almost any part of the world as the courses of CompTIA Certifications are highly credible to land a job for an excelled candidate.
Get a better pay scale in comparison to the non-certificate holders in your working organization and use the same money to enhance your work-life balance.
These CompTIA Training and Certification Courses are highly pocket-friendly. They are even cheaper than your computer science college degree.
These CompTIA Courses will also help you in upskilling your current knowledge parameters.
Be an esteemed part of the CompTIA Certified Professionals Community, which is more than 1 million at the current time.
The CompTIA Course Training and Certifications are highly updated as per the latest trends and technologies in the market globally.
Who can take up CompTIA Training?
There are several profiles in the wild that can genuinely adopt CompTIA Course Training and Certification to become a knowledgeable person in the cyber security field.  Some of the main designations that can choose CompTIA Course Training and Certification are as follows:
Networking Professionals
System Administrators
Security Analysts
Security Engineers
IT Security Administrators
Information Security Analysts
IT Managers
Security Consultants
CIOs
Aspiring IT/Information Security Professionals.
Professionals who want to significantly pass their respective CompTIA Certification exams.
CompTIA Courses from Craw Security

We offer customized VILT (Virtual Instructor-Led Training) sessions at your convenient hours to provide effortless training.

One can also opt for the prerecorded video sessions available at any point of time from any particular location.

Hire a preferred trainer at your work premises at your chosen time slots and train your employees with full efficiency.
Upcoming CompTIA Training Batches
Join our Latest Upcoming Batches in CompTIA Courses
CompTIA Courses from Craw
Since Craw Security is one of the accredited training providers of CompTIA Technologies, a learner will experience the best possible methods described by CompTIA on its official website. There is a huge spectrum of highly recognized CompTIA Certification and Training Courses throughout all the categories. To study from the best-in-class training instructors having high expertise and excellence in offering primetime CompTIA Courses to all learners.
Our Students Are Our Strength
See What They Say About Us
Craw cyber security provided best faculty.I enrolled for ethical Hacking course and i found it very helpful. Great experience. They provide a lot of content and focus on practical knowledge. The faculty is best. I would like to thank Craw Security for such a amazing learning experience.

A very good institute to do cyber security course because the trainers are very experienced and also Fahad sir who is always ready to help us. Learning Tools and environment is very good to study and staff is also very polite, I really enjoyed doing cyber security course from here and now I have very good skills in cyber security. Thanks Craw Security.

Lucifer Nation
Google review
Very nice and good place to do and learn courses like coding, cyber forensics, cyber security, white hat and many more.. I am a student here. Staff is so helpful. Teachers are helpful. If you don't understand any topic, extra classes and class recordings are provided to you. Loved this place

Amanjeet Singh
Google review
This institute delivers good knowledge to the students. You should must enrol the course, if you want to get into cybersecurity domain. I enrolled for CEHv12 Certification course. I would also like to thank my counsellor Sakshi Ma'am, who helped me a lot throughout my entire course curriculum. Thank you Craw Security
Anubhav Verma
Google review
Great place to learn skills and gaining knowledge in the field of Digital Forensic and Cyber Security. I highly recommend to all students who completed graduation or Diploma in the field of cyber security and looking for a place to gain practical knowledge or skills, visit once at Craw Security.

best place to learn cyber security. I completed my ethical hacking training From craw security. staff is excellent to super supportive Am lucky so i invested my money at craw security.

Arpita Kumar
Google review
It was a great experience to learn from Craw Security Institute. The course and content of Cyber security and Its 12 Domains was excellent. It will really help me in day to day life.

Himanshu Singh
Google review
I have been associated with this institute for a while and am impressed with the focus shown on training and students careers here and management curriculum is a great to start a career in cyber security. I had a great experience

Krishna Chaithanya
Google review
I'm a student from Bangalore. Who was seeking for an carrier in cyber security, craw helped me to reach higher potential and personally I met a coordinator named 'Preety' helped me to go through the journey and she was there along the way to success. I thank craw and my coordinator for supporting me all the way .

A very good institute to do cyber security course because the trainers are very experienced and also Mohit sir who is always ready to help us. Learning Tools and environment is very good to study and staff is also very polite, I really enjoyed doing cyber security course from here and now I have very good skills in cyber security. Thanks Craw Security.

Best place to learn about cyber security, and all teachers are supportive & talking about counsellor Harpareet mam way of talking is excellent she manage all the requirements which i need for learning.

Pankaj Singh Bisht
Google review
I'm doing CEH from craw security. This is best institute to learn cyber security. Teachers and staff (especially Damini Mam) are very friendly, supportive and always happy to help you. Each topics are explained from basics to advance. I recommend this for beginners who wants to go in cyber security field.

I have joined craw security for cyber security course and i must say this the best institute ever for doing courses. Linux course is also amazing the way teacher took classes is also amazing. If we have any doubt sir always clear our doubts.

Frequently Asked Questions
About CompTIA Course in Delhi