CompTIA A Plus Training Course in Delhi
June 15, 2021
2022-11-29 17:34
CompTIA A Plus Training Course in Delhi

Learn CompTIA A Plus Training Course in Delhi
CompTIA A+ Training Course can be a good career option if you're into IT and Cyber Security things. What's so special about this course? You'll need CompTIA A+ Certificate to advance your career in the IT industry. In the IT field, there are several career-based courses available. Information & technology are advancing rapidly. Cyber Security skills are needed to fight against Cybercriminals. You just need to focus on which part you want to work on and grow. Ultimately, you'll be a professional and be selected for a respected designation in MNCs.
Created by : Craw Cyber Security
Course Include: Training & Certificate
Accreditation with : CompTIA
Book a FREE Trial Class
Training Available 24*7 Call at +91 9513805401
CompTIA A Plus Training and Certification Course in Delhi
You'll represent as an entry-level IT technician if you get this certification. That's because it has all the things you need to serve companies of IT. To do that, it will introduce you to the various parts of the IT sector.
Those areas include:-
● Information Security
● Network Administrator
● Computer Repair
● Software Operating Systems
● Troubleshooting of mobile devices as well as desktops and laptops.
Surprisingly, there are no prerequisites for this course, other than that, it is globally accepted. Moreover, most firms trust this certification around the world.
SKILL YOU WILL DEVELOP | CompTIA A+ Certification Training Course
To start a career in the IT sector, CompTIA A+ Certification is one of the best choices anyone can make. Identifying security breaches, spotting origins, and escalating threats will be faster & easy.
CompTIA A+ certification: Obtaining Core Networking Skills
To support, and manage modern computing infrastructures, virtualization & cloud computing abilities will help. In this, you'll help people using Bluetooth with their mobile devices to remotely wipe and troubleshoot, when things go wrong. A+ will help you out with every aspect of an IT Eco System.
Before things got worse, you'll be able to test theories, identify issues, and fix them, with troubleshooting skills. It will conserve the working IT environment. To turn you into a professional in the IT industry, CompTIA A+ can load you with the right technical skills, and problem-solving abilities.

BENEFITS OF CompTIA A+ Certification
● Better Career Options
● Increased Salary
● Validating Your Skills
● Boosting Your Ability And Confident Levels

CAREER OPTION for CompTIA A+ certified students INCLUDES
● PC Technician
● Field Service
● Help-Desk Technician
● Self-Employment
● And Many More
To increase the productivity and profits of the firms, IT firms are looking for A+ certified technicians. That will help in serving the clients better, and faster. The earnings of an A+ certified candidate are more than an uncertified employee. You can assume the difference between both can be 15%

CompTIA A+ certification Exam Information
Which covers
The exam is categorized into two parts
CompTIA A+ 22901
● PC peripherals and hardware
● Networking and troubleshooting
● Mobile device hardware and network connectivity issues
The passing score is 675 on a scale of 900.
CompTIA A+ 22902
This covers
● Configuration and installation of operating system including:
○ IOS
○ Windows
○ Linux
○ Android, etc.
● The passing score is 700 on a scale of 900.

CompTIA A+ Syllabus
CompTIA A+ certification exam objectives 220-901
Goals of the A+ 220-901 series examination is to enhance your knowledge, and skills in the essential areas of the IT industry. That includes:
● Hardware
● Networking
● Mobile Devices
● hardware and network troubleshooting.

CompTIA A+ certification exam objectives 220-902
● The domains covered in this exam include:
● Windows operating systems
● Other operating systems and technologies
● Security
● Software troubleshooting
● Operational procedures
Established Tech companies can give you the chance to join training programs based on A+ certification. Some of them are – HP and Microsoft. This certification is on par with having 500 hours of practical experience. This will boost your credibility to perform on the job.
CompTIA A+ Certification Training Course can help students to recognize their worth as tech experts. For this course, you can join any institute that is providing training for it. If you're keen to join this course as soon as possible but you can only join for this course in Delhi, that's also possible. Well, there are several Institutes for CompTIA A+ Training in Delhi, if you want to enroll in this course. But the best provider for CompTIA A+ Training Course in Delhi is the one and only Craw Security Private Limited.
Craw also provides Online CompTIA A+ Training Course for students. Here you can get CompTIA Course Training And Certification with the best-qualified teachers. After completing CompTIA Security+ Certification you can join MNCs because it's government-approved.

Show More

∨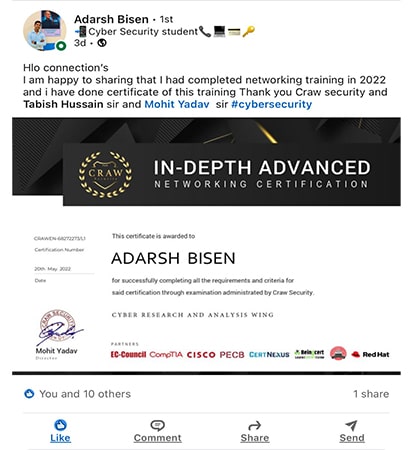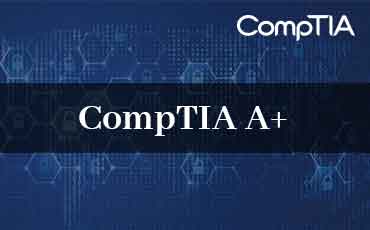 Register Now Before Registration Closed
& Grab Eccouncil CPENT Course Benefits
CompTIA A Plus Training Course
Content For CompTIA A Plus Course
| Name | Testimonial | Review |
| --- | --- | --- |
| Kirti Mittal | Best place for Ethical hacking training very professional staff I taken online classes best experience guys try once you will love it thank to . | |
| Charles Peterson | I based in Canada took online training for CEH V11 Ethical hacking from this Institute. I am truly happy to choose this Institute and also want to appreciate this institute qualified trainers best management. | |
| Romonia Peterson | Best Institute in Delhi that provides the best Ethical hacking Course. I learnt many skills from here under the guidance of Sidharth Sir who have been very helpul and supportive. | |
| Natasha | Best training for CEH Ethical hacking. I learned a lot of practical knowledge in Ethical hacking , worth for money totally satisfied with training. Highly recommended to others students. | |
Frequently Asked Questions
About CompTIA A Plus – CompTIA A Plus Course in Delhi
Is CompTIA A+ worth IT 2022?
Definitely! Everyone knows that information and technology are the biggest assets anyone can have. Also, the responsibility to take care of them is bigger than you can imagine. CompTIA A+ is a certification that can provide you with amazing cybersecurity skills for better career options. In 2022, if you have this certification, you'll be able to get several job letters from different companies.
Can I study for CompTIA A+ on my own?
Yes, you can study. But understanding the whole structure without professional guidance can be wasted. Your time, money, and resources can go in vain. So, at least search for a tutor and make it official.
Does CompTIA Security+ expire?
They expire 3 years later from the day you get them. But nothing to fear about, they can be renewed. No need to take re-exams.
Is CompTIA A+ worth IT in India?
Indian people are competitive and thinking about upgrading their skills & techniques. So, CompTIA A+ can be a chance for them to grow their abilities on a level up from the basic ones.
Can CompTIA A+ get you a job?
Getting a job is not a problem here. Cyber Security Aspirants get jobs from several companies after accomplishing certification training. 
Is A+ certification necessary?
Those who want to work on their skills and upgrade to the next level can take this thing seriously. This certification can get you many benefits that can't be explained one by one. You'll see once you get enrolled and start to learn about it.
Is CompTIA A+ multiple choice?
These exams include a combination of multiple-choice questions, drag-and-drop activities, and performance-based items. Such questions are single and multiple responses.