Certified Penetration Testing Course in Delhi | CPENT Training
June 12, 2021
2022-11-15 15:52
Certified Penetration Testing Course in Delhi | CPENT Training

EC-Council Certified Penetration Testing Course in Delhi | CPENT Training
Learn the valuable Eccouncil Certified Penetration Testing Course in Delhi from the most versatile teachers in the town which can take your learning experience to some new horizons where you can understand all the basic facts related to CPENT Training. A Certified Penetration Testing Professional (CPENT) is someone who can literally check all the loopholes in the shape of vulnerabilities and threats by running a series of cyberattacks on a preferred IT network with the intention of a potential hacker and securing the insights for fixing.
Created by : Craw Cyber Security
Course Include: Training & Certificatation
Accreditation with : EC - Council
Book a FREE Trial Class
Training Available 24*7 Call at +91 9513805401
What will you learn in Eccouncil Certified Penetration Testing Course in Delhi?
The widely famous EC Council CPENT Training and Certification in Delhi educates you on how to carry out an efficient penetration test in an organization's network ecosystem that must be attacked, exploited, evaded, and defended in order to test all of its vulnerabilities and threats for confirming a safer cyber environment. Eccouncil Certified Penetration Testing Course in Delhi which is widely known as the CPENT Training Program is all about assisting you to hone your Penetration Testing skills at an optimum level by putting them altogether to use on our live cyber ranges.
CPENT Training and Certification Course
The prime ranges of CPENT Training Course were basically designed to be dynamic to provide one a real-time Certified Penetration Tester Training Program. Thus, just as targets and technology gradually keep to be in a change in live networks, both of the Eccouncil Certified Penetration Testing Course practice sessions and exam ranges will imitate this reality as our expert engineering team keep on to submit more targets and defenses across the EC Council CPENT Training's lifespan.

One can literally learn the Best Eccouncil Certified Penetration Testing Course in Delhi that can leave a long-lasting experience in your life and will be very fruitful for a shinier career ahead in the concerned field.


Certified Penetration Tester Certification Cost
Craw Cyber Security Institution provides its best-in-class CPENT Certification Training Classes from the house of EC-Council Inc. with the magnificent Certified Ethical Hacker Pen Testing techniques briefly described among the vast curriculum duly verified from the reputed EC-Council.

This splendid CPENT EC Council curriculum is nicely available at cost-efficient prices that comprise both Training and Certification in our instructor-led interactive classroom sessions at our Saket and Laxmi Nagar branches which are two of the best educational hubs of Delhi NCR.

Anyone who is hailing from the financially backward and deprived category can also do this magnificent Eccouncil Certified Penetration Testing Course in Delhi by getting some financial assistance from Craw Security. In addition, Craw Security also provides some form of financial aid and support to our financially challenged and backward students. One can contact our helpdesk at our toll-free number at +91-9513805401 for applying for financial assistance in the CPENT Training Course.


Penetration Testing Certification for Beginners
We, at Craw Cyber Security Institution, offer fundamental training on Penetration Testing Certification for Beginners that help the newbies in the genre to grow and thrive with the best of their potential during their tenure at CPENT Training Course as well as in their future on-board jobs. However, with support from our beloved understudies and alumni network, we have achieved a spot in Top Penetration Testing Certification 2022 by continue to maintain our decorum of providing a "100% satisfaction" rate among students.


Certified Penetration Tester Salary
Craw Security provides the best-accredited Penetration Testing course in Delhi that offers in-depth Penetration Testing skills on a practical approach on live projects that help aspirants gain professional skills. The institute offers practical and career-based CPENT Certification Training Classes to help students find their dream job at various MNCs.

Students are given the opportunity to gain practical experience of participating in real-time Penetration Testing projects, and at last, they are given a "100% Placement Assistance" from Craw Security. The blended EC Council CPENT Training operates on a mix of practical learning and theoretical concepts to help and support the understudies in a better manner. This type of comprehensive behavioral training with good exposure facilitates the complete transition of the student into an EC-Council Certified Penetration Testing Professional (CPENT).


What will you Learn in Certified Penetration Testing Course in Delhi | CPENT Training?
EC-Council's Certified Penetration Testing Course in Delhi | CPENT Training teaches you how to perform an effective penetration test in an enterprise network environment that must be attacked, exploited, evaded, and defended.

If you have only been working in flat networks, the Certified Penetration Testing Course in Delhi live practice range will teach you to take your skills to the next level by teaching you how to pen test IoT systems, OT systems, how to write your own exploits, build your own tools, conduct advanced binaries exploitation, double pivot to access hidden networks, and also customize scripts/exploits to get into the innermost segments of the network.

Craw Security through its highly dedicated institutions at Saket and Laxmi Nagar locations can genuinely provide the best-in-class Eccouncil Certified Penetration Testing Course in Delhi with the world-class teaching faculties and mentors group through verified interactive live classroom sessions.


Show More

∨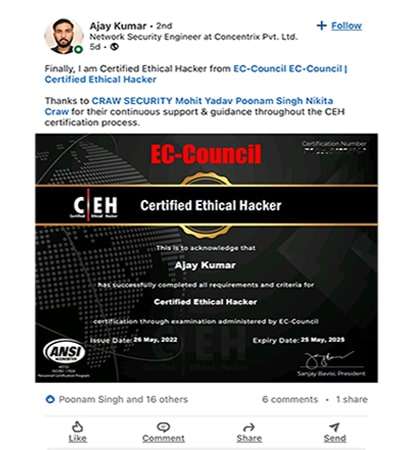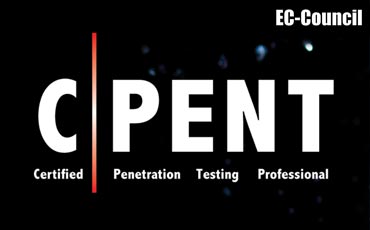 Register Now Before Registration Closed
& Grab Eccouncil CPENT Course Benefits
Certified Penetration Testing Course
Certified Penetration Tester Training Course
Content for Certified Penetration Testing Course in Delhi
| Name | Testimonial | Review |
| --- | --- | --- |
| Kirti Mittal | Best place for Ethical hacking training very professional staff I taken online classes best experience guys try once you will love it thank to . | |
| Charles Peterson | I based in Canada took online training for CEH V11 Ethical hacking from this Institute. I am truly happy to choose this Institute and also want to appreciate this institute qualified trainers best management. | |
| Romonia Peterson | Best Institute in Delhi that provides the best Ethical hacking Course. I learnt many skills from here under the guidance of Sidharth Sir who have been very helpul and supportive. | |
| Natasha | Best training for CEH Ethical hacking. I learned a lot of practical knowledge in Ethical hacking , worth for money totally satisfied with training. Highly recommended to others students. | |
Frequently Asked Questions
About Eccouncil CPENT Training and Certification – CPENT Training and Certification Course in Delhi
Which certification is best for penetration testing?
There are various Penetration Testing Certifications and Training duly available for the aspirants who
want to build a shinier career in this trajectory but most of them do not possess the right kind of study
material in their respective content. However, Eccouncil Certified Penetration Testing Course in
Delhi from Craw Secruity at Saket and Laxmi Nagar locations in Delhi provides all essential information
in their duly verified curriculum during their instructor-led interactive class sessions.
Do you need a degree to be a penetration tester?
There is no such provision is there that one should hold a suitable Graduation or Post Graduation in a related field for becoming a good and sound Penetration Testing Professional. But if you possess some sort of undergraduate or post-graduate degree in Computer Science/ Cyber Security/ Information Security or any other related field then it will benefit you till last. You will be amazed to know that many penetration testers find their roles in weird ways, some don't even have a degree in any related field to the domain
Is CompTIA PenTest+ hard?
Certainly, CompTIA PenTest+ is a much more complicated course for a person with an average brain. It is considered one of the most difficult exams, even to those people who are quite experienced in these VAPT techniques.
How is penetration testing done?
Penetration Testing is a process in which a Pen Tester performs a series of cyberattacks on a preferred computer network and Internet of Things in order to find any vulnerabilities and threats and document them for showing them to the concerned authorities for the fixation. These so-called cyber attacks include cross-site scripting, SQL injection attacks, and backdoors, to name a few of the target's vulnerabilities.
CPENT is a training and certification course that is duly accredited by the house of EC-Council Inc. There is a provision of a fully online, remotely supervised practical exam that challenges the individuals via a hard 24-hour performance-based, hands-on evaluation exam. Broken into 2 practical sections of 12-hour each, this CPENT Exam will testify the skills that you have learned so far during the training procedures.