Winter Training Internship in Cyber Security 2022-2023
November 24, 2021
2023-02-26 15:27
Winter Training Internship in Cyber Security 2022-2023
Cyber Security Course
The best Cyber Security Training and Certification Diploma Course includes 12 Cyber Security and Information Security courses. It includes Ethical Hacking, Penetration Testing, Cyber forensics Investigation, Basic Networking, Python Programming, Mobile Security Applications, Aws Cloud Security, and many more.
Book a Trial Demo Class
Book Your FREE Trial Class
WinterTraining Internship Program
Cyber Security Winter Training
Cyber Security Training Course Winter Training 2023
Google Review (1,246)
★★★★★
In our Cyber Security Winter Training 2023, multiple cyber security courses are delivered under the guidance of superbly experienced trainers and mentors. In addition, the prominent courses that are being offered during the Cyber Security Winter Training 2023 are Ethical Hacking, Penetration Testing, Cyber Forensics, Networking Administration, Mobile Penetration Testing, Python Programming Course, and many more. One can also take a budget-friendly 1 Year Diploma in Cyber Security Course that will provide a wholesome package of cyber security training.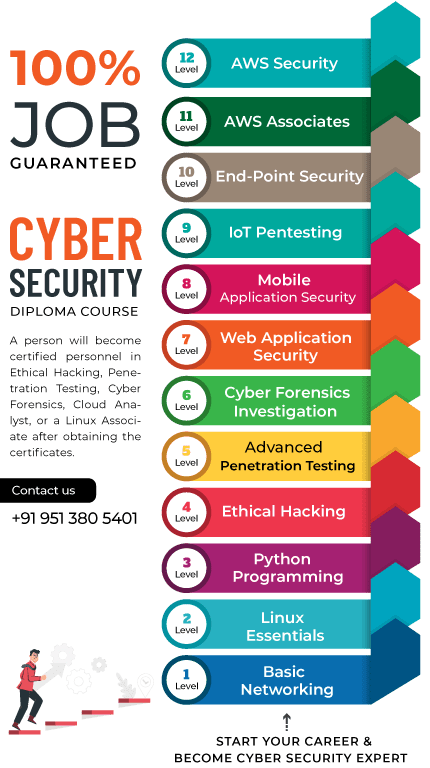 Winter Training 2023
Cyber Security Winter Training
Craw Security provides efficient Cyber Security Courses in both offline and online cyber security winter training. A person can sincerely avail of the Diploma Courses in Cyber Security for both 6 Months and 1 Year. The institution is highly accredited by Offensive Security, EC Council, Red Hat Inc., CompTIA Technologies, CISCO Technologies, etc., as their authorized learning partner to offer their Information Security Courses at nominal prices.
Winter Training Internship Program
Ethical Hacking Course Winter Training Internship Program in Delhi
Google Review (1,185)
With the help of our highly qualified and well-experienced training instructors that have a decent experience of more than 10 years of quality industrial training, Craw Security is imparting genuine cyber security winter training 2023 programs.  Hence, rather than wasting time going anywhere else, one can sincerely opt for Craw Security – the best Cyber Security training institute in Delhi NCR delivering quality career guidance along with "100% Placement Assistance".  Along with our in-house Diploma Courses, we deliver our partners' information security courses at very affordable and cost-efficient prices.
Get Interactive Courses in One Month Cyber Security Winter Training
Cyber Security Winter Training in Delhi
There is a genuine provision of providing professional courses under the expert guidance of fully experienced training instructors with more than 10+ years of quality industry experience as genuine cyber security professionals.  In addition, one can also do these courses in a fast-track version as per their choice.  Moreover, you are just required to call us on our 24X7 hotline mobile number and ask for your query, and things will be managed as per your choice.
Cyber Security and Ethical Hacking Winter Training Program
Cyber Security Winter Training 2023
In this distinguished cyber security winter training 2023 program, there are multiple cyber security courses comprised in the 1 Year and 6 Months Diploma Courses that have a genuine approach for training the students with practical knowledge transfer sessions.  During the Winter 2023 Security Awareness Training, one will surely have the best opportunity to learn the varied fundamentals of cyber security along with a confirmed job in our "100% Placement Guarantee".
Process for Joining our Cyber Security Winter Training
Students must possess a valid 10th passed certificate with a minimum of 50% of total aggregate marks.
Online Registration Process
➥ Fill out the Form Above.
➥ Click here to Fill a Form
➥ Click on Submit.
➥ Pay Registration Fee
➥ Now You are all set to get your Training Class
Offline Registration Process
➥ Visit our Training Center.
➥ Meet our Professional Counselors.
➥ Fill Registration Form.
➥ Submit your Documents.
➥ Pay the Registration fee.
Documents Required
➥ Any Self-Assisted ID Card.
➥ 2 Passport Size Photos.
➥ Copy of your certificates.
➥ Submit your Documents.


Frequently Asked Questions
About Cyber Security Winter Training 2023
Can I learn cyber security in 2 months?
You may learn any component of the Diploma Course in mere 60 hours. However, if you wish to go through each and every single fundamental concept of a course, you need to devote plenty of time that is needed as per their durations such as 6-Months or 1 Year Diploma Courses in Cyber Security.
Are cyber security bootcamps worth IT?
This thing totally depends upon the quality of the institution you are choosing as well as the experience of the instructing trainer that is imparting education to you.
The cyber security winter training 2022 comes with some bootcamps facilities as well that will help you to get a decent understanding of cyber security so nicely.
Can I learn cyber security in 6 months?
Yes, through our 6-Months Diploma Course in Information Security, a sincere learner can genuinely learn the basic fundamentals of cyber security thoroughly.
What is the best course to learn cyber security?
The 1 Year Diploma in Cyber Security Course and the 6-Months Diploma in Information Security is the best you can have in cyber security imparted under the guidance of superbly experienced training instructors.
Is cyber security math heavy?
Some of the beginners' positions in cyber security do not imply heavy math as there is not much of math inclined work in these positions, however, whenever you are planning to go on the further levels of cyber security, you surely need to do a lot of graphs and data analysis which need a little bit of math as well as some other varied techniques as well.
Is cyber security boring?
It is certainly not boring or could be boring sometime, depending upon the profile you are working on your day-to-day official chores.  However, if you wish to go further in your career or in the job hierarchy, you will certainly need to learn new things that will make your life a worthwhile one and you will suddenly start loving your career more than anything else.
In case you wish to know more about some other things related to cyber security, you may give us a call at +91-9513805401 and talk to one of our educational counselors in Craw Security, New Delhi.
How stressful is cyber security?
Doing any job hailing from any particular profile of cyber security can be very stressful as well as hectic as you have accomplished daily official goals comprising of a sufficient amount of using networking fundamentals, Linux essentials, Python programming language, Penetration testing techniques, and many more simultaneously altogether.
Is cyber security difficult to learn?
Nothing is difficult for the person who is ready to devote a decent amount of time to whatever is needed for learning technology. When it comes to cyber security courses, a decent amount of practical knowledge is required for hands-on practice in the live project-based training to understand the concepts which make cyber security a bit difficult as well as interesting to learn.
How many hours a week do cyber security work?
There are fixed hours of every work and that are 8 hours of sincere work procedures, however, a person might stay back to accomplish some pending daily goals as per one's convenience.
However, we will recommend you to choose cyber security as it brings a lot of money along with some responsibilities that you play in your official capacity along with the honor of working as a cyber security expert in an organization.