Certified Network Defender (CND) Course in Delhi | CND v2 Certification Training
June 12, 2021
2022-11-15 15:45
Certified Network Defender (CND) Course in Delhi | CND v2 Certification Training

Certified Network Defender (CND) Course in Delhi | CND v2 Certification Training
Eccouncil Certified Network Defender v2 Training and Certification is recommended for individuals who want to have the fundamental knowledge of Networking Concepts for the sake of building a long-lasting career in the Networking domain. Craw Cyber Security Institute provides hands-on Certified Network Defender Training with live projects just to make sure that our understudies grab the maximum content provided under the supervision of an experienced teacher within the interactive live classroom sessions.
Course Include: Training & Global International Certificate
Accreditation with : EC - Council
Book a FREE Trial Class
Training Available 24*7 Call at +91 9513805401
What will you learn in Certified Network Defender Course in Delhi?
• Threat Prediction with Cyber Threat Intelligence
• Risk Anticipation with Risk Management
• Endpoint Security- Mobile Devices
• Endpoint Security-Windows Systems
• Administrative Application Security
• Enterprise Virtual Network Security
• Network Logs Monitoring and Analysis
• Business Continuity and Disaster Recovery
• Data Security
• Endpoint Security-Linux Systems

Things you will learn in Certified Network Defender Certification
With the advancement of the continuous upgrading technologies in the enterprises, Cyber Attacks have become more common and the organizations are paying a hefty amount in the salaries of Certified Network Defenders who can nicely track down any suspicious or malicious entity existence on the servers at any course of time. Craw Cyber Security has built up its pace in the world of developing more Cyber Security Experts and hence if you are keen on getting into a Certified Network Defender Course in Delhi which will give you the fundamental knowledge of the true construct of data transfer, network technologies, and software technologies. It will help you understand how the network operates, what software is automating, and how to analyze the subject material. In addition, you will also learn network defense fundamentals. There is a special CND Online Course also available for having the EC Council Network Defender Course in the online version in prerecorded classes that one can use and learn at one's own pace. The EC Council CND Course will let you open up your Networking horizons to some new levels and you will definitely be able to shift your current career successfully into a fully-fledged Certified Network Defender (CND).


Overview of Certified Network Defender (CND) Training & Certification Exam
The Certified Network Defender (CND) v2 is an integrated network protection certification training program that is vendor-neutral and instructor-led. It is highly based on skills, lab in-depth program which is mainly based on a task-challenge analysis and cyber security training process given through the National Initiative of Cyber Security Education (NICE). It has been additionally charted to worldwide task roles and obligations and the Department of Defense (DoD) job roles for system/community directors. It is designed and advanced after significant market research and surveys. The software provides the network directors the knowledge of network protection technologies and varied measures to get Defense-in-Depth network security attentiveness. It uses the "Protect, Locate and Respond" method for community protection.


Best-in-class Certified Network Defender (CND) Training in Delhi
The CND Training comprises hands-on labs assessments, totally based on foremost network safety tools and techniques to offer community directors an actual-world understanding of contemporary network protection technologies and operations in CND Network.

The study kit contains a database of over 10 GB of network safety quality practices, assessments, and safety gear. The training in addition includes templates for many community guidelines and an array of white papers for extra learning.


Who should do this magnificent Certified Network Defender (CND) Course in Delhi?
• Network Administrators
• Network Security Administrators
• Network Security Engineer
• Network Defense Technicians
• CND Analyst
• Security Analyst
• Security Operator
• Anyone who involves in network operations.

What will you learn in Certified Network Defender v2?
Certified Network Defender (CND) Course in Delhi v2 has been designed by industry experts to help IT Professionals play an active role in the Protection of digital business assets and Detection and Response to Cyber Threats while leveraging Threat Intelligence to predict them before they happen. Certified Network Defender (CND) Course in Delhi v2 is a network security course designed to help organizations create and deploy the most comprehensive network defense system. Here at Craw, we will prepare an individual in that sequence that once can easily crack down on the Certified Network Defender Exam conducted by EC Council itself.


Certified Network Defender CND v3 Software Blueprint Update
In addition, Craw Cyber Security is preparing a sincere curriculum at the moment on the Certified Network Defender CND v3 software version whose Blueprint has been updated on the official website of EC Council. Our expert team of highly qualified and experienced professionals with a hands-on approach to varied projects is continuously working on erecting a strong curriculum for our future batches in order to make them Go-Ready for any shift in the technology of the CND Course.


Show More

∨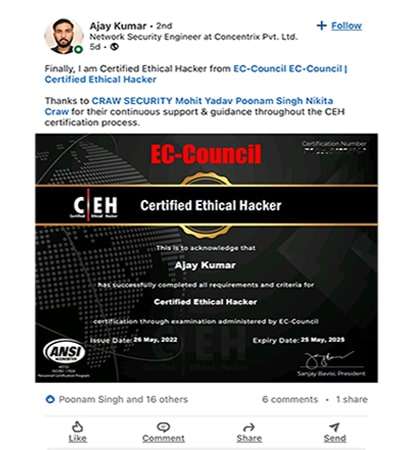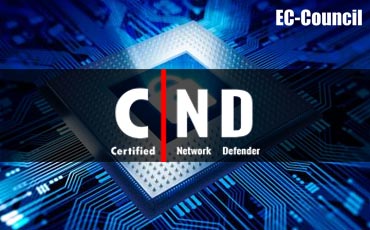 Register Now Before Registration Closed
& Grab Eccouncil CND v2 Course Benefits
Certified Network Defender Training Course
Content for Certified Network Defender (CND) Course in Delhi
| Name | Testimonial | Review |
| --- | --- | --- |
| Kirti Mittal | Best place for Ethical hacking training very professional staff I taken online classes best experience guys try once you will love it thank to . | |
| Charles Peterson | I based in Canada took online training for CEH V11 Ethical hacking from this Institute. I am truly happy to choose this Institute and also want to appreciate this institute qualified trainers best management. | |
| Romonia Peterson | Best Institute in Delhi that provides the best Ethical hacking Course. I learnt many skills from here under the guidance of Sidharth Sir who have been very helpul and supportive. | |
| Natasha | Best training for CEH Ethical hacking. I learned a lot of practical knowledge in Ethical hacking , worth for money totally satisfied with training. Highly recommended to others students. | |
Frequently Asked Questions
About Eccouncil Certified Network Defender (CND) Course in Delhi | CND v2 Certification
What is certified network Defender?
A Certified Network Defender is one who is duly trained on protecting, detecting, and responding to certain aspects of threats on a particular network. A Network Defender practices for securing a corresponding network by some malicious packets which come along during some certain Cyber Attacks.
Certified Network Defender Training is an affiliated course from the house of EC Council Inc. which provides Advanced Network Defending Training that empowers the basics of network security from root class. The particular training validates one's understanding of complex and core concepts of Network and information security.
How much is the CND certification?
The CND Certification from the reputed group of Eccouncil provides its famous and authorized Certified Network Defender Training for $450 which is approx. ₹34,000/- in India.
Craw Cyber Security Institute provides authentic CND Certification and Training in ₹25,000/- for being the authorized EC Council partner. We also give necessary financial aid & support to needy and deprived students of society. You can call at +91-9513805401 for having a chat with one of our friendly representatives for inquiry purposes and application for financial aids at our institutes in Saket and Laxmi Nagar.
How much does a certified network Defender make?
A genuine and Certified Network Defender with the job title Network Security Engineer earns around ₹5,56,261/- in India
A CND Analyst is basically a Certified Network Defender whose main daily work methodology is comprises identifying, gathering, and analyzing a certain Network and host data, and reporting the events or incidents that happened or might happened in a particular network to cop up the potential or present network and host threats.
What are the 3 CND approaches?
The main three CND approaches that are widely used by Certified Network Defenders consist of the following:

• Protection,
• Detection, and
• Reaction.

These steps provide the essential security needed to test the threats and vulnerabilities in a closed network that can be exploited by a malicious entity from any remote location.
The CND Certificate is basically a Certified Network Defender (CND) program that focuses on creating more expert Network Administrators who are duly educated in order to apply the famous 3 CND Approaches, namely Protecting, Detecting, and Responding, to confirming the security status of a corresponding Network from the potential or current threats.
The network stands for a closed loop of internet-enabled devices that are using the database of a particular Network for sake of proper work functioning. A CND Analyst tends to check the current and potential vulnerabilities, and threats in a network and fix them with various tools, software, and techniques.
What is Eccouncil certification?
Eccouncil is an international organization producing more cyber security professionals all over the world to tackle the arising multiple situations of cyber crimes and Cyber Attacks on the servers of the numerous organizations working on diverse platforms. Eccouncil provides different kinds of Eccouncil Certifications that are enriched with the knowledge content required for the varied studies related to creating Cyber Security Professional Courses all around the globe.
What is Network Defender?
The Network Defender is basically a person who is responsible for testing and obtaining different kinds of vulnerabilities and threats in a particular networking ecosystem which can be existing or potential so that no harmful or malicious actors can enter the corresponding network perimeter with the intention of providing any harm to the network during a certain Cyber Attack.