Certified Threat Intelligence Analyst Course in Delhi | CTIA
June 12, 2021
2022-06-29 12:26
Certified Threat Intelligence Analyst Course in Delhi | CTIA

Certified Threat Intelligence Analyst Course in Delhi
Gain some valuable information regarding the Certified Threat Intelligence Analyst Training in Delhi – a dedicated program is designed and developed in collaboration with cybersecurity and threat intelligence experts across the globe from the house of EC-Council Inc. This top-notch EC Council CTIA Training and Certification program possesses all the necessary information required for getting a devoted position of Threat Analysts in a reputed IT organization.
Created by : Craw Cyber Security
Course Include: Training & Certificate
Accreditation with : EC - Council
Book a FREE Trial Class
Training Available 24*7 Call at +91 9513805401
What will you learn in Certified Threat Intelligence Analyst Course in Delhi?
Enrolling in a great Certified Threat Intelligence Analyst Training in Delhi can be a life-changing step for someone who is beginning to pursue a career in the Threat Analysis domain and want to work with some famous MNCs in the world. This famous EC Council CTIA Cyber Threat Intelligence Course from the giant EC Council Inc. is delivered by some of the famous instructors with a practical approach on some live projects through interactive classroom sessions. The level of our Certified Threat Intelligence Analyst Course in Delhi is designed and developed with such a mindset to create more expert professionals in the field of Threat Analysis so that many IT organizations could be benefited from this step by recruiting those Certified Threat Analysts.

The curriculum associated with CTIA Certification EC Council is duly updated and up to the mark for the generation of skilled Threat Intelligence Analysts that can be considered as an asset to the distinguished IT organizations after completion of the Cyber Threat Intelligence Course.


Certified Threat Intelligence Analyst (CTIA Cost)
This highly famous and reputed Cyber Threat Intelligence Analyst Certification and Training Course can be a game-changer for anywho who is willing to switch to a greater career in the field of Threat Analysis for working in a well-established company in the market or want to start one's own business for thriving in the wild.

This magnificent CTIA Certification Cost India is delivered by interactive classroom sessions through Craw Cyber Security Institution at cost-effective prices which are comparatively low than the other institutes in India. Craw Cyber Security Institutes at Saket and Laxmi Nagar branches of New Delhi also provide financial aid to economically challenged and deprived students to provide some form of financial assistance to them. One can nicely contact us at +91-9513805401 to get in touch with one of our educational counselors for getting better info on how to apply for this financial aid.


Certified Threat Intelligence Analyst Salary
Firstly, the premium curriculum of the Certified Threat Intelligence Analyst Course in Delhi is dedicatedly designed in partnership with worldwide Cyber Security and Threat Intelligence Analysts all around the planet to support numerous IT enterprises in the world to search and monitor organizational risks by navigating the unspecified threats which can be internal and external into particular threats. Moreover, the Certified Threat Intelligence Analyst Salary can be very high in comparison to other usual trades in the market.


Certified Threat Intelligence Analyst Exam
This devoted course of Certified Threat Intelligence Analyst created by some of the responsible online safeguarding and hazard knowledge specialists from all over the world, especially in order to support different associations to differ and manage business dangers by reporting some uncertain internal and outer threats into known threats.

However, all Threat Analysts understudies have to go through a Certifed Threat Intelligence Exam duly conducted by EC Council Inc. to quantify the skills and expertise that they have learned through their interactive classroom sessions at Saket and Laxmi Nagar locations in the institute of Craw Cyber Security in Delhi NCR.


Importance of Certified Threat Intelligence Analyst Course
The genuine and advanced Certified Threat Intelligence Analyst Course is a highly professional program that utilizes a well-managed procedure for creating knowledgeable individuals that can work as an efficient workforce discovering internal and outer threats in several IT organizations. In today's ever-changing threatening scenario, Certified Threat Intelligence Analyst (CTIA) is a fundamental program for the individuals who manage digital dangers consistently.

Nowadays organizations require expert network protection and danger knowledge researcher who can sincerely extract and release the potential threat insights from information gathered by applying numerous progressed methodologies they have learned in a specialized Cyber Threat Intelligence Course. These expert-level projects shall be used when the center of the educational programs maps with and is compatible with government and industry-distributed danger knowledge structures.


Who should attend this course?
• Security Practitioners,
• Engineers,
• Ethical Hackers,
• Analysts,
• Architects,
• Specialists,
• Managers,
• Associates,
• Researchers,
• Threat Intelligence Analysts,
• Consultants,
• SOC Professionals,
• Threat Hunters,
• Digital Forensic and Malware Analysts,
• Incident Response Team Member.
• Any mid-level to high-level cyber security professionals with at least 2 years of working experience.
• People from the information security professionals who want to improve their skills and knowledge in the field of cyber threat intelligence.
• Individuals are interested in preventing cyber threats.


Show More

∨
Content for Best Ethical Hacking Course in Delhi | Certified Ethical Hacker
MODULE 01: Introduction to Threat Intelligence
MODULE 02: Cyber Threats and Kill Chain Methodology
MODULE 03: Requirements, Planning, Direction, and Review
MODULE 04: Data Collection and Processing
MODULE 06: Intelligence Reporting and Dissemination
| Name | Testimonial | Review |
| --- | --- | --- |
| Kirti Mittal | Best place for Ethical hacking training very professional staff I taken online classes best experience guys try once you will love it thank to . | |
| Charles Peterson | I based in Canada took online training for CEH V11 Ethical hacking from this Institute. I am truly happy to choose this Institute and also want to appreciate this institute qualified trainers best management. | |
| Romonia Peterson | Best Institute in Delhi that provides the best Ethical hacking Course. I learnt many skills from here under the guidance of Sidharth Sir who have been very helpul and supportive. | |
| Natasha | Best training for CEH Ethical hacking. I learned a lot of practical knowledge in Ethical hacking , worth for money totally satisfied with training. Highly recommended to others students. | |
Frequently Asked Questions
About CTIA – Certified Threat Intelligence Analyst Course in Delhi
What is CTIA certification?
The famous Certified Threat Intelligence Analyst (CTIA) is a training and certification course that is sincerely developed and designed by Threat Analysis and Cyber Security professionals hailing all around the world from distinguished IT organizations.
What does a threat intelligence analyst do?
Cyber Threat Analysts' main work portfolios comprise of applying their quantitive approach by engaging scientific and technical knowledge to figure out the most complex to complex intelligence concerns, procure short-term and long-term written evaluations, and inform the corresponding organization in a properly documented format.This kind of work that Cyber Threat Analysts perform requires genuine initiative, creativity, analytical skills, and technical expertise possession in hand.
What is the difference between threat intelligence and threat hunting?
threat intelligence can make up a small portion of the threat hunting process. However, subscribing to a threat intelligence feed does not automatically satisfy the need to threat hunt your network. A proper threat hunt can identify threats even when they have not yet been seen in the wild.
How does intelligence threat work?
The Cyber Threat Intelligence strategically builds an entire directory of the goal and abilities of malicious cyber threats, comprising of the engaged actors, tools, software, and TTP, via the tracking process of the trends, patterns, and the developing threats, vulnerabilities, and risks involved especially to notify the decision-makers to give proper warnings in time.
How do I become a cyber threat intelligence analyst?
In order to become a credible Cyber Threat Intelligence Analyst (CTIA), an aspiring candidate can devotedly do the verified and worldwide acclaimed course of Eccouncil Certified Threat Intelligence Analyst Training and Certification.
How do I start a threat hunting career?
By adopting the following algorithm, one can nicely develop the essential skills that an aspiring individual can evolve for becoming a great Cyber Threat Hunter for extracting real-time threats:

1. Get more information related to this Threat Analysis or Threat Hunting domain and develop a curious nature to learn more in the same content.
2. Search for the latest tools both paid and free ones that are trending and available in the domain.
3. Practice more and more so that you can sense the prospective threats with a keen "sixth sense" in a particular network.
4. By practicing more, you will definitely get a keen sense of "hunches" that could be real.
5. Follow the OODA (Observe, Orient, Decide, and Act) methodology. 6. After this, just try to anticipate what and what not a potential adversary could perform.
7. Apart from all, one can also join some professional Certified Threat Intelligence Analyst Course in Delhi that can literally provide you with some of the genuine and authentic Cyber Threat Intelligence information. Craw Cyber Security Institute at Saket and Lakshmi Nagar locations can definitely help you get your required knowledge related to the EC Council CTIA Certification in Delhi.
What is threat hunting job?
The widely famous Threat Hunting jobs comprise special IT experts who can genuinely find cyber security threats in a proactive manner and reduce them prior they compromise the corresponding inner and outer network security of a particular organization.
What are the types of threat hunting?
If you are keenly into the threat hunting career then should be aware of the different types of threat hunting careers for real which are as follows:

• Structured Hunting: A structured hunt is strictly based on the IoA and tactics, techniques, and procedures (TTP) of an attacker.
• Unstructured Hunting: An unstructured hunt is initiated based on a trigger. It is more aligned to intelligence-based hunting, where the trigger could be any of the IoCs.
How many questions are on the CTIA exam?
The very invaluable Certified Threat Intelligence Analyst Exam comprises 50 questions for which one gets a time limit of 120 minutes or 2 hours to solve the whole question paper.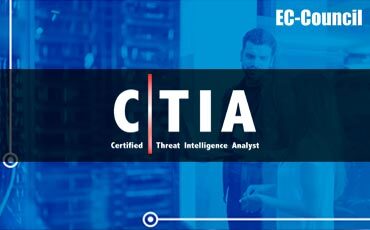 Register Now Before Registration Closed
& Grab CTIA Course Benefits