Certified Threat Intelligence Analyst Course in Delhi | CTIA
June 12, 2021
2022-01-19 16:43
Certified Threat Intelligence Analyst Course in Delhi | CTIA
Certified Threat Intelligence Analyst Course in Delhi
The (CTIA) Certified Threat Intelligence Analyst Course in Delhi  program is designed and developed in collaboration with cybersecurity and threat intelligence experts across the globe.
Created by : Craw Cyber Security
Course Include: Training & Certificate
Accreditation with : EC - Council
What will You Learn in Certified Threat Intelligence Analyst Course in Delhi
What will You Learn in the Certified Threat Intelligence Analyst Course in Delhi?
Certified Threat Intelligence Analyst Course in Delhi
is designed in partnership with cybersecurity and threat intelligence experts from all over the world to assist organizations to find and control business risks by transforming unspecified internal and external threats into specified threats. This course is an extensive, specialist-level program that provides training for creating potent threat intelligence.



The (CTIA) Certified Threat Intelligence Analyst Course in Delhi program is designed and created in partnership with cybersecurity and threat intelligence experts from across the globe.


Online protection and danger knowledge specialists from around the globe created Certified Threat Intelligence Analyst to help associations to distinguish and control business hazards by turning over uncertain inside and outer threats into known threats.
Importance of Certified Threat Intelligence Analyst Course
It is mainly an expert-level program that uses an organized methodology for creating captivating danger knowledge. In today's ever-changing threatening scenario, Certified Threat Intelligence Analyst (C|TIA) is a fundamental program for the individuals who manage digital dangers consistently. Nowadays associations demand an expert network protection danger knowledge investigator who can extricate the insight from information by using various progressed methodologies. These expert-level projects shall be used when the center of the educational programs maps with and is compatible with government and industry-distributed danger knowledge structures.


Who should attend this course?



Security Practitioners, Engineers, Ethical Hackers, Analysts, Architects, Specialists, and Managers, Associates, Researchers, Threat Intelligence Analysts, Consultants, SOC Professionals, Threat Hunters, Digital Forensic and Malware Analysts, Incident Response Team Member.



Any mid-level to high-level cybersecurity professionals with at least 2 years of experience. People from the information security profession and who want to improve their skills and knowledge in the field of cyber threat intelligence.

Individuals are interested in preventing cyber threats.


Show More

∨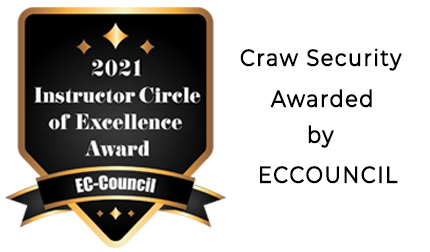 Craw Security is been Awarded by Ec-council for being the best ATC partner and CEI of 2021. Click the button below to Join our CEH v11 Course now.
| Name | Testimonial | Review |
| --- | --- | --- |
| Kirti Mittal | Best place for Ethical hacking training very professional staff I taken online classes best experience guys try once you will love it thank to . | |
| Charles Peterson | I based in Canada took online training for CEH V11 Ethical hacking from this Institute. I am truly happy to choose this Institute and also want to appreciate this institute qualified trainers best management. | |
| Romonia Peterson | Best Institute in Delhi that provides the best Ethical hacking Course. I learnt many skills from here under the guidance of Sidharth Sir who have been very helpul and supportive. | |
| Natasha | Best training for CEH Ethical hacking. I learned a lot of practical knowledge in Ethical hacking , worth for money totally satisfied with training. Highly recommended to others students. | |
Frequently Asked Questions
About CTIA – Certified Threat Intelligence Analyst Course in Delhi
What does a threat intelligence analyst do?
Cyber threat analysts are professional intelligence officers who apply their scientific and technical knowledge to solving complex intelligence problems, produce short-term and long-term written assessments and brief the organization. This work demands initiative, creativity, analytical skills, and technical expertise.
How does intelligence threat work?
Threat intelligence solutions gather raw data about emerging or existing threat actors and threats from a number of sources. This data is then analyzed and filtered to produce threat intel feeds and management reports that contain information that can be used by automated security control solutions.
What is the difference between threat intelligence and threat hunting?
threat intelligence can make up a small portion of the threat hunting process. However, subscribing to a threat intelligence feed does not automatically satisfy the need to threat hunt your network. A proper threat hunt can identify threats even when they have not yet been seen in the wild.
What are threat hunting techniques?
This research outlines a practical and rigorous model to conduct a threat hunt to discover attacker presence by using six stages: purpose, scope, equip, plan review, execute, and feedback. This research defines threat hunting as the proactive, analyst-driven process to search for attacker TTP within an environment.
How Creating effective threat intelligence reports work.?
Work on Different threat intelligence sharing platforms, acts, and regulations for sharing strategic, tactical, operational, and technical intelligence.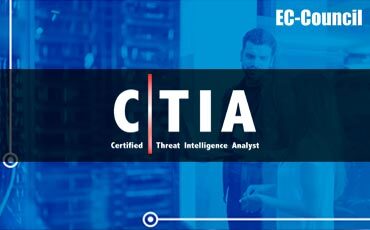 Register Now Before Registration Closed
& Grab CTIA Course Benefits