How to Identify and Exploit Security Vulnerabilities?
May 19, 2023
2023-05-19 13:29
How to Identify and Exploit Security Vulnerabilities?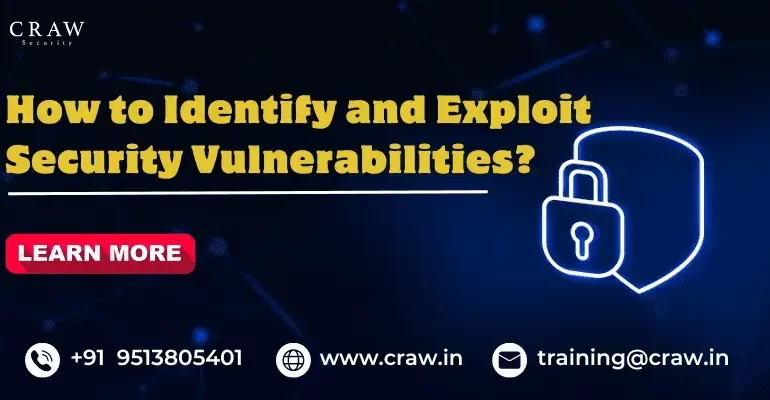 How to Identify and Exploit Security Vulnerabilities?
Security flaws are holes that hackers can take advantage of to obtain unauthorized entry into computer systems and networks.  In addition, cyber security flaws or weaknesses come in a wide variety of forms, and they can be discovered in all components of the computing surroundings, particularly the hardware, software, and users.
Cyber intruders can take advantage of several security flaws in many different ways, such as the following:
Phishing Attacks: Phishing attacks are emails or websites that try to persuade people to divulge sensitive information, including passwords or credit card details.
Malware: Software that is intended to harm or take down computer networks or systems is known as malware. Drive-by downloads, phishing scams, and other techniques can all be used to spread malware.
Social Engineering: Cyber intruders can trick individuals into providing them with access to highly confidential details or systems by using the social engineering tactic. Attacks using social engineering can be made in person, over the phone, or online.
You may take precautions to defend your networks and systems against attack by being aware of the different security holes and how they might be exploited.
Identifying Security Vulnerabilities
Finding security flaws is the first step in preventing attacks on your systems and networks. There are several methods for locating security flaws, such as those mentioned below:
Vulnerability Scanning: Utilizing automated methods to find security flaws in networks and computer systems is known as vulnerability scanning. Further, you can use vulnerability scanners to check for a variety of security shortcomings, such as acknowledged security holes and configuration errors.
Security Audits: Computer systems and network safety vulnerabilities are examined manually during security audits. Internal or external security experts can conduct security audits, and these audits are able to be utilized to find a variety of security flaws, even some that vulnerability scanners are unable to find.
Threat Intelligence: Information regarding current and potential dangers to computer networks and systems is known as threat intelligence. Threat intelligence may be employed to find security flaws that cyber adversaries are most likely to misuse.
Exploiting Security Vulnerabilities
You must take action to prevent their exploitation once you have found security flaws.  In this regard, there are several methods to guard against security flaws, like the following:
| | |
| --- | --- |
| Patching | Applying software updates to correct security flaws is a procedure known as patching.  To remedy well-known security flaws, software makers offer patches.  Patches should be installed as soon as they are available to safeguard your systems and networks from intrusion. |
| Configuration management | The procedure for handling computer systems' and networks' configurations is known as configuration management.  In this regard, system and network configuration security is aided by configuration management, which tracks and approves configuration changes. |
| User education | The technique of educating people about cybersecurity best practices is known as user education.  User education aids in ensuring that users are knowledgeable about the dangers posed by security flaws and how to fend off attacks. |
You may assist in keeping your systems and networks secure from attack through proactive efforts to identify and protect security vulnerabilities.
Best Course to Find Security Vulnerabilities
In this world full of technology-based gadgets that store multiple datasets of our daily official chores, it is nearly impossible to save ourselves by not providing any databases to these self-functioning algorithms.  Furthermore, there are certain courses that a person can choose to understand and track down all cyber security vulnerabilities in a certain IT infrastructure, such as 1 Year Diploma in Cyber Security Course by Craw Security, the Best Cybersecurity Training Institute in India that mostly delivers globally recognized courses through highly skilled and experienced mentors with at least 7+ years of quality experience.
Conclusion
Computer systems and networks are seriously threatened by security vulnerabilities.  You may take precautions to defend your systems and networks against attack by being aware of the various cybersecurity flaws and how they might be manipulated.  In case a person is willing to understand all the fundamentals of penetration testing, same can take a premier 1 Year Diploma in Cyber Security Course facilitated by highly skilled and qualified cyber security practitioners with 12+ years of quality experience in tracking down all vulnerabilities in several IT architectures of more than 350+ organizations of diverse niches.  Moreover, call +91-9513805401 to book a demo session.