EC-Council Certified Incident Handler (ECIH) V2 Course
A very primetime Certified Incident Handler Course from the house of EC-Council that majorly describes the laws and policies for incident handling.  This ECIH Training Course sincerely addresses with respect several fundamental principles, algorithms, tricks, tools, and techniques used for handling an incident with the correct usage of concerning methodology.  In addition, this primetime EC-Council Certified Incident Handler Training massively offers learners the necessary skills and techniques on how to handle several types of incidents and risk management procedures.
Course Include: Training & Certificate
Accreditation with : EC-Council
Book a FREE Trial Class
Training Available 24*7 Call at +91 9513805401
EC-Council Certified Incident Handler v2 Course in Delhi
This highlighted training of Certified Incident Handler ECIH v2 comes up with several levels like incident validation and prioritization, incident eradication, systematic incident handling, etc.  In addition, this latest release of the EC-Council Certified Incident Handler ECIH v2 program has been nicely developed with the cooperation of numerous experienced cyber security professionals that perform as proven incident handlers and response practitioners in their daily official chores in several primetime organizations all over the planet.Moreover, it is a comprehensive specialist-level program that imparts knowledge and skills that organizations need to effectively handle post-breach consequences by reducing the impact of the incident from both a financial and a reputational perspective.
Furthermore, keeping on a rigid development, which contained a detailed Job Task Analysis (JTA) regarding many incident handling and incident first responder careers, the EC-Council has developed a favorably hands-on, thorough, ethics-based, intensive 3-day training program and certification that delivers a routine path to learning real-world incident handling and response necessities.
Certified Incident Handler Certification
Since this is a prestigious course delivered by the house of EC-Council that is offered to individuals willing to start a fantastic career in cyber security as an incident handler, any eligible candidate can opt for this valuable Certified Incident Handler Certification.  In addition, Craw Security is the best cyber security training institute in India and the proficient learning partner of the EC-Council for delivering all their information security courses at discounted prices.
Furthermore, the EC-Council Certified Incident Handler Price offered by Craw Security, the learning partner institute of EC-Council, is pretty low in comparison to other cyber security institutions in the wild, as our prime motto is to offer world-class InfoSec education to the learners hailing from any particular background.  One would just have to call us on our hotline mobile number at +91-9513805401 and have a word with our highly knowledgeable educational counselors, that would primarily suggest the best piece of advice to make an outstanding career in this domain.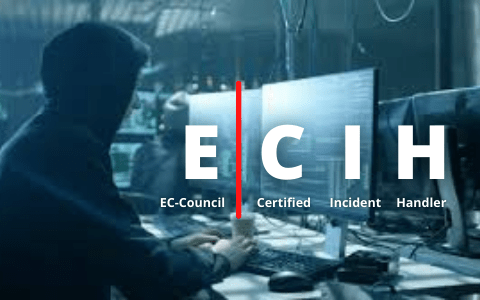 Join Online Training and Certification Course
EC-Council Certified Incident Handler (ECIH) V2 Course
EC-council Certified Incident Handler Course Content
EC-Council Certified Incident Handler Study Guide
At Craw Security, one will assuredly have the best EC-Council Certified Incident Handler Study Guide to learn from the exclusively developed content material processed by several cyber security experts functioning as primetime certified incident handlers in many organizations of almost every niche hailing from all over the globe.  Most importantly, all students will possess both soft as well as hard copies of the study material to study from the best available trainers in the country.
Moreover, all learners will sure-shortly have the best knowledge under the super guidance of proficient training instructors having years of hands-on experience in many organizations as certified incident handlers.
What will you learn in Certified Incident Handler v2?
To allow people and enterprises the capability to manage and respond to various sorts of cybersecurity incidents systematically.
To guarantee that an enterprise can recognize, manage, and regain from a corresponding attack.
To restore routine functions of the association as early as conceivable and mitigate the negative influence on the business procedures.
To draft security guidelines effectively and confirm that the service grade is maintained at the preserved levels.
To lower the loss and after-effects breach of the incident.
For individuals: To improve skills in incident handling and upgrade their employability.
EC-Council Certified Incident Handler Course Requirements
To be eligible to sit the ECIH Exam, the candidate must either:

Attend official E|CIH training through any of EC-Council's Authorized Training Centers (ATCs), attend EC-Council's live online training via iWeek, or
Join our self-study program through iLearn (see https://iclass.eccouncil.org).

One may also join Craw Security for the verified EC-Council's Certified Incident Handler Training as we are one of the world-class learning partners of EC-Council to impart their information security courses at nominal prices.
Candidates with a minimum of 1 year of work experience in the domain that would like to apply to take the exam directly without attending training are required to pay the USD100 Eligibility Application Fee. This fee is included in your training fee should you choose to attend training.
 
| Name | Testimonial | Review |
| --- | --- | --- |
| Kirti Mittal | Best place for Ethical hacking training very professional staff I taken online classes best experience guys try once you will love it thank to . | |
| Charles Peterson | I based in Canada took online training for CND v2 Ethical hacking from this Institute. I am truly happy to choose this Institute and also want to appreciate this institute qualified trainers best management. | |
| Romonia Peterson | Best Institute in Delhi that provides the best Incident Handling Course. I learnt many skills from here under the guidance of Sidharth Sir who have been very helpul and supportive. | |
| Natasha | Best training for ECIH Incident Handler. I learned a lot of practical knowledge in Incident Handling , worth for money totally satisfied with training. Highly recommended to others students. | |
Frequently Asked Questions
About Certified Incident Handler (ECIH) Course in Delhi | ECIH v2 Certification
ECIH v2 stands for the EC-Council's Certified Incident Handler Training and Certification Course offered by EC-Council, one of the finest cyber security supergiants in the world.  This primetime ECIH Training Course will address the chief requirements of current cyber security experts who are dedicatedly willing to try their hands on the principles and knowledge for tracking down and responding to the ongoing security happenings or incidents and threats evolving in an information system.
What is EC Council Certified Incident Handler?
The EC-Council Certified Incident Handler is a course highly dedicatedly to working cyber security professionals who are willing to get equipped with the hands-on knowledge of being an incident handler within an organization to face several hazardous cyber threats that can cause damage to the integrity of the datasets to the hands of a potential hacker.
What is an incident handler?
The incident handler is a profile that genuinely works like a boon in an organization.  Basically, an incident handler collects and analyzes proof regarding a particular type of threat or attack, tracks down root causes behind that threat, directs other security analysts and corresponding team members over the issues, and assists them in knowing how to stop the attack.  Moreover, it also assists in implementing rapid security systems and service recovery models.
How much is the ECIH exam?
The cost of the exam related to the EC-Council Certified Incident Handler Course is $286, as per the official website of the EC-Council.  Moreover, some other important details are given in the following table:
| | |
| --- | --- |
| ECIH Exam | EC-Council Incident Handler |
| ECIH Exam Code | 212-89 |
| ECIH Exam Cost | $286 (USD) |
| ECIH Exam Duration | 3 Hours |
| Number of Questions | 100 |
| ECIH Passing Score | 70% |
Is ECIH a good certification?
Yes, it is a good course to be done by working cyber security professionals who sincerely wish to transform their current cyber security career in the trajectory of an incident handler.
One can do this prime-level Certified Incident Handler Course facilitated by the house of EC-Council by Craw Security, a prestigious learning partner of EC-Council, to deliver their courses at very nominal prices.
Who is the handler of an incident?
Basically, whenever any incident happens within an organization related to some data breach or information stealing, then this profile of certified incident handler comes into force and works as the chief investigating officer to collect and analyze prime pieces of evidence regarding a threat or attack and do other important functions in behalf of the enterprise.