OSCP Certification Training In India
June 14, 2022
2022-11-29 15:04
OSCP Certification Training In India

OSCP Certification Training in India
With the help of a primetime course content powered by Offensive Security – the high profile giant in cyber security and penetration testing, Craw Security is offering a genuine OSCP Certification Training in India through the most elite training personnel of information security.  Moreover, the authentic VAPT (Vulnerability and Penetration Testing) or commonly referred to as the Pentesting Course of OSCP Certification in India is delivered through a verified curriculum nicely scrutinized and recognized by Offensive Security, New York, USA.  Hence, don't wait and enroll now in the upcoming batches of this crucial OSCP Certification in India and be the change in the world of Penetration Testing.
Course Include: Training & Certificate
Accreditation with : Offensive Security
Book a FREE Trial Class
Training Available 24*7 Call at +91 9513805401
What will you learn in OSCP Certification Training in India?
There is a high-end major industrially renowned Penetration Testing with Kali Linux (PWK/PEN-200) course that has been enhanced with the submission of 5 latest retired OSCP exam machines to PWK labs. These specialized 5 machines portray a complete OSCP exam room! This particular self-paced online ethical hacking course prefaces a series of pentesting tools and techniques with a long-lasting practical experience.
This PEN-200 and the OSCP Certification Training prepare individuals with numerous skills to become successful penetration testers in the market. The genuinely successful students who would complete this course and pass the exam will earn the credential of Offensive Security Certified Professional (OSCP) Certification.
Best OSCP Training in India
With a genuine approach to delivering the Best OSCP Training in India, Craw Security – the Best OSCP Training Institute which is also an Authorized Learning Partner of Offensive Security, is all set to showcase its PEN-200 Certification fundamentals through valuable instructor-led classroom sessions. Moreover, if you are into learning of the most awaited and worthwhile penetration testing training – OSCP Certification Training, you may nicely enroll in the upcoming latest batches of OSCP Certification Training in the vicinity of Delhi NCR at Craw Security's Saket and Laxmi Nagar educational branches.
Apart from the instructor-led live classroom training sessions of OSCP Certification Training, one can grab the sincere OSCP Training Online with the help of a worthy trainer with a decent number of industry experience of more than 10 years in some reputed IT organizations in the market.


Who should do OSCP Certification Training?
● Infosec working experts thinking of a changeover into penetration testing.
● Pentesters watching an industry-leading certification for career growth.
● Security professionals.
● Network administrators.
● Other technology professionals.


OSCP Certification Training Prerequisites
All students are required to have the following:
● Solid understanding of TCP/IP networking
● Reasonable Windows and Linux administration experience
● Familiarity with basic Bash and/or Python scripting



OSCP Certification Cost in India 2022
Since Craw Security is the partner organization of Offensive Security, New York, USA by an MoU detailing an "Authorized Learning Partnership" between both organizations, Craw Security and Offensive Security, we are providing all the major courses of Offensive Security at a discounted price. Anyone with a keen intention to do OSCP Certification Training can opt and enroll for our upcoming training and certification batches at Saket and Laxmi Nagar educational branches at the earliest by calling on +91-9513805401 and having a word with our educational counselors.


OSCP Certification Exam Fee
The Offensive Security's OSCP Certification Exam Fee is $1,499/- which includes the PEN-200 course + 90-days lab access + OSCP certification exam fee. However, when you come and join our institution at any of our branches, you will be enlightened to some sources where you would get some combo offers that may surely benefit you in the end for maintaining a course budget for you at last.
Show More

∨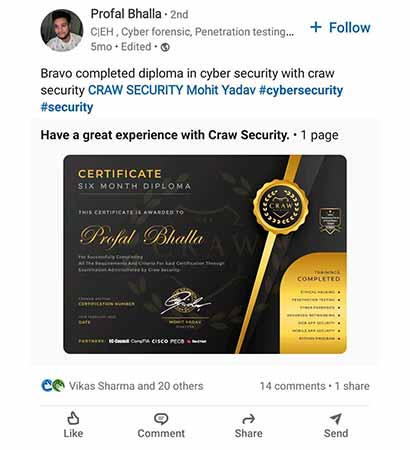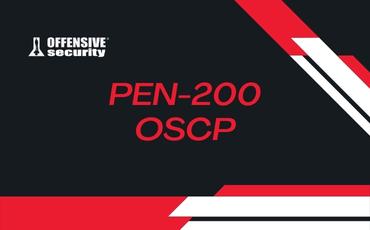 OSCP Certification Training Syllabus
| Name | Testimonial | Review |
| --- | --- | --- |
| Kirti Mittal | Best place for Ethical hacking training very professional staff I taken online classes best experience guys try once you will love it thank to . | |
| Charles Peterson | I based in Canada took online training for CEH V11 Ethical hacking from this Institute. I am truly happy to choose this Institute and also want to appreciate this institute qualified trainers best management. | |
| Romonia Peterson | Best Institute in Delhi that provides the best Ethical hacking Course. I learnt many skills from here under the guidance of Sidharth Sir who have been very helpul and supportive. | |
| Natasha | Best training for CEH Ethical hacking. I learned a lot of practical knowledge in Ethical hacking , worth for money totally satisfied with training. Highly recommended to others students. | |
Frequently Asked Questions
About OSCP Certification Training in India.
What is the cost of OSCP certification in India?
The invaluable OSCP Certification Training in India cost very high in many institutions of the world as per their official rates that you can match on their official website, whereas in Craw Cyber Security Institution which is the official learning partner of Offensive Security, New York, the certification cost is comparatively low to other institutions of the world.  One may have a word regarding the same to our educational counselors by calling on our 24X7 hotline mobile number +91-9513805401.
How much does OSCP certification cost?
If you are keen to do this magnificent OSCP Certification Training in India by the authorized learning partner of Offensive Security, namely Craw Cyber Security Institution in India with very pocket-friendly prices at a discounted rate, then you may have a word by calling on our hotline mobile number at our +91-9513805401 to our knowledgable educational counselors.
Is OSCP certification free?
Yes, there are some free information security courses available on the official website of Offensive Security, however, they certainly do not fall in the category of OSCP Certification Training from any side.  If anyone wants to have a glance at the Free Online Ethical Hacking Course, then the same can go to the highlighted part.
Where can I prepare for OSCP?
If you have made up your mind to learn and prepare for the majestic OSCP Certification Training from anywhere in the world through the online version of course conduction, then you simply go to the official website of Craw Cyber Security Institution in New Delhi, India, and prepare for the OSCP Certification Training in a discounted price with a user-friendly study manual.
Which is better CEH or OSCP?
There is no doubt that OSCP is better than CEH, however, due to the high pricing of OSCP, most cyber security aspirants tend to do Eccouncil's CEH v11 Certification and Training more compared to any other cyber security course available in the market.
No, certainly not.  Any candidate preparing oneself for the examination of OSCP Certification Training tends to have a vast knowledge of Networking administration, and Linux Essentials.  Apart from it, the same candidate would be required to have decent knowledge related to the various aspects of cyber security protocols.
Can I get a job with OSCP?
Yes, with a valid certification of OSCP Certification Training, you may acquire a decent job in any reputed IT organization in the market.
Yes, passing the OSCP Certification Training exam is literally not an easy nut to crack.  The corresponding exam of OSCP Certification Training tends to have a duration of 23 hours and 45 minutes which includes scenario-based questions that need to be answered thoroughly with a deep essenced knowledge related to the numerous protocols of cyber security.
Yes, it is.  The OSCP Certification Training 2022 from the house of Offensive Security is a highly respected certification and training course which is the most demanding credential for hiring managers for the diverse profiles associated with penetration testing.
It is a comparatively tough and a 23 hours and 45 minutes exam which makes it a pretty lengthy one but once you acquire this OSCP Certification Training, you will never look backward and reach the new horizons of success with the premium class certification exam.