Offensive Security WEB-300 and the OSWE Certification
July 5, 2022
2022-11-29 17:17
Offensive Security WEB-300 and the OSWE Certification

Offensive Security WEB-300 and the OSWE Certification
Now enjoy more flexibility and go at your own pace with a Learn subscription from Offensive Security itself while you can also opt for the complete training of WEB-300 and the OSWE Certification at the premises of Craw Security – the authorized learning partner of Offensive Security to deliver its InfoSec courses.  Under the supervision of our excelled instructors, a dedicated learner will thrive and touch near the impossible horizons of the information security industry as Craw Security provides 10+ years of industry experience possessing trainers and mentors.
Created by: Craw Security
Course Include: Training & Certificate
Accreditation with : Offensive Security
Book a FREE Trial Class
Training Available 24*7 Call at +91 9513805401
Getting Started with Advanced Web Attacks and Exploitation
We at Craw Security are very much looking forward to imparting maximum value to our current and future learners in almost any course of Offensive Security as we are very much affiliated as Authorized Learning Partner with Offensive Security. In addition to this crucial training through a verified curriculum of WEB-300 and the OSWE Certification by many cyber security experts all over the world, we are supplying our training pattern in such a way that it can reach every learner hassle-free.
Moreover, this Advanced Web Attacks and Exploitation (WEB-300) is basically an advanced level of web application security review course from the house of Offensive Security. We prominently teach the skill set required to execute white box web app penetration tests.
With the promising update of the year 2021, the WEB-300 course now features three distinctive new modules, updated existing content, new machines, and refreshed videos. Furthermore, the learners who successfully complete the WEB-300 course followed by an exam nicely dedicated to earning the Offensive Security Web Expert (OSWE) certification, establishing mastership in manipulating front-facing web apps. To sum up, the OSWE is one of three certifications making up the new OSCE3 certification, comprising the OSEP for advanced pentesting and the OSED for exploit development.


WEB-300 and the OSWE Certification Prerequisites
A learner should certainly fulfill the following eligibility requirements to seek admission in the WEB-300 and the OSWE Certification:
● Ease in reading and writing at least one programming language.
● Hands-on proven experience in working with Linux OS.
● Capability to write simple Python / Perl / PHP / Bash scripts.
● Experience with web proxies.
● General understanding of web app attack vectors, theory, and practice.


Who should do WEB-300 and the OSWE Certification?
● Proficient pentesters who want to understand white box web app penetration testing nicely.
● Current Web application security specialists.
● Web experts function with the codebase and security infrastructure of a web application.


About the WEB-300 and the OSWE Certification Exam
● The WEB-300 course and online lab prepare you for the OSWE certification.
● 48-hour exam
● Proctored


What competencies will you gain?
● Executing advanced web app source code auditing.
● Analyzing code, writing scripts, and exploiting web vulnerabilities.
● Implementing multi-step, chained attacks using multiple vulnerabilities.
● Using creative and lateral thinking to determine innovative ways of exploiting web vulnerabilities.
Show More

∨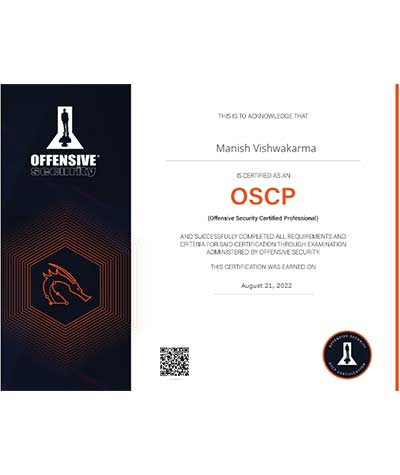 Key Benefits of OSWE certification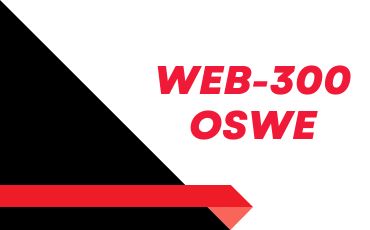 Register Now Before Registration Closed & Grab Red Hat Certified Engineer Course Benefits
Instructor Led Training
WEB-300 and the OSWE Certification
➞ Blended learning delivery model (instructor-led options)
➞ Teaching style modified according to the student's issues
➞ Develops important personality and career-building skills
➞ Group Discussions<
➞ 24x7 learner assistance and support
➞ Weekdays / Weekend Classes
WEB-300 and the OSWE Certification Syllabus
| Name | Testimonial | Review |
| --- | --- | --- |
| Kirti Mittal | Best place for Ethical hacking training very professional staff I taken online classes best experience guys try once you will love it thank to . | |
| Charles Peterson | I based in Canada took online training for CEH V11 Ethical hacking from this Institute. I am truly happy to choose this Institute and also want to appreciate this institute qualified trainers best management. | |
| Romonia Peterson | Best Institute in Delhi that provides the best Ethical hacking Course. I learnt many skills from here under the guidance of Sidharth Sir who have been very helpul and supportive. | |
| Natasha | Best training for CEH Ethical hacking. I learned a lot of practical knowledge in Ethical hacking , worth for money totally satisfied with training. Highly recommended to others students. | |
Frequently Asked Questions
About WEB-300 and the OSWE Certification
What are the WEB-300 support hours?
The Offensive Security WEB-300 and the OSWE Certification and even all other certifications' Live Support and the Orders Department are nicely available 24X7.  There is no specialized timing that you need to know before contacting Offensive Security's Live Support.
What are the reporting requirements?
There is the only provision in the reporting requirements and that is the WEB-300 Course exam report.  In case you do not intend to attempt the certification exam but would like to claim the required CPE credits, you will be required to provide us with a fully structured report containing your completed course exercises.
How do I get CPE points for WEB-300?
There are two different methodologies by which you can get the CPE points for the WEB-300 Course as the following:
If you have passed your respective OSWE examination, you will automatically possess 40 CPE points that you may submit yourself through the ISC2 member's site.
In case, either you have not qualified for the exam or do not wish to opt for the examination, you must propose your lab documentation to challenge AT offensive-security DOT com for review to qualify for the CPE points. In case of an ISC audit, we will provide you with a formal letter of attendance.
How does PEN-300, EXP-301 and WEB-300 differ from the CTP course?
The CTP offered a pretty wide range of surveys on advanced topics in web application testing, penetration testing, and exploit development.
Evasion Techniques and Breaching Defenses (PEN-300) course is a bit more comprehensive course concentrated strictly on penetration testing, and especially evading defenses.
The web application security aspect of CTP is largely captured over by Advanced Web Attacks and Exploitation (WEB-300).
Among all the freshly curated courses, Windows User Mode Exploit Development caps exploit development, reverse engineering, and functioning directly with a debugger.
What is your course code system?
If you nicely want to take full information about Offensive Security's course code system then you can sincerely click here and check out their all-course code system.
Where can I find the syllabus for each of the courses provided by Offensive Security?
As Craw Security – the authorized learning partner of Offensive Security, you may check all the relevant data of the Offensive Security Courses' Syllabuses on our website pages of Offensive Security courses.
Moreover, you may find out the course syllabuses for some of the prominent courses simply by clicking here and going to the official website of Official Security.