Best Online Internet of Things Course in Delhi
Download Craw Academy Application
Best Online Internet of Things IoT Course in Delhi, Penetration Testing through our unique offering of Attacker Simulated Exploitation for Online Internet of Things IoT Training in Delhi solutions.
Book a Trial Demo Class
Training Available 24*7 Call at +91 9513805401
What will you learn in the Internet of Things Course in Delhi?
The Internet of Things Course in Delhi comprises our security researchers hacking your network system and devices like professional hackers do from any remote location with no good intention to extract any possible vulnerabilities and threats that might lead to any kind of security breaching of your IoT devices. Craw Cyber Security offers a complete security assessment and Best Online Internet of Things IoT Course in Delhi penetration testing through our unique offering of Attacker Simulated Exploitation for Online Internet of Things Course in Delhi solutions. In some of the cases even the devices share identical types of vulnerabilities, we often devote our time in some unique ways of exploitation, and into things such as combining lesser crucial vulnerabilities to bring about a prime compromise.
This course enables you to learn the vast pool of information systematically through a cooperative approach of our well-experienced teachers via their exclusive methods of teaching and self-developed curriculum in order to give the best knowledge transfer to the students willing to make a shinier future in this domain of a Certified IoT Professional. Join now!
Internet of Things Course Content (Hindi)
Internet of Things Our Course Advisor
Online Internet of Things Course
Craw Security is a premium ethical hacking institute in Delhi offering the Best IoT training in Delhi for the consecutive two decades. Craw Security promotes a diverse and exclusive learning experience with best-in-class amenities and infrastructure. The route curriculum is designed so that the candidate can begin training because the expert IoT developer as quickly as they whole their program.
Craw Security is one of the world's most eminent institutes providing IoT Training Course in Delhi to multiple organizations and also to students around the globe. With our learning partners, IBM and Oracle, Craw Security rendering IoT programming course in Delhi aim to provide the bests opportunity for candidates aspiring to work in MNC's.
Choose Your Preferred Learning Mode

We offer customized VILT (Virtual Instructor-Led Training) sessions at your convenient hours to provide effortless training.

One can also opt for the prerecorded video sessions available at any point of time from any particular
location.

Hire a preferred trainer at your work premises at your chosen time slots and train your employees with full efficiency.
Internet of Things Course Description
Best Internet of Things Course in Delhi
Craw Security, the IoT Training Institutes in Delhi will open doors of opportunity for candidates. As the demand for IoT developers in the industry is rapidly increasing, companies are looking for developers who have socialized knowledge in this field. Organizations desire to hire assets not liabilities, a student without talent and knowledge of any domain is usually now no longer the primary preference for the companies. Companies would always consider those candidates who have some experience of working on Live Projects and detailed knowledge of the domain over any other factor.
Benefits of Internet of Things Course
At Craw Security's well-equipped IoT training center in Delhi, aspirants learn the skills for IoT Overview and History, IoT Fundamentals, IoT Training in real-time projects along with IoT placement training. IoT Training in Delhi has been designed as in step with contemporary enterprise traits and preserving in thoughts the superior IoT direction content material and syllabus primarily based totally on the expert requirement of the student; helping them to get placement in Multinational corporations and attain their professional goals.
Craw Security's Students Awarded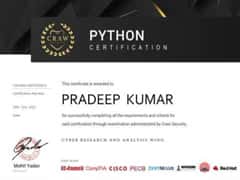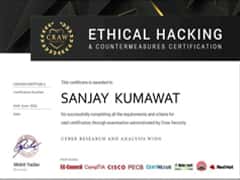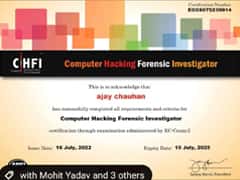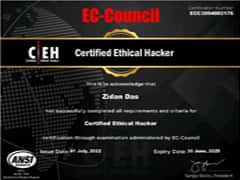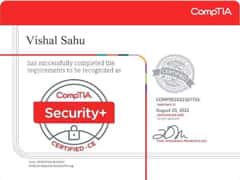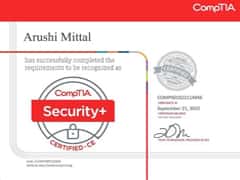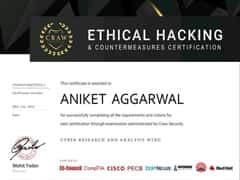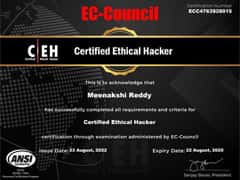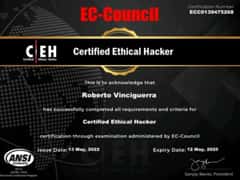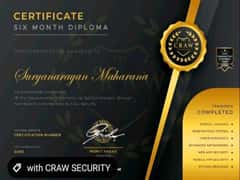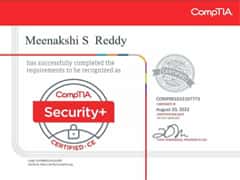 What People Are Saying About Craw Security






Internet of Things Frequently Asked Questions
Internet of Things (IoT) can be defined as an idea of networking internet-affiliated devices to one another to form a web of devices that can be operated with a single command in a vast network. These devices can be controlled from any remote location via the usage of internet connectivity as they can sense and give commands to other pre-connected devices and other hardware. Hence, people sitting outside a closed area can also be connected via IoT as it approaches a huge network of connected devices.
What are examples of the Internet of things?
Top Internet-of-Things (IoT) Examples to Know
Connected appliances.
Smart home security systems.
Autonomous farming equipment.
Wearable health monitors.
Smart factory equipment.
Wireless inventory trackers.
Ultra-high speed wireless internet.
Biometric cybersecurity scanners.
What is meant by IOT Pentesting?
An IoT penetration test, widely termed as a pen test, is basically an artificial cyber attack on your computer network system to check the possible vulnerabilities and threats. Developers use to perform this test to confirm all the exploitable vulnerabilities that can be traced and secured before any possible hacking occurs as the insights gained through it will readjust the WAF Security Policies and rectify detected threats.
What is the purpose of Internet of things Pentesting?
The main objective to perform an IoT Penetration Test, or a Pen Test, is to measure the number of tentative threats or vulnerabilities for checking the safety of an IT Network System. These so-called vulnerabilities or threats are the prime purposes to perform the IoT Pen Test that may be found in operating systems, application defects, inappropriate configurations, or risky end-user behavior.
What does pen testing involve?
A working developer with the help of some programming coding performs an algorithm of events as a hacker to put the IT Infrastructure into one's commands and extract the number of vulnerabilities or threats that the respective network, computer system, or web application possess in the process of Pen Testing.
Yes, it is difficult for many people on varied levels as it needs a professional ethical hacker to perform Penetration Testing on the network systems for an IT Infra whereas most of the target companies do not take it as an important task to perform until or unless they get their IT Infrastructure compromised by some "hacker" from any remote location. On a general level, companies do think that it is the duty of their permanent IT Staff to take care of the security methods for their IoT network, computer systems, or web applications.
Is IOT Pentesting a good career?
Basically, Pen Testing is a method to discover the threats or vulnerabilities of a network system as well as to rectify them with the extracted insights. IT Industry changes every new day in the market so there are new threats and challenges that come out each passing day but the IT Infra always needs to be secured. Hence, it is a good opportunity to learn Pen Testing but generally, the companies won't hire you on a single thing, you should enroll in the full Ethical Hacking Course in Delhi. Join now Craw Cyber Security's professional Ethical Hacking Course in Delhi and be found by the elite companies for the post of Certified Ethical Hacker.
Yes, IoT devices can be hacked. A professional hacker with a lot of practice and the right equipment can compromise your network system by launching an algorithm of coding attacks on your server resulting in the temporary or permanent blockage of the system. This can be done by connecting with the network system through physical or remote access of the IoT devices.
Is pen testing stressful?
Yes, Pen Testing is itself a stressful act to perform. Even the most professional ethical hackers get headaches during the procedures of performing Penetration Testing.
What is the average salary of IoT Pentester in India?
Doing IoT Pentesting is not an easy nut to crack. Hence, IoT Pentesters charge a lot for their work. Therefore, the average salary for a IoT Pentester is between ₹4,64,632 to ₹6,12,494 annually in India.
Is there any professional Pen Testing Institutes in Delhi?
Yes, Craw Cyber Security offers premium-class IoT Pen Testing Course in Delhi with a certificate where you can learn all the tactics to identify the possible vulnerabilities and threats of an IT Infrastructure and rectify them. Craw also offers a whole package Ethical Hacking Course in Delhi where you can learn every single detail of ethical hacking make a bright career in this field.
List of Companies you can get placements in
| Company Name | Contact Person | E- Mail | Contact Number | Course Name |
| --- | --- | --- | --- | --- |
| Deep Logictech India Pvt Ltd | Nidhi | hr4@deeplogictech.com | +011-45453628 | Ethical Hacker |
| British Telecom | Binit Rai | binit.rai@bt.com | +91-7595920106 | Cyber Security Professional |
| Fastandfurious Consulting | Niharika Sharma | hr2@fastandfuriousconsulting.com | +91-9990291119 | Networking |
| Parahit Technologies Ltd. | Pooja Thakur | ptlhr@parahittech.com | +91-9149292929 | Technical Support Engineer(CCNA) |
| Trigent Software Limited | Hafsaa Sait | hafsaa_m@trigent.com | +91-9886970024 | L1 Technical Support Engineer |
| Shriv ComMedia Solutions Pvt. Ltd. | Aarti Singh | aarti@commediait.com | +91-9910967277 | Software Developer |
| HCL Technology | Anamika | hr@evisions.co.in | +91 9811722023 | Network Administration, Security |
| BreachLock | BreachLock | hello@breachlock.com | +1 917-779-0009 | Penetration Tester with Python Development |
| Right Step Consulting | Right Step Consulting | resume@rightstepconsulting.com | +0120-429 1013 | Network Administrator |
| ACE IT Solutions | ACE IT Solutions | Info@aceits.net | +646-558-5575 | Junior Cyber Security Analyst |
| Limpidstone Technology Pvt. Ltd | Manisha Saini | info@limpidstone.com | +91 7840060051 | CEH |
| Indian Institute of Management and Development | IMMD Placement | info@iimdindia.com | +020 - 6500 1155 | L 1 Engineer |
| Indian Institute of Management and Development | IMMD Placement | career@vsure.in | +91 9354061269 | Network Administrator |
| Indian Institute of Management and Development | IMMD Placement | career@vsure.in | +91 9354061269 | L 2 Engineer |
| Indian Institute of Management and Development | IMMD Placement | career@vsure.in | +91 9354061269 | Accounts Executive |
| Three D Integrated Solutions Ltd | Uma Verma | uma.verma@threeds.com | +91 874507070 | Certified Ethical Hacker (CEH v11) |
| IARM Information Security Pvt Ltd | Sridhar | sridhar@iarminfo.com | +91 9361906659 | C|EH v11 |
| IARM Information Security Pvt Ltd | Sridhar | sridhar@iarminfo.com | +91 9361906659 | SOC Analyst |
| LINC Education Services | Avani Raghuvansi | avani@linceducation.com | +91 7045577921 | Cyber Security |
| Mekdam Technical Services | Abdul Saiyad Khan | a.syed@mekdamholding.com | +91 9908403117 | Scada Security |
| Precise Testing Solution Pvt Ltd | Sonali Sharma | hr@precisetestingsolution.com | 0120 - 45555590 | EC-Council |
| RDX | Navisite Pvt Ltd | Naveen Kumar | nkumar@rdx.com | +91 7411602488 | Sr. Consultant |
| Aujas Technology Pvt Ltd | Pankaj Badera | pankaj.badera@aujas.com | +91 7696506250 | Sr. Consultant |
| Tetra Information Services Pvt. Ltd. | Mitali | mitali@tetrain.com | +91 7024125214 | Linux |
| Orbit India | Pragati Choudhary | hr.orbit@orbitindia.net | 011 - 49141500 | CCNA |
| Percoyo Pvt Ltd | Dorai Raj | hr@percoyo.com | +91 8660333455 | Stack Developer |
| AAITPro | Kartik Beemsingh | kartib@aaitpro.com | +91 9789905286 | CCNA |
| Experis | Nidhi | nidhi.sharma@in.experis.com | +91 9810182383 | SAP |
| Seek Your Job | Kumara | cv@seekyourjob.com | +91 9443455374 | Web Development |
| Art Kart | Anil Pakhare | art.kart00@gmail.com | +91 9082452620 | Android |
| Ideas2it | Dhanasekar | dhanasekar@ideas2it.com | +91 8681059189 | Software Testing |