Certified Ethical hacker CEHv12 Course
September 10, 2022
2022-11-28 16:15
Certified Ethical hacker CEHv12 Course

CEH v12 Course in Delhi | EC Council Certified Ethical Hacker Course
Learn the very famous EC Council CEH v12 Training and Certification Course in Delhi with the best specializations of ethical hacking fundamentals through the most versatile faculty members imparting quality mentorship on the verified syllabus of Certified Ethical Hacker on the latest 12th version.  In addition, learners will get a fully intensified classroom experience on the latest updated technological software of CEH v12 Training and Certification 20 modules.  Moreover, after the successful completion of the Certified Ethical Hacker course, a person will certainly be able to hack into systems from any remote location and secure them like a professional Security Analyst in the coolest way possible via the techniques and tactics that you will learn from our verified curriculum from EC Council in our authentic CEH Training in Delhi.
Course Include: Training & Certification
Accreditation with : EC - Council
Book a FREE Trial Class
Training Available 24*7 Call at +91 9513805401
About the CEH v12 Training in Delhi
Any person who is proactively interested in learning and building an outstanding career in the stream of Cyber Security and Ethical Hacking Course in Delhi can nicely get the enrollment in this highly versatile training of Ethical Hacking Course in Delhi after 12th for starting your career in the domains of Information Security so nicely. In addition, Craw Security is the best cyber security institute in India, with the verified curriculum of EC Council CEH v12 Syllabus directly from the house of EC Council.
Now, it is pretty high time for a person who wants to shine as a cyber security professional to seek admission to the CEH v12 Course in Delhi which would certainly assist you in mastering the fundamental skills of ethical hacking. Moreover, for mastering the CEH Certified Ethical Hacker concepts, one needs to understand the basic concepts through our well-qualified and duly experienced training instructors having more than 10 years of quality industry experience.
What's New in EC-Council Certified Ethical Hacker v12?
The latest version of EC Council Certified Ethical Hacker v12 has just launched on Wednesday, 7th September 2022 with a worldwide release through the EC Council platform. However, there are several specializations and updates announced with the same release of CEH v12 with no change in the number of modules. Some of the prominent changes in technology are as follows:

EC-Council C|EH v12 Content Updates
Learn
Certify
Engage
Compete
1. New Learning Framework:
2. Compete: New challenges every month!
3. 100% compliance with the NICE 2.0 Framework
4. Based on a comprehensive industry-wide job task analysis
5. Hands-on Learning Labs
6. Practice Range
7. Global C|EH community competitions
8. Cheat sheet
9. Coverage of the latest malware
10. Lab-intensive program (every learning objective is demonstrated using labs)
11. Hands-on program (50% of training time is dedicated to labs)
12. Lab environments that simulate real-time environments
13. Covers the latest hacking tools (based on Windows, macOS, and Linux)
14. Latest OS covered and a patched testing environment
15. Updated versions of tool screenshots, tool listing slides, and countermeasure slides

Compete: New challenges every month!
Learn about the new challenges that are coming every month for the new-level ethical hacking practitioners in the following table:
| | |
| --- | --- |
| Month | Skill Challenge |
| October 2022 | OWASP Top 10 Web Application Threat Vectors |
| November 2022 | Ransomware/Malware Analysis |
| December 2022 | Outdated/Unpatched Software |
| January 2023 | System Hacking and Privilege Escalation |
| February 2023 | Web Application Hacking and Pen Testing |
| March 2023 | Cloud Attack/Hacking |
| April 2023 | Social Engineering/Phishing attacks |
| May 2023 | IoT Attack/Hacking |
| June 2023 | Wi-Fi Network Attack/Hacking |
| July 2023 | DOS/DDoS Attack |
| August 2023 | Mobile Attack/Hacking |
| September 2023 | Supply Chain Cyber Attacks |
EC-Council C|EH v12 Technology Updates
● MITRE ATT&CK framework
● The diamond model of intrusion analysis
● Techniques for establishing persistence
● Evading NAC and endpoint security
● Fog computing
● Edge computing
● Grid computing

What will you learn in Certified Ethical Hacking v12 Training in Delhi?
As we have elaborated on the main concepts or the change in the curriculum of Latest version of EC Council CEH v12 Training and Certification Course from the 11th version of this magnificent Certified Ethical Hacker Course from the house of EC Council. In the same context, Craw Security – the best cyber security training institute in Delhi NCR is offering the best-in-class CEH v12 Training and Certification Course under the mentorship of proactive trainers and mentors having 10+ years of quality experience.

Enroll today in the Certified Ethical Hacker Course with us and become a specialized person in ethical hacking with the unconditional support of Craw Security – the primetime official learning partner of EC Council to impart its valuable knowledge-based courses at its premises in the Saket and Laxmi Nagar branches. We provide the Best EC-Council Certified Ethical Hacker CEH v12 Training and Certification in Delhi. The CEHCertified Ethical Hacker v12 (CEH v12 Course in Delhi) program is a very popular information security training program among information security professionals. Enrolling in a CEH v12 Course in Delhi helps in covering all concepts in the objectives so that you can master the knowledge needed to clear the CEH Exam.
Why choose Craw Cyber Security Institute for CEH v12 Course in Delhi?
In case you are desperately searching for an institution that is duly accredited and affiliated with EC Council then your search is over as Craw Security is one of the prominent cyber security institutions in Delhi that is duly accredited to the EC Council as an authorized learning partner to provide its courses. Craw Security is duly present at Saket and Laxmi Nagar locations in Delhi NCR for a decade-long run imparting a quality-based education system in information security for professional Ethical Hacking Course in Delhi.

By delivering the crucial Eccouncil CEH v12 Course in Delhi, we have become one of the Top 10 Ethical Hacking Institutes in Delhi. While learning here, you will get proper Training & Certifications in Ethical Hacking Course so that you can also use techniques and tactics duly utilized in the industry by the Best Ethical Hackers and Penetration Testing Experts from this field.

The main benefits of taking a CEH v12 Course in Delhi are:
It provides the breadth of coverage necessary to learn the full security concepts behind the CEH exam.
It assists prepare you for a career as a Cyber security professional.
If you want to make a career in Cyber Security then getting admission to the ethical hacking v12 training and certification program is quite essential. CEH v12 Course in Delhi is a leading training and certification program where Students audit a system for weaknesses and vulnerabilities using the same tools and exploits as malicious hackers, but having proper legal rights and working towards the cyber security of an organization. One of the most important things about being a proficient hacker is that you understand the psyche of how a hacker's brain works.
By taking the CEH v12 Course in Delhi, you will be in a better state to be at the helm of an organization's cyber security. In today's day and age, when cyber security is a top priority in every organization, taking up a Certified Ethical Hacker v12 Course will give you an edge over others in this field. The Certified Ethical Hacker (CEH v12) program is the most coveted information security training program any information security professional wants to learn. Completing this course help you in acquiring hacking technologies within the legal framework of the country, which you can use in ethical ways. Getting training in this course gives you proper knowledge of advanced hacking tools and techniques used by hackers and information security professionals across the globe.
Workshops & Seminars: We Provide Workshops and Seminars to Fill the Gap Between Industry requirements and Students' Skills.
100% Job Guaranteed: At Starting Package 4-5 Lacs per annum After EC-Council Training from Craw Cyber Security Institute.
Certified Ethical Hacker Jobs
There is a vast scope of Certified Ethical Hacker Jobs in the world whereas India spots no less than anyone else in the world rankings providing most of the crucial Certified Ethical Hacker Salary in India associated with the varied domains of Cyber Security. Our alumni network is functioning distinguishedly at various levels in reputed organizations after undergoing the Best Certified Ethical Hacking Course in Delhi from Craw Cyber Security Institutions at Saket and Lakshmi Nagar locations.
Show More

∨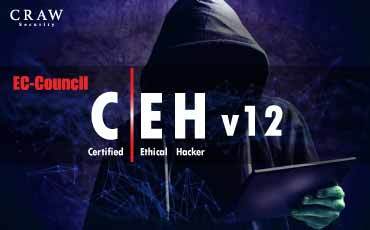 Register Now Before Registration Closed & Grab Red Hat Certified Engineer Course Benefits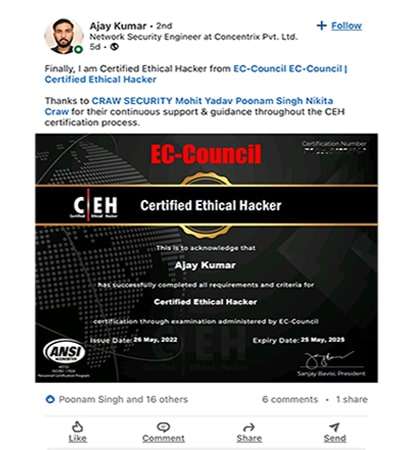 Join Online Training and Certification Course
Content for CEH v12 Course in Delhi
Certified Ethical Hacker Course Fees
People are widely seen searching for the Certified Ethical Hacking Course in Delhi Fees as well as the Certified Ethical Hacker Exam Cost to know more about the financial aspects for our budget students.  They are equally worried about how to get CEH Certification from any verified institution in their locale.
The domain aspirants are also seen searching for the Certified Ethical Hacker Salary in varied organizations to know the lifestyle they will get after pursuing a suitable career in the domain from the thorough learning of CEH v12 Training in Delhi from an accredited institute from reputed ECcouncil just like Craw Cyber Security Institution.















Frequently Asked Questions
About CEH v12 Course in Delhi and Certification Institute | Ethical hacking Course
Instructor Led Training
Certified Ethical Hacking Training Course
➜ Blended learning delivery model (instructor-led options)
➜ Teaching style modified according to the student's issues
➜ Develops important personality and career building skills
➜ Group Discussions
➜ 24x7 learner assistance and support
➜ Weekdays / Weekend Classes