Craw Cyber Security Ethical Hacking Reviews By students
February 9, 2021
2021-02-24 10:41
Craw Cyber Security Ethical Hacking Reviews By students
Craw Cyber Security Ethical Hacking Reviews By students
ZEHERツsunny
Very supportive, experienced and skillful Teachers.
Friendly environment.
In total a very good institute for cyber security field.
2. Utsav Pareek
At craw security i got best cyber security training. management and teachers are so supportive , specially pankaj sir. teachers are expert in their field

3. ReaperX Gaming
Great faculty…friendly in nature and have good experience and knowledge. I'm doing CEH and going good till now.
4. sharik khan
Hey, i am sharik khan and i am happy to read in craw cyber security. all the trainers are very good and helpful to learn and clear my all doubts. Babli mam is my councellor and she is very good and updated me all new things.
thanks for craw

5. Vicky Singh
All quality is good i am satisfied with training of CEH
By Rachit sir

6. YADNESH SHIMPI
Best experience of Ethical hacking. Quality knowledge and upto the mark concepts.

7. jalaj goyal
The teaching skills are the best, The way they communicate and present there thought and ability to make you learn new things easily and quickly, Thank you so much for your guidance and support 😉

8. Manish Dagar
The teaching skills are the best, all the staff are talented and the way they communicate and present there thought and ability to make you learn new things easily and quickly. Keep it up.

9. Asimkhan Mahorvani
I have enrolled for 6 month diploma course in information security at craw security. I am attending online classes yet the experience has been really good. My subject(CEH) faculty Himanshu Saraswat Sir is very friendly and knowledgeable. We can easily discuss our doubts to sir. Our class strength is not high and sir focuses on each and every student. Sales department group of craw security is really nice. Rishika Mam of sales department always helps and takes feedback from the student on given lectures resulting in nurturing and helpful enviornment for students.

10. pankaj gupta
I have been taught by Laxmikant sir and my experience has been really good. My teacher always ensure that all my doubts are cleared and he is always just one call away for any help. My experience with Craw Security has been really good. I thank Mr. Mohit Yadav for all his contribution and efforts to improving my Cyber Security knowledge and helping me every step of the way. Hoping to get a great job post my course.

11. vikas kumar
hey, i am vikas, i am satisfied with all the trainers. i am very thankfull for guiding me babli singh mam.

12. Sunil Bhati
Hi ! I want to say thank you for craw security for their support and excellent teaching. The quality of teaching was very high standard and the cost is reasonably affordable. Online trainings for students are given with full effort of faculties making them to understanding and working it practically. Highly Recommended.

13 . rohit prakash
All the trainers here are really talented and knowledgable. I did my diploma in information security and thanks to the trainers i have good command over cyber security now . Craw Security Is the best cyber security institute

14. CLODO JHAMPOOL CUBAS TORRES
Craw security has helped me to beat my limits. Since i started, craw has taught the simple concepts in order to understand the main theme. It goes from general to every specific concepts. And finally it taught us to use this knowledge in real life the best possible way. Thanks craw security.

15. Lalit Meena
Its not the training but overall experience, right from counselling to orientation everything was upto the expectation.
y, I felt great .
I strongly recommend CRAW SECURITY to the ones who are confused in choosing right training company.
Before coming to CRAW SECURITY , I visited 8 Cyber Security institutes but now I am proud about my choice.
Highly Recommended !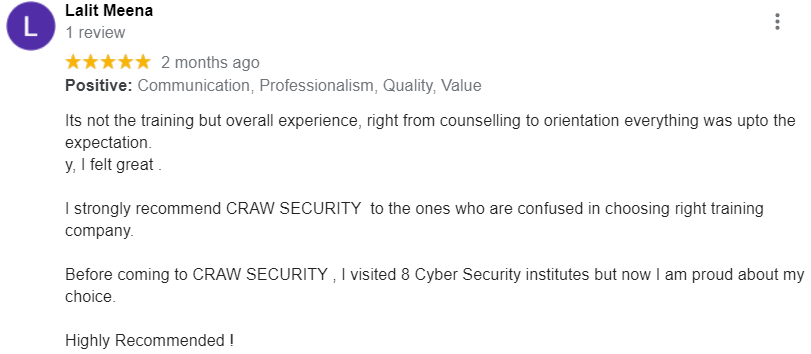 16. raghuveer singh
hey; thanks for craw security for teaching me better and thanks for my councellor who suggest me do the diploma course; thanks babli mam.

17. MD SAMEER
i am studing in the craw security, and i am very glade and satisfied with us trainer who"s name is salonee mam. she is teaching us clearly and properly. she is help me to solve all problem and issue.

18. Rahul koli
This Company give me a good working skills and motivation to work hard. And the teachers are also very good and friendly.

19. ashwani tasood
It is tha place where tha trainers are supportive and the staff where also helping

20. Sonam Verma
I had a great experience with this company.
Trainers are so good and helpful.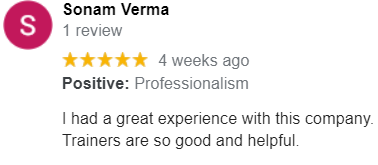 21. kali linux
Its's an excellent institue to learn about CEH in craw security
in your instituion guidance is very good ,counselor .
Salonee ma'am she explain everything in briefly . I came here as beginner and i haven't know everything about CEH but after studying CEH now iam to do hacking in intermidate level
THANKS
CRAW SECURITY

22 . Ankit Chopra
Bestest Trainners and awesome quality course with better and great opportunity of carrier😊 and last but not least best staff members.

23. rocky singh
hello,
i m from bihar, thank you for clearing my all doubts and suggest what is best for me. Babli singh thank you for clearing my all doubts.
24 . Mayank
I have successfully completed my CEH. Thanks to the Craw team. All the teaching faculty are having real time experience. There is no other place where such good experience teachers are available at such affordable price and with such versatility.

25. Ashutosh sharma
Craw Cyber Security is the best platform to gain knowledge of cyber security and create your bright future.
Thanks 😊

26. Aditya kumar
Thanks for teaching the best content with real life scenario and real hunting part
Thanks craw security

27. Lary Page
Actually it's very nice place and atmosphere there is also so calm and nice to concentrate and no other disturbing noise . Individual class and very comfortable environment and Yogita mam is also so good and helping , telling from personal experience and helped in every way for classes and any and problem in institute , calm and polite nature

28. ravi yogi
I am Ravi & i am pursuing DIS in craw security. All faculties are good & experienced.

29. Harish Yadav
Craw Security is one of the best Cyber Security training institute. I have done CEH V10 from craw security. trainer are very supportive and helpful. It was very great experience with craw security.

30. Ajay Kumar
Hi All,
Faculty are veey good and supporting.They helps every time in class as after class

31. Aniket Shrivastava
Superb trainers.
They helped me a lot in making my learning easy. The course curriculum was excellent and easy to understand. I am really happy and all my friends if you also want to do training highly recommended to join.
Thanks

32. Universe Studios
These people are really doing a great Job. I had a pretty nice experience 😌.
33. Ashu Bansal
I am studding in craw security. now i am studding CEH and our trainer is miss Salonee. And miss Salonee is friendly nature and teach well. I am happy to learn from her. I am from commerce site but miss Salonee helps to learn all the commands and she helps to solved all the problems. And i satisfied with my trainer miss Salonee.
All the staff of craw security is very friendly and good nature. All the craw security trainers and all the councilors behavior is very good and supportive.
Ankit Rai sir is very supportive and also teach me new things he is available 24*7 and also resolve my all queries.

34. Rupesh Rajak
it good institute for coding and hacking. and
craw institute is best

35. Rohit Sharma
Environment is good for learning and salonee jasiwal mam teach very good all time mam motivate us . Thanks

36. Arpan Chakraborty
I am very thankful to my own decision of choosing Craw Security. It is a great place to upgrade oneself in the field of penetration testing and cyber security. I am thankful to Mr. Pankaj Yadav for helping me a lot in guiding at each step, while I was in search of which would be my best choices/courses etc. Many thanks to my teacher Ms. Salonee Jaiswal. She is really excellent in educating one from a very basic to advanced level. Studying of several weeks here, I must say that Information Security is itself a critical course which requires a lot of hardwork, dedication, sincerity, and also good fortune. All these qualities come easily, if and only if, one gets a quality guidance. My current experience is really outstanding. I thank Mr. Mohit Yadav for putting his endeavour of creating such a good place. Thank you all.

37. cyb3rz0n3
Very good place to work , friendly staff who always maintain work life balance.
I found every day of mine spent here learning and growing ,I'm very sure the knowledge I got from this place is beneficial for me . This company helps me grow as a leader and a technical person. I would like to thank Mr. Mohit Yadav, Mr. Pankaj Yadav, Mr. Rishabh for mentoring and guiding throughout the period of my training.

38. Aditya Gaming

Awesome place for cybersecurity and Good environment for learning with real life scenario

39. sanjeev kumar
I got the opportunity to present my self.
I'm now finishing the networking part in Cybersecurity Diploma Course.
The trainer is Ankit Sir best trainer for me in this Institute (Craw Security).
The best part of this Institute is the trainer will help you any time…….

40. Mridul Kumar
it is a great place to learn cyber security. Trainers here are highly skillfull and knowledgable.

41. Tanishq Sharma
I did the CEH v11 exam from craw security and they made it available for a very reasonable price.At craw Staff is very helpful they listen to you and provide you the best solution whether its related to the training or exam.

42. Niraj Kumar
Great hub ..In this institute there are best trainers ….
All the staff friendly nature and best behavior…..I have completed the networking part & i have get lot of knowledge in Networking ….if any type of the problem in networking. The trainer Ankit sir always helpfull for me …
There is always in practical explaination behind each theoretical talk, and its great..
Thank you so much.

43. HEMA BAGHEL
Craw security best institute ND Manisha mam best counselor

44. Manisha Manisha
Craw cyber security is the best ceh training providing institute 👌

45. prakash jha
It's an excellent institute to learn about CEH, PT, networking etc. All the trainer are extra ordinary talented and skillfull. mine trainer was salonee ma'am. She explains everything in a brief way.I came here as beginner and I haven't know anything about CEH but after studying CEH now I am able to understand what is ethical hacking it performs and lot more.🙏
46. ABHAY KUMAR SINGH
A perfect Institute have a good experienced friendly nature trainer and a good staff. best coaching class to learn hacking deeply. Craw security class teach theory as well as practical also have Best Course content. must be join One of the best Ethical Hacking Institute in India. It was an amazing experience learning.

47.Khushdeep Dhir
Best place to learn ethical hacking, networking and many more stuff. Many varieties of courses and superb trainers. Do give it a try to this institute.

48. Dpak Lakshman
Trainers are awesome…..and institute is very best because it has lot of infrastructure and services make the students helpful at any situation….and the fee structure is also affordable….. online training for students are given with full effort of faculties making them to understanding and working it practically…..thank you for your great time spending your time and being with US 💗@craw security..

49. Akash Saxena Akku
Awesome experience while classes.
In dept knowledge of the course and even use easy way to explain tough topics.
Do give them opportunity to help you in career growth

50. Arbaaz Ali
All trainers are professional and experienced, they will explain everything from its basic point and try there best to clear your doubts then and there before moving to another topic. In last they are best.

51. Ankitrai83 826@gmail.com
Great place to work.
Great people. Everyone is kind and wants to help you succeed. I never felt uncomfortable asking for help or mentors. Tons of great perks and a ton of fun! The company is truly built on great principles and values and they stand by them.
52. ankit thakur
Now I am completed my networking from CRAW Security and my networking trainer Ankit Rai sir are best trainer in institute
Thank you Ankit Rai Sir you are best teacher ..
And
Thank you CRAW Security and the staff of this institute is very much friendly specially Poonam mam , they help me for doing everything…..

53. Lomash Bhadouria
One of the best institute or cyber security training in new Delhi I'm from computer science background so they give me more informative about cyber security field they are providing well and good real time experts trainer also have proper labs for practicing trainer is awesome ,has exellent knowledge and always ready to solve my queries explain from basic to professional level thankyou….. for future cybersecurity thankyou ankitsir(mentor),poonam mam( guided)

54. saksham_v_i_p_RS
hii,I m saksham! recently, i joined cyber security from delhi institute of craw security in lakshmi nagar. and now i m well much impressed about their academics schedules and classes and i think this is the best academics ever i joined of cyber security course and the teachers in this institute are very helpful and respectful and if taking my opinion i suggest all the persons who wants to join the cyber security course that uh should join the craw security institute in lakshmi nagar (DELHI).

55. T4 TARUN
Craw cyber security best coching Institute 👌

56. Krishna Rajan.s
When I started the class at my own intrest day by day the classes will going very interesting.And I have any struggle they give idea to ower come it.

57. hashtag ax
i just finished my courese regarding "in depth networking",and i am really thankful to Ankit sir(my trainer) for proper guidance well as my counselor Babli mam for cleareing all my doubts regarding this.

58. Prince Singh
I have attended the Cyber Security Diploma Course in Craw Cyber Security. Course Content is Excellent. I would recommend this course anyone wants to make career in Cyber Security Diploma. All presentations are very good. The Course material is truly great, and Good thing is that you will get real time project Explanation with case studies.
59. Durgesh Tomar
I just love this… Its a wonderful thing i have ever seen…. Thanks alot for this ☺ 😍

60. Manisha Singh
I Joined Craw Cyber Security as a Education Counsellor, the working environment is very good and Positive.

61. Praneet Jain
Hello everyone
I am Praneet Jain
I am currently pursuing my CEH v11 training from Craw security a couple of weeks ago. I would like to provide a short review . Firstly I would like to thank Pankaj Sir to volunteer me throughout the training process . And I would also like to say that it would not have been possible without Deepak sir. They provided me study material and all the essentials required and are helping me at every step of training. They never made me feel regret my decision of choosing them. It was really a great experience with Craw security and I highly recommend everyone to choose Craw Cyber security for any courses of Ec council.
Thank you.
62. Amit verma
I recently completed my networking part and the trainer of craw security is so amazing specially mohit sir Who guided so well,Laxmikanta sir(network trainer), Abhinav sir(python trainer) and my counsellor Babli Mam help so much and clear all my doubts so I am thankful to all staff for motivatate to my career

63. Krishna Rajan.s
When I started the class at my own intrest day by day the classes will going very interesting.And I have any struggle they give idea to ower come it.

64. Damini Chopra
Best facilities are available. Good work environment.

65. RUPAL JAIN
A good institute to enhance your skills in cyber security.

66. MANISH KUMAR SINGH
I have attended the Cyber Security Diploma Course in Craw Cyber Security. Course Content is Excellent. I would recommend this course anyone wants to make career in Cyber Security Diploma. All presentations are very good. The Course material is truly great, and Good thing is that you will get real time project Explanation with case studies.

67. AD Studio
CRAW Security is such a great place for learning cyber security.. Teachers are so friendly with the students that they didn't hesitate of asking any doubts coz they feel like asking a friend.. Quality of study and teaching method is also great.. From my experience so far, CRAW Security is the best place which make you a Cyber Security Expert!
68. suresh verma
Pankaj Yadav is very help full and knowledgeable person, very professional.

69. Khushal Singh
Best place in India to learn Cyber security. Thank you craw for a wonderful training.

70. Saurabh Arya
Craw Security is the best place to learn Information Security. All are very supportive and professional mentor. You can ask them doubts anytime.
You will get all security related services at one place.
According to me go for craw security if you want to become a security professional.
Thank you
71. Creative World in Hindi
Awesome experience from Babli mam Thank you Craw Security!

71 PubG ArenA6
I learn here ethical hacking.
Thank you craw security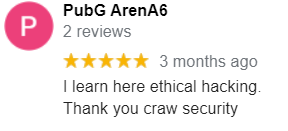 72. Keshav Baliyan
Teachers are knowledgeable and cooperative and courses are also useful in future
73. Sayan Chatterjee
Craw Security is the best Cyber Security training institute. I have learnt a lot from here. My trainer is Salonee Mam. She is very good trainer & as well as very helpful. I have done CEH V10 from craw security. Pankaj Sir & Bubli mam are very helpful. It was very great experience with craw security.
Highly Recommended!!!

74. Anamika Srivastava
Super trainer Ankit sir and good supporting nature .The way of teaching is very nice and cover all topics 😊😊😊

75. Bouchra Mchaar
I had a great experience with all the staff. I've completed CEH training and certification with CRAW Security. I want to thank everyone at the institute and looking forward to my next training. I highly recommend it to anyone who is pursuing a career in cyber security. I was provided with excellent practical hands-on experience with the CRAW security and Mr. Mohit Yadav.

76. Sachin Tomar
Hii! I am pursuing my Information Security Diploma from CRAW. My experience has been going very well till now. Here the Staff, Faculty all are so supportive which helped me gain practical exposure and thanks to Lalit Sir, he clear my doubts anytime asap and he is very friendly. Special thanks to Mohit Sir, he is a very good mentor in Cyber Security. He always supports me. I would recommend all of you to do your Ec Council certification and Training if you want to make a carrier in Cyber Security. Thank You

77. desi viral
Good teaching methods. They solved chapter doubts nicely and faculty of this institute are so friendly and well experienced.

78. Gourav Sachdeva
Craw security is a good place for beginner to start in cyber security.
They have very humble and knowledgeable staff.
79. Yashashavi Pant
I've been with this institute from the past one year. My experience was very good … Online and offline both classes are going very well…. Amazing faculties with expertise knowledge in their field
80. Deepak Thiruk
Hi I am Deepak , I did my ethical hacking in this institution and I feel proud to be a student of it.I was very glad to see the way of trainers taught me
and make efforts to enrich my career.Iam posting this comment for their patience and understanding each and every student's mentality.

81. eye-uh
I had a really good experience after completing the CEH training and certification with CRAW Security staff. Everyone at the institute was wonderful and I hope to continue more of my training with them. Mr. Mohit Yadav, especially was my best support throughout the whole process by sharing his knowledge and materials for a great hands-on experience.

82. Sworabh Agarwal
I have just completed my CISM certification successfully. Had a wonderful experience with CRAW team. Learning was great. Would highly recommend the institute for Cyber security and Information Security related certifications.

83. Sanjay Lamba
I have completed CISA training recently. My experience is very nice with Craw. I must highly recommend this company for guidance and training. One positive review about craw they don't force me to join. This is a very positive side of Craw.

84. meenu raj
Teachers are giving valueable information and teaching.

85. Alex Wong
Great cyber security training Center. Professional trainers, great supports and good customer services. You guys rock.

86. Sarang Dabadghao
I first met Mohit sir in 2009 to get training for CEH and since then I am connected with him for all sorts of Info Sec training I required. Recently I took online training for Ecsa v10 from him and successfully cleared my exam too… The overall training experience was excellent and I wish to learn more from him…
Regards
Sarang Dabadghao

87. Mohd Sayeed Khan
Great support from craw security. Friendly environment .Understanding and supportive staff. Good and experienced teachers.keep doing good deeds.BIG THANK YOU from my side for everything

88. Tripti Sagya
Best place for learning…..
Excellent teaching skills….
Experts are friendly …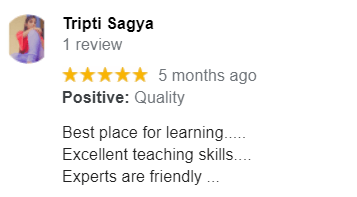 89. vishal Sharma
Craw security is great platform to learn about cyber security.

90. Abhishek Asopa
I have enrolled the Web Application Security course and couching given by Deepak sir.
He have covered me all the topic and explained me so clearly. Now started doing bug bounty
Thank you Deepak sir and craw security to improving my skills.
Who are looking for VAPT course then I would recommend craw security.

91. Ankit Singh
Best Institute for cyber security trainings and certification. The best part is you get trained from Mohit sir who has vast knowledge in the field of information security.

92. Abhishek Pahuja
I completed my CEH recertification from Craw Security. The staff was very responsive and helped me complete my certification exam in 10 days. I am grateful to everyone at craw for their support and will come back for my next certification soon.

93. devendrasingh gautam
I have completed CISM CERTIFICATION recently and this was possible because of my continued interaction with craw cyber security team for almost 5 years, I had a CEH and CLOUD COMPUTING certification already from my past training with Craw security and Mohit Yadav is excellent mentor and have great knowledge in infosec training domain.
I would recommend those who are just beginning their career in IT or moving from IT to information systems security, be it fresher or experienced professional, if you are looking to improve your skills and searching for a mentor you may not get anyone better than MOHIT YADAV.
Thank you Craw cyber security team.
Devendrasingh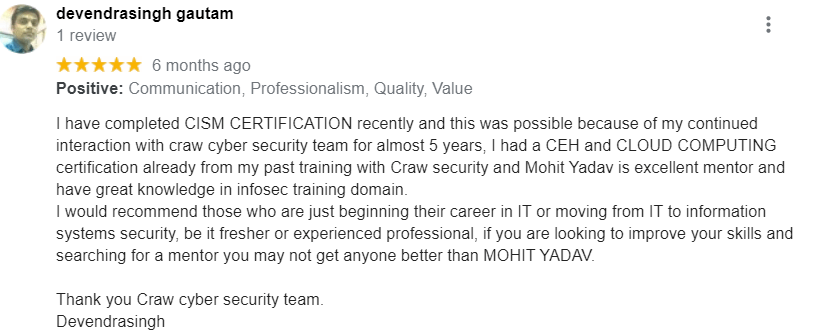 94. Divyansh Mishra
I joined CEHv10 training at Craw Security and the experience was fantastic. The knowledge shared throughout the course was very good. They provided me with any help that I required during the course with full efforts and help to gain the required skills.
95. Yuraj Singh
One of trusted institute where investment worth it. Great quality with indeft knowledge sharing platform by great trainner. I personally recommend this institution as they work hard for their clients and most importantly behaviour of employees are tremendous.

96. Ankit Chauhan
Craw Security gives you best experience & learning exposure in the field of Cyber Security. They provide various courses and certifications that can enhance your skills and can help you grow smoothly.

97. Nishal Raj
I am having a good experience with Craw Security. I have enrolled in CEH and feel its value for money and now I am planning to diploma. I am student of garde 11 and the way the of the teaching is easy to understand.The teacher are friendly and knowledgeable. Rishabh Kumar he is my teacher he helps me clear all my doubts and anytime. In one word Fabulous Experience. Without doubt you guys can go for it.
ALL THE BEST!!!!!

98. Vivaan Tripathi
A very good learning platform to start your career with. Really appreciate the efforts of Mohit Yadav and trainers to make people understand the concepts in a very easy way. A must join for the students who want to pursue their career in cyber security field
99. satyendra singh
Trainers are very professional and skilled, Having great knowledge in their area of expertise.i am very happy to join.

100. Anshul Agarwal
It's has been an amazing experience throughout from registering to training, purchasing voucher and I have that confidence to appear during the exam.
Definitely recommended