Red Hat Enterprise Linux | RHEL 9.0 Beta Version
January 14, 2022
2022-08-17 18:30
Red Hat Enterprise Linux | RHEL 9.0 Beta Version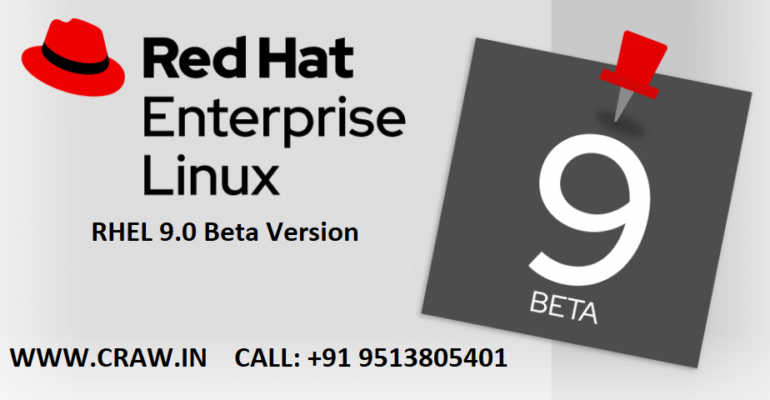 Red Hat Enterprise Linux | RHEL 9.0 Beta Version
Red Hat Enterprise Linux |RHEL 9.0 Beta Version 2022
Linux Operator around the planet is marking the RHEL 9.0 Beta Version as a successful update with exciting new features!
With almost everything on the charts of RHEL 8.5v version of Red Hat Enterprise Linux Software, the creators are up again with a remarkable change in the story with RHEL 9.0 Beta Version that is coming with some mind-blowing fresh features that can bring revolutionary changes in the domain with their continuous efforts for the sake of developing the tools that can be a benchmark in the stream of Cyber Security.  In order to learn Linux Essentials from a verified and authentic institute in an online mode of study, you can genuinely apply now to Craw Cyber Security Institution which is the Best Institute for Redhat Linux Training in Delhi with an in-depth curriculum duly constructed by the industry excelled officials and Linux professionals experienced from varied organizations for years.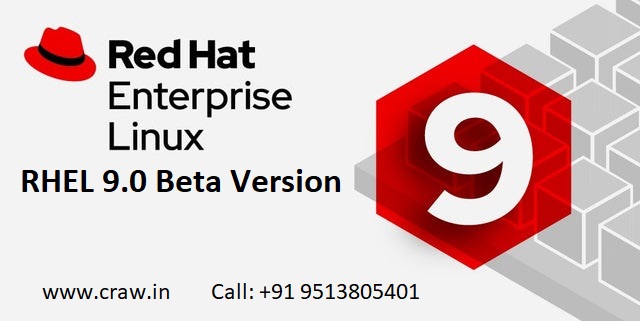 People all around the globe gave their support to establish the CentOS Hyperscale SIG one year back and the engineers from these above-mentioned unified technical organizations continuously functioning to provide several voluntary back-ports and other fresh fantastic characteristics atop CentOS (Stream) for what otherwise was not present on that previous software version.  It is the most exciting feature of the RHEL 9.0 OS update backed by several like on various social media platforms by the global users from the world for this particular feature update.
While back-porting some main features such as newer system releases to CentOS, the cloud developers also functioning day and night to make the suitable changes in the right trajectory to make a genuine sudden impact in the market by making operational Handling Deprecated Device Support in some regions and functioning at their own customized workstation OS software.  The RHEL 9.0 Beta Version has brought some of the major changes in the software that can change the industry's norms at a pace.  If somebody is interested in doing Online Red Hat System Administrator Course in Delhi and (RHCE)  Red Hat Certified Engineer Course in Delhi from a Red Hat officially accredited institute then one can do this Craw Cyber Security Institution.  We have enlisted some of the fresh characteristics that have been changed in the all-around favorite Operating System in the world such as:
GCC 11: The C/C++ applications for RHEL 9.0 are powered now with the fresh GCC 11 system compiler which includes a more robust static analysis option and a host for another latest C++ 17 features.
Link Time Optimization: In RHEL 9.0, LTO (Link Time Optimization) is fully functional where the system comes with several packages that are built with it resulting apps will take smaller and faster binaries that allow deeper inspection of source code at compile time.
Go 1.16, LLVM 12, and Rust 1.54: With Go 1.16, modules are allowed by creating language dependencies easier to manage in the default setting.  In the latest LLVM 12 toolkit, designers as well as developers can be benefited from the newer tool-using and can create other codes with more compatible versions of this LLVM 12.  At the last, Rust 1.54 allows developers to write high-performing apps that can work with a low memory footprint resulting in shaping them to fit for edge use cases.
Python 3.9: In this update of RHEL 9.0v, Python software 3.9v is also enabled which brings numerous fresh features to the house such as helping developers modernize their applications, including timezone-aware timestamps, the new string prefix, and suffix methods, and dictionary union operations.
Glibc 2.34:  The latest update of RHEL 9.0 helps to stay up to date with the latest security and bug fixes from Glibc upstream.
Apart from that, there are numerous features also launched inside this update which bring drastic changes in this operating system.  It is also very smartly updated with the developers' point of view as some of the major key features of this magnificent update are as follows:
One can facilitate oneself by modernizing the apps using the recent changes mentioned above in GCC 11, Go 1.16, LLVM 12, and Rust 1.54.
Stay focused on the work timeline with the new features updated in Python 3.9v.
Beneficial GNU C Library project (Glibc) with its latest update of Glibc 2.34 while having 10+ years of enterprise-class platform stability.
Open-Source ecosystem support advantage from CentOS (Stream).
Assess varied software versions nicely via improved app stream packaging alternatives.
Therefore, sign up for the latest RHEL 9.0 Beta Version and get all the magnificent features at home along with you and complete your daily Cyber Security needs smartly with us.  If you want to download the latest RHEL 9.0 Beta Version software then you may click here, it will redirect you to the official site of Red Hat Inc. You will have to make an ID in order to download the latest version of RHEL 9.0v Beta.