Top EC- Council Ethical Hacking Course | CEH v12 Training
October 31, 2021
2023-04-29 17:12
Top EC- Council Ethical Hacking Course | CEH v12 Training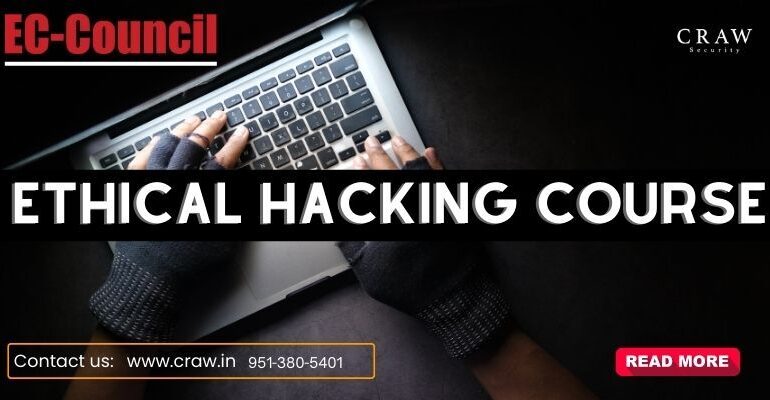 Top EC- Council Ethical Hacking Course | CEH v12 Training
Mankind is progressing towards a world that is full of internet-based devices, gadgets, and equipment that are solely inclined towards finishing their assigned tasks for the comforts and ease of mankind.  Nowadays, people need to have a promising business strategy when they take their business to the next, and that is taking it online with the help of a proper website and mobile application as well as doing proper digital marketing of the same and their products.
However, there is a bulk chance that their databases could get hacked through the hands of black hat hacking professionals widely looking out for one's fresh prey for illegal profits.  Hence, businesses need somebody who can literally take care of their digital assets with the primetime assistance of some verified cybersecurity tools.
In the same league, Craw Security, the best cyber security institute in India, offers a series of cyber security courses duly generated in-house or hail from its partner institutions, like EC-Council, Offensive Security, CompTIA Technology, CISCO Technology, Red Hat Inc., etc.
World-Class Ethical Hacking Courses in India
In the series of naming the best ethical hacking course in India, EC-Council's CEH v12 Training and Certification Course are the best one can choose to become a supreme professional in the domain of cyber security.  In addition, with the world's best ethical hackers training learners with utmost care and dedication, the momentum they get as cyber security aspirants is of the next level.
In the same vein, Craw Security offers the best ethical hacking course in India in a proactive manner of CEH v12 Training and Certification Course facilitated by the House of EC-Council.  Ahead, Craw has a team of expert training instructors that work simultaneously to confirm that each individual in the learning batches gets the maximum benefit from the running batches.

Moreover, the students will efficiently learn on the live project-based training that massively assists them in honing their skills to the optimum level.  Apart from it, Craw Security is one of the learning partners of the EC-Council to deliver its information security courses with the best possible methods at pretty nominal prices.  Therefore, every learner hailing from any particular financial background of society could get the maximum benefit from it.
Ethical Hacking Courses Online
There are many chances that our learners are dedicated to working somewhere to earn their bread & butter.  Hence, we have procured an Online Ethical Hacking Course from the series of Ethical Hacking Courses Online that is highly inclined to deliver the best of ethical hacking education in self-paced mode with both prerecorded videos as well as VILT (Virtual Instructor-Led Training) formats.
One can help oneself with the best possible cyber security informatory education under the guidance of prominent trainers and mentors offering primetime mentorship with their highly efficient self-evolved methods and mechanisms.
Ethical Hacking Course Duration and Fees
Learning things under the strong influence of top-notch trainers and mentors can be the best thing for an ethical hacking aspirant.  To ensure this, one can select Craw Security for the highly efficient training in ethical hacking.  In addition, if you wish to go for the best ethical hacking course, you may select the knowledgeable training of CEH v12 Training in India by Craw Security.
All this highly informative ethical hacking course in India is facilitated at very nominal prices that are hard to find anywhere else with our international-standard training instructors.
Get the high-time information of EC-Council's CEH v12 Training and Certification Details in the following table:
| | |
| --- | --- |
| Ethical Hacking Course Fees: | ₹35,000/-* (Training and Certification) |
| CEH v12 Course Duration: | 40 hours |
*Fee is subject to change as per the sole discretion of EC Council.
Ethical Hacking Course Syllabus
If you wish to know more about the best ethical hacking certification in India — EC-Council CEH v12 Training and Certification Course along with its trending syllabus, you may refer to the following list:
MODULE 01: Introduction to Ethical Hacking
MODULE 02: Footprinting and Reconnaissance
MODULE 03: Scanning Networks
MODULE 04: Enumeration
MODULE 05: Vulnerability Analysis
MODULE 06: System Hacking
MODULE 07: Malware Threats
MODULE 08: Sniffing
MODULE 09: Social Engineering
MODULE 10: Denial-of-Service
MODULE 11: Session Hijacking
MODULE 12: Evading IDS, Firewalls & Honeypots
MODULE 13: Hacking Web Servers
MODULE 14: Hacking Web Applications
MODULE 15: SQL Injection
MODULE 16: Hacking Wireless Networks
MODULE 17: Hacking Mobile Platforms
MODULE 18: IoT Hacking
MODULE 19: Cloud Computing
MODULE 20: Cryptography
Moreover, you can also take advantage of our proactive counselors by calling them on our round-the-clock hotline mobile number +91-9513805401 and have a professional piece of advice for your next professional course.  In addition, to know more about the best ethical hacking certification in India, go to the highlighted part.
Skills Required for Ethical Hacking
Ethical Hacking is one of the vastly expanding careers for a better future ahead to live this technological work maintaining a proper "Work-Life Balance" for a soulful living.  In this regard, one has to opt for the best ethical hacking course in India facilitated by Craw Security.  However, one should possess the following skills to opt for this course:
A valid 10+2 Certificate from a recognized board.
A good knowledge of different operating systems (e.g., Linux, Microsoft Office, etc.)
Detailed knowledge of various coding languages (e.g., Python, C++, Java, etc.)
Valid information on basic networking skills, etc.
Top EC-Council: Ethical Hacking Training Courses
There are many cyber security courses facilitated by the EC-Council to deliver a wholesome knowledge of information security to keep up their cyber security education quotient high in every pattern.  These courses are duly facilitated by Craw Security under the primetime guidance of world-class training professionals having many years of esteemed experiences, such as the following:

EC-Council CEH v12 Training and Certification
EC-Council CHFI v10 Training and Certification
EC-Council CPENT Training and Certification
EC-Council CSCU Training and Certification
EC-Council CND Training and Certification
EC-Council ECIH Training and Certification
EC-Council CTIA Training and Certification, etc.
Scope of Ethical Hacking
If we say about the scope of ethical hacking in the forthcoming future, there will be a word called 'mind-blowing!'  After the inception of COVID-19, the world is witnessing a tremendous surge in the number of cyber attacks on almost every business that is online nowadays, which is very high in number as organizations have got this mantra of keeping them alive and stay connected with their current and prospective customers – "stay in touch online!"
In today's era, people tend to do more online activities than ever before, such as webinars, live meetings, work proceedings, and many more.  Hence, black hat hackers are highly active; in order to strike them with the best practices, they have to steal their highly confidential and valuable client information that is very worthy in the black market.
Moreover, there are many efficient work proceedings that an ethical hacker can highly implement, such as the following:
Identify security breaches and potential threats in systems
Provide Counter-Measures to Hacking
Protect Information at Large
Ethical Hacking Jobs
With a surge in severe cyber attacks on varied organizational infrastructure hailing from varied niches and genres, a vast pool of ethical hacking job opportunities has also begotten to be filled up by eligible and certified candidates.
In India, many cyber security professionals are in demand by hiring executives/managers to fill up the vacant positions in starts ups and fully-fledged MNCs to work as primetime cyber security experts in numerous subdomains of cyber security.
Salary for Ethical Hacking Jobs in India
According to GlassDoor – an independent salary accounting and job-providing organization, the average annual salary of an ethical hacker is ₹2,28,859/-.
Ethical Hacking Jobs by the Government of India
There are a few Ethical Hacking Jobs and other corresponding cyber security jobs offered by the Hon'ble Government of India.  However, these jobs are filled with the current technical personnel with high-end training from varied places like Craw Security and other reputed institutions of the world.
Ethical Hacking Course in India: FAQs
1: What is EC-Council Ethical Hacking?
The Ethical Hacking Course in India of EC-Council is its primetime course in ethical hacking, widely known as Certified Ethical Hacker CEH v12 Training and Certification.  One can do this course with Craw Security's highly trained faculty members at pretty cost-friendly prices.
2: Who should attend the EC-Council Ethical Hacking training?
The person who is willing to take one's career in the trade of being an ethical hacker in the forthcoming future can opt for this EC-Council Ethical Hacking Training at the earliest possibility.
3: What are the courses and certifications covered under EC-Council's Ethical Hacking?
There are many genuine courses one can opt for learning cyber security courses by EC-Council.  However, for the course related to Ethical Hacking Certification in India, the same person can choose EC-Council CEH v12 Training and Certification Course as the utmost priority for making an outstanding career in ethical hacking.
4: Are these EC-Council Certification courses accredited?
Yes, since EC-Council is one of the best cybersecurity supergiants in the world, offering international-class cyber security global certifications valid worldwide with a single certification.
5: Where will I get more information about the EC-Council training and certifications?
You may have a word with our proficient educational counselor of Craw Security, which may help you choose the right course for a better future.
For the same objective, you may call +91-9513805401 and have a word with our proficient educational counselors.
6: What is the validity of my CEH exam voucher?
Your EC-Council's exam vouchers are pretty valid for a period of 1 year from the date of purchase.
7: Can I ask for a refund of the exam voucher cost once it is issued to me?
Yes, in some circumstances, one can have a refund for the exam vouchers one purchases from EC-Council.  For more information, you can visit the official website of the EC-Council.
8: How frequently does the CEH exam fee change?
This fee updation is at the sole discretion of the EC-Council itself.  It will increase whenever the organization thinks it should enhance the corresponding price of the exam fee, exam voucher, certification cost, training cost, etc.
Moreover, one can find a suitable rebate on everything by taking it from Craw Security, as we are its official learning partner of it.
Conclusion
In the bottom line, we have shared each and every detail in this blog post that will help you in attaining good knowledge regarding EC-Council CEH v12 Training and Certification Course.  A person with a deep interest in learning ethical hacking course in India will help you obtain international-standard knowledge in Craw Security's Delhi branches at Saket and Laxmi Nagar.