Best Ethical Hacking Jobs in Delhi | Ethical Hacking Training
April 2, 2022
2023-01-19 11:03
Best Ethical Hacking Jobs in Delhi | Ethical Hacking Training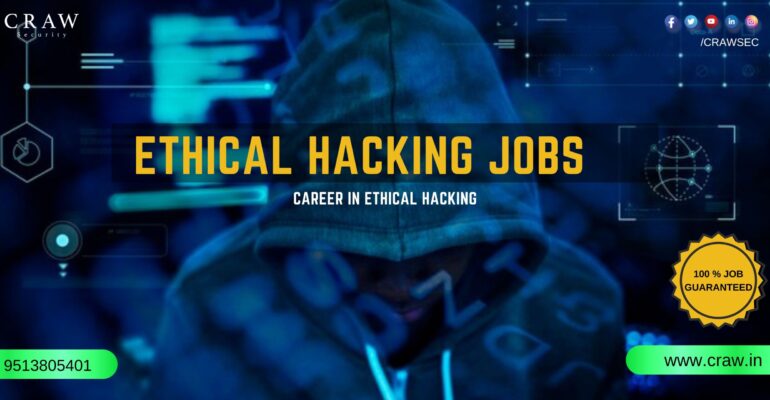 Best Ethical Hacking Jobs in Delhi | Ethical Hacking Training
Simple Methods to Know How to Grab Ethical Hacking Jobs in Delhi
Since the technical streams are taking place over the world due to the continuously upgrading market in the more technological-based gadgets.  The IoT (Internet of Things) devices are forming their net or web in the world to perform a lively environment, which performs various activities for humankind to make their daily official or personal chores a bit easier than ever.
Well, what do you think? Isn't it amazing to be a part of this technology-based society where a lot of devices are working to make our lives easier?  Apart from that, there are several illicit activities are taking place by some malicious actors, commonly referred to as Hackers, waiting for a single mistake of our and they will compromise our desktops, laptops, mobile phones, smart devices, etc.
Just to counter these so-called potential threats, and vulnerabilities found in an IT infrastructure, website, or IoT devices, many IT organizations are offering permanent Ethical Hacking Jobs.  In addition, they offer several Ethical Hacking Job Opportunities to job aspirants through their dedicated channels of job offers.

1. Ethical Hacking Jobs in Delhi
Various genuinely operating IT organizations want to hire some permanent employees within their organization that can detect, track, and simulate every sort of technical glitch.  In this case, they offer Ethical Hacker Jobs in Delhi to every eligible candidate to fill up their vacant positions with every possible effort.
Moreover, one devotedly applying job applicant can find out many Ethical Hacking Jobs in India in almost every metropolitan city in India such as Delhi NCR, Mumbai, Bangalore, Chennai, Hyderabad, Kolkata, etc.  With the proper advancement of technology, many people are choosing Ethical Hacking as a career and follow strict guidelines for a suitable career trajectory of the Ethical Hacking Career Path.
2. Ethical Hacking Jobs in Government of India
After a thorough study of the Ethical Hacking Course, a promising candidate also has a dream work for one's nation.  In addition, there are various ways by which a candidate can reach out for Ethical Hacking Jobs in Government of India.  For instance, one can simply fill out the various Ethical Hacking Govt Jobs Application Forms by the Hon'ble Government of India just like filling up any other form over the internet.
We are a tech frontier in providing genuine as well as sincere Ethical Hacking Course after 12th in Delhi through our state-of-the-art institutions.  The institutions of Craw Security are marking their immense presence at Saket and Laxmi Nagar locations in Delhi NCR.
3. Ethical Hacking Jobs in Google
Not all Ethical Hacking Job Opportunities come from government agencies, and even not all candidates wish to go to government bodies.  Some want to work with Google and hence they search for numerous Ethical Hacking Jobs in Google so devotedly.
Moreover, Google is ranked as the world's no. 1 company to provide maximum benefits and comforts to its employees at a worldwide level wherever their office is situated.
4. Ethical Hacking Jobs Salary
When it comes to finding a handsome salary for a post like a sincere Ethical Hacker with a valid certification and proven working experience in the related field, one always thinks of a good Ethical Hacking Jobs Salary in Delhi and other parts of India for a soulful work-life balance.
Meanwhile, we can easily say that a working professional with Cyber Security & Ethical Hacking background can find a real-time and good Ethical Hacking Jobs Salary in India.  According to various surveys, Ethical Hacking Jobs can nurture a person pretty well in comparison to other IT jobs.
Some of the prominent companies that are offering marvelous Ethical Hacking Jobs Salary in India are Deloitte, IBM, eSentire, Mastercard, Wipro, etc.
We have also mentioned below a list of various profiles of Ethical Hacking Jobs with their respective salaries according to an independent organization – PayScale:
| | | |
| --- | --- | --- |
| Job Profile | Salary Range | Average Salary |
| Security Analyst | ₹2,49,000 – ₹9,37,000/- | ₹4,95,872/- |
| Information Security Analyst | ₹2,78,000 – ₹10,00,000/- | ₹6,19,623/- |
| Certified Ethical Hacker (CEH) | ₹1,79,000 – ₹50,00,000/- | ₹5,04,723/- |
| Cyber Security Analyst | ₹3,00,000 – ₹20,00,000/- | ₹5,86,100/- |
| Ethical Hacker | ₹1,04,000 – ₹30,00,000/- | ₹5,14,837/- |
| Security Consultant, (Computing / Networking / Information Technology) | ₹3,26,000 – ₹20,00,000/- | ₹7,63,412/- |
5. Ethical Hacker Job Description
There are many institutions that are nicely providing some genuine Ethical Hacking Course in Delhi, as well as numerous IT organizations, are also there to hire deserving candidates.  A deserving Ethical Hacker Job Growth totally depends upon the number of skills that one possesses to work for various IT enterprises.
Some prominent Ethical Hacker Jobs require their candidates to have the following skills as a mandatory feature:
A candidate should know how to test the security parameters of a computer system, IT infrastructure, or server.
One should know the deep analysis of Penetration Testing.
Detecting and recording security flaws and breaches.
Detecting high-level security zones.
Examining and ranking the security network
Drafting advice for security advancements
Assembling penetration test reports for the concerned clientele.
Running the concerned penetration tests when the fresh security protocols get enforced.
Proposing substitute advancements.
Frequently Asked Questions
1: How much do ethical hackers get paid in India?
Ethical Hacking professionals get around ₹3.5 LPA in entry-level Ethical Hacker Jobs which may come to around ₹29,000/- to ₹41,000/- per month of income.
2: What are the job opportunities for ethical hackers?
There are many doors are duly opened for the Ethical Hacking personnel in the marketplace such as below:
Penetration Tester.
Vulnerability Assessor.
Information Security Analyst.
Security Analyst.
Certified Ethical Hacker (CEH)
Ethical Hacker.
Security Consultant.
Security Engineer/Architect, etc.
3: Is ethical hacker a good job?
Certainly, it is.  The amount of illicit hacking activities has arisen a lot in recent years and hence most enterprises require a permanent Ethical Hacking staff to continuously monitor their various IT infrastructures, servers, websites, IoT devices, etc.
4: Does Google hire ethical hackers?
Google is also an IT organization and people always keep an observation on its servers to look out if it is leaving any vulnerability in its servers.  Thus, Google also hires some permanent Ethical Hacking staff to monitor their several activities.
5: Is ethical hacker good career?
Yes, Ethical Hacking staff is a good career to choose in comparison to other verticals of IT genres.  On the other hand, doing Ethical Hacking is not an easy task to accomplish with easy hands.  One has to undergo many hectic and complex concepts and topics while learning for the Ethical Hacking Course in Delhi.
Conclusion
To sum up, we just want to say that going for a proper Ethical Hacker Job in India is certainly a good choice and career option.  The most advanced Ethical Hackers perform several functions to hone their skills and to be get selected by the most preferred and prestigious IT organizations which are willing to hire permanent Ethical Hacking staff.