Best Ethical Hacking Jobs in Delhi [Updated 2023]
May 7, 2021
2023-06-04 15:44
Best Ethical Hacking Jobs in Delhi [Updated 2023]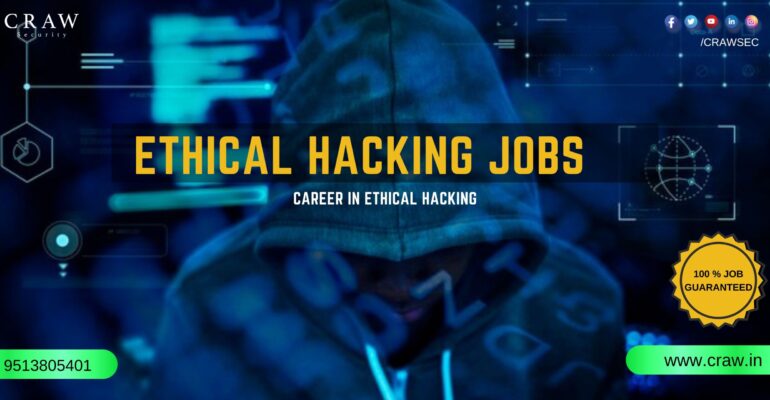 Best Ethical Hacking Jobs in Delhi [Updated 2023]
There are a vast number of ethical hacking jobs duly available in the vicinity of Delhi NCR. In addition, if a person is taking this span throughout entire India, then the number of jobs would be around 20 to 30 times more.
Moreover, the salary of an Ethical Hacker varies from company to company, but the average salary starts with 6LPA to 8LPA for an average ethical hacker with an average experience of 6 months to 1-year duration. In the same context, we have given some out-of-the-box considerations to let you understand the mainstream features of the best ethical hacking jobs in Delhi for the year 2023.
There are lots of organizations that want to secure their data from hackers. That's why they need to secure data.  So there are lots of opportunities for ethical Hacking Jobs In Delhi.
Ethical hacking jobs in Delhi: Even in Delhi NCR, an ethical hacker gets a good salary package that tends to be fascinating and amazing.
Best Institute for Ethical Hacking Training in Delhi
Numerous prestigious institutions that provide outstanding instruction in ethical hacking may be found in Delhi.  However, Craw Security stands out as the top option for such instruction.  Craw Security offers thorough and current courses that address all facets of ethical hacking, with a heavy emphasis on actual hands-on instruction by a staff of highly qualified professors.
In addition, the institute has modern-day technology and state-of-the-art facilities to replicate real-world hacking scenarios, allowing students to gain practical experience and hone important abilities.
Moreover, thanks to Craw Security Institute's solid industry links, students are given useful information and possibilities for internships or job placements at leading cybersecurity companies.  In general, Craw Security is the top location in Delhi for people looking for the best instruction in ethical hacking.
Key Features of Ethical Hacking Course in Delhi
Instructor-led Ethical Hacking Training.
Get access to a free course preview to begin your preparation.
Expert Cybersecurity instructors across the globe.
Accredited study material scrutinized by highly experienced Subject Matter Experts.
Get practical exposure through virtual lab sessions.
Fully access to sample papers is provided.
Industry-recognized Course Completion certificate provided.
Take advantage of the interactive classroom training option.
Job Category for Ethical Hackers in Delhi
There can be several categories for ethical hacking jobs in Delhi that can be accepted by numerous individuals willing to take this course so precisely.  Some of them are mentioned below:
Penetration Tester,
IT Security Administrator,
Information security analyst,
Mid-level Security Assurance Auditor,
System Security Administrator,
Network Security Engineer,
SOC Security Analyst,
Solution Architect,
Senior Security Consultant,
Security Compliance Analyst,
Vulnerability Assessment Analyst, and more,
Who should do this Ethical Hacking Training and Certification Course?
This course is for anyone who wants to become an expert in the ethical hacking course. This ethical hacking course certification covers the required ethical hacking information skills.
For anyone who would love to gain an ethical hacking course, a practical skillset in mitigating the risk from malware, Trojans, hackers, trackers, cyber criminals, and all online threats.
For beginners and intermediate Internet users who are interested in ethical hacking information, security, safety, and privacy.
In other words, for those who want privacy and anonymity online from hackers, corporations, and governments.
FAQs
About the Best Ethical Hacking Jobs In Delhi 2023
1: What is the salary of an ethical hacker in Delhi?
Depending on aspects including experience, skill level, certifications, and the company they work for, an ethical hacker's compensation in Delhi may vary.  An entry-level ethical hacker in Delhi might anticipate making between INR 3 and 5 lakhs annually.  The pay range might range from INR 6 to 12 lakhs per year with a couple of years of expertise and the necessary certifications.
2: Which college is best for ethical hacking in Delhi?
There are several colleges in Delhi that offer programs or courses related to ethical hacking and cybersecurity, such as the following:
IIT Delhi,
DTU,
NSUT,
Craw Security,
Bytecode Security,
Amity University,
Guru Gobind Singh Indraprastha University, and many more.
3: Which company pays the highest for ethical hackers?
Several companies in India offer competitive salaries for ethical hackers based on their skills, experience, and expertise, such as follows:
Big Four Consulting Firms (Deloitte, PwC, EY, KPMG),
Multinational Technology Companies (Google, Microsoft, IBM),
Financial Institutions (Banks, Payment Processors),
Cybersecurity Consultancies,
Defense and Government Organizations, etc.
4: Which branch is best for ethical hacking?
The best branch for ethical hacking is to have a Bachelor's degree (BSc, BTech, BE, BCA) in Information Technology or Computer Science.
5: Which degree is best for hacking?
The best degree for an ethical hacker is to obtain a bachelor's degree in computer engineering or a related field.
6: What is the highest degree in hacking?
The EC-Council's CEH v12 Training and Certification Course is considered to be the best in ethical hacking.
7: What is the hardest part of hacking?
The analysis is the most challenging aspect of hacking.  The majority of students pick up the necessary skills for security testing quite fast, and some of them are natural hackers who possess the ideal blend of ingenuity, perseverance, and originality.
8: What is the minimum qualification for hacking?
Education levels or professional qualifications do not clearly specify the minimal requirements for hacking, especially ethical hacking.  A thorough understanding of computer systems, networks, programming languages, and cybersecurity principles is necessary for the profession of hacking.  While formal training in computer science, IT, or cybersecurity might give a strong foundation, it is also feasible to learn hacking techniques through independent study and real-world application.
Conclusion
To wrap up, we would like to say that anyone who is willing to join world-class ethical hacking jobs in Delhi 2023 can opt for the highly famous Craw Security, the best cybersecurity training institute in India, for joining a great ethical hacking job In Delhi.  If a person is willing to join any wholesome ethical hacking course from CRAW, then you can give us a call at +91-9513805401, our mobile hotline number, and book a demo session.