Top 30 Endpoint Security Interview Questions and Answers
March 11, 2023
2023-03-11 12:10
Top 30 Endpoint Security Interview Questions and Answers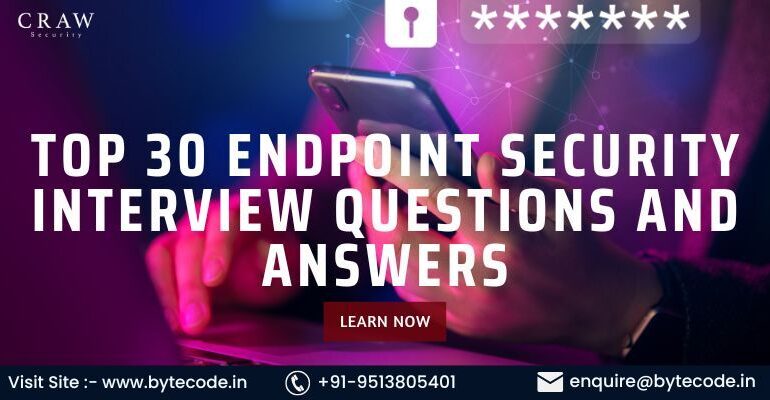 Top 30 Endpoint Security Interview Questions and Answers
It is the world of knowledge, where one party is misusing one's technical knowledge to lure and hijack common people's database while the other one is working on toes to get it saved from the preying eyes of black hat hacking professionals.  Hence, it's our foremost priority to develop more expert endpoint security individuals with expert training under the guidance of world-class training professionals having many years of authentic experience in delivering quality sessions to interested learners.
Moreover, Craw Security is the trademark name that you can trust to have the best-in-class endpoint security training under the observation of a genuine training professional.
Furthermore, we have also proposed the Top 30 Endpoint Security Interview Questions and Answers, as per our experience, that have been faced by a number of job applicants in many reputed organizations all across the world.  Below mentioned are the Top 30 Endpoint Security Interview Questions and Answers:
Endpoint Security Interview Questions and Answers
1: What is endpoint security?
A sort of high-end security solution known as endpoint security is created to safeguard an enterprise's systems and data from hostile activity coming from its own endpoints.  In addition, antivirus and antimalware software, firewalls, web content filtering, network access control, and device control characteristics can all be found in endpoint security solutions.
Moreover, these technologies are employed to both monitor user behavior and defend against harmful network-wide and external attacks.
2: What are the common types of end-point attacks?
The common types of endpoint attacks are as follows:
Malware Attacks
Social Engineering Attacks
Denial-of-Service (DoS) Attacks
Man-in-the-Middle Attacks
SQL Injection Attacks
3: What is an endpoint protection platform (EPP) and why is it important for endpoint security?
A security monitoring system known as an Endpoint Protection Platform (EPP) offers complete defense for endpoint devices, including laptops, desktop computers, mobile phones, and servers.  In addition, EPP is immensely crucial for endpoint protection since it protects and defends against harmful threats, including viruses, malware, and ransomware.
Furthermore, it supports preventing data loss and stealing as well as unwanted access to systems and data.  Moreover, EPP may also be employed to track and recognize the questionable activity, allowing businesses the opportunity to take action before damage is caused.
4: What is endpoint detection and response (EDR) and why is it important for endpoint security?
A crucial element of endpoint security, endpoint detection and response (EDR) offer real-time tracking and evaluation of events that take place on endpoints in a company's network.  Organizations can identify, look into, and take action in response to harmful activity on endpoints due to EDR technology, even if it is only happening in memory.
Moreover, EDR is highly essential for endpoint security because it enables businesses to swiftly recognize threats, take appropriate action, and determine the circumstances surrounding an attack.  This lowers the danger of upcoming attacks and helps businesses better understand their attack surface.
5: What is the role of antivirus software in endpoint security?
By offering defense from malicious programs, including viruses, trojans, worms, and other malware, antivirus software plays a significant part in endpoint security.  In addition, it performs a complete vulnerability threat scan on a computer or device and then acts accordingly to delete or quarantine the problematic files.
Moreover, antivirus software offers a defense against phishing fraud and other online threats.  It can also be used to check emails and websites for malicious links, protecting users from unintentionally clicking on harmful links.
6: What are the common vulnerabilities in endpoints?
Some of the common mainstream vulnerabilities in endpoints are as follows:
Unpatched Software
Unsecured Wi-Fi Networks
Unauthorized Access
Insufficient Network Segmentation
Inadequate Authentication
Unrestricted Administrative Access
7: What is a zero-day exploit and how does it relate to end-point security?
A zero-day exploit is a flaw in software or hardware that was formerly undisclosed, and that can nicely be exploited by malicious attackers.  In addition, a zero-day exploit is one that takes advantage of a vulnerability that has not yet been discovered or fixed.
Moreover, safeguarding computers, mobile devices, and networks from malicious attacks is referred to as endpoint security.  In addition, endpoint security products are made to identify and stop the harmful activity, such as zero-day exploits.  Moreover, dangerous websites, email attachments, and downloads can be found and blocked using them.  Solutions for endpoint security are crucial for shielding systems and data from online dangers.
8: What is a whitelisting and blacklisting approach in endpoint security?
In order to apply the whitelisting approach to endpoint security, individuals must specifically identify and approve only specific apps or actions.  In addition, this particular strategy often prevents access to any applications and actions that have not received the user's express approval.
Moreover, an endpoint security strategy known as "blacklisting" requires users to specifically designate and disable particular apps or activities on a device.   In general, any applications and activities that haven't been expressly prohibited by the user are accessible via this method.
9: What is an application control feature in end point security?
Administrators can watch, manage, and verify the programs that are running on their endpoints due to the endpoint security feature known as application control.  In this regard, administrators can manage how some apps connect with other applications, data, and networks, as well as whether they are allowed to run or not.
Moreover, application control can be used to rapidly take action by blocking or uninstalling the harmful application.  Additionally, it also helps to detect dangerous software on the endpoint.

10: What is a patch management feature in end point security?
Endpoint security features like patch management make it easier for businesses to maintain their equipment and networks updated with the most recent security fixes.  Hence, this assists companies in defending against fresh threats, weaknesses, and exploits.
Moreover, often automated and centrally controlled, patch management enables IT and security teams to rapidly deploy patches across the whole network.  This lessens the possibility of a security incident or data breach.
11: What is a firewall feature in end point security?
Endpoint security software with a firewall feature keeps track of and regulates network traffic that comes and goes in accordance with pre-established security rules.  Further, endpoints, including desktops, laptops, and mobile devices, are protected from harmful network traffic and online threats by this system.  In addition to this, firewalls are able to stop harmful network traffic, spot suspicious activity, and notify administrators of any upcoming security risks.
12: What is a vulnerability management feature in end point security?
A highly important element of endpoint security called vulnerability management supports locating, evaluating, and prioritizing known vulnerabilities in an organization's systems, apps, and networks.  It enables administrators to observe, identify, and fix any possible flaws in an IT infrastructure before intruders can take advantage of them.
In addition, the functionality aids in ensuring that the company is always current with security patches and updates.
13: What is a security information and event management (SIEM) feature in end point security?
A pretty famous feature of endpoint security known as Security Information and Event Management (SIEM) gathers and analyzes security datasets from several resources, notably network devices, applications, and systems.  In addition, data is then correlated in order to find harmful behavior and take action.
As a result, Security-related events, such as shady logins, file access, and harmful network traffic, can be monitored in real-time with SIEM.  Additionally, it offers information on network activities and can notify IT departments of security incidents.
14: What is a mobile device management (MDM) feature in end point security?
Endpoint security's mobile device management (MDM) capability allows companies to secure, oversee, control, and assist the mobile devices that their workforce utilizes.  In addition, it aids businesses in keeping control over and safeguarding corporate information stored on mobile devices, enforcing security guidelines, offering remote support and troubleshooting, tracking the whereabouts of mobile devices, and securely wiping datasets whenever a device is lost or stolen.
15: What is a cloud-based end point security and how it works?
Endpoint security that is hosted in the cloud, such as cloud-based endpoint protection, guards against malware, viruses, and other security risks on gadgets like PCs and mobile phones.  To keep the system secure, it operates by checking for dangerous files and actions, blocking malicious information, and giving real-time updates.
Correspondingly, it may be employed to keep an eye on what system users are doing and notify the system administrator of any suspect conduct.
16: How to perform end point security testing and assessment?
By following the below-mentioned steps, one can perform endpoint security testing and assessment:
Identify critical assets
Assess existing security measures
Scan for vulnerabilities
Perform penetration testing
Monitor activity
Test system and application security
Implement security measures
17: How to implement end point security best practices?
With the below-mentioned approach, I can nicely implement endpoint security best practices:
Implement an Access Control System
Monitor Network Activity
Enforce Security Policies
Use Encryption
Deploy Firewalls
Use a VPN
18: How to configure end point security policies?
One can nicely configure endpoint security policies with the below-mentioned best approach:
Define the Scope of Access
Establish Security Policies
Implement Authentication and Authorization
Monitor Network Activity
Deploy Endpoint Security Software
Update Endpoint Security Software Regularly
Train Employees
19: How to maintain and update end point security solutions?
Check to see if your endpoint security solution is updated or not.  In order to achieve this, it is necessary to routinely update the program with the newest security patches and bug fixes.
Keep an eye out for any shady activity on your endpoints.  This can involve atypical account logins or any sudden updates or downloads.
Conduct routine malware and other malicious software checks on your endpoints.
Inform your staff about the best practices for internet security and safety, including employing strong passwords and eliminating phishing emails.
To stop malicious connections from getting to your endpoints, use a strong firewall.
Set up your endpoints to get security updates automatically.
To add another level of security to your endpoints, use two-factor authentication.
20: How to integrate end point security with other security solutions?
The dedicated methodology to integrate endpoint security with other security solutions is as follows:
Ensure all security solutions are compatible
Establish a clear security policy
Employ multiple layers of protection
Monitor and manage endpoints
Train employees with all the endpoint security best practices
21: How to handle end point security incidents and breaches?
Following the jotted-down best practices, I can nicely handle endpoint security incidents and breaches:
Identify and isolate the affected endpoint
Assess the damage
Contain the incident or breach
Investigate the incident or breach
Remediate the issue
Communicate with stakeholders
Learn from the incident or breach
22: How to handle end point security false positives?
There can be several ways by which you can sincerely handle endpoint security false positives, such as the following:
Provide the file or URL for evaluation to the antivirus service provider.
Get in touch with the antivirus provider immediately and explain the erroneous detection.
If at all possible, alter the program or code to lessen its resemblance to malicious code.
To make the software appear less dubious, use a distinctive file name, code signing, and other strategies.
Request a special circumstance from the antivirus provider.
To cut down on false positives, use reputation-based scanning.
Verify your file's compatibility with the most widely used antivirus systems by using an online virus complete scanner.
Put in place a whitelisting system to make certain that only dependable software is permitted to execute on the system.
23: How to handle end point security compliance requirements?
With the below-mentioned procedure, one can positively handle endpoint security compliance requirements:
Implement access control measures
Monitor and audit endpoints
Encrypt data
Patch management
Use application whitelisting
Backup data
24: How to handle end point security in a remote work environment?
The highly crucial process of endpoint security in a remote work environment can be handled with the following process:
Establish Security Protocols
Monitor and Control Access
Use a Virtual Private Network (VPN)
Implement Firewall and Antivirus Software
Educate Employees
Restrict Unauthorized Access
Monitor Network Activity
25: How to handle end point security for mobile devices?
The endpoint security for mobile devices can be handled with the below-mentioned highlighted approach:
Verify that the operating system and security updates on all mobile devices are current.  This will lessen the possibility of security vulnerabilities.
To manage your mobile devices, use a mobile device management (MDM) service.  This will enable you to remotely modify device settings and impose security regulations like encryption and password restrictions.
Make it necessary for consumers to turn on two-factor authentication on their gadgets.  This will aid in preventing illegal access to gadgets.
Establish a Bring Your Own Device (BYOD) policy.  This will provide you the ability to decide what kinds of devices are utilized and what kinds of programs can be put on them.
Make sure any private information saved to the gadget is encrypted.  In the cases of loss or theft of a particular device, this will assist in preventing illegal access.
Put in place a security policy for mobile applications.  This will assist in ensuring that any programs downloaded and installed on the device are safe and current.
Keep a close eye on any mobile devices for unusual activity.  This will aid in the prompt detection of any potential security concerns.
26: How to handle end point security for IoT devices?
By utilizing the following methodological procedure, anyone can nicely handle endpoint security for IoT devices:
Use Endpoint Security Solutions
Employ Strong Authentication
Implement Network Segmentation
Implement Regular Security Updates
Use Secure Communication Channels
27: How to handle end point security for cloud-based systems?
By employing the following procedure, one can sincerely handle endpoint security for cloud-based systems:
Implement Multi-factor Authentication
Use Encryption
Monitor Access
Update Software
Implement Security Policies
28: How to handle end point security for virtual machines?
The high-end process to handle endpoint security for virtual machines is as follows:
Implement Network Segmentation
Utilize Firewalls
Deploy Access Control Lists
Use Antivirus Software
Perform Regular Vulnerability Scans
Enable Encryption
29: How to handle end point security for containers?
The genuine procedure to upkeep endpoint security for containers is as follows:
Use a container security platform
Use a vulnerability scanner
Harden the container environment
Use container-native security controls
Monitor container activity
30: How to handle end point security for micro-services?
Authentication, authorization, and encryption ought to be employed in conjunction to manage endpoint security for microservices, with the following procedure:
Authentication: To confirm that responses are originating from authorized sources, authentication should be utilized.  Techniques like OAuth 2.0 or OpenID Connect can be used for this.
Authorization: To make absolutely sure that responses are only performed to the microservices they are authorized to access, authorization should be employed.  Role-based access control (RBAC) and hierarchical access control are two methods that can be used to accomplish this.
Encryption: Data that is being transferred between a client and a microservice should be encrypted.  TLS or encryption at rest is two methods that can be used to accomplish this.