Best CCNA Course in Delhi | CISCO CCNA Certification 2022
January 28, 2022
2022-08-19 16:16
Best CCNA Course in Delhi | CISCO CCNA Certification 2022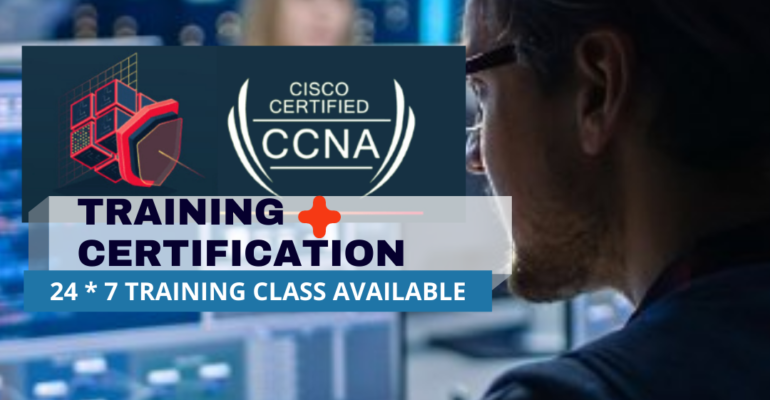 Best CCNA Course in Delhi | CISCO CCNA Certification 2022
India's Best CCNA Course in Delhi
Basically, CCNA is an IT Training and Certification Course from the house of Cisco Systems that is widely famous among Networking Professionals for starting their careers in the domain.  CCNA certification is an associate-level Cisco Systems certification.
The Institute of Craw Cyber Security is renowned for providing its in-depth Best CCNA Course in Delhi that imparts quality knowledge to identify computer network components and their basic characteristics. We are one of the Best CCNA Institute in Delhi with all the accreditation and authentication from CISCO Systems for delivering their best-in-class CCNA Training & Certification in our academy centers in Saket and Laxmi Nagar.
Key Specializations of Best CCNA Course in Delhi:
A fundamental layout of the host-to-host communication interface while learning about the CCNA key features also falls under this authentic Best CCNA Course in Delhi.
This specialized CISCO Certification comprises network security, network automation, and Wi-Fi.
There are some CCNA Certifications also available such as CCNA Wireless, and CCNA Collaboration, for individuals who wish to have expertise in some specialized skillset.
Craw Cyber Security Institute also provides CCNA Course Online via our detailed curriculum possessing all essential information related to Best CCNA Course in Delhi.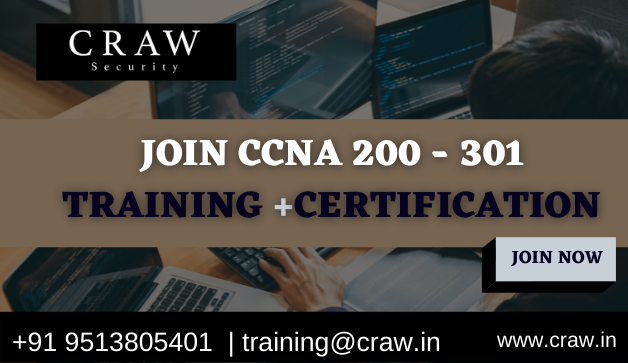 CCNA Certification Cost in India
In-depth knowledge imparting of the Best CCNA Course in Delhi by some of the valuable instructor-led sessions of Craw Cyber Security Institute – the Best CCNA Institute in Delhi, at two of the most prestigious educational destinations in Delhi, namely Saket, and Laxmi Nagar.  This authentic CISCO Certification is being provided at a pocket-friendly CCNA Certification Cost.
To know more about the CCNA Course Duration and Fees in Delhi, one can refer to the following table:
Course
Fees
Duration
Mode
CCNA 200-301

(Training + Certification)

₹35,000/- + GST
2 months
Offline
CCNP 350-701
(Training + Certification)
₹35,000/- + GST
3 months
Offline
In-depth Networking Course

(Training + Certification)

₹2,999/- + GST
40 Hours
Online
Some form of financial assistance has also been provided to the economically weaker and deprived students of the society by Craw Cyber Security Institution – Best CCNA Institute in Delhi.  One may call on our toll-free number at +91-9513805401 for applying for Financial Aid in CCNA Course Fees in Delhi
Best CCNA Institute in Delhi
The Cisco Certified Network Associate Training and Certification Program will be drastically changed from Feb. 24, 2020. The new exam's code is 200-301 New CCNA (200-301) and its full name is Implementing and Administering Cisco Networking Technologies. According to CISCO Certification, the new exam "covers a broad range of fundamentals based on the latest technologies, software development skills, and job roles. The highly famous Institute of Craw Cyber Security offers its students complete and the Best CCNA Course in Delhi.  The Best Institute in Delhi – Craw Security offers a professional CISCO Certification course that prepares the understudies for live ventures and reproductions.
To sum up, Craw Cyber Security Institute provides the Best CCNA Course in Delhi that transforms a basic individual into a fully-fledged Networking Professional at the earliest possible time. The broad pragmatic preparation given by the Best CCNA Institute in Delhi prepares live ventures and recreations.  Such itemized CCNA course has assisted our understudies with getting positions in different MNCs.
For more information click on the Video below.
Why choose Craw for the Best CCNA Course in Delhi?
Best-in-class Faculty Members: The teaching faculties and mentors at Craw Cyber Security Institute at its Delhi branches at Saket and Lakshmi Nagar are the best subject matter corporate experts giving inside and out concentration in CCNA Course in Delhi. Members finishing the CCNA Training in Delhi have plenty of open positions in the varied businesses of almost every niche of the IT industry.
CISCO Course Online: Further, we have kept the decorum of being the Best CCNA Institute in Delhi. From CISCO Course Online sessions to fast track and balanced study hall interactive classroom experience, CCNA preparation is given during weekdays and weekends to the participants. Our cutting-edge lab is furnished with the most recent innovations assisting understudies with benefiting from effective CCNA Training and Certification from the Institute.
Versatile Curriculum: The curriculum at Craw Cyber Security Institute delivers the Best CCNA Course in Delhi which involves a progression of systems administration tasks starting essential to cutting-edge level, which passes on abilities, data, and methodical hands-on experience to the aspirants.
Financial Aid: Craw Security – the Best CCNA Institute in Delhi also provides its awesome and Best CCNA Course in Delhi at cost-efficient prices with some economical assistance to the needy and deprived students of the society.  One can apply to this section by calling on our toll-free number at +91-9513805401 at the earliest to grab a seat in the upcoming batches of Best CCNA Course in Delhi.
100% Placement Assistance: Moreover, after the completion of the thorough training in the Best CCNA Course in Delhi, one can rest assured that there is a special "Placement Cell" within the campus of Craw Cyber Security Institute that offers "100% Placement Assistance" to all our understudies.
Career Scope after the Best CCNA Course in Delhi
One of the main objectives of Craw Security is to give all needful information move in the tremendous educational program properly perceived by the presumed Best CCNA Course in Delhi through our significant showing resources and the dedicated teachers.
Our teaching faculties are fully capable from the fluctuated associations of the systems administration area and have a decent experience and expertise for a really long time from numerous veritable establishments giving courses to a long-range.
What type of job can I get with a CCNA certification?
The CCNA Certification is intended to lead to any number of entry to mid-level networking-based career options. These include positions such as network technician, network administrator, network engineer, network analyst, or possibly even network security analyst.
Artificial Intelligence, Machine Learning, Data Science, and Big Data are giant technologies dependent upon CCNA's revolutionary solutions.  The Best CCNA course in Delhi is rapid to learn and easy to appreciate if you have enrolled in Craw Cyber Security Institute.  However, rigorous lab practice and thorough CCNA training are required to get simple with CCNA complexities.
Aspirants after completing thorough CCNA Training in Delhi have a thrilling career as engineers, administrators, and network experts while drawing a lot of attention, respect, and becoming important professionals in big projects.
At Craw, the Best CCNA Institute in Delhi, our ultimate purpose is to provide skill-based CCNA training to the students so that they can shape their IT careers by becoming star performers in their initial venture may be as an employee or freelancers.
Which CCNA course is best for beginners?
The dedicated curriculum at Craw Cyber Security Institute gives away the Best CCNA Course in Delhi through their varied methodologies and teaching techniques by experienced and skilled teachers and mentors group is the Best CCNA Course for Beginners in Delhi NCR.
One can join the Best CCNA Course in Delhi at both Online and instructor-led methods in English and Hindi medium with the following address:
CRAW CYBER SECURITY PVT. LTD.
1st Floor, Plot no. 4, Lane no. 2, Kehar Singh Estate Westend Marg, Behind Saket Metro Station, Saidulajab, New Delhi – 110030
+91 951 380 5401 | 011 – 40394315
Email ID: training@craw.in | info@craw.in
Website: www.craw.in
Connect us at www.craw.in/links
Frequently Asked Questions
About the Best CCNA Training in Delhi
1: What is CCNA salary India?
According to GlassDoor – an independent salary accounting organization for various jobs and niches, the national average salary per year of a CCNA Certified professional is around ₹3 LPA.
2: Is CCNA exam difficult?
Nothing is difficult for a person who is intended to learn any new technology by heart, however, if we go on the basics, learning the networking fundamentals with a course like CCNA could be difficult sometimes.  One is just required to understand things so precisely to get the fundamentals in order.
3: Is CCNA entry-level?
Yes, the CCNA 200-301 is the entry-level course provided by CISCO Technologies for the person who intended to learn the CCNA fundamental concepts.
4: How do I start preparing for CCNA?
By applying the following techniques, a sincere learner can genuinely understand the CCNA Certification Training:
Arrange a place or choose the study model on which you want to study, i.e. self-paced, VILT, or instructor-led classroom training.
Extract time for studying from your schedule and start learning the fundamentals so precisely.
Give concentration to every short and crisp detail to understand the concepts in a better approach.
Try to get access to the real-time gear for hands-on practice.
Understand your weaknesses and try to cover them nicely.
Try using some questions by practicing all the topics on the exam.
5: Does a CCNA expire?
Yes, all the CCNA Certifications are duly valid for three years from the date of their certification achievement.  One has to sit in the recertification exam to validate oneself again for the same certification.
6: How many exams are there in CCNA?
To obtain the valid certification of CCNA 200-301, a learner has to pass only one exam nicely associated with it.
7: Is CCNA Better Than Network+?
There is nothing like being better or worse than some other certifications.  However, among all the networking professionals, CCNA 200-301 Certification is considered to be more valuable than the Network + Certification.  At Craw Security, one can obtain both kinds of certifications under the guidance of a primetime faculty member having more than 10 years of quality experience in imparting industry-oriented training.
8: How much does CCNA training cost?
As Craw Security is one of the primetime partners of CISCO Technologies, hence, we deliver the CCNA 200-301 Certification and Training as well as the other certifications from the house of CISCO Technologies in a pocket-friendly manner.
9: Which course is best in CCNA?
The CCNA Training and Certification course offered by the high-end faculty members of Craw Security at Saket and Laxmi Nagar facilities are the best you can get in CISCO Certified CCNA 200-301.
10: How long is CCNA training?
It will take you around 40 to 50 hours of educational sessions to complete the CCNA 200-301 Training under the primetime guidance of a superly experienced training instructor.
11: How can I get CCNA training?
You may get the verified CCNA 200-301 Training and Certification from Craw Cyber Security Institute – the best cyber security training institute in Pan India which is also the authorized learning partner of CISCO Technologies to offer its networking courses to the students at very much pocket-friendly and cost-efficient prices.
12: Which is best course in Cisco certification?
There are varied courses offered in CISCO Technologies, but one should choose a particular course as per the needs and interests to choose a stream in cyber security for retaining it for the rest of the life.  Craw Security – being the official learning partner of CISCO Technologies, will provide you with every course that is offered on the website of CISCO Technologies at a very competitive price.  You just require to call us on our hotline mobile number at +91-9513805401.
Conclusion
In the bottom line, we would like to share our respective views by being the authorized learning partner of CISCO Technologies to deliver you every major and minor course that is being offered by CISCO at very genuine prices to all the interested learners.  Moreover, the persons who are sincerely interested in learning the varied courses offered by CISCO Technologies can opt for this course as the entry-level program to understand the networking fundamentals in a better mode through our highly trained trainers and mentors.