Best Python Training Course in New Delhi
October 8, 2022
2023-07-28 11:21
Best Python Training Course in New Delhi
Book a Trial Demo Class
Training Available 24*7 Call at +91 9513805401

What will you learn in Python Training in Delhi?
Python Programming Language has created its own place in the IT Field, so you must ensure that your trainers are proficient in Programming Skills. For that, you can rely on Craw Security. That's because Craw Security has offered this course to students who want to become Android Developers, iOS Developers, Website Developers, and Windows Developers related to the devices such as Smartphones, Tablets, and Laptops. Moreover, most companies demand Python Programmers because they need their own customized programs, software, websites, and applications. For that, only a Programming Language Expert can help.  Craw Security is offering this course at 2 locations in Delhi, and those are Laxmi Nagar & Saket. Are you searching for Python Course in Delhi?
Python Course & Certification for Beginners
Python Programming in Delhi is offered to those students who have the craze for programming, coding, development, and creating software. Several platforms are providing Python Training in Delhi to students in several places, which is a great start for anyone who wants to learn such amazing skills. Python Programming Language is one of the popular computing programming languages. 
There's no need to think about what your background was like – were you acknowledged with Programming Languages before, or would you be able to develop a code cuz you don't have any experience developing programs before? That's because Python Language Training is available with many platforms encouraging students to a Python Course for Beginners that want a Python Certification Course from the entry level. Python Programming Course is one of the greatest opportunities for students who want to get reputed jobs. Craw Security gives the best opportunity to several students searching for the Best Python Institute in Delhi NCR. Under the guidance of the professional trainers offered by Craw Security, students can get government-approved certifications for better career growth. But do you know why everyone is searching for Python Course in Delhi? That's because Delhi is the Capital of India and the Dream City for many people. Several established people came from Delhi, India, and have repeatedly proven that they have offered themselves to the country in a specific way. Want to start a career with Python Programming Language? Get in contact with Craw Security!
Python Programming Course Content
Module 01: Python – An Introduction Special Elements Used in an OS Command
Module 02: Comparisons of Python with Other Languages
Module 03: Python Variables & Data Types
Module 04: Operators
Module 05: Python Conditional Statements
Module 06: Python Looping Concept
Module 07: Python Control Statements
Module 08: Python Data Type Casting
Module 09: Python Number
Module 10: Python String
Module 11: Python List
Module 12: Python Tuple
Module 13: Python Dictionary
Module 14: Python Array
Module 15: Python Date & Time
Module 16: File Handling (Input / Output)
Module 17: Multithreading
Module 18: Python Mail Sending Program
Module 19: Database Connection
Module 20: OOPs Concepts
Module 21: Interacting with Networks
Module 22: Graphical User Interface
Module 23: Python Web Scraping
Module 24: Python for Image Processing
Module 25: Python Data Science
Module 26: Intro to Python Machine Learning
Module 27: Intro to Python Artificial Intelligence
Module 28: Functions
Python Programming Our Course Advisor
Choose Your Preferred Learning Mode

We offer customized VILT (Virtual Instructor-Led Training) sessions at your convenient hours to provide effortless training.

One can also opt for the prerecorded video sessions available at any point of time from any particular location.

Hire a preferred trainer at your work premises at your chosen time slots and train your employees with full efficiency.
Python Programming Course Description
Introduction to Python Course | Python Course with Certificate
Python Programming Course is introduced to aspirants by Professionals in the field of IT and Cyber Security. One of the most reputed cyber security institutes, Craw Security, is offering the Python Programming Course with Certification to students so that they can apply for several professional reputed designations. Moreover, Craw Security has offered Python Crash Course Online as a Python Crash Course for a better career option to join right now. It's your call to pick the opportunity and get the Best Python Training in Delhi via Craw Security.
Craw Security's Students Awarded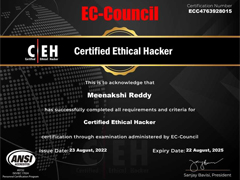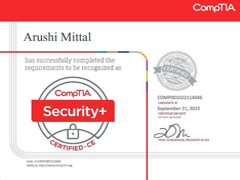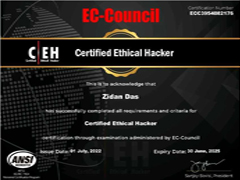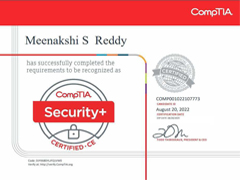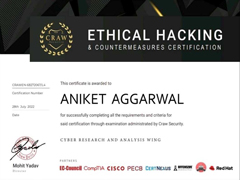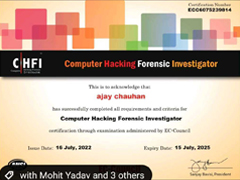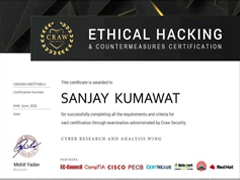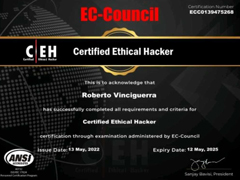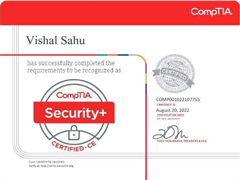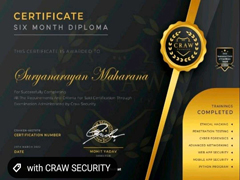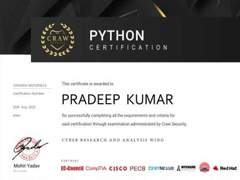 Python Course in Delhi | Top Notch Python Institute in Delhi
With Python Course in Delhi, you can learn about several concepts such as – Artificial Intelligence, Machine Learning concepts, Data Science with Python, Web Designing & Development, and many more. After completing the Python Training in Delhi, you can go for several advanced courses and choose your own growth journey. What are you waiting for? Get in contact with Craw Security right now!
Related Cyber Security Course
What People Are Saying About Craw Security






Python Programming Frequently Asked Questions
Where can I learn Python Programming Language Course in Delhi?
You can learn this premium Python Training in Delhi from Craw Cyber Security Institutes at Saket and Laxmi Nagar locations like this is one of the high-grade institutes providing the most crucial introduction to python course through their exclusive self-constructed methodologies.
Which course is best for Python?
The premium Python Training in Delhi provided by Craw Cyber Security Institute in Delhi at Saket and Laxmi Nagar locations offers a genuine Python Certification Course to meet all the essential requirements of the students willing to initiate a great career in the dedicated domain of Python Programming Course.
What is the salary of Python developer in India?
According to an independent salary determining organization for various posts of several niches – PayScale, the average annual salary of an entry-level Python Developer is around ₹4,27,293/- whereas it can go up around ₹10,00,000 per annum. The other factors responsible for determining the income of a sincere Python Developer are one's skills, expertise, the value of the corresponding certificate one possesses, job location, experience, and the other varied factors.
Can I learn Python in 3 months?
Yes of course you can! With the dedicated Python Course in Delhi from the Craw Cyber Security Institution at Saket and Laxmi Nagar, you can learn all the fundamentals associated with Python Programming Course in a mere 1 month.
As Python Certification Course acquires a deep essence of coding skills to understand as well as memorize to make long chains of formulas dedicated to making a certain program, it makes a difficult programming language to learn.
However, nothing is so hard to learn if someone gets the help of an experienced mentor which Craw Cyber Security Institution can provide with no difficulty at its world-class institutions at Saket and Laxmi Nagar.
Can I learn Python without any programming experience?
Yes, certainly you can as learning Python Programming Course is pretty easy as it possesses some syntaxes and other useful aspects which makes it easy to learn for the first timers that don't possess any previous experience of coding skills.
No, there is a huge difference between the two programming languages. Firstly, HTML is a web-based programming language that is highly used to describe and organize web pages while Python Programming Language is a target-based language that permits developers to construct data classes or categories and connect the complete program by forming relationships between these classes. You can develop multiple assignments in the Python programming language as per your choice.
In general terms, Python is far better than the C++ programming language as it carries easy syntaxes that provide very much simplicity to develop any program or software interface. However, C++ is greater in aspects of performance, speed, vast application areas, etc.
Is Python enough to get a job?
That depends upon the opportunities that a developer is getting after learning Python Programming Course from a verified institution. Python might do a good job for you to land a suitable position in some nice IT organization but technical flexibility is equally important.
For instance, you may find a job with your Python Certification but for diverse work functions which you may need to accomplish daily official chores, you must be aware of other coding languages such as Javascript, HTML, and CSS.
Is python in demand in India?
Yes, most programming skills aspirants are learning Python in India and many IT organizations are also recruiting Python programmers to establish Python codes that connect to a MySQL database.

It is also famous that one can earn a good salary as an entry-level Python Programmer in India of about ₹4,27,293/- yearly whereas it can go up around ₹10,00,000 per annum.
Why Python is so popular?
There are many reasons why people use to choose Python Course in Delhi over any other programming language on the planet due to the following reasons:

1.  Python utilizes an easier syntax with a focus on natural programming language, for a much more effortless learning slope for newbies.
2.  Python is free to use and is backed by an enormously gigantic environment of libraries and packages, it's usually the foremost-choice programming language for new developers.
3.  One may get more trained and experienced trainers nearby to them with pocket-friendly prices in comparison to other programming languages.