Web Application Information Security Course in Delhi
October 8, 2022
2023-03-05 13:50
Web Application Information Security Course in Delhi
Book a Trial Demo Class
Training Available 24*7 Call at +91 9513805401
What will you learn in the Best Web Application Security Training in Delhi?
The Web Application Penetration Testing Course is distributed in several modules, respectively. That makes it easy for professionals to explain the subject of the Web Application Security Course to aspirants. Moreover, the professional trainers offered by Craw Security can help students understand the concepts more clearly. This will turn the aspirants into experts also. Web Application Security Course Protocols are based on cases handled by professionals to ensure Web Application Security. What's more! Craw Security also offers Web Application Security Certification for aspirants to easily get the most reputed designations in the MNCs. This certificate will prove their legitimacy and expertise.
Web Application Security Course Content
Module 01: Introduction
Module 02: Owasp top 10
Module 03: Recon for bug hunting
Module 04: Advanced SQL injection
Module 05: Command injection
Module 06: Session Management and Broken
Authentication Vulnerability
Module 07: CSRF – Cross-Site Request Forgery
Module 08: SSRF – Server Site Request Forgery
Module 09: XSS – Cross-Site Scripting
Module 10: IDOR – Insecure Direct Object
Reference
Module 11: Sensitive Data Exposure and
Information Disclose
Module 12: SSTI – Server Site Template Injection
Module 13: Multi-Factor Authentication Bypass
Module 14: HTTP Request Smuggling
Module 15: External Control of File Name
or Path
Module 16: LFI – Local File Inclusion and
RFI – Remote File Inclusion
Module 17: Source Code Disclosure
Module 18: Directory Path Traversal
Module 19: HTML Injection
Module 20: Host Header Injection
Module 21: SQL Authentication Bypass
Module 22: File Upload Vulnerability
Module 23: JWT Token Attack
Module 24: Security Misconfiguration
Module 25: URL Redirection
Module 26: Flood Attack on Web
Web Application Security Our Course Advisor
Web Application Security Course | Web Pentesting Course
The Web Application Security Course in Delhi is one of the most popular cyber security courses offered to students who want to learn how to protect their web applications from being attacked by an adversary. Moreover, while pursuing this course, aspirants can be introduced to OWASP's Top 10 cyber security attacks. Web Application Security is necessary for companies using their Web Applications for their regular work. Craw Security is offering this course to aspirants seeking an opportunity to hone their skills. Web Application Security Course in Delhi is one of their tries to bring the best course to the spotlight. Get ready to know more about Web Application Security Training in Delhi with OWASP's Top 10 Deadliest Attacks!
Web Designers and Developers make sure that the applications they build work properly. However, sometimes some loopholes are left behind because of a lack of knowledge about web application security. Application Security Certification Course is one of the best courses that could help them learn how to identify loopholes and make amendments as needed. Craw Security offers this course at two locations in Delhi NCR, Laxmi Nagar, and Saket. Moreover, this is one of the Best Application Security Certifications, which allows you to meet topics such as – SQL Injection, XSS, Php Injection, CSRF, Indirect object reference, etc.
Choose Your Preferred Learning Mode

We offer customized VILT (Virtual Instructor-Led Training) sessions at your convenient hours to provide effortless training.

One can also opt for the prerecorded video sessions available at any point of time from any particular location.

Hire a preferred trainer at your work premises at your chosen time slots and train your employees with full efficiency.
Web Application Security Course Description
OWASP Top 10 Threats | Best Application Security Training
With this course, you will learn about OWASP's Top 10 threats that have already become trouble for many Web Security Analysts. Moreover, IT Organizations need more professionals as same as mentioned above. To become one of them, you can apply for the Web Application Security Training Course. That's because these skills save web applications from getting hacked by adversaries. Web Application Security Course is just the beginning of the journey to the advanced level.
Web Application Security Course Syllabus
This Web Application Security Course Syllabus is distributed in several concepts clearing the course's POV. The syllabus is set to give a detailed explanation of the subject matter to the students in an easy format while keeping in mind the progress of the aspirants in clearing the concepts. Moreover, this course trains the students to fight against security threats in web applications with the help of methodologies and practical via tools. That is to find vulnerabilities and get rid of them ASAP. Craw Security has offered this course to students to make them aware of changing technologies and cyber-attack techniques. Web Application Security Training in Delhi is one of the best opportunities for aspirants to choose the best career path.
Craw Security's Students Awarded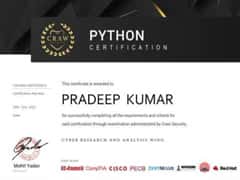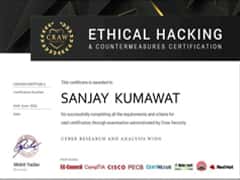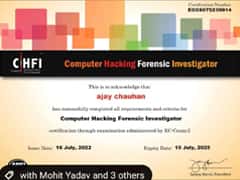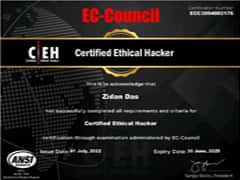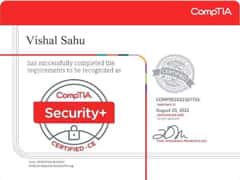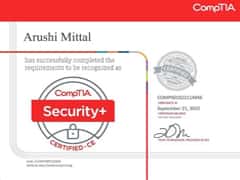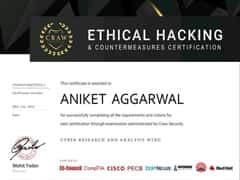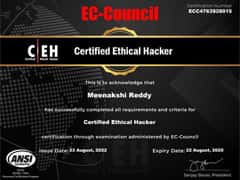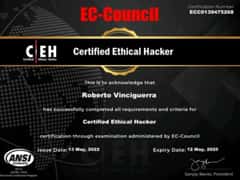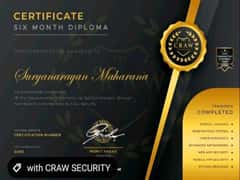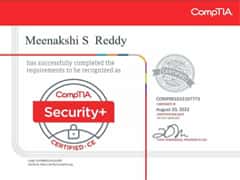 Key Specifications of Web Application Security Course in Delhi
Related Cyber Security Course
What People Are Saying About Craw Security






Web Application Security Frequently Asked Questions
What is the Web application security?
The varied methodologies employed by Security Analysts to safeguard a particular website or web application by a means of a predefined set of algorithms is known as Web Application Security. The main objective of Web Application Security is to secure a particular target web application from malicious entities or actors.
What are security issues in web application?
Some of the major issues that arise in securing a Web Application are as follows:
Injection Attacks
Broken Authentication
Cross-Site Scripting (XSS)
Insecure Direct Object
References (IDOR)
 Security Misconfigurations
Unvalidated Redirects and Forwards
Missing Function Level Access Control
How can we ensure security in web applications?
Any practicing Web Security Analyst can genuinely employ a series of exercises to confirm the security parameters of a web application. Some of the major Web Application Security parameters are as follows:
Maintain Security During Web App Development
Be Paranoid: Require Injection & Input Validation
Encrypt your data
Use Exception Management
Apply Authentication, Role Management & Access Control
Don't Forget Hosting/Service-Focused Measures
 Avoid Security Misconfigurations
Implement HTTPS (and Redirect All HTTP Traffic to HTTPS)
 Include Auditing & Logging
 Use Rigorous Quality Assurance and Testing
Be energetic to Keep Up With the Malicious Actors
What are the different types of application security?
The diverse kinds of application security comprise many features including authentication, authorization, encryption, logging, and application security testing. Many Web Developers also code their applications during the development process to reduce the security risks and vulnerabilities.
What are web application attacks?
The corresponding security vulnerabilities in the web application if found by any malicious actors then can perform a series of cyberattacks on those web applications using those vulnerabilities. A potential attacker can gain access to a lot of sensitive information encrypted in the server of the corresponding target web applications.
What is Web application definition?
A web application (or web app) is application software that runs on a web server, unlike computer-based software programs that are run locally on the operating system (OS) of the device. Web applications are accessed by the user through a web browser with an active network connection.
How can I learn web application?
You can literally learn the fundamentals of the Web Application Security Course in Delhi from the verified and accredited institutions of Craw Cyber Security at Saket and Lakshmi Nagar locations.
What is taught in web application?
The various fundamental concepts related to the Web Application Security Course comprises in the corresponding curriculum associated with Web Pentesting Course. For instance, one dedicated aspirant will learn concepts like data modeling and database technologies, the web server environment and middleware components, network protocols, the user interface, and basic visual design and user interaction methodologies within the curriculum of the Web Application Security Course.
What is SQL Query Injection?
It is a type of Cyber Attack done by a potential hacker using a shred of information related to SQL (Structured Query Language) code to manipulate the datasets and have the access to crucial info containing some sensitive piece of personal information that be very tricky for an organization to lose.
What is application security training?
The primary aim of the course is to educate developers, designers, architects and organizations about the consequences of the most common web application security vulnerabilities and methodology to protect against such vulnerabilities
Advanced Web Attacks and Exploitation (WEB-300) is a high level web application security survey course. We instruct the abilities expected to direct white box web application infiltration tests.
What is security testing tools?
SECURITY TESTING is a type of SoftwareTesting that uncovers vulnerabilities, threats, risks in a software application and prevents malicious attacks from intruders.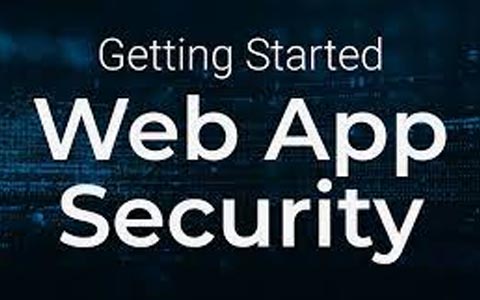 ** Limited seats available**
Call Now +91 951 380 5401