Online Cyber Security Course in Punjab [Updated 2023]
May 18, 2022
2023-04-29 16:54
Online Cyber Security Course in Punjab [Updated 2023]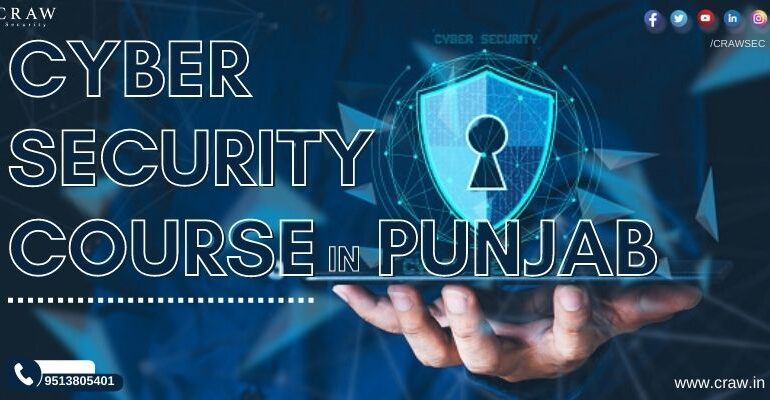 Online Cyber Security Course in Punjab [Updated 2023]
Online Cyber Security Course in Punjab offers an exclusive chance to students to pursue one of the best career options. This course prepares students to work for companies to provide them security against Cyber Criminals attacking their networks and systems. Cyber Security Course includes preparation for various exams for various designations.
It includes Security, Networking, Technology, Data Protection, and so on. Nowadays, Cyber Crime Activities have touched the peak of rising not only in India but also in other countries as well. You may have heard that today this happened to that person's Private Databases/Networks/Systems.
Moreover, that person not only lost the data but also lost some Confidential Data about the Business Marketing Strategies. How does it happen, and how do the Cyber Security Experts stop it from happening? We'll learn that in this course.
This course is distributed in several modules which introduce students to various parts of the Cyber Security World. Now, what are the things you'll meet in this course let's discuss.
Cyber Security Course Key Features
Why should you go for a Cyber Security Course in Punjab after 12th? There are a lot of students asking if they need this course, and isn't there anything better than this in 2023? While picking up a Diploma Course for you for a year of practice, you really need to think too much.
However, in 2023, the market has lifted up again by greater heights. Also, a lot of businesses approached online platforms. That means Businesses Connect to millions of people at one time.
Connecting to that, many people generate Data Collection, including consumers' Confidential Data as well. Now, that much data needs protection from unauthorized people who always stay active to steal data and use it for personal use.
Who comes between providing Protection Against Cyber Attacks? These people are known as Cyber Security Experts. They already had completed their courses to be Professional Cyber Security Experts. Moreover, they know how to handle tacky situations and find solutions for them. What's so interesting about this course? Also, students like you ask where to approach a Cyber Security Course near me.
Near me? Oh, man! Well, you don't need to worry about it. Craw Security invites every keen student to learn these skills. Whether they are in Delhi or outside, they'll be able to get this course done perfectly. How's that possible? Craw Security Private Limited not only provides this course under Delhi offline but also lets students pursue it online.

What's best about Craw Security Premises?
Craw Security has heightened the standard of teaching students by planning the strategies for students according to their level of learning. We provide classes while monitoring and reviewing the sessions always. Why so? That's because the students can tell their difficulties while learning stuff.
Unlike other institutes, our Craw Security offers Interactive Teaching Methods. That's to let the students have more say in the period of learning and observing. The more they ask, the more the teachers will get the chance to acknowledge the level of students, like where they stand in the current time. This is one of the best methods to teach students.
Regular assessments for evaluations will be put into action to see what skills the students have achieved to date. This will bring more curiosity in students to learn these amazing skills and methods to work in the future.
This Craw Security provides Job-Oriented Industrial Training. That means anyone completing this course would be able to get the job right away after getting certified.  We give Live Training and Live Practice Sessions to students for better understanding. Doubt Clearing Sessions are held for students with a clear mindset about their performance. Here, teachers also give Strategy Development Assignments so that students can work on new tools, strategies, and methods to invent new methods.
Cyber Security Course in Punjab Syllabus
Level 01: Basic Networking – Knowledge of Networks
Level 02: Linux Essential – Knowledge of Linux OS
Level 03: Python Programming Language
Level 04: Basics of Cyber Security – Ethical Hacking
Level 05: Advanced Penetration Testing – Network Pentesting
Level 06: Cyber Forensics
Level 07: Web Application Security – Web Pentesting
Level 08: Mobile Application Security – Mobile Pentesting
Level 09: Internet of Things – IoT Security
Level 10: End Point Security
Level 11: AWS Associate Training – Cloud Basic Course
Level 12: AWS Security Training – Cloud Security
Cyber Security Certification Details
In this course, you will learn about the following things.
| | | | |
| --- | --- | --- | --- |
| 1. | Basics of Cyber Security | 6. | Tracking and Investigating Various Email Crimes. |
| 2. | Hacking Web Servers, Server Rooting, Wireless Networks, Penetration Testing | 7. | Recover Deleted Files and Folders. |
| 3 | Internet of Things (IoT) Hacking and Cloud Security | 8. | Various popular techniques like Acquiring images, Cracking passwords, Encryption, Stenography, etc. |
| 4. | How to ensure control over Information Security in a company | 9. | Fundamentals of Networking Basic Course and Defense Techniques |
| 5. | How to inject SQL Injection | 10. | Vulnerabilities in Web Applications and How to remove them |
Cyber Security Course with Training Eligibility & Fee Details
Unlike other institutes, Craw Security offers this course to students with at least a 10th pass. However, they need to pass it from a reputable board. Also, you can study with Craw Security on a Pocket-Friendly budget. That means you can learn without any hesitation.
Online Security Course in Punjab Exam & Certification
If you want to choose from the list of best Cyber Security Courses and want to prepare for the exam of Cyber Security, you can choose CEH Course after the 10th. This course teaches you the skills related to Ethical Hacking as a Professional. With the title of a Certified Ethical Hacker, you'll get several job offers from several MNCs. These certifications are valid for 3 Years. After 3 Years, that'll be no more valid for jobs. You'll have to retake the exam for new techniques and methods. Else, you can pick the advanced course over the previous one so you can continue learning while earning.
Frequently Asked Questions?
About Online Cyber Security Course in Punjab 2023 | Best Institute for Cyber Security Course
Can I do Cyber Security Course Online?
Of course, with Craw Security Institute pursuing Cyber Security Course Online will be possible. That's because Craw Security thinks that anyone can complete their studies and achieve their goals if they start working on it. Thus, Craw Security offers Online Sessions too.
Can I study Cyber Security at home?
Well, there are a lot of ways in which you can study Cyber Security at home. One of them could be a book that could tell you some aspects of it. Sometimes it can be Youtube. However, the best way you can take is to join an institute that can provide sessions online to you. That's so you could be able to learn this course while sitting on an easy chair.  One of the best institutes for providing this course is Craw Security.
Is Cyber Security hard?
Nothing is that easy to learn by watching it from a far distant place. You need to observe, learn, try, innovate, and launch your own techniques so that you can increase your skills globally. This course can be easily done too, if you have the guts and the best teachers teaching you these skills. With Craw Security, you can get the best learning experience.
Is Cyber Security Course worth it?
Today's generation is mostly dependent on the "Internet". Widing spreading data is getting into the hands of Cybercriminals, and people need protection against them. Even if you're not learning it for a job letter, you'll be able to save your family and yourself from CyberCriminals. Thus, you can learn Cyber Security Courses from a genuine institute like Craw Security.
Can I learn Cyber Security in 2 months?
Well, it'll depend on the syllabus of the course. Every institute divides this course into certain modules. So, it's obvious that the syllabus can increase the time period of finishing the course.
What is the monthly income of Cyber Security?
There are several designations under the syllabus related to Cyber Security Course. Thus, telling the salary of each one would be difficult. However, the starting salary of the aspirants is 33,000 INR.
Which Cyber Security Course is Best for Beginners?
There are several institutes available in Delhi and Punjab for this course. However, the best course for anyone is an Online Cyber Security Course in Punjab after the 10th. You can pursue this course from Craw Security Private Limited Professional Institute.