How to Protect Your Bank Account from Fraudsters: A Comprehensive Guide
February 16, 2023
2023-03-10 13:24
How to Protect Your Bank Account from Fraudsters: A Comprehensive Guide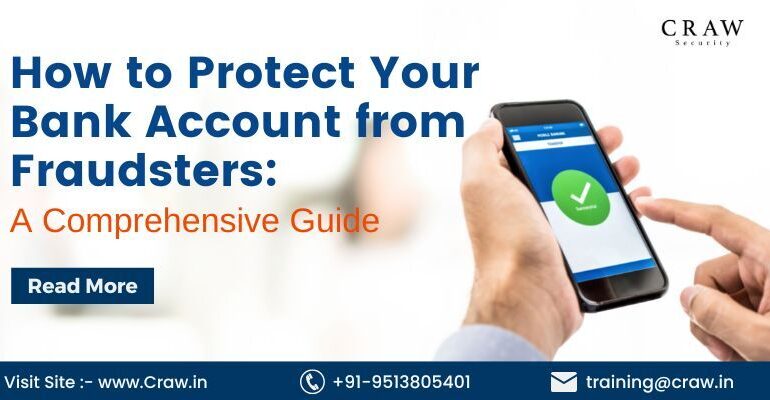 How to Protect Your Bank Account from Fraudsters: A Comprehensive Guide
Finding out that hard-earned money has been taken from the bank account without the knowledge or consent could be anyone's greatest nightmare.  Due to the rising frequency of bank account fraud, this is regrettably a fact of life for many.  In fact, the Indian Express recently published an article on an incident in Delhi where thieves got into a bank account and stole all the money.
You will receive a thorough how-to manual from this post on safeguarding your bank account against scammers and keeping your funds secure.
Understanding the Risks
Knowing the hazards is the first step in protecting your money account.  Malicious actors can obtain your bank account in a number of methods, including:
Phishing scams: These occur when con artists send you an email or message that appears to be from your bank and requests that you supply your login data or personal information.
Skimming Devices: Equipment that can capture your card details are known as "skimmers," which are placed on ATMs or card readers by thieves.
Malware: When scammers install malicious software on your computer or mobile device, it gives them access to your personal data and login credentials.
Social Engineering: Fraudsters use social engineering to deceive you into providing them with datasets or control of your bank account.
Best Practices for Protecting Your Bank Account
It is one of the highlighted objectives of a person who is using online banking services to secure their esteemed banking credentials from fraud.  Here are some of the best practices for securing your bank account from any malpractices of a fraudster:
Use strong and unique passwords: Make absolutely sure your bank account password and any other key passwords you use are both strong and original. Don't use anything that could be easily guessed, such as your name or birthdate.
Enable two-factor authentication: By forcing you to input a code from your phone or email in addition to your password, this offers an additional degree of security to your bank account.
Keep your software up to date: A malware assault can be avoided by running the most recent software on your computer and mobile devices.
Be cautious of phishing scams: Avoid responding to emails or texts that request personal information or login credentials, and only do so if you are positive that the request is genuine.
Check your bank statements regularly: Regularly review your bank statements, and notify your bank right once of any questionable activity.
Use a secure connection: Use an encrypted channel (such as SSL or TLS) and check for the padlock icon in your browser while viewing your bank account online.
Conclusion
In the bottom line, you may help safeguard your bank account against scammers and keep your money secure by adhering to these recommended practices.  Keep in mind to exercise caution, keep up with current threats, and take precautions to protect yourself.