Emergence of New Cybersecurity Technologies and Strategies for Protecting Businesses
February 16, 2023
2023-03-10 13:21
Emergence of New Cybersecurity Technologies and Strategies for Protecting Businesses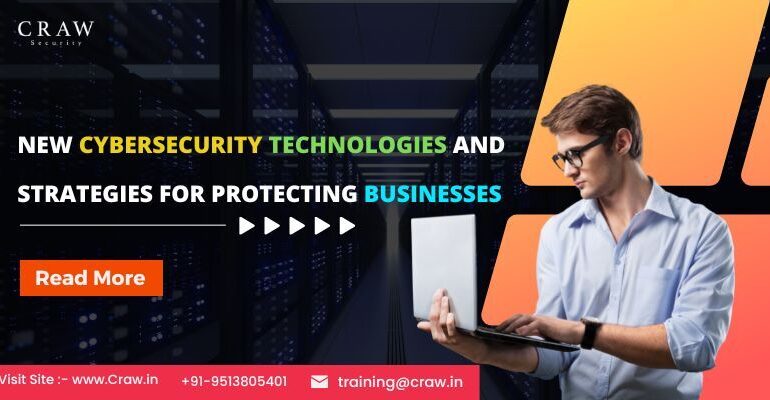 Emergence of New Cybersecurity Technologies and Strategies for Protecting Businesses
The international market is constantly changing toward providing a better lifestyle to mankind by furnishing them with the best internet-based equipment that does specialized work for them to ease their work more efficiently and strategically.  In this regard, we keep on enhancing the new cybersecurity technologies and strategies in order to strengthen the security level of digital assets possessing highly sensitive information that we willingly or unwillingly provide to these devices.
Moreover, in this blog post, we try hard to showcase all technologies related to cybersecurity that are highly required for various businesses to strengthen their security posture to the optimum levels.
Introduction:
Businesses of all sizes confront rising dangers to their information protection as technology progresses.  It is getting harder to protect digital assets from cybersecurity risks like data breaches, ransomware assaults, and social engineering since they are getting more sophisticated.  Therefore, firms must adopt evolving patterns in cybersecurity technologies and methods to keep ahead of cyber dangers.
Headings:
1. Artificial Intelligence and Machine Learning in Cybersecurity
2. The Rise of Zero Trust Security Frameworks
3. Cloud Security for Remote Workforce
4. Advanced Endpoint Detection and Response (EDR)
5. Multi-Factor Authentication (MFA)
6. Cybersecurity Awareness Training for Employees
 Artificial Intelligence and Machine Learning in Cybersecurity
By examining enormous amounts of data to find abnormalities and trends, AI and machine learning can enhance threat detection and response.
In addition, Machine Learning algorithms can help improve responsiveness times and eliminate false positives by learning from earlier attacks and adjusting to new threats.
The Rise of Zero Trust Security Frameworks
Frameworks for zero-trust security operate under the premise that all services, both within and beyond the network, are unreliable and call for authentication.
In this regard, the Zero Trust Security mechanisms can restrict access to critical resources and assist in stopping lateral network migration.
Cloud Security for Remote Workforce
Remote workers' accessibility to cloud resources can be secured with the use of cloud security mechanisms like CASB (Cloud Access Security Broker).
Moreover, Identity and Access Management (IAM) technologies can aid in limiting cloud services' use and safeguarding sensitive data.
Advanced Endpoint Detection and Response (EDR)
Malware, fileless attacks, and zero-day exploits are all types of attacks that EDR systems are able to identify and stop at the endpoint.
Hence, real-time insight into endpoint behavior can also be provided by EDR solutions, assisting in the speedy identification and reaction to risks.
Multi-Factor Authentication (MFA)
To prevent unwanted access, MFA systems offer an additional level of authentication, including biometric, token, or Messaging-based validation.
Furthermore, MFA may be used for all authentication mechanisms or just for certain high-risk operations like gaining access to money or private information.
Cybersecurity Awareness Training for Employees
Employee education can assist in spreading knowledge of cybersecurity threats and secure data handling procedures.
Moreover, effective training will be adapted to the company's priorities, use instances from the actual world, and will be repeated frequently.
FAQs
About
1: What is the biggest emerging trend in cybersecurity technologies?
One of the most important new trends in cybersecurity is the fusion of artificial intelligence and machine learning.  In addition, these systems can swiftly identify risks by analyzing large volumes of data.
2: What are some examples of new cybersecurity technologies?
Artificial intelligence and machine learning, blockchain, cloud security options, and biometric validation are a few examples of modern cybersecurity technology.
3: What are some effective strategies for protecting businesses against cyber threats?
Regular software updates and fixes, employee education and training on cybersecurity best practices, the adoption of secure passwords and multi-factor verification, the installation of firewalls and antivirus software, regular security audits, and risk evaluations are all efficient ways to defend companies against cybersecurity threats.
4: How can artificial intelligence and machine learning be used in cybersecurity?
In cybersecurity, artificial intelligence and machine learning are employed to identify patterns and abnormalities in network traffic, analyze vast volumes of information to find prospective dangers, and automate defenses against known threats.  Additionally, they can be utilized for behavioral evaluation to spot shady activities and speed up event reaction and recovery.
5: How does blockchain technology enhance cybersecurity?
Blockchain technology improves cybersecurity by offering a distributed and secure method for data preservation and transaction authentication.  In addition, it has the potential to be employed for protecting data integrity, stopping data manipulation, and guaranteeing the legitimacy of transactions.
6: What are some common types of cyber threats that businesses face?
Phishing assaults, malware infections, ransomware attacks, denial-of-service attacks, and insider threats are among the frequent kinds of cyber threats that enterprises must deal with.
7: What is the role of employee training in cybersecurity?
Employee education promotes awareness of cyber threats and effective approaches for preventing them, which is essential for cybersecurity.  In addition, this includes instruction on the protection of passwords, best practices for email and web usage, and spotting and reporting questionable activities.
Conclusion
In the bottom line, we tried our level best to describe the best practices related to the emergence of new cybersecurity technologies and strategies for protecting businesses with very authenticity to develop the security posture of diverse organizations.  In this regard, if a person is willing to make an outstanding career in cybersecurity with varied backgrounds, the same can enquire about our best-in-class 1 Year Diploma in Cyber Security Course by Craw Security.