Best Cyber Security Training Institute in Delhi [#1 Training Institute]
February 25, 2023
2023-03-10 13:25
Best Cyber Security Training Institute in Delhi [#1 Training Institute]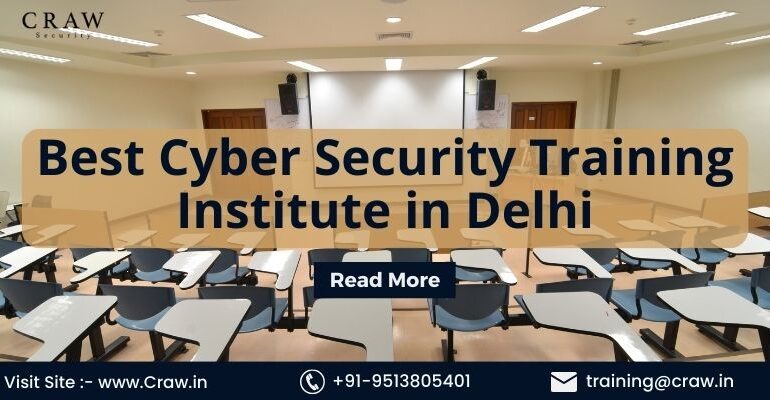 Best Cyber Security Training Institute in Delhi [#1 Training Institute]
Cybersecurity prevents theft, damage, or illegal access to computer systems, networks, and data.  In addition, cybersecurity measures are intended to stop cyberattacks, which might come in the form of malware, ransomware, phishing, and social engineering, among other things.
Moreover, firewalls, encryption, antivirus software, and intrusion detection systems are just a few of the techniques, methods, and technology that make up cybersecurity.  As even more companies and associations rely on computers and networks to hold and analyze confidential material, cybersecurity has become quite crucial.
Moreover, a successful cyber assault may lead to data compromise, financial losses, and reputational harm.  Therefore, it is essential that both individuals and companies take action to protect their systems and data against online attacks.

Choosing The Best Cyber Security Training Institute For Greater Learning!
Choosing the right kind of cyber security training institute that will propose a learner with all the necessary skills and aptitudes can be essential in the long run.  Moreover, the same should also possess some specialized accreditations and affiliations so that it meets the required preset guidelines to channel effective cyber security certification and training from the best-in-class cyber security training institute.
Furthermore, Craw Security, the best cyber security training institute in Delhi NCR, offers top-notch cyber security training courses duly accredited by FutureSkills Prime, a MeitY – NASSCOM, Digital Skilling Initiative, and approved by the Government of India.
Here is the list of the mainstream cyber security training courses offered by Craw Security to all eligible and interested students:
| | |
| --- | --- |
| Basic Networking | It offers the basic networking fundamentals to the learners. |
| Python Programming | This course contains the basic knowledge of Python programming language that is pretty necessary for further advancement in a cyber security career. |
| Linux Essentials* | A person sincerely requires to have some satisfactory knowledge of the Linux operating system to do multifunctionality in the cyber security course ahead. |
| Ethical Hacking | After having basic exposure to the things, the learner goes to have plentiful ethical hacking knowledge in this stage. |
| Advanced Penetration Testing | Craw Security proposes the best version of the advanced penetration testing course to all the learners in order to make them go-ready to face any challenges related to penetration testing whatsoever they come across them in their future jobs. |
| Cyber Forensics Investigation | Many learners choose to become digital investigating officers, and then this particular course is for those persons willing to serve society and country. |
| Web Application Security | Students will have the best of web application security fundamentals through this eminent course. |
| Mobile Application Security | Just like web application security, this course empowers learners to have all the mobile applications fundamental knowledge in place. |
| Endpoint Security | It is one of the crucial trajectories of cybersecurity, where the penetration testers need to secure all the entry and endpoints of internet-based devices. |
| IoT Penetration Testing | This course proposes internet of things basics knowledge to all the participating learners and enables them to face multiple challenges of the future. |
| AWS Associate | This course is the basic educational milestone of cloud associate knowledge, offered in a compact training by Craw Security, the best cyber security training institute. |
| AWS Cloud Security | Going further in the AWS Certifications journey, a person will certainly grab this authentic piece of cloud security education from the house of AWS in a value-added training module by Craw Security. |
All in all, an interested learner can also opt for all of the above-mentioned courses in a bundle course, widely renowned as 1 Year Diploma in Cyber Security Course by Craw Security.
Selecting Globally Recognized Cyber Security Online Training Institute
Apart from providing offline instructor-led classroom training sessions, Craw Security is immensely capable of offering Cyber Security Bootcamps through the VAPT (Vulnerability Assessment and Penetration Testing) batches or via pre-recorded self-paced video format.  In this regard, a learner can choose any style whatsoever that is pleasing as per the feasibility.
Moreover, all learners will undoubtedly grasp all the latest cyber security industry trends that are pretty much required to initiate the journey in cyber security in a reputed organization anywhere in the world.
FAQs
About the Best Cyber Security Training Institute in Delhi
1: What is a Cyber Security Training Institute?
The cyber security training institute can be referred to as a place where a cyber security-interested learner can opt for the relevant education and obtain the corresponding certifications.  For e.g., Craw Security is one of the best cyber security training institutes in India.
2: What kind of courses do Cyber Security Training Institutes offer?
This depends on the institute to institute.  However, Craw Security offers the best cyber security training courses facilitated by world-class training instructors having many years of authentic experience in the same fields.
3: Who can benefit from Cyber Security Training Institutes?
The learners who wish to build an exciting career in the field of cyber security can be benefitted from the cyber security training institutes so massively.
4: What are the prerequisites for Cyber Security Training Institutes?
The prerequisites for cyber security training institutes are as follows:
Basic computer skills
Familiarity with programming
Networking knowledge
Operating system information
Academic qualifications (10+2 passed certificate from a recognized board)
5: What are the job prospects after completing Cyber Security Training Institutes?
After undergoing Cyber Security Training Institutes, one has tremendous work opportunities.  Both the public as well as private sectors are experiencing an increase in the need for cybersecurity experts.  You might be able to get employment as a security analyst, security engineer, security architect, security auditor, security consultant, or security manager, depending on your skill set.  For competent cyber security specialists, many firms also provide attractive benefits packages and competitive compensation.
6: How long does it take to complete Cyber Security Training Institutes?
At Craw Security, you can opt for the monthly cyber security training courses, such as basic networking, python programming, Linux Essentials, etc., or else you can choose the bundle course, widely termed as 1 Year Diploma in Cyber Security Course by Craw Security.
7: How much do Cyber Security Training Institutes cost?
Craw Security is one of the esteemed accredited training partners of many cyber security supergiants in today's world, such as Offensive Security, EC-Council, Red Hat, CISCO, CompTIA, etc.  Hence, we deliver most of the famous as well as comprehensive courses duly running in the current market at very competitive prices.  If you wish to know more about any of your desired in-house of partner courses in Craw Security, you may initiate a quick call at +91-9513805401 and talk to our prominent educational counselors.
8: What are the delivery modes for Cyber Security Training Institutes?
The following are the famous class delivery modes by Craw Security, the best cyber security training institute in Delhi NCR:
Offline Instructor-Led Classroom Training
Online Pre-recorded Videos
Online VILT (Virtual Instructor-Led Training) Sessions
Bootcamps
Customized
Wrapping Up
In the bottom line, we would recommend you to choose Craw Security, the Best Cyber Security Training Institute in India, proposing the world's best cyber security training courses under the guidance of primetime instructors having many years of authentic experience in the same trajectory.  For more info, you may visit the Official Website of Craw Security or give us a call at +91-9513805401 and have a word with our highly experienced educational counselors.