Top Cybersecurity Career Paths To Choose From Craw Security [Updated 2023]
January 11, 2023
2023-03-10 12:09
Top Cybersecurity Career Paths To Choose From Craw Security [Updated 2023]
Top Cybersecurity Career Paths To Choose From Craw Security [Updated 2023]
In this world, which is technically full of cyber adversaries and organizations that are trying to hold as much data of the clients as possible to track their clientele with ease, it is pretty hard to hold everything together.  As a result, many enterprises tend to secure online digital assets with the best cybersecurity practices under the world-class cybersecurity practitioner having many years of authentic experience in implementing those best cybersecurity exercises in many reputed organizations globally.
Moreover, these organizations who are implementing maximum digital marketing techniques to market their products and/or services by obtaining more client databases using organic as well as paid marketing techniques, these databases need to be secure by various means.  In this regard, an international-standard penetration tester comes into the role.  Certainly, we need more efficient cybersecurity professionals to track down their IT infrastructures from getting compromised by a cyber adversary.
In addition to this, Craw Security, the best cybersecurity training institute in India, offers its best-in-class cybersecurity career paths to an individual willing to transform or initiate one's primary job roles into a cyber security professional.
How To Start Your Cybersecurity Career Path?
A person who is willing to initiate a genuine cybersecurity career path using varied methodologies and techniques can opt for the following measures:
Develop a basic understanding of the field. Learn the basic principles of cybersecurity, such as network security, software security, identity, and access management, data loss prevention, cryptography, and more.
Invest in cybersecurity certifications. Obtaining certifications such as CompTIA Security+ or SANS GIAC will demonstrate your knowledge and skills in the field, helping you stand out from the competition and advance your career.
Research job opportunities. Identify the types of positions you are interested in and research the companies and job postings to get a better understanding of the job requirements.
Build your portfolio. Take on a few cybersecurity-related projects to demonstrate your skills and show employers that you can handle the tasks required for the job.
Network and attend events. Get involved in the cybersecurity community by attending events, joining professional organizations, and connecting with others in the field.
Build relationships with employers. Connect with hiring managers and potential employers to discuss potential job opportunities and build relationships.
Continue to learn and stay up-to-date. As technology and threats evolve, so should your knowledge.  Keep learning, reading, and researching to stay ahead of the game.
Cyber Security Career Growth
It is highly estimated that the cybersecurity career path is about to grow in such a pretty much such.  In addition, it is also predicted that this field of cybersecurity is proliferating.  As per the Bureau of Labor Statistics (BLS), the number of cybersecurity-related jobs is expected to increase by 32% from 2019 to 2029, much faster than the average growth rate for all occupations.
In addition to this, this growth is primarily due to increased investment in preventing and responding to cyber-attacks.  As organizations become more reliant on technology, they must invest in protecting their data and networks from malicious actors.  The demand for skilled cybersecurity professionals is increasing, and career opportunities are abundant.
With the right skills and experience, individuals can enter a variety of roles and positions in the field.  Typical job titles include Information Security Analyst, Cyber Security Engineer, Ethical Hacker, Penetration Tester, and Cyber Security Consultant.  The salaries for these positions vary widely depending on experience, location, and industry.
Cyber Security Roadmap
There is a high-protective cyber security roadmap nicely curtailed for the persons to track down the security flaws or vulnerabilities in the target IT infrastructures of an organization.  In addition, one can utilize these cyber security roadmap tactics, duly mentioned in the following sections:
Analyze Your Risk: Analyze your organization's current cyber security posture and identify potential risks associated with the data and systems you use.
Develop a Cyber Security Plan: Develop a comprehensive cyber security plan that outlines organizational policies and procedures for data protection, incident response, and access control.
Establish Security Controls: Establish appropriate security controls to protect organizational data and systems.
Educate Your Employees: Educate your employees on cyber security best practices and provide them with the necessary resources to stay up to date on cyber security threats.
Monitor Your Network: Monitor your network for suspicious activity and implement appropriate incident response plans.
Test Your Security System: Test your security system regularly to ensure it is effective and responds to threats and vulnerabilities.
Perform Regular Backups: Perform regular backups of your data and systems to ensure you can recover from an attack or data loss.
Monitor for New Threats: Monitor for new threats and vulnerabilities and take steps to mitigate them.
Update Your Security Plan: As new threats emerge, update your cyber security plan and controls to remain protected.
Cyber Security Career Path Certification
One can sincerely choose this cybersecurity career path for starting a long-lasting career in the trajectories, which consist of many technologies that are interdependent on one another.  Moreover, any of these technologies can be opted for living up to a life worthy of a work-life balance.
In the same context, Craw Security is the best choice you can take for starting a cybersecurity career path for sure.  In addition to this, the main trajectories of choosing a cybersecurity career path from these cybersecurity technologies are as follows: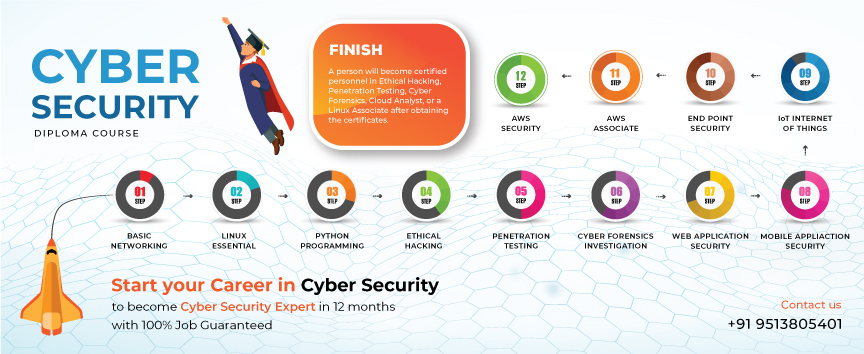 Apart from these above-mentioned courses, there are many other additional courses that can also be chosen for adopting a world-class cybersecurity career path.
FAQs
About The Top Cybersecurity Career Paths To Choose From Craw Security 2023
1: What is the pathway for cyber security?
The primetime cybersecurity career pathway is mentioned as follows:
Identify threats and vulnerabilities.
Establish security policies and procedures.
Implement technical controls and countermeasures.
Monitor and manage security systems.
Develop an incident response plan.
Train and educate users.
Test and evaluate security measures.
Maintain security awareness and compliance.
2: How do I start a career in cybersecurity?
By enrolling in the 1 Year Diploma in Cyber Security Course offered by Craw Security, one can sincerely start a fantastic career in cybersecurity by taking step-by-step guidance from a highly experienced mentor having many years of authentic experience.
3: Is cybersecurity a good career path?
Yes, cyber security is indeed a good career path to choose from a variety of trajectories of information technology.  However, there are certain other domains that one can choose as per one's interest and choice.
Moreover, if you wish to start a nice career in cybersecurity, then you may choose the 1 Year Cyber Security Diploma Course by Craw Security.
4: What qualifications are needed to join cyber security?
At Craw Security, if a person wishes to join the highly lucrative 1 Year Cyber Security Diploma Course, then the same can join it with no special exposure to the same trajectory in any manner as this course will take you to learn the cyber security specialties right from scratch.
5: Is cyber security a good salary?
Yes, as per many job-providing organizations, cyber security professionals withdraw high-end packages from many world-class companies across the globe.
6: Does cybersecurity require coding?
Yes, if you wish to go in-depth into cyber security, then you have to try a good hand in coding languages.  However, in the 1 Year Diploma in Cyber Security Course offered by Craw Security, there is a provision for providing a genuine knowledge of Python Programming Language included in this clubbed course of 12 systematic courses come one after the other for a productive education in cyber security.
7: Is cyber security a difficult career?
Yes, cyber security can be a difficult career.  It requires a deep understanding of technology and a willingness to stay up to date with the latest threats and trends.  Cybersecurity professionals must also have strong analytical and problem-solving skills and be able to think critically.
8: Can I learn cyber security in 6 months?
Yes, Craw Security also possesses a 6-Month Information Security Diploma that is also very beneficial for newcomers to join cyber security with a bang.  If you wish to know more about the same, then make a quick call at +91-9513805401 and ask all your queries to our experienced educational counselors.
9: What are the 7 types of cyber security?
The mainstream 7 types of cyber security technologies are as follows:
Network Security
Application Security
Data Security
Endpoint Security
Cloud Security
Identity and Access Management
Disaster Recovery/Business Continuity Planning
10: Can a beginner learn cybersecurity?
Yes, the courses at Craw Security are highly beginner-friendly.  Hence, any person who wishes to learn cybersecurity right from scratch can opt for the courses offered by cybersecurity.
To know more about the same, you can visit the Craw Security premises at Saket and Laxmi Nagar locations in New Delhi or make a quick call to our hotline mobile number +91-9513805401 and have a word with our highly experienced educational counselors.
Conclusion
To wrap up, cybersecurity is a rapidly expanding field with many potential career paths.  There are many different types of jobs available, from entry-level positions to highly-specialized roles.  In addition, cybersecurity professionals have the opportunity to work on a variety of projects, from developing software to protecting networks and data.  With the proper knowledge and experience, individuals can pursue a successful and rewarding career in cybersecurity.