Cyber Security Certification Path for Beginners [2023]
August 5, 2023
2023-08-28 13:30
Cyber Security Certification Path for Beginners [2023]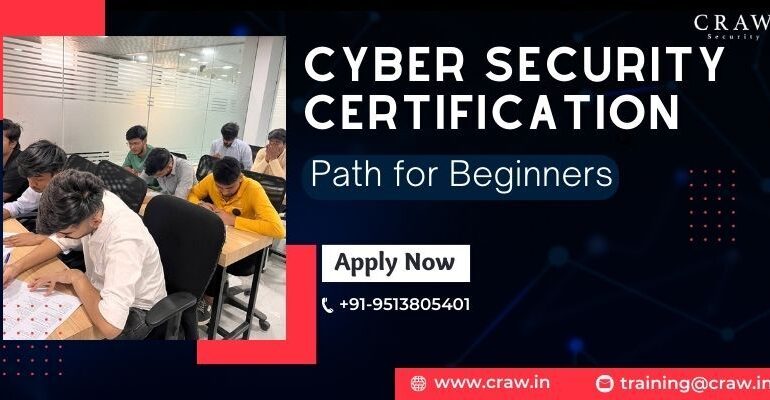 Cyber Security Certification Path for Beginners [2023]
Cyber Security Certification Path
We all can witness that this modern era is going to be filled with a lot of internet-based devices where robots will continue doing our multi-purpose tasks. These devices might have certain flaws in the shape of coding errors that can certainly be leveraged by a potential hacker with some evil intent to harm the beholder via some practiced means.
In this blog post, we are going to discuss a Beginner's Guide to the Cyber Security Certification Path.
What is Cybersecurity?
The technique of protecting computers, servers, mobile devices, electronic systems, networks, and data against online assaults, harm, or illegal access is referred to as cybersecurity, sometimes known as information technology security.  It's intended to preserve the accessibility, privacy, and quality of data while giving computers, users, and networks a secure environment.
The Importance of Cybersecurity Certifications
Certifications in cybersecurity are crucial for people working in the IT sector, especially for those interested candidates who have an eagerness to start a fantastic career in this sector of cybersecurity.
In addition, they are extremely valuable and important for a variety of reasons.  Some of the prominent reasons for this are mentioned below:
Entry-Level Certifications for Beginners
CompTIA Security+
CompTIA Security+ is a well-respected certification that verifies the foundational abilities required to carry out essential security tasks and follow a profession in IT security.  Anyone interested in starting a career in cybersecurity is advised to start by opting for this prime certification.

It serves as a crucial first step toward a career in IT security because it covers the fundamental concepts of network security and risk management.  It places a strong emphasis on practical, hands-on skills, guaranteeing that security experts are better equipped to handle a wider range of problems.

Certified Ethical Hacker (CEH)
The International Council of Electronic Commerce Consultants (EC-Council) offers an accredited certification called Certified Ethical Hacker (CEH).  Your expertise and understanding of network safety, especially in the area of ethical hacking or penetration testing, are validated by this well-recognized certification.

Using the exact same expertise and resources as a malevolent hacker but in an ethical and legal manner, a Certified Ethical Hacker is a knowledgeable expert who knows how to seek security holes and flaws in target systems.  They do this to evaluate the safety condition of the target system.
Foundational Certifications
Certified Information Systems Security Professional (CISSP)
The International Information Systems Security Certification Consortium, generally known as (ISC)², created and maintains the CISSP Certification, a cybersecurity credential that is renowned worldwide.

The CISSP is made to demonstrate security knowledge.  This esteemed qualification serves as evidence of a person's expertise, abilities, and expertise in cybersecurity leadership.  The framework, administration, controls, and architecture that ensure the security of corporate environments are defined by CISSPs, who specialize in information assurance.

Certified Information Security Manager (CISM)
ISACA, an international professional association specializing in IT governance, offers the CISM credential.  Individuals who build and oversee a company's information security program are eligible for the CISM certification.

For IT professionals in charge of administering, creating, and supervising information security systems in enterprise-level applications or creating the finest corporate security policies, CISM accreditation is a recognized industry standard.
Specialized Certifications
Certified Cloud Security Professional (CCSP)
The highest level of cloud security knowledge is represented by the CCSP, a global certification. It was co-created by (ISC)² and Cloud Security Alliance — leading stewards for information security and cloud computing security.
The CCSP is frequently recognized as the gold standard for cloud security credentials. You can build, manage, and protect data, apps, and infrastructure in the cloud employing industry best practices, policies, and procedures developed by the cybersecurity experts at (ISC)2, demonstrating that you possess advanced technical skills and knowledge.
Cybersecurity Career Paths
There are many different career paths available in the cybersecurity sector.  This broad sector offers a variety of professions suitable for people with various abilities, passions, and work histories.  A person can choose a huge variety of job roles or career paths in the domain of cybersecurity in the wake to do something concrete in this genre.
In addition to this, we have jotted down some decent Cybersecurity Career Paths in the following that can nicely be chosen by an individual duly interested in making a great career in this specialized trajectory:
Security Analyst
Penetration Tester
Security Consultant
Incident Response Specialist

Preparing for Cybersecurity Certifications
If you are keen to prepare for any cybersecurity certifications, then you may nicely do this by joining a good cybersecurity training institute in India, such as Craw Security, the Best Cybersecurity Training Institute in India that offers 1 Year Diploma in Cyber Security Course under the prominent guidance of world-class training professionals and industry experts.
Moreover, we have also given some techniques by which you can genuinely prepare for cybersecurity certifications on your own:
Self-Study
Online Courses
Bootcamps and Workshops
Hands-On Experience
Tips for Success in Certification Exams
Learning and preparing for a cybersecurity certification is not an easy nut to crack; where you will come across so many complex questions and scenarios that you have to give answers so patiently and calmly without any hustle.
Practice Exams
Rather than getting so much tension in advance and not studying up to the market, a person needs to learn thoroughly after giving 100% concentration within the classes and commands, followed by practicing the sample papers and some general practice questions in a proper strict environment.
Time Management
It is quite evident that time management is the most important and foremost key player in solving the questions with an exam.  Hence, a person needs to give one's 100% attention to solving the necessary questions within time to manage it properly and utilize it in further examination with proper time management.
Joining Study Groups
It is also a great opportunity to join study groups or study in groups where you can resolve one another's doubts and enhance your memory by giving full concentration to every question that a person asks in order to solve one's doubts.  By doing this, you will try to get all your queries resolved in time and will pass the exam with flying colors in real time.
The Role of Soft Skills in Cybersecurity
Soft skills, such as those linked to communication, teamwork, critical thinking, and leadership, are equally relevant to cybersecurity, even while technical abilities are unquestionably essential.  It has been very crucial to give equal attention to grasping a good command of soft skills along with enhancing your cybersecurity skills.
As there would be a huge demand for cybersecurity personnel who can speak up their minds to the managing authorities so nicely and expressively, the following skills are dedicatedly needed by cybersecurity professionals in the long run:
Communication Skills,
Problem-Solving Skills,
Teamwork,
Adaptability,
Critical Thinking,
Leadership,
Attention to Detail, and many more.
Building a Professional Network
Getting business cards is only one aspect of developing a professional network.  It involves creating deep connections with people who can lead to new chances, offers sound advice, and advance your career.  The following advice can help you create a professional network efficiently:
Start with Who You Know,
Attend Professional Events,
Join Professional Associations,
Leverage Social Media,
Volunteer,
Foster the Relationships,
Be Helpful, etc.
Staying Updated with the Latest Trends
For job advancement and longevity, it's crucial to keep up with the current developments in your industry, especially in sectors that change quickly, like technology or cybersecurity.  A person who intends to become a great professional in any stream, especially a domain like cybersecurity, needs to be at the front while gathering useful information on the latest trends and technologies in the industry to be one step ahead of the malicious hacking professionals.
Following are some practical methods for staying up to date on the most recent developments:
Industry Publications,
Online Courses and Webinars,
Blogs and Podcasts,
Social Media,
Networking,
Professional Development Programs,
Certifications, etc.
Securing Internships and Entry-Level Positions
Securing internships and entry-level jobs can give you the necessary experience you need to launch your career, regardless of whether you only recently started out or seeking to move industries.
Below are some necessary tricks that you need to grasp to Securing Internships and Entry-Level Positions:
Build a Strong Resume,
Cover Letter,
Networking,
Online Job Portals,
Career Services,
Internship Programs,
Tailor Applications,
Prepare for Interviews, etc.
Advancing Your Cybersecurity Career
Advancing your Cybersecurity career calls for a fusion of technical proficiency, soft skills, ongoing learning, and smart career planning.
In this regard, the following tips will help you advance in your cybersecurity career:
Gain Experience,
Obtain Certifications,
Continuous Learning,
Specialize,
Network,
Develop Soft Skills,
Plan Your Career Path,
Contribute to the Community, etc.
Continuous Learning and Development
The constant process of gaining new abilities, information, and experiences — both individually and professionally — is known as continuous learning and development.  Maintaining a mindset of lifelong learning is particularly essential in a subject as dynamic as cybersecurity.  The following tactics will help you ensure ongoing learning and advancement in your cybersecurity career:
Regular Training and Courses,
Gain Certifications,
Attend Conferences and Webinars,
Stay Updated with Industry News,
Leverage Online Resources,
Learn from Others,
Practice,
Reflect and Assess,
Foster a Growth Mindset, etc.
FAQs
About Cyber Security Certification Path for Beginners
1: Are cybersecurity certifications essential for beginners?
Yes, beginners who have a keen interest in starting a career in cybersecurity can opt for this mesmerizing field that is highly booming and prove to be very beneficial in the near future.
2: How long does it take to earn a cybersecurity certification?
At varied institutions based on cybersecurity or mixed certification culture, there are different time durations for their own certifications.  However, at Craw Security, the Best Cybersecurity Training Institute in India, a learner can nicely opt for this nicely affordable 1 Year Diploma in Cyber Security Course that will certainly take only a year and train a person into a fully-fledged cybersecurity professional that can multi-task in almost every field of cybersecurity.
3: Can I switch careers to cybersecurity without a technical background?
Yes, you may switch your current career to cybersecurity without any special technical exposure as the course proposed by Craw Security, the Best Cybersecurity Training Institute in India.  Learning aspirants will certainly be able to strengthen their knowledge right from scratch.
4: What is the average salary of a cybersecurity professional?
As per Ambition Box, the average salary of a cybersecurity professional in India ranges between ₹ 2 Lakhs to ₹ 17.1 Lakhs with an average annual salary of ₹ 5.0 Lakhs.
5: Will certifications guarantee me a job in cybersecurity?
Employers are more frequently choosing candidates for cybersecurity jobs who have appropriate qualifications but no college degree.  Those who hold the appropriate certificates have a strong chance of landing a job because the industry is expanding so quickly that there are just not sufficient degree-holding applicants to take on the roles.
Conclusion
To wrap up, we would like to say that we are willing to provide authentic cybersecurity education in the shape of 1 Year Diploma in Cyber Security Course by Craw Security, the Best Cybersecurity Training Institute in India.  All our 12 courses in the Cyber Security Diploma facilitated by Craw Security are accredited and affiliated by FutureSkills Prime, a MeitY – NASSCOM, Digital Skilling Initiative, and approved by the Government of India.
Hence, a person who successfully completes our 1 Year Cyber Security Diploma by Craw Security, followed by the respective exams by FutureSkills Prime, will technically be able to withdraw Government of India-approved certificates.  To know more about the same, give us a call at our 24X7 hotline mobile number +91-9513805401 and have an interaction with a representative from the team of educational counselors.