Linux Administration Course in Delhi [Craw Security]
August 7, 2023
2023-08-28 13:27
Linux Administration Course in Delhi [Craw Security]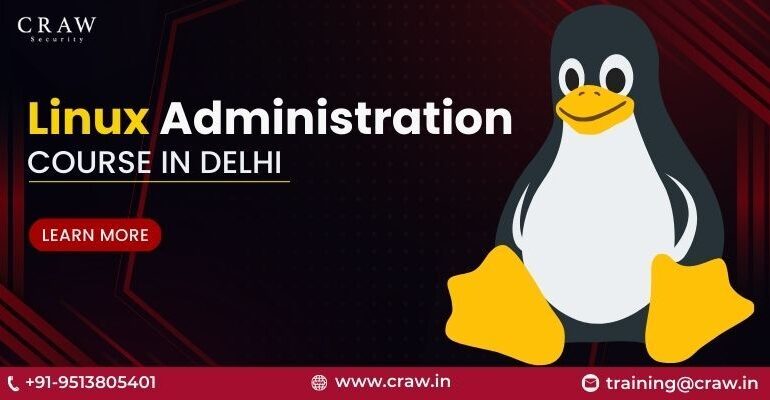 Linux Administration Course in Delhi [Craw Security]
Introduction to Linux Administration Course in Delhi
Being India's capital, Delhi is a center for high-quality education and training in a variety of fields, including IT.  The Linux Administration Course is one of the programs that is very popular in the IT sector.  This highly comprehensive Linux course gives students the knowledge and abilities needed to competently manage Linux systems, a competence that is highly valued in many IT positions.
Why Choose a Linux Administration Course?
Today's technology is dominated by Linux, which runs many servers, mobile devices, and even devices on the International Space Station. Therefore, learning Linux administration can completely alter your job.  You can learn a lot about this operating system by taking the Linux Administration Course, which will provide you with skills that are applicable to many other fields.
Understanding Linux: The Basics
An open-source operating system based on UNIX is called Linux.  Linux, which is well-known for its dependability, sturdiness, and adaptability, is frequently used to run servers, create software, and even power mobile devices.  Therefore, Linux administration knowledge is a valuable asset for IT professionals.
The Scope and Demand of Linux Administration in the IT Sector
There is an increasing need for qualified Linux administrators due to Linux's broad use in a variety of industries, particularly financial services, telecommunications, and even space exploration.  It is anticipated that this tendency will continue, guaranteeing individuals skilled in Linux administration a bright future.
Career Opportunities After Completing Linux Administration Course
Multiple employment options are made available by having Linux knowledge.  After passing the course, you could work as a DevOps Engineer, Linux System Administrator, Network Administrator, or even a Linux Engineer.  In the IT sector, these positions are both profitable and highly desirable.
Choosing the Right Linux Administration Course in Delhi
The best course to take will rely on a number of things, including its content, the professors, and the possibilities for hands-on learning.  It's important to keep in mind that the top Linux administration course in Delhi should give you knowledge that is theoretical as well as practical.
Course Content and Modules for Linux Administration Course
The highly sought-after Linux course addresses a variety of Linux administration-related subjects, including shell scripting, network setup, package management, security administration, and system installation.  The modules are made to give a thorough understanding of dealing with situations in the actual world.
Duration and Cost of Linux Administration Course in Delhi
A number of factors, including the institute and the level of the course, the duration, and the price of the Linux Administration Course in Delhi, can change. The duration of the course is typically between a few weeks and a few months.  The price of the course typically varies, providing options for various budgets.
Top Institutes Offering Linux Administration Course in Delhi
In Delhi, there are many famous institutions that provide Linux administration training.  The Indian Institute of Technology, NIIT, and APTECH are a few of these. These institutions offer top-notch instruction aided by knowledgeable faculty.
Certification in Linux Administration
Learners who complete the course successfully are awarded a Linux Administration Certification.  Your expertise and abilities are validated by this certification, which raises your reputation in the job market.
Learning Outcomes of the Linux Administration Course
After completing the course, you'll be fully knowledgeable about Linux operating system fundamentals and capable of installing systems, managing packages, managing files, managing users and groups, and more.  You can effectively administer Linux systems in a business setting with the help of these abilities.
Skill Enhancement Through Practical Training
The Linux Administration Course in Delhi places a strong emphasis on practical training. This gives students the chance to apply their theoretical learning to actual situations, improving their problem-solving and decision-making abilities.
FAQs
About Linux Administration Course
1: What is the eligibility for the Linux Administration Course in Delhi?
Usually, anybody interested in studying Linux administration is welcome to enroll in the course. However, it is advised to have a fundamental knowledge of computers and operating systems.
2: Are there online Linux Administration courses available in Delhi?
Yes, a number of institutions provide online Linux Administration courses that let students study whenever it's convenient for them.
3: Is certification important after the Linux Administration course?
Your work opportunities will improve as a result of your certification, which verifies your administration abilities and knowledge.
4: What are the job roles available after completing the Linux Administration course?
Linux System Administrator, Network Administrator, Linux Engineer, and DevOps Engineer are just a few examples of job titles.
5: What is the average salary of a Linux Administrator in India?
With a number of variables, including the individual's experience, the size and location of the organization, and other factors, the average compensation of a Linux Administrator in India can vary.
Conclusion
In a nutshell, Linux administration abilities are essential in the constantly changing world of IT.  You can start along the road to a successful and promising profession by enrolling in a Linux Administration Course in Delhi.  Keep in mind that it's not only about the course; it's also about the real-world skills you pick up along the road.
All in all, we have tried to give away all the necessary information related to this mesmerizing Linux Training Course in Delhi by Craw Security, the Best Linux Training Institute in Delhi NCR, facilitated by world-class training professionals with many years of crucial work experience.