Cyber Security Career Opportunities in India 2023
December 20, 2022
2023-03-10 11:46
Cyber Security Career Opportunities in India 2023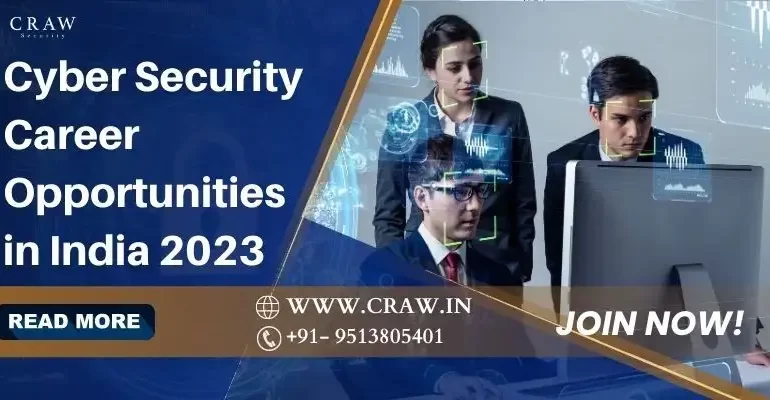 Cyber Security Career Opportunities in India 2023
Becoming a tech expert can be a good thing for an enterprise for sound growth in the prospective career.  However, choosing one's own faith as per the dependency on the latest technology and the ill effects that come along with it can be a game-changing aspect for organizational growth.  Since the worldwide economy has paved the way for more internet-based gadgets and computers that communicate around the world with one another over the internet, many enterprises have mature more vulnerable to hacking and concerning cyber-attacks.
Certainly, there is a huge demand for cybersecurity experts that are well-versed and duly skilled in Artificial Intelligence and Data Science.  In addition, the scope of cybersecurity has ripened enormously with respect to skills and job opportunities.
Cyber Security Trends Impacting Your Career in 2023
There are various cyber security trends to watch out for in 2023 for a sound career in this high-time booming industry that needs young blood to indulge in strategy-making part for varied organizations dealing in diverse niches and genres.  In addition, there could be several functionalities that a person could note to start a mind-blowing career in cybersecurity apart from the cyber security trends impacting career in 2023.  Some of the main cyber security trends impacting your career in 2023 are as follows:
Rise of Automotive Hacking
Potential of Artificial Intelligence (AI)
Mobile is the New Target
Cloud is Also Potentially Vulnerable
Data Breaches: Prime target
IoT with 5G Network: The New Era of Technology and Risks
Automation and Integration
Targeted Ransomware
State-Sponsored Cyber Warfare
Insider Threats
Here, we will try to elaborate on the above-mentioned cyber security trends impacting your career in 2023 one by one in the following:
Rise of Automotive Hacking
As shown in a famous Hollywood movie — Fast & Furious 8, there is a steep rise in the number of vehicles that comes along packed with several automated software establishing seamless connectivity for drivers in cruise management, engine timing, door lock, airbags, and many other advanced systems for the chauffeur's assistance.  In today's era, these internet-based vehicles utilize Bluetooth and WiFitechnologies to conversate, which certainly makes them highly vulnerable to many system hijacking possibilities that can be pretty risky to life and death matters.
We need to perform strict cyber security measures on these automotive vehicle platforms, for which we require a big cyber workforce to work upon them.
Potential of Artificial Intelligence (AI)
With the introduction of Artificial Intelligence in almost every market segment, this high-time technique with an amalgamation of machine learning tactics has brought mind-blowing alterations in cybersecurity.  In addition, AI has been vital in making automated security systems, natural language processing, face recognition, and automatic threat detection.
On the contrary, AI fundamentals have been widely used in developing many smart malware applications and attacks to bypass the recent security parameters in managing datasets.
Mobile is the New Target
The cyber security trends offer a valuable enhancement, something around 50% for mobile banking malware or attacks in the year 2019, establishing our handheld devices as a possible prospect for hacking professionals.  In this regard, all the photos, economic transactions, emails, and messages pose additional threats to candidates.  In addition, smartphone malware might seize the attention of several cyber security trends in 2023.
Cloud is Also Potentially Vulnerable
The latest data-storing technique of Cloud Servers is not potentially vulnerable.  However, with excess enterprises now moved to the cloud servers, many security parameters are required to be implemented, regularly checked, and duly updated whenever possible to secure the datasets from any kind of leaks and malicious software.
Although several cloud apps like Google or Microsoft are nicely backed with several security measures from their end.  Yet, it's the user end that could act as a vital source for inaccurate mistakes, malware, and phishing attacks.
Data Breaches: Prime target
The handling of datasets is still one of the foremost challenges for almost every organization that is securing its client database on online platforms.  In any case, for an individual or an entire organization, securing digital assets is the most vital goal that an enterprise has to accomplish.  Moreover, any minor flaw or bug in your system browser or software is a potential vulnerability for the real-time hacking professional to assess individual datasets.
We require fresh harsh methodologies like the General Data Protection Regulation (GDPR), which came into force on May 25th, 2018, that usually deal with data protection and privacy for a common population in the European Union (EU).
IoT with 5G Network: The New Era of Technology and Risks
With the introduction of 5G networks, all IoT devices enter into a new generation of interconnectivity that will transform into a reality with the advancement of time.  This communication between several devices also opens them to many shortcomings, from exterior influence, attacks, or an unfamiliar software bug.
The most utilized world browser supported by Google, Chrome, etc., was discovered to have severe vulnerability.  Since the 5G technology is new in the industry and needs a lot of R&D to find vulnerabilities to establish the system secure from any outside attack.  Moreover, every particular step of the 5G network might fetch an overload of network attacks that we might not be aware of.
Automation and Integration
As the value of data is continuously enhancing with each passing day, it is highly confirmed that automation is integrated to provide additional sophisticated management over the datasets.  In addition, the modern harsh work demand also puts pressure on varied cybersecurity experts and developers to supply rapid and proactive solutions, confirming automation is more generic than ever.  In this regard, security measurements are usually merged, while the elegant procedure is to establish highly secure software in almost every aspect.
On the contrary, large and intricate web apps are pretty tough to secure while making automation and cybersecurity to be key aspects of the software development mechanism.
Targeted Ransomware
It is also one of the crucial cybersecurity trends that we cannot tend to neglect is targeted ransomware, especially in developed countries and industries that extremely depend on specialized software to carry out their daily activities.  In addition, these ransomware objectives are highly considered, like the Wanna Cry attack on the National Health Service hospitals in England and Scotland hijacked 70,000+ medical-based equipment.
State-Sponsored Cyber Warfare
As the world is witnessing in today's era, western and eastern powers are attempting their state-sponsored cyber attackers to find superiority.  In addition, to the tension between the countries like the US and Iran or China, several Chinese cyber attackers usually create global news though the attacks are very few in number; they undoubtedly have a remarkable significance on an occurrence like elections.
Since there are always many elections bound to be held every year, the threat to the integrity of the common people database to the hands of potential hackers can never be diminished on a massive scale.
Insider Threats
People always look outside of an establishment to search for potential threats; however, sometimes, things like data breaches or compromisation are carried out by an insider willingly or unwillingly.  Any particular human error or intentional loophole can massively bring down an entire enterprise with millions of stole data.  In this regard, a report by Verizon on the data breach gives strategic insights on cybersecurity trends that about 34% of total attacks were directly or indirectly executed by employees.
Hence, confirm that you make additional awareness within premises to secure datasets in every possible way.
Don't miss your chance to learn from an expert about:
What changes are coming in cyber security in 2023?
The outlook for cyber security careers in the coming year
Steps you can take to position yourself for career success in cyber security 2023
Cybersecurity Jobs Scopes in 2023
Is Cyber Security a Good Career Choice in 2023?
Moreover, we try to elaborate on the above-mentioned prime concepts briefly in the following paras:
What changes are coming in cyber security in 2023?
There are many changes coming in the world of cyber security in the coming year 2023; however, we need to know these cybersecurity trends that might change our viewpoint.  Some of the main cybersecurity trends are the ones that we have already discussed above in this blog post.
The outlook for cyber security careers in the coming year
We all know that cybersecurity is a vastly booming industry that requires skilled professionals to fulfill entry, mid, and advanced-level jobs.  In this regard, cybersecurity jobs are in high demand, and the concerning demand is vastly expected to grow by 18% to 22% over the next 5 years.
Steps you can take to position yourself for career success in cyber security 2023
It's so great to know that you have made up your mind to pursue a career in cybersecurity; for the same concern, you may reconsider the following recommendations to get the necessary abilities.
After your senior-secondary schooling, you may think of opting for a proper degree in cybersecurity or computer science if you particularly wish to pursue a career and grab some working cyber security career opportunities in the same domain. Moreover, you may grab the opportunity to understand in-depth education of the subject and the relevant skills with overall courses that lead to a degree.
Getting admission to a cybersecurity training program can undoubtedly be helpful for a candidate to develop the skill set necessary to hone the cybersecurity career. On the contrary, to a degree,the program takes way less time to complete and provides as maximum information as it can among the On Job Training.
Furthermore, Books, conferences, seminars, webinars, and personal acquaintances can help a lot of candidates reach perfection in cyber security.
Updating yourself with the daily news via TV media channels is certainly not possible for everyone. Instead, one may cope with this situation by sincerely reading numerous blogs, publications, and news sites that cover cybersecurity at frequent intervals.
Cybersecurity Jobs Scopes in 2023
In the matter of vast cyber security career opportunities, there are almost 1 million+ cyber security jobs that will certainly be available by 2023; however, less than 4,00,000 cybersecurity professionals will genuinely be trained till then that will ultimately become quality cyber security workforce for the intersect organizations willing to hire them.
Moreover, this industry is forecasted to expand by 11% in 2023 and 20% in 2025.
Is Cyber Security a Good Career Choice in 2023?
Yes, choosing varied functionalities of cyber security can be a pretty good career choice for an individual for the coming year of 2023.  A person willing to immediately start an astonishing career in this highly booming industry of cyber security in any of its subdomains can opt for a world-class 1 Year Diploma in Cyber Security Course by Craw Security, which the FutureSkills Prime duly accredits, a MeitY – NASSCOM, Digital Skilling Initiative, and duly approved by the Government of India.
Moreover, a person can also opt from the several partner training and certification courses offered by Craw Security to hold a valuable credential that one could rely upon.
Frequently Asked Questions
About Cyber Security Career Opportunities in India 2023
1: Is cyber security a good career in India?
Yes, indeed it is!  Since there is a huge demand-supply gap in the necessary cybersecurity manpower capabilities for this position, thus, organizations value the deep information and experience these Cybersecurity experts bring to the light.  Moreover, the average salary of a versatile cyber security engineer in India falls between ₹10 LPA to ₹11 LPA.
2: Does Cyber security pay well in India?
Yes, certainly, the varied domains of cyber security pay pretty well, even in India, where the average annual income pay slab of a crucial cybersecurity engineer ranges from ₹10 LPA to ₹11 LPA.
3: Is cyber security job stressful?
Yes, due to versatile stress-based work functionalities comprised in cyber security working operations, it is considered to be one of the most stressful jobs in the current market trends.
4: Is cyber security need coding?
Yes, to become a highly experienced and effective cyber security professional, one sincerely needs to practice a lot, which certainly requires coding commands from varied programming languages.
5: Which IT field has highest salary?
Yes, the IT field falls into some of the prominent fields that pay the highest salaries to work individuals due to their high stress-bearing work performances in high-time stressful situations.
6: Is cyber security job tough?
Yes, since it possesses varied working operations that hold plenty of programming languages, networking fundamentals, and long-chain Linux operating system commands, which makes it pretty intricate to work upon.
7: Is cyber security a happy job?
If you are a money-centric person as well as would like to maintain a proper work-life balance, then it is the best job for you which certainly makes you pretty happy throughout the entire month as a bulk amount of money will be transferred to your account in the end.
8: Which field is best in cyber security?
There is nothing best or worst in cyber security.  This thing properly lies upon the interest of a person as in which trajectory one wishes to go for a sound career ahead throughout one's life.
Moreover, some of the main cyber security fields in which one can put one's career are as follows:
Networking Administration
Linux Engineer
Ethical Hacker
Penetration Tester
Cloud Security Analyst
Forensics Expert, and many more
9: How do I start a career in cybersecurity?
By enrolling in the world-class 1 Year Diploma in Cyber Security Course by Craw Security, you can sincerely start a fantastic career in the versatile and highly booming industry of cyber security.  In addition, the training instructors at Craw Security facilities duly embossed their valuable impression on the mindsets of the learners for the past 10+ years at Saket and Laxmi Nagar locations in NCT of Delhi.
Moreover, one can also start this outstanding 1 Year Cyber Security Diploma course under the globally recognized mentorship through an online mode of learning.
10: What qualifications do I need for cyber security?
The 1 Year Diploma in Cyber Security Course facilitated by Craw Security is precious and fully fit for the candidates willing to start their careers right from scratch.  Hence, a person with zero previous experience in cyber security can also opt for this course at the remarkable facilities of Craw Security.
Conclusion
In the final words, we have tried hard to elaborate on each and every bit of information that is required for a primary candidate with zero exposure to the IT Security industry, such as cyber security training, cyber security certifications, and the best institute like Craw Security for the same, and last but not least, the introductory exposure to the cyber security career opportunities.  We hope this blog post might have cleared your mind!