Career in Cyber Security in India
December 9, 2021
2022-03-05 12:47
Career in Cyber Security in India
Career in Cyber Security in India
A career in Cyber Security in India
Top 5 cyber security jobs in India:- cyber security career and jobs opportunities in India. 
1. Network Security Engineer:- A network security engineer protects systems from cyber threats, including bugs, malware, and hacking attempts. The IT professional should be able to identify existing issues and build safeguards to avoid future threats. Testing and configuration of hardware and software systems is involved.
2. Cyber Security Analyst:- A Cybersecurity Analyst, also called an Information Security Analyst, is responsible for protecting a company's networks and servers. They plan, evaluate and implement security strategies to prevent breaches and ensure that a company's digital assets are secure.
3. Security Architect:- A cybersecurity architect (sometimes just called a "security architect") is responsible for designing, creating, and maintaining the security systems within an organization's IT network, including the computer systems and data
4. Cyber Security Manager:- A cybersecurity manager is an IT professional who oversees security systems and teams, identifies potential network vulnerabilities and devises strategies to counter the methods cybercriminals use to infiltrate information systems. Doing so can help the organization to prevent the loss of important data such as employees' Personally Identifiable Information (PII), valuable trade secrets and customers' credit card information.
5. Chief Information Security Officer (CISO):- What is a CISO? The CISO is a leadership position responsible for: Establishing the right security and governance practices. Enabling a framework for risk-free and scalable business operations in the challenging business landscape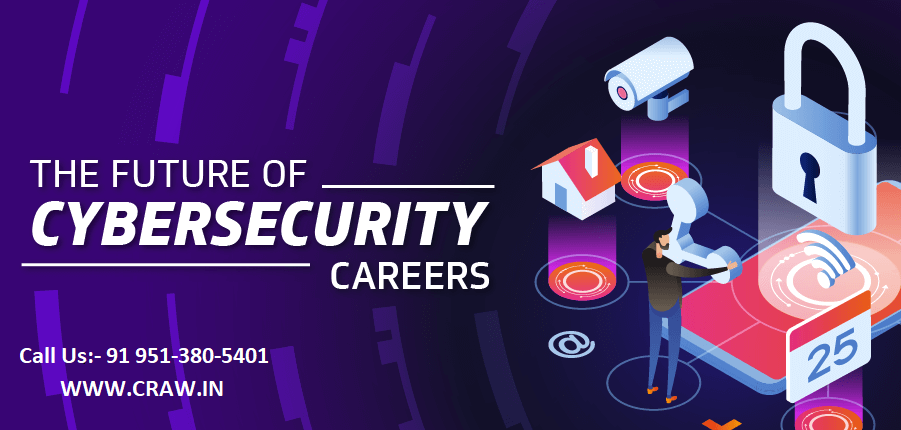 How to Make a Career in Cyber Security in India
Want to build your career in cyber security join craw security the top best ethical hacking institute in Delhi. certified by ec council. high paying jobs opportunities in cyber security. 100% jobs placement assistance after completion of course
Cyber security salary per month in India
The average salary for cyber security experts starts from ₹65,000 in India. every organization needs to secure its personal data from cybercriminals. that's why there are huge potential cyber security fields. and lots of job opportunities in cyber security
Cyber Security Demand in India
In India, the need for cybersecurity professionals is growing quickly. One Indian firm understands this all too well. It is facing 1,738 cyberattacks per week, according to CIO.com. The article also reports there has been a 93% increase in the number of ransomware attacks across the world.
Cybercrime is increasing in India because organizations are becoming more vulnerable to cyberattacks. The main reason for this is the COVID-19 pandemic. It has pushed companies to embrace digital transformation at a rapid pace. In fact, cyberattacks in India increased by 300% in 2020, according to the India Times.