Amit Shah mentions ransomware attacks and disinformation campaigns at the G20 meeting and calls for collaboration to combat cyber threats.
August 29, 2023
2023-08-29 16:40
Amit Shah mentions ransomware attacks and disinformation campaigns at the G20 meeting and calls for collaboration to combat cyber threats.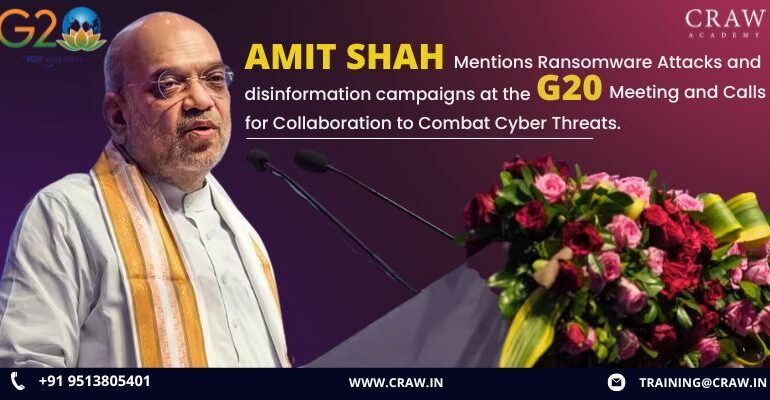 Amit Shah mentions ransomware attacks and disinformation campaigns at the G20 meeting and calls for collaboration to combat cyber threats.
G20 meeting and calls for collaboration to combat cyber threats.
According to Shah, all governments are now concerned about the security concerns that have evolved from "dynamite to the metaverse" and from "the transformation of hawala to cryptocurrency."
Amit Shah, the Union Home Minister, stated on Thursday that cyber threats, such as attacks using ransomware, online harassment, fake news campaigns, and misinformation campaigns with 'toolkits,' directly affect national security. He urged all G20 nations to "think and behave by rising above traditional geographic constraints" to stop these hazards.
Speaking at the G20 Conference on Crime and Security in the Age of NFTs, AI, and Metaverse's opening session in Gurgaon, Shah stated there is also a rising propensity to strategically attack important financial and informational systems.
The two-day conference will draw more than 900 attendees from G20 nations, nine special invitee nations, international organizations, technology pioneers, and subject matter experts from all around the world.
"There will be a meaningful discussion on the International Cooperation Framework during the six sessions of the two-day conference," Shah continued. "Subjects will include Internet Governance, Security of Digital Public Infrastructure, Legal and Regulatory Concerns associated with Digital Ownership, Responsible use of AI, and International Cooperation Framework for Dark Net."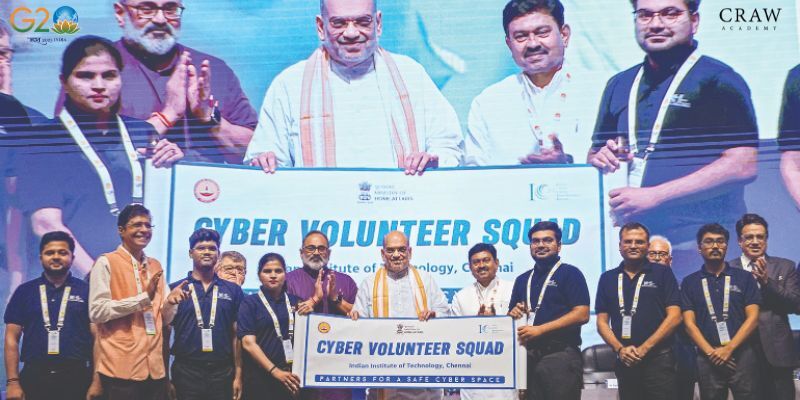 According to Shah, as a result of the digital age, cyber security has emerged as a crucial component of international security that calls for sufficient consideration of its economic and geopolitical ramifications.  In order to better combat issues like terrorism, financing of terrorism, radicalization, narco, narco-terror linkages, and misinformation, he continued, "It is crucial that we enhance the capacities of nations and international organizations."
"We all have to work together to develop a common strategy against it," he said, referring to how our security concerns have changed from "dynamite to metaverse" and from "conversion of hawala to cryptocurrency."
"Terrorists are developing new strategies for carrying out acts of violence, radicalizing children, and gathering financial resources. They are also using new techniques in virtual assets to conduct financial transactions. The dark web is being used by terrorists to conceal their identities and disseminate extreme content," according to Shah.
"We need to identify the patterns underlying these dark net activity and come up with remedies. We must think logically about how to stop people from exploiting different virtual assets if we want to build a stable and effective operational system," he continued.
The metaverse, which was previously a science fiction concept, has now entered the real world, according to Shah, and it may present new chances for terrorist organizations, particularly in terms of propaganda, recruiting, and training.
"This will make it simpler for terrorist organizations to choose and target weak targets and create materials that take advantage of their weaknesses. Deep-fakes—true impersonations of a user's identity—are also made possible by the metaverse, and by employing more accurate biometric data about people, criminals will be able to impersonate users and steal their identities," he continued.
The threat of cyberattacks has affected many nations, and it looms over all significant economies. According to the World Bank, from 2019 to 2023, cyberattacks might have cost the global economy as much as $5.2 trillion. The usage of cryptocurrency by nefarious threat actors makes it more difficult to identify and stop them, he added.
According to Shah, 840 million Indians have a presence on the web, and an additional 400 million will do so by 2025. The potential for cyber dangers has also grown.
We now live in a vast global digital community since technology has transcended all traditional geographical, political, and economic borders.  However, technology has helped to bring people, communities, and nations closer together. Technology is being used by certain nefarious individuals and international organizations to harm governments, citizens, and the economy.  As a result, this meeting has even greater significance because it may represent a significant worldwide movement for coordinated efforts to make the digital world secure for everyone, according to him.
According to Shah, who cited Interpol's "Global Trend Summary Report" for 2022, some cybercrime trends, such as ransomware, phishing, online scams, online child sexual abuse, and hacking, pose serious threats to people all over the world and there is a chance that they will multiply in the future.
"Within this framework, this summit represents a novel and distinctive effort of the G-20 Presidency, and it also marks the first G-20 meeting on cyber security. From an economic standpoint, the G-20 has prioritized digital transformation and data flow; however, it is now crucial to comprehend the issues of criminal activity and safety while searching for a solution. We strive to stay ahead of the curve in the age of NFTs, AI, the metaverse, and other future technologies by swiftly and cooperatively countering new and emerging dangers, the official stated.
About The Author:
Yogesh Naager is a content marketer who specializes in the cybersecurity and B2B space.  Besides writing for the Craw Security blog, he's also written for brands including CollegeDunia, Utsav Fashion, and NASSCOM.  Naager entered the field of content in an unusual way. He began his career as an insurance sales executive, where he developed an interest in simplifying difficult concepts.  He also combines this interest with a love of narrative, which makes him a good writer in the cybersecurity field.  In the bottom line, he frequently writes for News4Hackers.