Best Hacking Learning Websites in India | Craw Security
September 5, 2023
2023-09-05 18:24
Best Hacking Learning Websites in India | Craw Security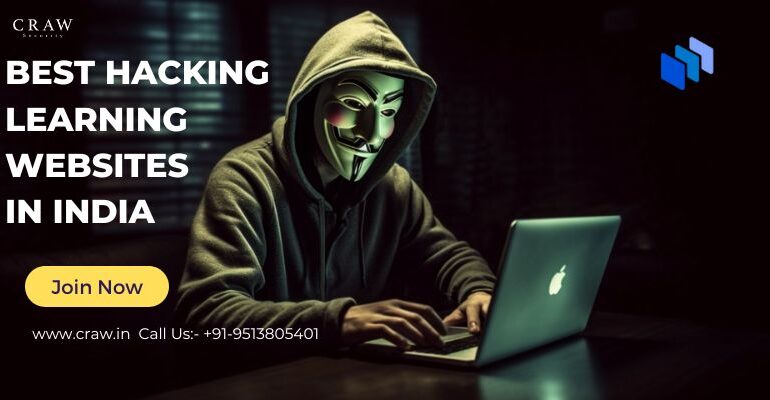 Best Hacking Learning Websites in India | Craw Security
Top Hacking Learning Websites in India
In the wake of the ongoing surge in cyber attack incidents throughout the world, including India, we have learned that we also have to practice some hard TTPs (Tactics, Techniques, and Procedures) to counter these assaults so precisely.  Hence, it is the best time to learn some hacking techniques to overcome any such conditions whenever they come across us in any form or shape.
Moreover, we sincerely hope that individuals who possess a keen intention to start a great career in cybersecurity should adapt to the changes in technology within society and take charge for good.
In this article, we tend to focus on mainstream hacking learning websites that can possibly provide us with the best of hacking educational stuff so that our future generations become hacking-ready to avert such cyber incidents.
Top 5 Greatest Hacking Learning Websites
If you wish to study about hacking and become a white-hat hacker who can stop the ongoing attempts or post-hacking recovery so nicely, you can bring out the change in you by learning these foremost hacking websites.
1.  Craw.in
An authentic piece of knowledge processing website that is a world-class institute with the name Craw Security that delivers premium cyber security training in both offline and online versions under the proficient guidance of highly experienced training professionals.  The courses inside its 12-course bundle of 1 Year Diploma in Cyber Security Course by Craw Security are duly accredited by FutureSkills Prime, a MeitY – NASSCOM, Digital Skillin Initiative, and approved by the Government of India.
Any learner can obtain a certificate from the FSP after completing the course, followed by an examination dedicated to each course in the 1 Year Diploma in Cyber Security Course by Craw Security.
For more info, you can visit their official website (www.craw.in) or try to contact their team of expert educational counselors at +91-9513805401.
2.  Bytec0de.com
Rather than searching every website on search engines, it is always better to stop and seek some of the greatest ones that are doing well in the current market.  In the same vein, Bytecode Security has become a name that needs recognition from anyone.
Learners who wish to start a career in cybersecurity can seek this primetime hacking learning website from the list of all-time great hacking learning websites.  For more info, visit their official website or call +91-9650202445.
3. Udemy
It is a very famous website that delivers authentic cybersecurity courses from a variety of cybersecurity domains throughout the world.  However, on this website, some are pretty expensive, while some courses are duly free of cost for learners who wish to grab beginner-level knowledge of cybersecurity.
Students who are interested in starting their career in cybersecurity by grabbing an authentic piece of knowledgeable content can seek this website, as they have hundreds of courses in their courses list.
We advise students to check the course remarks before starting to invest in a particular course on this website, as it's always not gold, whatever glitters!  Check out their official website for more details.
4.  Coursera.org
Just similar to udemy, this website of www.coursera.org is highly recommended by a number of professionals from almost every genre or niche, including cybersecurity itself.  Hence, if you want to start a career in cybersecurity, then this could give you a kick-start to initiate your cybersecurity-related journey.
To get more details on the same point, you can visit their official website and choose a course that suits your knowledge parameter as well as your budget.
5.  EC-Council
In the league of having good hacking learning websites in India, there is no list without the name of EC-Council, which is a multi-national cybersecurity company operable in almost every major country of the world to deliver their highly excellence cybersecurity education.  So, if you wish to gain the optimum knowledge regarding cybersecurity, then it can be your golden chance to start a fantastic career in cybersecurity.
Hacking Learning Websites in Hindi
In India, where a bulk of the population is speaking Hindi language, it is quite obvious that they require Hindi classes or choose Hacking Learning Websites in Hindi.  We have now given a list of the Best Hacking Websites for Beginners that are provided in the public interest in Hindi medium or in a trend of a mixed language of Hindi as well as English so that learners can understand every fundamental precisely.
In addition to this, you can refer to the following Hacking Learning Websites in Hindi for your own reference:
FAQs
About Hacking Learning Websites
1: Where can I learn hacking online?
You can learn more about hacking online on various websites, such as the following:
Craw Security,
Udemy,
Bytecode Security,
Coursera &edX,
Hack The Box,
TryHackMe, etc.
2: Where do I start to learn hacking?
If you're starting from scratch, here's a step-by-step guide to kickstart your ethical hacking journey:
Understand the Basics:

Computer Networks,
Operating Systems,

Learn to Code
Basics of Cybersecurity
Set Up a Lab
Hands-on Practice Platforms,
Web Application Security,
Specialized Areas,
Stay Updated,
Books,
Certifications,
Ethical Considerations, etc.
3: Which hacker course is best?
The Ethical Hacking Course you obtain from Craw Security, the Best Cybersecurity Training Institute in India, is the best of the ethical hacking courses you can get throughout the Indian market in present condition in both online and offline methodologies.
4: What do hackers study?
Hackers, particularly those who adhere to ethical principles, demonstrate a comprehensive breadth of knowledge, including diverse fields both within and beyond the realm of computer science.  The subjects that are commonly pursued for the purpose of skill development include:
Computer Networks,
Operating Systems,
Programming and Scripting,
Cybersecurity Fundamentals,
Web Technologies,
Databases,
Reverse Engineering,
Cryptography,
Vulnerability Research,
Forensics, etc.
5: Is hacking self-taught?
No, completely not.  A person can learn ethical hacking fundamentals under the guidance of professional training instructors, or one can also self-taught oneself with the help of many prominent ethical hacking courses propagated by numerous hacking learning websites in India.
6: Can I learn hacking in 6 months?
Yes, you can learn ethical hacking in 6 months in many Diploma Courses propagated by several highly credible institutes like Craw Security that offer a 6-Months Information Security Diploma under the guidance of many qualified training mentors.
7: What is the first level of hacking?
The progression of hacking, particularly in the context of ethical hacking, can be delineated into distinct phases or levels of proficiency.  The initial stage, commonly denoted as the "beginner" or "novice" phase, encompasses the establishment of fundamental knowledge and skills that serve as the basis for later learning and specialization.
Conclusion
In the bottom line, we would like to say that there are several Best Hacking Learning Websites in India that a person can check out to learn all the essential ethical hacking courses under the precious guidance of highly qualified training professionals.  In this context, Craw Security (www.craw.in) is the foremost ethical hacking learning website that delivers crucial courses that a person can nicely adopt to learn and understand the fundamentals of ethical hacking and cybersecurity precisely.
In this regard, you can give a call back at the hotline mobile number, +91-9513805401, and have a word with their highly trained and skilled educational consultants to seek more info on the same Ethical Hacking Course by Craw Security.