Top 3 Ethical Hacking Course & Certifications in 2023
February 2, 2022
2023-01-27 17:42
Top 3 Ethical Hacking Course & Certifications in 2023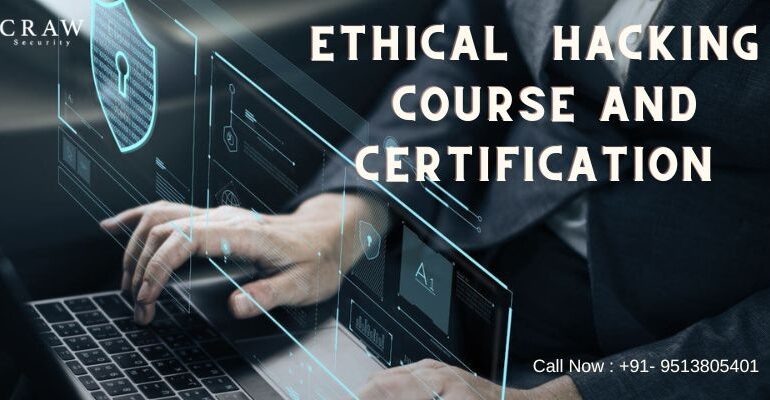 Top 3 Ethical Hacking Course & Certifications in 2023
Top 3 Ethical Hacking Course & Certifications 
Nowadays, your news bulletin cannot go empty without having single news related to data breaches in some organizations.  Whether it is concerned with the stored credit card credentials are stolen of any financial agency, any health insurance agency loses documents of their customers, private email conversations of a law enforcement organization, or any other government bodies losing their confidential database and finding them on some dark web site for the bidding in the black market for illegal activities.  It appears that every single organization needs a professional Ethical Hacker to test their websites' vulnerabilities and threats to avoid such cyber attacks for good.
Consequently, more individuals are learning the professional skillset of Ethical Hacking and Information Security from varied institutes offering real-time Cyber Security Courses after 10th & 12th.
In the following sections, you will learn about the following factors which may help you in choosing a better career in the vast domain of cyber security:
What is an ethical hacker?
Why become an ethical hacker?
Types of ethical hacking certifications
Freelancing as an ethical hacker
Fresh Upcoming Batches Info
Ethical hacking jobs

What is an ethical hacker?
An Ethical Hacker can be defined as the person who does some hit and trial methods a website to test its vulnerabilities and threats by using some techniques and algorithms just like a potential black hat hacker with an intention to steal some crucial database from the website.
After a thorough understanding of the obtained vulnerabilities and threats, an ethical hacker documents the same and sends it to the companies so that it can be improvised for enhancing cyber security.  Ethical Hackers can also be seen recovering lost data, emails, and documents that are possibly unreachable by common individuals due to many issues.
Why become an ethical hacker?
In recent history years, many organizations have been seen hiring Certified Ethical Hackers, for instance, financial sectors, non-financial loan enterprises, law-enforcing companies, varied private and government agencies.
In India, the govt. mandated IT Security organization came into action, namely CERT-In (the Indian Computer Emergency Response Team), whose sole purpose was to enforce regulations among distinguished enterprises to have a soulful Cyber ecosystem.  It mandates the rules and regulations among varied organizations for managing how they organize their cyber security operations, which consequently has opened a vast pool of opportunities for Certified Ethical Hackers.
Since the demand for Certified Ethical Hackers is pretty much higher than the supply, it resembles that this domain has huge long-lasting benefits at the end of the story for everyone who wants to build a shinier career in Cyber Security and Ethical Hacking.
One has to obtain a valid certification in Ethical Hacking Course to be sincerely considered for grabbing a suitable position in an enterprise.  A Certified Ethical Hacker is far more visible among the ones who don't have proper documentation to verify their skills or expertise in the domain.
Top 3 Ethical Hacking Course & Certifications
After that, one thinks about the availability of a genuine Ethical Hacking Course in the market after which one can rest assured of getting a post of Certified Ethical Hacker.  The main three most common certifications are explained below:
1. Certified Ethical Hacker
Doing an Ethical Hacking Course after 10th & 12th can sincerely help anyone who wants to make a career in Ethical Hacking for the long run.  There is a recognized CEH v12 Course which is also known as CEH v12 Certified Ethical Hacker Training for starting a career journey and understanding the basic points which should be taken into consideration before starting an actual job in this niche.
This renowned Ethical Hacking Course is offered by EC-Council throughout the world with the help of its partner institutes.  If anyone is interested in the Ethical Hacking Course in Delhi, then Craw Cyber Security Institute is the perfect center at Saket and Laxmi Nagar locations by which some keen personality can do the Ethical Hacking Training.
The institutes of Craw Cyber Security at Saket and Laxmi Nagar locations provide essential hands-on CEH v12 Training on live projects.  This different approach helps the students to learn with many live examples through the dedicated work methodologies of our expert teachers via a verified curriculum.
2. Diploma in Cyber Security
There is a very realistic curriculum in the Diploma in Cyber Security Course by the house of Craw Cyber Security Institution which gives prominent Ethical Hacking Course studies.  Basically, it is a cluster of some short courses which give an all-around development to the understudies wherever the student wants to go in any concerning domain of Cyber Security.
For instance, Ethical Hacking Course, Web Penetration Testing, Mobile Penetration Tester Course, CCNA Course, Python Programming, Cyber Forensics Investigations, AWS Courses, etc. are some integral parts of the training program.
This is very unique as it possesses all the needful knowledge hailing from varied sections of Cyber Security which is more than enough to capture an appropriate position in some reputed organization.  It is also be noted that their Online Ethical Hacking Course is also famous in the world and duly recommended by various Ethical Hacking Professionals.
3. CompTIA Security+
CompTIA Security+  is a very essential certification that will provide a student a different perspective of IT Security expertise and skillset to perform several tasks like Operational Security, cryptography, assess monitoring, compliance, threats & vulnerabilities, etc.  Many employers are searching for only these kinds of expertise in their entry-level employees that are being offered in this curriculum.
Most organizations also list this course as one of the prominent certifications that they willingly ask for in their desired candidates to fill the position in more than 4,000 plus job requirements.  To sum up, we want to say that this course will certainly add charm to your resume.
Do you want to have proper CEH v12 Training in Delhi?  Select our Fresh Upcoming Ethical Hacking Courses in Delhi below:
| | | | | |
| --- | --- | --- | --- | --- |
| Course Name | Time | Mode/Medium | Starting Date | Weekday/Weekend |
| Networking | 10 am to 12 pm | Online/ Hindi | 31/03/2023 | Weekdays |
| Networking | 12 pm to 2 pm | Online/ Hindi | 7/2/2023 | Weekdays |
| Networking | 10 am to 2 pm | Online/ Hindi | 5/2/2023 | Weekends |
| CEH v12 | 10 am to 12 pm | Online/ Hindi | 31/1/2023 | Weekdays |
| Web Application Security | 5 pm to 6:30 pm | Online/ Hindi | 31/1/2023 | Weekdays |
| CHFI | 10 am to 12 pm | Online/ Hindi | 31/1/2023 | Weekdays |
| Python | 5 pm to 6:30 pm | Online/ Hindi | 8/2/2023 | Weekdays |
| CHFI | 3 pm to 6:30 pm | Online/ Hindi | 5/2/2023 | Weekends |
| CEH | 3 pm to 5 pm | Offline/ Hindi | 3/2/2023 | Weekdays |
| Python | 6:30 pm to 7:30 pm | Offline/ Hindi | 3/2/2023 | Weekdays |
| Red Hat | 3 pm to 5 pm | Online/ Hindi | 7/2/2023 | Weekdays |
| Mobile Application Security | 7:30 pm to 9 pm | Online/ Hindi | 7/2/2023 | Weekdays |
One can also have our Online Ethical Hacking Course which is sufficient for providing basic info related to the domain of Ethical Hacking.
Ethical Hacking Jobs
Many enterprises do not have a suitable time slot to call some Cyber Security professionals to run some Penetration Testing procedures from the Penetration Testing Solutions Providers, despite, they hire some good working professionals with genuine Ethical Hacking Certifications and Training from any reputed as well as the recognized institute.
Apart from them, there are budding Cyber Security entrepreneurs who need Certified Ethical Hackers with fine Ethical Hacking skills to be a part of their maiden ventures and grow with them.  One can also be an active participant in these Start-Ups as well.  If you wish to join, then you can look for them on LinkedIn, Indeed, Naukri, Shine, and other various job portals.
One can also work as a freelancer in this domain of Ethical Hacking where companies come looking for Ethical Hacking experts who can complete their projects in a minimum timeslot with a proper budget.  You can bid for the projects in various sites associated with the same phenomenon such as Upwork, Fiverr, Freelancer.com, etc.
Conclusion
The cost of the data breach is rising day by day, so, as to cop to the arisen situations, the organizations hailing from varied niches desired to enroll some permanent employees for tackling Cyber Security for their respective websites.  They also desire to hire some good VAPT Penetration Testing Solutions Providers in their city which also boosts the chances of getting hired in those VAPT Penetration Testers' organizations.
A vast pool of jobs and opportunities are eagerly awaiting you.  Therefore, every individual who is willing to switch into the domains of Cyber Security can join the Ethical Hacking Courses after 10th & 12th of their choice at the earliest possibility and be ready to get hired in the future.