Introduction to New CCNA Routing and Switching
March 22, 2021
2023-05-26 11:15
Introduction to New CCNA Routing and Switching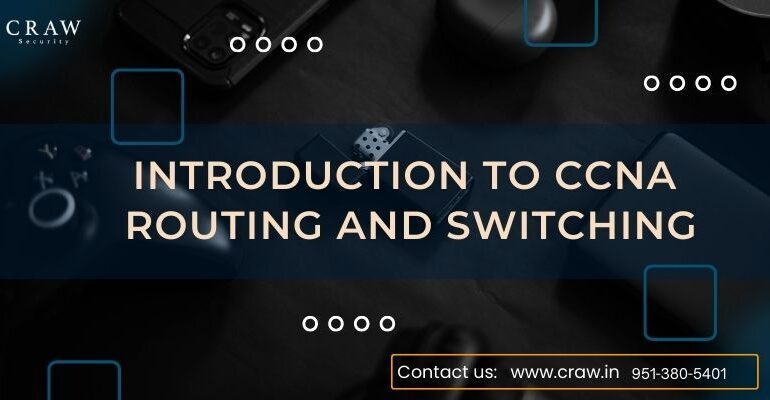 Introduction to New CCNA Routing and Switching
Our personal, as well as professional lives are transitioning into a hub of many internet-based devices that can certainly affect our lives in many different ways.  In this regard, all the smart equipment is duly connected to one another through a single network facilitated by a professional networking engineer.  In order to become a proficient networking professional, a learning aspirant can opt for one of the best networking course providers all over the world, and that is CISCO Technologies.
In addition, Craw Security is one of the official learning partners of CISCO Technologies to deliver the best networking courses right from the basic to the advanced levels at pretty nominal prices.  Our prime motto is to deliver these CISCO CCNA Routing and Switching Courses to every household child hailing from any particular financial background.
Hence, these CISCO Routing and Switching Certifications are highly recommended to every student willing to take these courses to become a high-end professional in networking background.
CCNA Routing and Switching Study Guide
All the learners will follow a suitable CISCO CCNA Routing and Switching Study Guide that will take them through a systematic learning approach from the basic fundamentals to the advanced level of understanding.  Here, under the highly motivated supervision of highlighted trainers, all learners will have the best opportunities to understand all the fundamentals from the basic level to the most advanced and updated networking trends.
In this regard, one will definitely come across many certain fundamentals that will be taken care of by Craw Security's highly trained, duly certified, and experienced training instructors who possess several years of an authentic experience as networking professionals in many reputed organizations all over the planet.  Hence, understanding the CCNA Routing and Switching Complete Study Guide with the prime support and care of Craw Security's internationally acknowledged mentorship program can be the best fit for the learners willing to initiate their networking journey.
CISCO CCNA Routing and Switching Syllabus
Many prominent institutes are there in the global market deliver their best-in-class networking education to students willing to start an outstanding career in the networking domain to become a network professional.  Subsequently, Craw Security, the Best Cyber Security Institute in Delhi NCR, offers students a deeply researched CCNA Routing and Switching Certification to deliver highlighted benefits to the students at a very pocket-friendly price range.
One can genuinely find the CISCO CCNA Routing and Switching Syllabus in the following paragraphs:
CISCO CCNA Routing and Switching 200-301 Syllabus:
Module 01: Introduction to Networking
Module 02: OSI Model
Module 03: TCP IP Model
Module 04: IP Address
Module 05: Information About Networking Device.
Module 06: Subnetting/Summarisation
Module 07: ARP
Module 08: Packet Flow in Same & Different Network
Module 09: APIPA
Module 10: Routing Protocols Configuration.
Module 11: WAN Technologies
Module 12: Routing Protocols
Module 13: NAT
Module 14: ACL
Module 15: DHCP
Module 16: Telnet &SSH
Module 17: Layers 2 Protocols
Module 18: Balancing Protocol
Module 19: Port Security
Module 20: VPN Security
CISCO CCNP Routing and Switching 350-401 Syllabus:
Module 01: PPP: Point-to-Point Protocol
Module 02: PPP Negotiation packets
Module 03:CEF (cisco express forwarding)
Module 04: IP addressing version 4, Subnetting and VLSM
Module 05: EIGRP
Module 06: RTP: Reliable Transport Protocol
Module 07: Route Filtering
Module 08: IP SLA (IP Service level agreement)
Module 09: Named mode EIGRP
Module 10: OSPF Open Shortest Path First
Module 11: OSPF Neighborship States
Module 12: LSA: Link State Advertisement
Module 13: Route Filtering
Module 14: Summarization
Module 15: OSPF Network Types
Module 16: Point to multipoint
Module 17: Loopback
Module 18: BGP: Border Gateway Protocol
Module 19: Types of massage in BGP
Module 20: loop avoidance Mechanism in BGP
Module 21: Connected check rule for EBGP
Module 22: IPv6 Addressing
Module 23: GRE: Generic router encapsulation
Module 24: Switching
Module 25: VLAN virtual local area network
Module 26: Switchport
Module 27: Native VLAN
Module 28: EtherChannel
Module 29: STP Spanning Tree Protocol
Module 30: MLS multi-layer switching
Module 31: Gateway high availability
Module 32: AAA Authentication, Authorization, Accounting
CISCO CCNA Routing and Switching Exam
As per the current market trends, many people are trying to opt Networking domain as their chosen profession to live up a good lifestyle.  Henceforth, candidates choose many cyber security and networking specialized institutes to learn varied networking techniques and fundamentals under the guidance of working networking professionals having some authentic experience in the trade.
In this league, the CISCO CCNA Routing and Switching Certification validate that you have the necessary skills to navigate the ever-changing IT Security environment.  Ahead, the corresponding CCNA Routing and Switching Exam comprise networking concepts, IP services, security fundamentals, automation, and programmability.
Highly developed for skillfulness and adaptability, the CCNA Routing and Switching Exam assure that you have the right versatility needed to control and enhance today's most advanced networks.  Moreover, the CISCO CCNA Routing and Switching Certification Course and Exam offer you the base to launch your career in a specialized trajectory.
CISCO Certified Network Associate Routing and Switching
As a general rule, when you certify yourself with CISCO Certifications, you are making a concrete base in your career as a live proof of the standard and stringency that many businesses determine as well as rely on to match and exceed market requests.  Subsequently, CISCO CCNA Routing and Switching Course to be facilitated by Craw Security's extremely user-friendly environment under the supervision of an experienced training faculty member having years of authentic experience to deliver quality and excellence among students.
However, to confirm a dream of becoming one of the greatest network professionals in the coming future, one can ensure that one goes through plenty of networking books, which will undoubtedly assist you in grabbing all essential knowledge related to networking fundamentals.
For instance, CCNA Routing and Switching Portable Command Guide, the third edition, written by Scott D. Empson, is indeed a good book to be adopted for learning all the required knowledge in a single go.
Verdict
In conclusion, we tried to describe all the necessary details related to the CISCO CCNA Routing and Switching Certification for the eligible learners out there willing to start a fresh career in this networking trajectory.  All may start their career afresh by starting a fully-fledged CISCO CCNA Routing and Switching Certification Course by Craw Security, an official learning partner of CISCO Technologies.  Just give us a call at +91-9513805401 and have a quick word with our immensely skilled educational counselors.