Guide to Cyber Security Training for Beginners [Updated 2023]
September 23, 2022
2023-05-31 12:32
Guide to Cyber Security Training for Beginners [Updated 2023]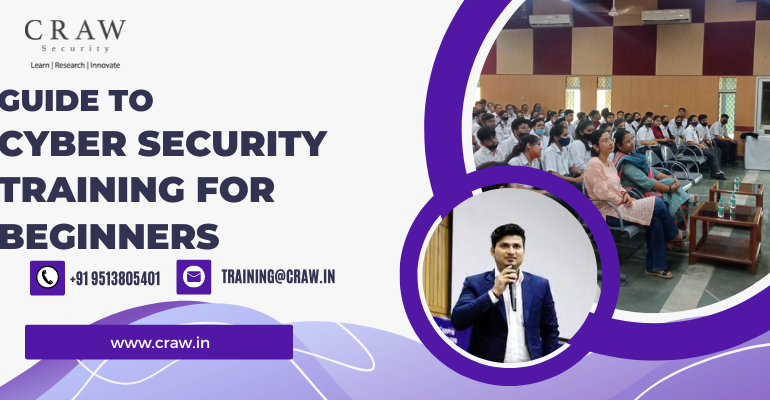 Guide to Cyber Security Training for Beginners [Updated 2023]
The advancement of technology in the continuously transitioning world toward a more dedicated place to live under the influence of more internet-based devices.  On the contrary, many crooks with a sincere level of black hat hacking exercises are searching for their next target to breach their digital assets and sabotage them for their illicit personal benefits.  In this regard, Craw Security — the best cyber security institute in India, offers world-class cyber security training for beginners under the guidance of several experienced and duly certified trainers.
In this blog, we will elaborate on the best cyber security training practices that Craw Security employs to deliver its top-notch training and cyber security tools information to current and prospective learners.
What is cyber security and why is it important?
The group of studies related to safeguarding the various IT infrastructures and their datasets is known as cyber security.  In today's technological world, it is high time that we engage professional cyber security professionals in safekeeping our IT infrastructures with cyber security best practices.
Hence, Craw Security is the best cyber security training institute in India, offering value-added courses duly accredited by FutureSkills Prime, a MeitY – NASSCOM Digital Skilling Initiative.  In short, it is duly empowered by the Government of India.

Cyber Security Full Training for Beginners
In the league of offering world-class cybersecurity training for beginners online, Craw Security provides promising content in both offline and online cybersecurity training for beginners.  Moreover, suppose a person is duly interested in understanding more about the various cyber security training for beginners exercises. In that case, the same can understand the highlighted features that one can obtain in the following paragraphs:
Some Key Features of Cyber Security Training for Beginners
Once you enroll in the prominent Cyber Security Training for Beginners, you will be exposed to the following-mentioned utilities that will undoubtedly help a basic candidate into a versatile cyber security expert:
eLearning
Interactive Labs
Exam Prep
Instructor-led Training
You will be able to get an eLearning methodology to take your beneficial cyber security training for beginners through the distant self-learning option.
We will assist you in exercising the fundamentals of cyber security and the courses that fall under it with the help of these interactive labs.
Our fully knowledgeable and experienced trainers will guide you through every step of the knowledge path you walk while learning the cyber security training for beginners for the final examination.
Apart from the online cyber security training for beginners, we offer fully functional instructor-led interactive classroom sessions.
Most Common Types of Cyber Attacks
The clarification of the most common types of cyber attacks is duly employed by the most severe black hat hacking professionals who do these anti-social activities to practice their illicit exercises and for fun.  Some of the most common types of cyber-attacks are as follows:
Distributed Denial of Services (DDoS)
Man in the Middle
Email Attacks
Password Attacks
Malware Attacks
Now, we will try to brief the above-mentioned cyber attacks one by one to let you understand the severe mishappenings that could damage your digital assets once these attacks take place on your IT infrastructures by black hat hacking best practices through an illegal hacking professional.
Distributed Denial of Services (DDoS)
This severe attack is typically known as a DDoS Attack, in which a cybercriminal floods a target network with internet traffic to prevent users from assessing linked online services and sites.
Man in the Middle
In this heinous type of cyber attack, a mediocre attacker interrupts and carefully alters communicated datasets to disguise them as one or additional entities comprised of a communication group.
Email Attacks
Email Attacks can be described as sending a fraudulent email pretending to be a legitimate organization carrying some malicious string or malware preinstalled in it, which automatically downloads and installs the malware on the target device or server.

Clicking on links from untrusted resources will lead to monetary loss, identity theft, or any other form of loss to the target.

Password Attacks
Password Attack is a very famous and common type of cyber attack on corporate and personal data breaches.  As the name suggests, it involves the stealing of the password or any user ID by a malicious threat actor trying to cause some loss to you.

According to a survey, around 81% of data breaches happened due to compromised credentials in the year 2020.

Malware Attacks
Malware Attacks can be described as any sort of malicious software dedicatedly designed and developed to induce some harm to a system, server, network, client, etc.
Entry-Level Jobs in Cyber Security Training
Since the security industry, the digital assets of any organization's customers are booming at par; Craw Security has fastened its seatbelts to develop world-class cyber security enthusiasts at very competitive prices.  As a result, every household in society can afford this crucial and expensive kind of study hailing from any financial background.
Moreover, many Entry-Level Cyber Security Job Roles are there that one can achieve after completing 1 Year Diploma in Cyber Security Course under the highlighted guidance of duly experienced and well-qualified trainers in Craw Security, the best cyber security institute in Delhi NCR.  Marking its highlighted presence at Saket and Laxmi Nagar educational branches in the NCT of Delhi, Craw Security has imposed a benchmark of quality training in the world of cyber security by making tie-ups with so many cyber security super giants in the worldwide market.
Cyber Security Specialist
Network Administrator
Security Administrator
Systems Administrator
Cyber Security Industry and Jobs
We have also mentioned in the above paragraphs that there is a steep rise in the Cyber Security Industry and Jobs soon after you complete a duly valid Cyber Security Training for Beginners from a duly accredited cyber security institute just like Craw Security.  In the same vein, Craw Security also recommends every interested individual to come and take a demo session from our most experienced and prominently trained, well-professional cyber security trainers and judge as per your sole discretion.
Frequently Asked Questions
About the Guide Cyber Security Training for Beginners in 2023
1: What training is required for cyber security?
There are many sincere pieces of training that one can grab for starting one's career in cyber security under the proactive guidance of primetime professional cyber security experts, just like Craw Security – the best cyber security institute in Delhi NCR remarkably present at Saket and Laxmi Nagar branches.
2: How long does it take to train for cyber security?
At Craw Security, one can train for 1 Year and 6 Months duration-based diplomas of cyber security training for beginners under the influence of well-qualified and duly experienced trainers.
3: Is cyber security a good career?
Yes, it is.  It is a very booming industry as per the current scenarios of the worldwide market since the number of cases of active cyber attacks on various organizations is enhancing daily.
Businesses are in sincere need of cyber security professionals who can carry out penetration testing to track down every single vulnerability in the distinguished IT infrastructures.
4: Can a beginner learn cybersecurity?
Yes, with the highly professional 1 Year Diploma in Cyber Security Course by Craw Security, one can systematically learn the step-by-step approach of cyber security right from the basic level to the advanced level.
5: Is cybersecurity a lot of math?
Yes, there are many math formulas duly utilized in several courses of cyber security training for beginners.  However, a person with a great intention as well as interest to do something in this varied industry can nicely learn all the major to minor fundamentals of cyber security so precisely.
6: How hard is cyber security?
Cyber Security falls in the mid-category of the toughness index.  Medical and engineering disciplines are still topping the charts, while Arts and Humanities rank in the bottom categories of the toughness index for learning.
7: Can I learn cyber security in 2 months?
Suppose you wish to learn more about cyber security training for beginners thoroughly. In that case, you should devote at least 6 months to 1 year of time so that you can understand all the fundamentals of every short and crisp detail required for becoming a full-fledged cyber security professional.
8: Can I do cybersecurity with no experience?
Yes, you may do cyber security with no previous exposure to this genre of cyber security with the Diploma Courses of Craw Security imparting quality knowledge related to this field in a step-by-step approach by a reputed training instructor.
Wrapping Up
In the bottom line, we would like to say that Craw Security is imparting the best-in-class cyber security training for beginners under the sincere guidance of experienced training instructors with years of operational quality experience.  Similarly, a person with no essential exposure to the industry can opt for our diploma courses.