What is the Scope of Cyber Security in 2023 | Craw Security
October 21, 2022
2023-03-10 11:45
What is the Scope of Cyber Security in 2023 | Craw Security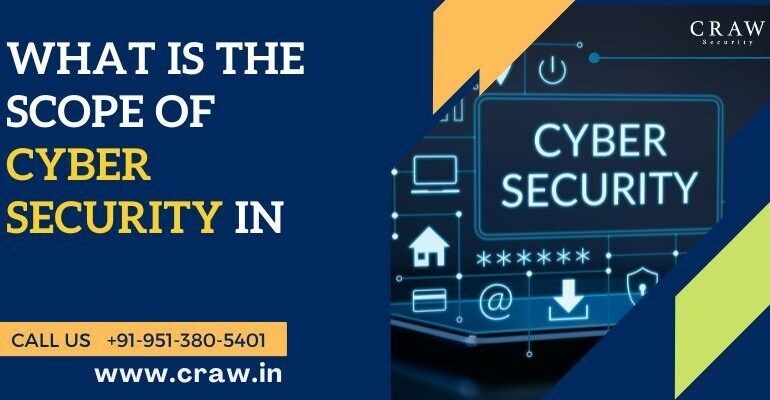 What is the Scope of Cyber Security in 2023 | Craw Security
Whether you use google docs or DropBox, or Email, you are using cloud services that offer many sincere advantages to the users for free of cost.  Hence, a high number of users and a growing pace that is proliferating.  Following the trial of this immense growth of databases on digital platforms, hackers are vigorously attempting to steal them via any particular procedure.
Therefore, you can crucially imagine how vast the scope of cyber security is!
In short and crisp words, we can nicely conclude that if you are using the internet in 2023 — you are certainly on the verge of getting your database compromised at the hands of illicit hackers.
With so much data of individuals and businesses on the cloud, there is an extreme need for security and an enormous scope of cyber security and courses and certifications in cyber security.
Hackers who want to steal information are always on the attack; the only way to stop them is by staying one step ahead of their anti-social mindsets.  At this stage, it becomes high time where cyber security and the scope of cyber security come in.  In addition, cyber security, as the name suggests, is the safety measure put in place by experts to protect users from malicious attacks by hackers who try to gain access to systems in order to steal data or change the way a system functions in some way.

The scope of cyber security means what it covers to be safe and secure from the ill-eyes of the prey black hat hackers.  What does it mean to be in cyber security?  What all do you protect, and how do you protect it?  What is the need to protect it, and how is it protected presently? — let's take a close look at the following article!
Understanding the Scope of Cyber Security in the Modern World
Considering how fast technology evolves, we must understand that the scope of cyber security is always changing.  Cybersecurity is also an evolving field.  It is constantly changing and throwing up new challenges.
That's why any course or degree in cyber security is relevant then – after that; you have to grow with the changing landscape.
Cyber Security Scope in World
In today's era, there are a number of jobs in the wild that exist for the greater good of the organizations so that the crucial databases of their beloved clientele never go into some wrong hands, and nobody can misuse these pieces of information for one's personal illicit usage.  In this regard, almost 50,000 jobs go unfulfilled in the cyber security space in India almost every year.
In addition, the number of people employed in jobs that are directly related to cyber security has doubled since 2020 to 2 lakh.  That is the scope of cyber security, which can give maximum fruitful benefits to the users who are thinking of joining this trade of cyber security in the near future.
Subsequently, the Cyber Security Scope of Work is pretty much higher than ever before in this today's era full of internet-based devices that can seriously be hacked using a predefined set of a mechanism by a professional black hat hacker.
Future of Cyber Security
It is predicted that the future of cyber security will be will global cyber security market shall employ around 10 lakh people by 2025. So yes, the scope of cyber security is huge, and a young generation of cyber security experts are waiting to be trained and beginning their journeys in this fast-changing field.
The future of cyber security is brighter than ever.  With more and more services and businesses going online, the need for cyber security and men and women in cyber security is at an all-time high, and it is predicted to increase.  We aren't talking just about India but globally.  The number of jobs in cyber security is increasing here as well as in the rest of the world, and the future looks good.
Another factor making cyber security such a good option is the fact that the jobs that are in this field are extremely high paying because of a mismatch in demand and supply.
Just think about it, PayTm, Google Pay, and PhonePe – all of these massively popular applications need to keep their user's data secure from the risk of attacks.  The personal data of individuals is highly sensitive and highly sought after by big tech companies.  Businesses with sensitive information which they don't want to be publicized are also in need of cyber security.  Even banks that value their customer's privacy and security above all else are in great need of cyber security.
Hence, it can be said that the importance of cyber security is pretty much high and the top jobs for cyber security professionals will grasp the best certified, duly trained, and experienced individuals of the cyber security domain.
Cybersecurity experts fit into several roles depending on what exactly they are doing, a few of which are highlighted below:
Cybersecurity Analyst
Network Security Engineer
Cybersecurity Manager
Chief Information Security Officer
Cyber Security Courses
Since the Scope in Cyber Security in India is enhancing with each passing day, many institutions are emerging out of nowhere, claiming to deliver the best cyber security courses in India.  However, a few of them are dedicatedly reliable to delivering the masses the best information security courses in India.
In this regard, to deliver the best available cyber security courses in Pan India, duly recognized by FutureSkills Prime, a MeitY — NASSCOM, digital skilling initiative, to deliver the world-class cyber security courses in India, duly approved by the Government of India by Craw Cyber Security.
These courses include but are not limited to Ethical Hacking, Linux Basics, Basic Networking, Advanced Pentesting, Cyber Forensic Investigation, etc.
These courses prepare you for a career in cyber security.
Frequently Asked Questions
About the Scope of Cyber Security in 2023
1: Which field is best in cyber security?
It depends on what you're interested in and what you're looking to achieve.  If you're interested in the technical aspects of cyber security, then a role in incident response or forensics might be a good fit.  If you're interested in the business side of things, then a role in risk management or compliance could be a better fit.  Ultimately, it's up to you to decide what you want to do with your career in cyber security.
2: What careers are available in cyber security?
A career in cyber security can mean a lot of different things.  You could be working as an ethical hacker, helping companies test their cybersecurity defenses.  You could also work as a security analyst to understand and mitigate cyber threats.  You could be a network administrator responsible for the security of an organization's network.  There are many other possible careers in cyber security, and Craw Cyber Security can help you get started down the path to any of them.
3: What is the scope of cyber security in India?
India is a hub for IT, and cyber security is one of the most important aspects of IT.  There is great scope in cyber security in India and many top jobs for cyber security professionals.  There is a huge importance of cyber security and a great future for cyber security as well.
4: Is cyber security a good career?
Cyber security is one of the most in-demand and rapidly growing fields in the world.  It is a great career for those who are interested in computers, programming, and network security.
5: What is cyber security scope of work and cyber security scope in world?
There is a massive scope of cyber security in the world with many high-paying jobs, and there is a lot of work for cyber security professionals.
6: What are the careers in cyber security?
There are many world-class cyber security profiles nicely working in the cyber security domain from many minor to major organizations hailing from diverse niches, such as follows:
Cybersecurity Analyst
Network Security Engineer
Cybersecurity Manager
Chief Information Security Officer, etc.
7: How do I start a career in cybersecurity?
By enrolling in a great course in cyber security led by industry tech professionals and world-class subject matter experts such as Craw Security, one can start one's great and outstanding career in Cyber Security.
8: Which is the best career in cyber security?
There is nothing like best and worst in a single chain of cyber security subdomains.  Whether you choose to be a networking professional, a Linux expert, cloud personnel, or any other trade in cyber security, you are devoting yourself to the magnificent industry of cyber security, which is booming with each passing day.  Moreover, you may choose Craw Security to start your best career in cyber security for real.
9: Is cybersecurity a stressful job?
Yes, it is stressful sometimes to perform varied procedures related to cyber security as it possesses various highly intricate things to do, such as several programming languages, Linux and other operating systems, varied networking fundamentals, cloud computing concepts, and many more.
10: Is cyber security need coding?
At the initial stages of cyber security, a professional does not require any specialized training in cyber security; however, at later levels, one properly needs hands-on practice in varied coding languages to follow many intricate and complex coding commands.
If you wish to know more about cyber security or any other coding language, you may call on +91-9513805401 for more information about the same through our world-class educational counselors.
11: Is cyber security tough?
Yes, performing various functionalities related to a distinguished subdomain of cyber security is pretty hard to understand by a person with a basic mindset person.  However, if you are a person with an above-average mindset, then you may easily pass every technology in the cyber security domain by devoting some hours of self-study with 100% attentiveness during the class sessions.
12: Does cybersecurity pay well?
Yes, cyber security is among the best-paying trades in the information technology sector.  One may choose any particular domain in cyber security as per one's choice and interest.
Conclusion
In the bottom line, cyber security is the way to a better future.  It is one of the most important and fastest-growing industries out there.  Being certified in cybersecurity prepares you to build a career while staying up to date with the latest trends and technological advancements.  Moreover, you can get your doubts clarified by industry tech experts and learn from the best educational counselors by calling on +91-9513805401 at Craw Security.