Ethical Hacking Summer Training Program In Delhi
May 24, 2021
2023-02-17 17:34
Ethical Hacking Summer Training Program In Delhi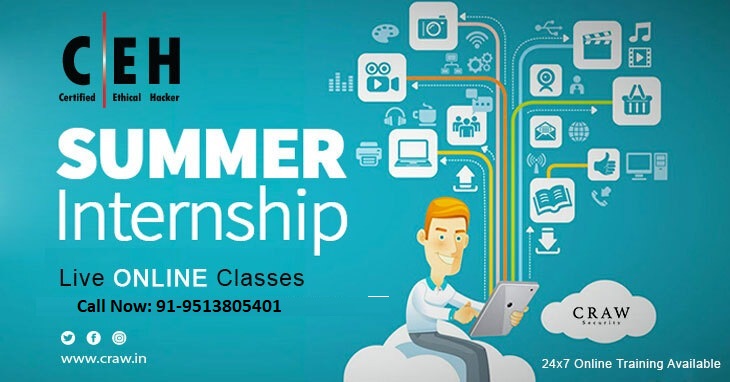 Ethical Hacking Summer Training Program In Delhi
Ethical Hacking Summer Training Program: Everything You Need to Know
The demand for cybersecurity is increasing as the internet expands.  More data is being exchanged and analyzed as more users log on.  Businesses and governments must thus safeguard their digital assets.  However, the cybersecurity segment continues to face a skills gap.  Here is the part where ethical hackers enter the picture!
Penetration testing, another name for ethical hacking, is the practice of breaking into a computer system with authorization in order to find potential security flaws.  In addition, before malevolent hackers may take advantage of security holes, ethical hackers assist firms in finding and fixing them.
Because of this, the field of ethical hacking is growing in popularity.  In this blog post, we'll go through the advantages of summer training courses in ethical hacking and what they include.
Benefits of Ethical Hacking Summer Training Programs
At Craw Security, dedicated learners with an eagerness to sincerely learn new tricks and techniques related to varied cybersecurity courses will be benefited from so many diverse topics, such as the following:
Hands-on experience: Ethical Hacking Summer Training courses give students a chance to practice their skills in a controlled setting. As a result, they can improve their abilities and apply the theory.
Expert guidance: The instructors in these courses are frequently skilled experts in the field of cybersecurity. In addition, they give pupils knowledge and advice that can only come from the years of expertise that our trainers do possess.
Access to industry-standard tools: Students who enroll in ethical hacking summer training programs get access to many primetime tools used by the industry, which they can utilize to hone their abilities and learn about the newest innovations in the current technological market.
Networking opportunities: Learners get the chance to connect with those other learners and experts in the cybersecurity field due to these programs. Mentorship and job possibilities may also emerge from this.
Boost your resume: A summer training course in ethical hacking is an excellent addition to a resume because it shows prospective employers that the applicant is dedicated to the topic and has practical expertise.

What to Expect from an Ethical Hacking Summer Training Program?
Many good things can come out that can certainly be expected from this ethical hacking summer training program by Craw Security, the best cybersecurity training institute in India and other reputed nations of the world.  Here, we have mentioned some of the main factors that this prestigious ethical hacking summer training program proposes to all learners, such as the following:
Introduction to Ethical Hacking: The course will introduce ethical hacking, including the tools and methods employed.
Penetration Testing: Learners will acquire knowledge of penetration testing, which entails locating and taking advantage of computer system weaknesses.
Cybersecurity Fundamentals: The fundamentals of cybersecurity, such as encryption, authentication, and access control, will be taught to the learners.
Mobile Hacking: The ability to break into mobile devices, which are a common target for cyberattacks, will be taught to learners.
Web Application Hacking: The common web apps used mostly by businesses and corporations will be examined by the students as they learn how to spot and take advantage of vulnerabilities.
Wireless Network Hacking: Wireless networks, which are frequently utilized in public settings like cafes and airports, will be taught to learners.
Social Engineering: The utilization of social engineering strategies to obtain illegal computer systems access will be taught to learners.
Cyber Laws: Learners will gain knowledge of the laws governing ethical hacking, such as the Digital Millennium Copyright Act and the Computer Fraud and Abuse Act.
FAQs
About Ethical Hacking Summer Training Program
1: What is the difference between ethical hacking and malicious hacking?
The goal of ethical hacking is to find and repair flaws while working with authorization.  Malicious hacking is carried out without authorization and with the intention of harming others.
2: What are the prerequisites for an ethical hacking summer training program?
Although there are no official requirements, it will be helpful if you have a solid knowledge of networking and programming.
3: How long does an ethical hacking summer training program last?
Although there are no official requirements, it will be helpful if you have a solid knowledge of networking and programming.
4: Is ethical hacking legal?
Yes, ethical hacking is legal as long as it is done with permission.
5: What job opportunities are available after completing an ethical hacking summer training program?
There are job openings for positions as an information security manager, cybersecurity analyst, and penetration tester.
Conclusion
In the bottom line, the Ethical Hacking Summer Training Program gave a thorough rundown of the abilities required to be a successful ethical hacker.  Participants learned about the principles of ethical hacking, such as network security, cryptography, and application security, via theory and practical exercises.  Moreover, the necessity of security strategies and processes, as well as ethical hacking methods and tools, were also better understood by the participants.  For people with diverse levels of competence, the program was indeed a priceless learning opportunity that gave them a great base in ethical hacking.