Ethical Hacking: Profitable CEH Jobs for Freshers Salary
May 6, 2021
2023-05-24 13:33
Ethical Hacking: Profitable CEH Jobs for Freshers Salary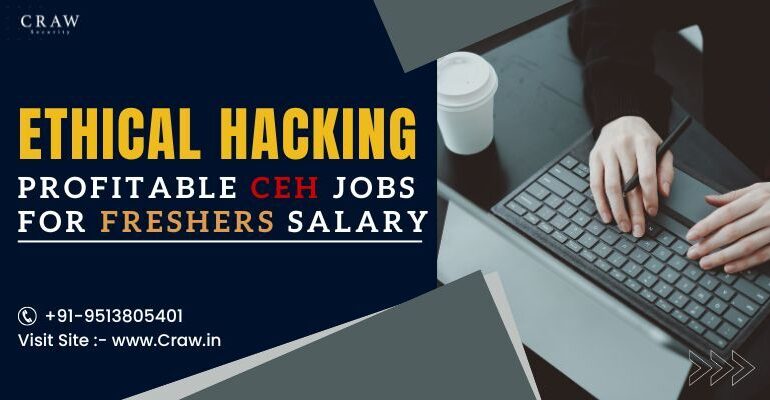 Ethical Hacking: Profitable CEH Jobs for Freshers Salary
Businesses all over the world are looking for competent people to defend their digital assets as cyber threats and data breaches increase.  There is a growing market for Certified Ethical Hackers (CEH), creating attractive prospects for newcomers to the cybersecurity industry.
This article will give you information on CEH jobs for freshers' pay and job responsibilities as well as provide answers to frequently asked concerns about the industry if you're thinking about a career in ethical hacking.
CEH Jobs for Freshers Salary: Exploring the Financial Prospects
For freshmen, ethical hacking offers an alluring wage package, making it a popular career option.  Here, we look into the specifics of anticipated salaries for CEH jobs for freshers:
 Entry-Level CEH Salaries:
The average pay for new hires with a CEH certification is from $60,000 to $80,000 annually.  Depending on variables like geography, firm size, industry, and individual skills, the precise numbers may change.
Salary Growth with Experience:
Freshmen's salary prospects greatly improve as they gain expertise in ethical hacking.  A CEH specialist with 2-4 years of experience can expect to make between $80,000 and $100,000 yearly.  As one advances in their profession, this amount rises, with senior-level jobs commanding wages above $120,000 annually.
 Factors Influencing Salary:
The difference in CEH salaries for freshers is influenced by a number of factors.  These factors involve the job's physical location, the need for ethical hackers in the region, the cost of living, the applicant's educational background, the industry verticals, and the organization's financial situation.
 High-Paying Industries for CEH Freshers:
It is extremely common knowledge that some industries pay ethical hackers more.  Freshmen have more earning potential because industries with large cybersecurity budgets include banking, healthcare, government, and technology.  To increase their chances of earning more money, wannabe ethical hackers should target businesses in these industries.
 Additional Perks and Benefits:
Specialists in CEH frequently receive additional bonuses and benefits on top of high compensation.  These could include things like health insurance, pension plans, flexible work schedules, chances for professional growth, and performance-based incentives.
Job Roles in Ethical Hacking
Different professional roles that address various elements of cybersecurity are included in ethical hacking.  Let's look at some well-known jobs that are open to new graduates:
An ethical hacker or penetration tester evaluates network and system vulnerabilities to find potential security gaps.  They simulate cyberattacks in order to assess the safety measures of a business and provide corrective actions.
Security analysts establish incident response procedures, track down security breaches, and track and evaluate security measures.  They collaborate extensively with IT teams to recognize potential risks and put protective measures in place.
To find weaknesses, vulnerability evaluators carry out thorough evaluations of a company's network and systems.  To find flaws and suggest suitable fixes, they employ sophisticated tools and methods.
Security experts provide firms with professional guidance on risk management, conformity, and cybersecurity solutions.  They evaluate security policies and practices, offer suggestions, and help put security measures into place.
Security auditors assess a business's security procedures and guarantee adherence to rules and laws.  They carry out audits to find weaknesses, gauge how well security policies are working, and offer suggestions for advancement.
Investigators and responders to safety events are known as incident responders.  They assess the incident's nature and scale, lessen the harm, and create plans to stop such incidents in the future.
To safeguard the infrastructure of a company, security engineers create and execute security systems and technologies.  They focus on creating safe networks, setting up firewalls, and putting encryption algorithms into practice.
In the wake of a cybercrime or security violation, forensic analysts engage in gathering and examining digital evidence.  To collect information and report conclusions for legal objectives, they make use of forensic instruments and techniques.
 Security Operations Center (SOC) Analyst:
Real-time security events and incidents are monitored and analyzed by SOC analysts.  They analyze the infrastructure, look for threats, react to them, and report incidents to management.
Access restrictions, user permissions, and authentication processes are all managed and maintained by security administrators.  They frequently update safety settings and make sure safety regulations are followed.
FAQ
About CEH Jobs for Fresher's Salary
1: What qualifications are required to pursue a career in ethical hacking?
Although a particular degree is not required, having a solid background in computer science, information technology, or cybersecurity is beneficial.  Additionally, earning credentials like the OSCP, CEH, or the 1 Year Diploma in Cyber Security Course by Craw Security improves employment.
2: Are CEH jobs suitable for freshers without prior experience?
Yes, especially for entry-level employment, there are CEH opportunities available for new graduates.  In order to aid newcomers in gaining hands-on experience in the area, numerous businesses offer training programs and internships.
3: How can freshers increase their chances of getting high-paying CEH jobs?
The likelihood of landing a heavy-income CEH position can be increased by developing a solid portfolio of real-world projects, taking part in bug bounty courses, networking with the industry's expert professionals in the field, and consistently improving skills via certifications and training.
4: Is it necessary to have hands-on experience with hacking tools for CEH jobs?
Although having actual expertise with hacking tools is advantageous, it is not strictly necessary for beginners.  However, applicants may have an advantage throughout the hiring procedure if they are familiar with widely used tools like Metasploit, Wireshark, and Nmap.
5: Are CEH jobs limited to specific industries or sectors?
No, CEH specialists are in demand in many sectors, notably government, e-commerce, healthcare, and finance.  Professionals in cybersecurity are needed by businesses in practically every industry to protect their digital assets.
6: Can CEH professionals freelance or work as independent consultants?
Yes, skilled CEH experts have the freedom to operate as independent contractors or freelancers.  On a project-by-project basis, they can make their expertise available to several individuals and groups.
Conclusion
In a nutshell, we have tried to provide you with all the necessary details related to the Highly Profitable CEH Jobs for Freshers' Salaries.  A person who wishes to start one's journey as a proven ethical hacker or penetration tester can join the CEH Training and Certification Course by Craw Security, the Accredited Training Partner of EC-Council, to deliver quality training of its information security course at very discounted rates.  One may call us at +91-9513805401 and have full information related to CEH Training in Delhi at our Saket and Laxmi Nagar branches.