CEH Jobs for Freshers Salary
May 6, 2021
2022-03-05 18:04
CEH Jobs for Freshers Salary
CEH Jobs for Freshers Salary
CEH Jobs for Freshers Salary | Ethical Hacking as a Career 2021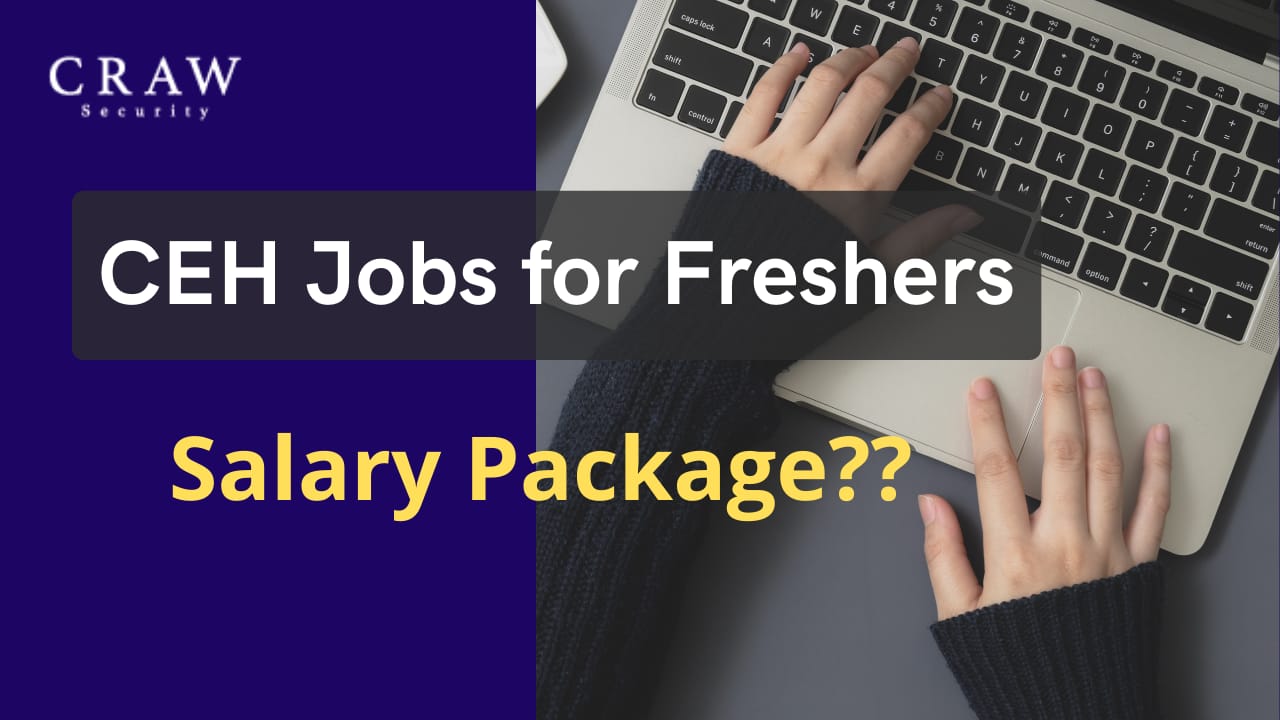 CEH Jobs For Freshers Salary, Certified Ethical Hacker has emerged as one of the most critical roles in protecting a company's information. With hackers becoming smarter and more aggressive, CEH Jobs for Freshers are in high demand in almost every industry. Certified Ethical Hacker v11 was previously associated with government agencies and high-profile research and development laboratories. 
Nowadays ethical hacker freshers' jobs and the expertise required, Ethical Hacker (CEH) are highly Paid employees with access auto the most sensitive data of a company.
Average Salary (CEH Jobs for Freshers Salary)
The average Salary to a Certified Ethical Hacker is $83,591 per annum. The salary ranges from $45K to $129K, with a bonus payout between $0.00 and $17,500. Thus the total salary is approximately between $43K- $143K.1.
Based on the IT Skills and Salary Survey conducted by Global Knowledge and Pent on in 2014, CEH is among the top 15 highest paying certifications this year ranking in the 9th position.
About the Ethical Hacking Course
Ethical Hacking Course has been created keeping in mind the future of Cyber Security. This course will help students to understand the basic fundamentals of Cyber Security and Computer Security. This Uniquely designed Info-sec Certification Training Course will provide you a basic understanding of the advanced tools and methodologies of the Information Security Industry.
Ethical Hacking Curriculum
Module 01 – Introduction to Basics of Ethical Hacking
Module 02 –Foot-printing Active (Tool Based Practical)
Module 03 – Foot-printing Passive (Passive Approach)
Module 04 – In-depth Network Scanning
Module 05 – Enumeration User Identification
Module 06 – System Hacking Password Cracking & Bypassing
Module 07 – Viruses and Worms
Module 08 – Trojan and Back door
Module 09 – Bots and Botnets
Module 10 – Sniffers MITM with Kali
Module 11 – Sniffers MITM with Windows
Module 12 – Social Engineering Techniques Theoretical Approach
Module 13 – Social Engineering Toolkit Practical Based Approach
Module 14 – Denial of Service DOS & DDOS Attacks
Module 15 – Web Session Hijacking
Module 16 – SQL Injection Manual Testing
Module 17 – SQL Injection Automated Tool Based Testing
Module 18 – Basics of Web App Security
Module 19 – Hacking Webservers Server Rooting
Module 20 – Hacking Wireless Networks Manual CLI Based
Module 21 – Hacking Wireless Network
Module 22 – Evading IDS, Firewall
Module 23 – Honey pots
Module 24 – Buffer Overflow
Module 25 – Cryptography
Module 26 – Penetration Testing: Basics
Module 27 – Mobile Hacking
Module 28 – Internet of Things (IoT) Hacking
Module 29 – Cloud Security and many more
Frequently Asked Questions about CEH Jobs for Freshers Salary 
1. What are job opportunities after ethical hacking course?
Ethical hacking course is considered the basics of cybersecurity, so job opportunities after the ethical hacking course are at a basic level; you will have to learn penetration testing, i.e., web application Security, Mobile applications Security, etc.
2. Which is the best institute for a certified ethical hacking course in India?
Craw Cyber Security Private Limited, New Delhi is the best institute for certified ethical hacker v11 course in India, very well known in cybersecurity and ethical hacking domain.
3. Who is the best certified ethical hacker course provider in Delhi?
Craw Cyber Security Provides the best certified ethical hacker course in Delhi.
4. Can I do an ethical hacking course online free of cost?
Yes, you can do a lot of ethical hacking courses online free, but you will not be able to clear your all doubts by asking your faculty; free courses come with some limitations like live classes or Instructor-led training will help you get more doubt clearing sessions, but online free ethical hacking courses will have only videos, but you can not clear doubts with free courses.