Top Cyber Security Course Institute in Delhi [Updated 2023]
April 6, 2021
2023-04-30 16:05
Top Cyber Security Course Institute in Delhi [Updated 2023]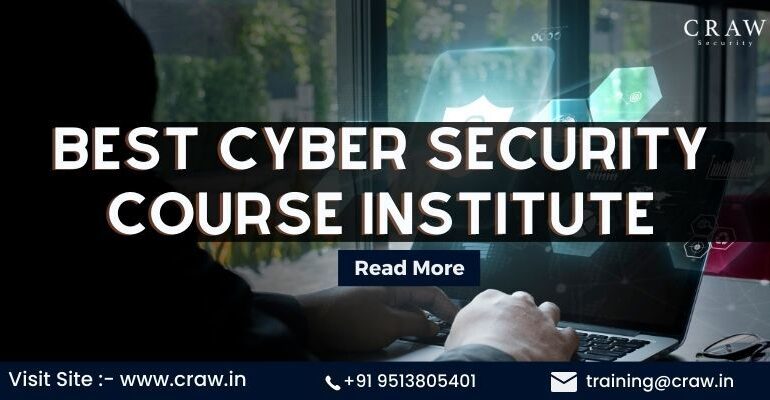 Top Cyber Security Course Institute in Delhi [Updated 2023]
With the transition of manual gadgets into internet-based smart gadgets, it has been clear that the future world is going to be fully dependent on these smart devices which are entirely operable through any remote location via a valid internet connection.  On the contrary, the chances of getting their databases hacked will also be boosted with a massive effect. Moreover, would need professional security analysts who would save our crucial and sensitive kinds of data stored in those devices precisely by the ill-eyes of those malicious actors.
In order to do so, we would require genuinely working Cyber Security experts that will come after learning the fundamentals of cyber security from a highly professional cyber security course institute in the global market.  In the league of providing a best-in-class cyber security institute in Delhi, Craw Security is playing a pivotal role in delivering superb training facilities with the latest technology and modern amenities at its Saket and Laxmi Nagar branches in New Delhi.
Cyber Security Institute Near Me
With the superb variety of Indian Cyber Security Course Institute, the IT sector is booming at an applauding pace and a learner can be very much assured of having the top-notch quality cyber security institute in almost every part of the country.  In addition, to have the best possible cyber security training institute in the proximity of Delhi NCR, there is none other than Craw Security which could be the chief cyber security institute that can transform a basic individual into a fully matured cyber security personnel.
Furthermore, Craw Cyber Security Institution – the best cyber security institute in India, has possessed a team of highly professional, skilled, and experienced training professionals to impart quality education with the best of their efforts and effectiveness.
Cyber Security Course in Delhi with Placement
There are very few cyber security institutes there that allow a Cyber Security Course in Delhi with Placement through their reputed placement cells.  In some, there is not even a provision for creating a separate wing for the students for getting them placed.  Moreover, at the Saket campus of Craw Security, there is a specialized dedicated Department of Training and Placement for our students who completes our 1 Year Diploma in Cyber Security Course and get eligible for the campus placement facility automatically.
Cyber Security Course in Delhi Fees
Our main objective has always been to train the students with our best possible methodologies and support staff whereas we never intend to put an extra burden on the pockets of our students or their guardians that they cannot handle.  In the same context, Craw Security is offering its genuine information security courses through its verified cyber security institute at very affordable rates.  Hence, once you enter the premises of Craw Security for a particular cyber security course in Delhi fees rates will amaze you.
Moreover, we have listed some Diploma course fees that will not put any hard pressure on your pockets or budget.
| | |
| --- | --- |
| Diploma Name |  Average Fees* |
| 6 Months Diploma in Cyber Security | ₹55,000 – ₹65,000/- |
| Ethical Hacking Course | ₹15,000 – ₹20,000/- |
| Master Diploma in Cyber Security (1 Year) | ₹80,000 – ₹90,000/- |
| Diploma in Ethical Hacking & Certification | ₹35,000/- |
*Fee is subject to revision as per the institution's sole decisions.
In addition to this, we also provide needful financial assistance in the form of a genuine rebate or fee concession to the economically weaker and socially deprived students.  If you wish to apply for the same, you can call our highly knowledgeable educational counselors at +91-9513805401.

Frequently Asked Questions
About primetime Cyber Security Institute in Delhi
1: What is cyber security institute?
The educational point where you can have all the information security courses under one roof is known as the cyber security institute.  For example, Craw Security is the best cyber security institute in India that offers its students genuinely curated curricula under the guidance of well-experienced InfoSec trainers and mentors.
2: Which academy is best for cyber security?
Craw Security is the best cyber security institute or academy that you can get for learning cyber security courses in Delhi.  This cyber security institute is accredited and affiliated with many information security supergiants such as Offensive Security, EC Council, Red Hat Inc., CompTIA, CISCO Technologies, etc.
3: Where can I study cyber security in India?
You may study the cyber security course anywhere in India by a sincere online cyber security course in the VILT (Virtual Instructor-Led Training) mode of class conduction by Craw Cyber Security Institute.
4: Is cyber security a good career?
Cyber Security is indeed a pretty good career to choose as this possesses the following benefits for a good student:
A well-structured work-life balance.
A decent salary package.
Best designations to show the society.
Good respect at the workplace due to the level of responsibility that one beholds.5: What is the cost of cyber security course in India?
The cost of cyber security courses in India is pretty much different from one another due to the varied imparting cyber security institutions.  In the same context, Craw Security is the name that offers its valuable infosec courses at very cost-effective prices with a decent level of discount for economically weaker sections of society.
If you are also keen to know more about the cyber security course in Delhi fees, then feel free to contact us anytime at +91-9513805401 and have a chit-chat with our greatly experienced and knowledgeable educational counselors.
6: Is cyber security difficult?
You may say that cyber security is indeed pretty much difficult as it possesses some intricate technologies such as Python Programming Language, Linux Essentials, Networking Administration, Penetration Testing, AWS Associate, AWS Security, etc.
7: Do I need a degree for cyber security?
Many cyber security institutes in the market demand a degree graduate candidate for enrolling in a cyber security course.  However, on the other hand, Craw Security is the primetime cyber security course in Delhi that delivers its highly professional cyber security professional trainers and mentors to deliver its best-in-class cyber security training with a valid certificate that runs in almost every major and minor IT organizations in the wild.
8: How do I train for cyber security?
There are several dedicated ways by which a wishful learner can train oneself in the cyber security background such as the following:
YouTube videos by some Cyber Security experts channels.
Any Cyber Security friend who can train you.
Through any genuine Cyber Security Institute like Craw Security in Delhi NCR
9: Is cyber security coding?
Yes, there are plenty of coding skills are required to perform various functionalities of cyber security.
Conclusion
All in all, we would like to tell you that learning a well-structured cyber security course in Delhi from a valuable cyber security institute that promotes top-notch cyber security trainers and mentors having more than 10 years of industry experience just like Craw Cyber Security Institute in New Delhi.  In addition, you will be glad to know that Craw Security has successfully made a partnership with several cyber security giants in the global market.