Types Of Penetration Testing | Pen Testing
May 10, 2021
2022-03-05 17:52
Types Of Penetration Testing | Pen Testing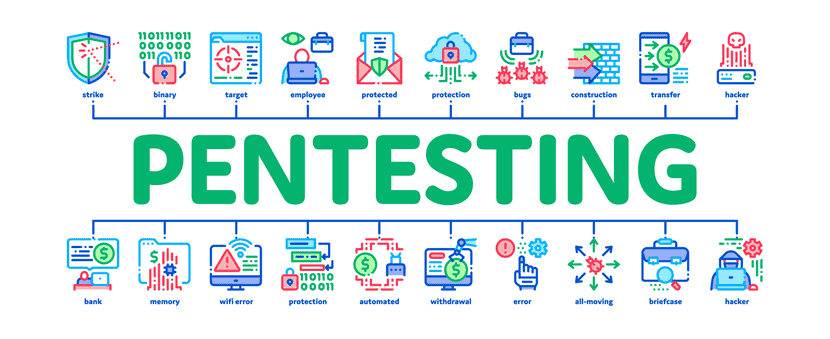 Types Of Penetration Testing | Pen Testing
Types of Penetration Testing
1. Black-box
2. White-box
3. Gray-box
   1. Black-box Types of Penetration Testing
 In a black-box penetration test, no information is provided to the tester
at all.
 Black-box testing assumes that the pen tester has no previous
knowledge of the infrastructure to be tested.
The tester only knows limited information about the target company.
 Penetration test must be carried out after extensive information
gathering and research
 This test simulates the process of real hacking and gathers publicly
information such as domain name and IP address.
 It is time-consuming and expensive.

Two types of black-box testing
 Blind Pen Testing:-
This procedure imitates a real cyber-attack, apart from the fact that the company has authorized it.
The information given is limited and the ethical hacker has to go figure out most of the firm's
information, similar to an unethical hacker.
Double-Blind Penetration Testing:-
This kind of testing is similar to blind testing, apart from that there is someone in the organization
who is aware of the activity going on. The test is done to determine how fast and effective the
security team is keen on monitoring or responding and prepares the firm for a potential real attack and
in sealing loopholes.
2. White-box  Types Penetration Testing
White box pen-testing involves sharing full network and system information with the tester,
including network maps and credentials. A white box penetration test is useful for simulating a
a targeted attack on a specific system utilizing as many attack vectors as possible.
o You will be given complete knowledge of the infrastructure to be tested
o It helps in revealing bugs and vulnerabilities more quickly
Types of white-box testing
 Announced Testing
 Attempts to compromise a system on a client network, with the full
cooperation and knowledge of IT staff.
 Involves the client organization's security staff and the penetration
testing team.
 Examines the security infrastructure for possible vulnerabilities.
 Unannounced testing
 Attempts to compromise a system on the client network without the
knowledge of the IT security personnel.
 Only the upper management is aware of these tests.
 Examines the security infrastructure and responsiveness of IT staff.
  3. Grey Box Types penetration testing
This test is the combination of black-box and white-box penetration
testing.
 The tester usually has limited knowledge of information.
 Test applications for all vulnerabilities, which a hacker might find and
exploit.
 Grey box testing is useful to help understand the level of access a
a privileged user could gain and the potential damage they could cause.
Learn More  About Pen Testing>>>>>> CLICK HERE
Frequently Asked Question about Penetration Testing
1. What Is A Penetration Test?
An entrance test includes a group of safety experts who effectively endeavor to break into your's organization by abusing shortcomings and weaknesses in your frameworks. Infiltration tests may incorporate any of the accompanying strategies: Using social designing hacking procedures to get to framework and related data sets. Sending phishing messages to get to basic records. Utilizing decoded passwords partook in the organization to get to touchy data sets.
2. What Is The Primary Purpose Of Penetration Testing?
Entrance testing has become a generally embraced security practice by organizations lately. This is particularly valid for businesses that store and access touchy or private data like banks and medical services suppliers. While the basic role of infiltration testing is to uncover weaknesses or adventure shortcomings, it's imperative to take note of that the fundamental objective is frequently attached to a business objective with an overall procedure. For instance, the Department of Defense workers for hire are needed to meet CMMC in the event that they need to work with the public authority. In this way, the pen test is only one part of the business's primary objective.
3. What Are The Different Approaches To Penetration Testing?