The Ultimate Guide to Ethical Hacking Tools and Software
August 19, 2023
2023-08-28 13:01
The Ultimate Guide to Ethical Hacking Tools and Software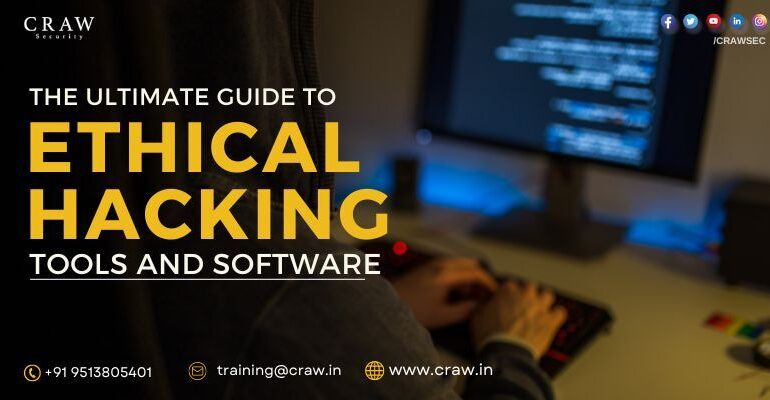 The Ultimate Guide to Ethical Hacking Tools and Software
Introduction: Ethical Hacking Tools and Software
The field of ethical hacking is exciting and intriguing. In this world, where good fights evil, having the correct tools is crucial. With the most cutting-edge hardware and software, ethical hackers are our frontline soldiers as cyber dangers increase. You can gain a thorough overview of the toolkit they have available by reading Ethical Hacking Tools and Software.
Ethical Hacking Tools and Software
Ethical hacking serves as a ray of hope in a world where cyberattacks are becoming commonplace. While many people believe that hacking is done with nefarious intent, ethical hacking focuses on finding security flaws to make the internet more secure. Our electronic warriors in protective gear are ethical hackers who are equipped with the proper hardware and software.
Why Ethical Hacking is Essential?
The age of information also brings, regrettably, data breaches. Ethical hacking contributes to making systems impregnable, personal data private, and organizations resilient to threats.
Types of Ethical Hacking Tools
| | |
| --- | --- |
| Penetration Testing Tools | Tools for penetration testing, such as Metasploit and Wireshark, are at the core of ethical hacking. These technologies aid in identifying network vulnerabilities. |
| Password Cracking Tools | This group includes programs that help identify the strengths and weaknesses of passwords, such as John the Ripper and Hydra. |
| Web Vulnerability Scanners | Consider the OWASP ZAP and Nikto tools that assist in identifying potential security risks in online applications. |
| Wireless Network Tools | One such example is Aircrack-ng, which aids ethical hackers in discovering flaws in wireless networks. |
Top 5 Ethical Hacking Software
| | |
| --- | --- |
| Kali Linux | Kali Linux, probably the most well-liked ethical hacking program, is stocked with all the tools required for penetration testing, security analysis, and other tasks. |
| Parrot Security OS | Kali-like, but with an emphasis on anonymity. It guarantees that ethical hackers can perform their duties covertly. |
| Nessus | Every expert ethical hacker has Nessus in their toolbox because it is a top-tier vulnerability scanner. |
| Burp Suite | Burp Suite, which focuses on web vulnerabilities, is the preferred program for web application security testing. |
| Nmap | For network detection and security audits, this open-source software is crucial. |
The Ethics Behind Ethical Hacking
Having the correct tools is only one aspect of ethical hacking; another involves employing them responsibly. In order to prevent injury or invasion of privacy, ethical hackers adhere to a rigid code of behavior.
Career Prospects in Ethical Hacking
Ethical hacking offers a viable career path for people who love cybersecurity and have a talent for all things digital. Businesses all across the world are constantly in need of experts who can protect their digital assets.
The Future of Ethical Hacking Tools and Software
Cyber risks evolve along with technology. This implies that software and tools used in ethical hacking must constantly advance. Future developments include AI-driven tools, enhanced cloud security, and more.
FAQs: Ethical Hacking Tools and Software
About The Ultimate Guide to Ethical Hacking Tools and Software
1: What is the main purpose of ethical hacking?
The main goal is to find weaknesses from the perspective of a malevolent hacker in order to make systems more safe.
2: Who can become an ethical hacker?
Anyone interested in cybersecurity, knowledgeable in computer networks, and holding the necessary credentials can work as an ethical hacker.
3: Is ethical hacking legal?
Yes, as long as it's done legally and with the intention of enhancing security.
4: What's the difference between a hacker and an ethical hacker?
Although they both have comparable skills, their goals are different. While malicious hackers want to take advantage of weaknesses for their own gain, ethical hackers look to identify and close those gaps.
5: Are ethical hacking tools expensive?
The cost changes. There are many effective open-source and free tools and programs available, but there are also paid premium tools.
6: Can ethical hacking guarantee 100% security?
No software or technology can ensure complete security. Ethical hacking aims to increase security and reduce dangers.
Conclusion
To wrap up, we would like to say that the field of ethical hacking is enormous and constantly changing.  The need for ethical hackers to protect our data grows as we depend increasingly on the digital world. They make sure that everyone is safe in the digital environment by using the appropriate hardware and software. Always keep in mind that whether you're a novice ethical hacker or just interested in the field, enormous authority is accompanied by great responsibility.
All in all, a person with a positive attitude to learning all the cybersecurity fundamentals so precisely can opt for this mesmerizing 1 Year Diploma in Cyber Security Course by Craw Security under the prominent guidance of world-renowned training mentors.  In addition, for the sake of obtaining some necessary information about the upcoming batches and other forms of information, you can give us a call at +91-9513805401.