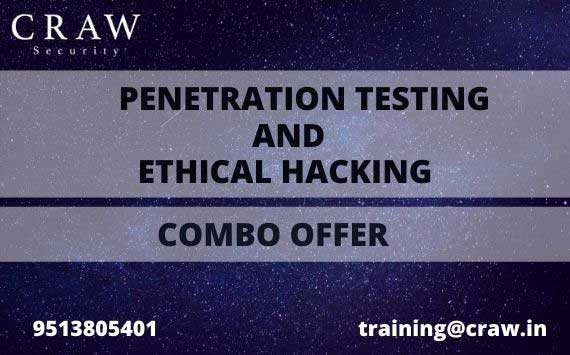 Penetration Testing and Ethical Hacking Course in Delhi
In Ethical hacking Course, it contains 28 Modules. In Ethical Hacker that can hack computer systems and secure them like security experts, It consists of several topics like how to deal with Ethical Hacking and how to tackle these vulnerabilities to which hackers and hackers can take advantage. And In Penetration Testing it Consist 12 Modules. In this course, you will learn how to Phishing, Password Cracking, Network Scanning, Metasploit Framework, etc.
Course Duration: 80 hours
Language: English/Hindi
Course Videos
E-Books, pdf
Training Certificate
Interview Preparation
ToolKits
Description
About Penetration Testing
Advanced Penetration Testing Course in Delhi is a study of how to make the most of networks, servers, and applications. Craw Security has designed this Online Penetration Testing Course with assistance from industry experts by a real-world Penetration tester. It is the most Advanced Network Penetration Testing course available in New Delhi. This Penetration Testing Course in Delhi provides a 100 % practical approach and helps students to recognize industry approaches and methodology utilized by cyber security experts. This Penetration Testing Course in Delhi is taught by renowned industry experts.
About Ethical Hacking
Ethical Hacking course in Delhi is quite important to safeguard organizations against such threats. Ethical Hacking Course in Delhi Security have designed an Ethical Hacking Course in Delhi to meet the real-world Ethical hacking scenarios to assist students and corporate to carry out similar Cyber Security Vulnerability Testing's on the Networks and Web applications. In Ethical Hacking Course in Delhi You Will Learn How to Protect your Data with unauthorised access