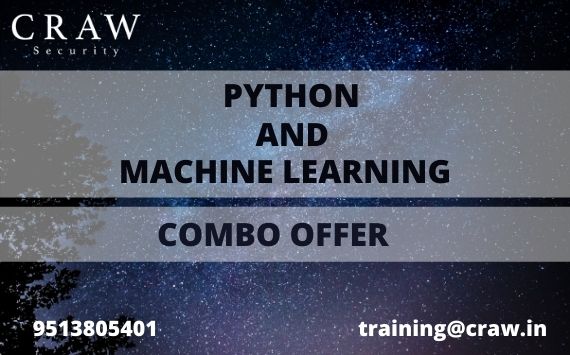 Python and Machine Learning Course in Delhi
In Machine Learning Course In Delhi, Machine Learning is used to create Algorithms in Python for powerful Artificial Intelligence applications with the help of Artificial Intelligence training. consists of 16 Modules. In Python Programming Course In Delhi, consists of 28 Modules. You will Learn oops Concepts in the python Programming Course and be able to create your own Python programs.
Course Duration: 80 hours
Language: English/Hindi
Course Videos
E-Books, pdf
Training Certificate
Interview Preparation
ToolKits
Description
About Python Programming Course
Python for Data Science training in the Delhi course allows you to learn an easy and powerful programming language. In comparison with other programming languages which have tough syntax and weird rules, Python Programming is both readable and simple. In addition, it is also easier to set up and you don't have to deal with any classpath problems like Java or compiler issues like C++.
About Machine Learning Course
Machine Learning Course in Delhi is stretched and penetrated in the daily routine of us that even we don't notice, the career in Machine Learning Course in Delhi have the high and better opportunity as the world needs it and is getting higher in demand because the human being is getting dependent on the machines as technologies growing day per day, and that's the reason why students who are just worrying about their career and have any interest in Artificial Intelligence going for Machine Learning Course in Delhi as it increases their package as well as get their market value higher. Craw Cyber Security provides this course training and certifications as affordable and cheap as compare to other institutes domestically or globally.