Part-Time Diploma in Cyber Security Course
June 20, 2023
2023-08-28 15:29
Part-Time Diploma in Cyber Security Course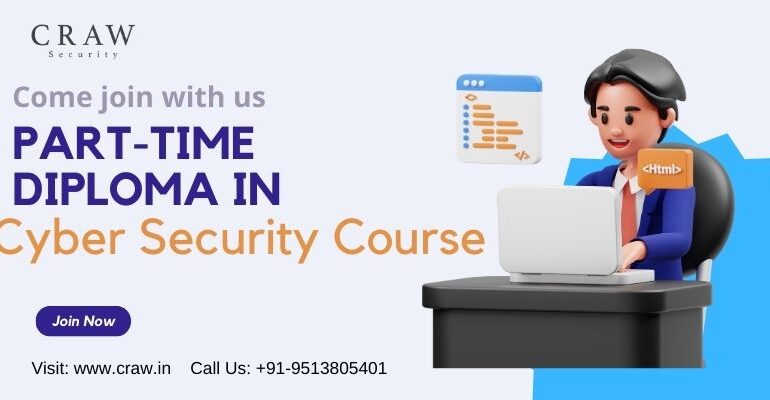 Part-Time Diploma in Cyber Security Course
Diploma in Cyber Security Course
The demand for knowledgeable cybersecurity specialists has never been higher than in the modern digital world, where cyber threats are rising. Businesses in various sectors seek specialists to secure their systems and data from unauthorized access, cyberattacks, and data breaches.
A part-time cybersecurity diploma can give you the skills and knowledge you need to succeed in this sector if you are passionate about technology and interested in protecting online assets. The advantages and important features of a part-time diploma in cyber security education will be discussed in this article.
However, before moving further, let's talk about cyber security. How can it help you? Moreover, how could you enhance the security measures yourself? Let's continue!
What is Cyber Security?
It secures PCs, servers, networks, and data from unauthorized access, damage, theft, and disruption. Moreover, it includes the following tasks to enhance the security and ensure the CIA of online resources.
Install Various Tech,
Processes, and
Security Measures.
Professionals with cybersecurity skills are meant to identify vulnerabilities, detect and prevent cyberattacks, and develop plans to fight risks.
Importance of Cyber Security
Organizations may suffer huge financial losses, harm to their reputations, and legal repercussions due to cyberattacks. Without sufficient security measures, sensitive data such as trade secrets and personal information can be compromised.
Moreover, firms can lessen the effect of cyber risks and protect their operations by investing in qualified experts and cyber security solutions.
Overview of Part-Time Diploma in Cyber Security Course
A part-time cyber security diploma enables students to maintain other obligations while gaining in-depth knowledge and practical skills in the industry. This course aims to give students a thorough understanding of cybersecurity concepts, procedures, and techs.
Aspirants have practical experience recognizing security flaws, installing safety measures, and maintaining cyber attacks.

Curriculum and Course Structure
It covers a huge part of the cybersecurity structure to make sure aspirants develop a better understanding of the IT Sector. The Part-Time Cyber Security Diploma allows students to clear the following concepts.
Introduction to Cyber Security,
Network Security,
Cryptography,
Ethical Hacking,
Cyber Forensics,
Incident Response & Management,
Risk Management, and
Security Policies & Compliance
The Part-Time Cyber Security Diploma offers the following facilities for the aspirants joining it through Craw Security.
Theoretical Lectures,
Practical Sessions,
Case Studies,
Virtual Labs, and
Real-World Simulations.
Industry-Relevant Skills and Knowledge
This course will train the students to achieve industry-relevant skills and knowledge to prove their skills in real-life situations. After completion of this course, aspirants will be able to get the following benefits.
Understand fundamental concepts of cyber security.
Identify and assess security vulnerabilities
Implement security measures to protect networks and systems
Conduct ethical hacking and penetration testing
Analyze and respond to cyber incidents
Develop risk management
Ensure compliance with legal and regulatory requirements
Apply cryptographic techniques to secure data
Conduct cyber forensics investigations
Develop security policies and procedures
Flexibility and Convenience
Flexibility is one of the main benefits of a part-time cyber security diploma program. The needs of people who are working professionals or have other responsibilities will be met by this course.
Since most classes are held on weekends or evenings, students can balance their education with other obligations. Individuals can increase their knowledge and skills thanks to this flexibility without having to change their jobs or daily schedules.
Networking Opportunities
Excellent networking chances are provided by registering for a part-time diploma in the cyber security program. With the help of lecturers, business experts, and other professionals, students may communicate and work together.
As they might result in job referrals, mentoring opportunities, or access to a larger professional network within the cybersecurity industry, these relationships might benefit future career chances. Additionally, networking lets people keep abreast of the newest business trends, innovations, and best practices.
Career Prospects
Across many industries, the demand for qualified cybersecurity personnel is rising quickly. You can open up a wide range of job options with a part-time diploma in cyber security. Graduates of this program can work in positions like
Cyber Security Analyst
Network Security Engineer
Security Consultant
Incident Responder
Ethical Hacker
Security Auditor
Cyber Forensics Analyst
Security Operations Center (SOC) Analyst
These job profiles can give you high-end salaries, job stability, and the opportunity to ensure impact in securing firms from cyberattacks.
Admission Requirements
To enroll in a part-time cyber security diploma program, precise entrance requirements may differ between educational institutions. However, common requirements consist of the following:
High school diploma or equivalent
Basic understanding of computer systems and networks
Proficiency in English language (written and spoken)
Some institutions may require prior experience or relevant certifications
Duration and Time Commitment
Depending on the institution and the curriculum, there are many options for a part-time diploma in cyber security courses. The program can be finished part-time in 12 to 18 months on average. Students are free to pace their studies over this time period based on their free time and other commitments.
The time needed for this course will vary depending on each student's circumstances and study habits. To get the most out of their learning experience, students should allot enough time for attending classes, finishing projects, and doing their own research.
Cost and Financial Assistance
Depending on the school, the length of the course, and other variables, the price of a part-time certificate in cyber security courses can change. It is wise to investigate and contrast various programs to choose the one that best suits your needs and financial situation.
For those who qualify, there may be financial aid options, including student loans, grants, and scholarships available. Students pursuing cybersecurity education frequently have financing opportunities from institutions and outside organizations. It is advised to research these choices and submit applications properly.
Recognized Certifications
Professionals in cybersecurity can become far more credible and marketable by earning industry-recognized credentials. Students who enroll in a part-time cyber security diploma program are frequently prepared for certifications like:
Certified Ethical Hacker (CEH),
CompTIA Security+,
Certified Information Systems Security Professional (CISSP),
Certified Information Security Manager (CISM),
Certified Information Systems Auditor (CISA).
Job Roles in Cyber Security
Cyber Security Analyst
Network Security Engineer
Security Consultant
Incident Responder
Ethical Hacker
Security Auditor
Cyber Forensics Analyst
Security Operations Center (SOC) Analyst
Advancements and Continuous Learning
The topic of cybersecurity is rapidly growing, therefore, it's important to stay current on the newest threats, technologies, and defenses. It is suggested that professionals with a part-time cyber security diploma continue their professional growth.
This can involve going to conferences, taking part in business forums, earning advanced qualifications, and keeping up with current events by reading pertinent periodicals and using web tools. Individuals can improve their skills, respond to new dangers, and succeed in their jobs by embracing continuous learning.
Conclusion
One can join a part-time diploma in cyber security to get the best learning experience with this course. It allows you to get the necessary training, knowledge, skills, and knowledge with the certification as evidence of your honed skills.
Because part-time study is flexible, students can juggle their academic goals with other responsibilities. This qualification provides you with rewarding employment prospects and helps to maintain a secure digital environment, as there is an increasing need for cybersecurity professionals.
For more information, contact Craw Security and enroll now. What are you waiting for? Contact, Now!
Frequently Asked Questions
About Part-Time Diploma in Cyber Security Course
Can I study cyber security part-time?
Yes, you can pursue part-time studies in cybersecurity. To accommodate students who have other commitments, such as employment or family duties, several educational institutions offer part-time programs or courses in cybersecurity.
There are several alternatives for part-time cybersecurity study, including:
Online Courses,
Evening or Weekend Classes,
Continuing Education Programs,
Hybrid Programs
Which course is best in cyber security?
If you want to go for the Best Cyber Security Course in Delhi, you can join the 1 Year Diploma Course in Cyber Security Training in Delhi offered by Craw Security which is specially designed for beginners to professional cyber security aspirants to grow their skills and knowledge in cyber security.
How long is a full course in cyber security?
This can depend upon the issuer who is offering you the course built and based upon cyber security. Most reputed Craw Security offers you the 1 Year Diploma Course in Cyber Security Training in Delhi for everyone who wants to enhance their knowledge grounds in IT Sector within the cyber security domain. Reach out for more information.
Can I learn cyber security in one month?
While gaining basic cybersecurity knowledge in a month is possible, it's crucial to remember that the area is large and complex, requiring ongoing study and hands-on training to become proficient.
Is cyber security a tough job?
Although working in cybersecurity might be difficult, it can also be a rewarding and meaningful career path. The following elements support the idea that working in cybersecurity is difficult:
Evolving Threat Landscape,
Complex & Technical Nature,
Continuous Learning, and
High Stakes & Responsibility.
Is cyber security tough to study?
Although studying cybersecurity might be difficult, it is a fascinating and rewarding field. The following elements affect how challenging it is to learn cybersecurity:
Technical Complexity,
a Rapidly Evolving Field,
a Wide Range of Knowledge, and
Hands-on Experience.
Can I study cyber security at home?
Yes, if you get in contact with Craw Security, you can have the opportunity to learn cyber security while sitting at home. Craw Security offers the 1 Year Diploma Course in Cyber Security Training in Delhi online for students who can't attend offline sessions. Thus, one can definitely join the course while studying from home.
Can a normal person learn cybersecurity?
Yes, even the average person can study cybersecurity. The field of cybersecurity is open to people with a range of educational backgrounds and professional experience. Although having some technical knowledge can be helpful, it is not necessary to begin a career in cybersecurity.
Which cyber security is in demand?
Due to the growing demand for cybersecurity protection against cyber attacks, several fields within the field are currently in high demand. The following are some crucial regions that are in high demand:
Cloud Security,
Network Security,
Application Security,
Incident Response and Forensics,
Threat Intelligence, and
Identity & Access Management (IAM).
What are the entry requirements for a part-time diploma in cyber security course?
It will depend on the institution offering you the course for cyber security. The institution can ask for any degree or maybe some diploma. They can also go through your educational background. However, Craw Security offers you the chance to study cyber security even if you are a fresher. Basic cyber security knowledge can give you an upper hand over others to learn it faster.
How long does it take to complete a part-time diploma in cyber security course?
It will depend on the diploma provider. One can achieve great things with patience. Thus, you should be focusing on learning the concepts under professional guidance. One of the professionals in the IT Sector is Craw Security.
What career opportunities can I pursue after completing a part-time diploma in cyber security course?
Here are some potential career paths you can consider:
Cybersecurity Analyst
Security Consultant
Ethical Hacker/ Penetration Tester
Security Engineer
Incident Responder
Security Architect
Security Operations Center (SOC) Analyst