IoT Courses for Beginners | Internet of Things Course 2023
July 9, 2022
2022-12-15 12:02
IoT Courses for Beginners | Internet of Things Course 2023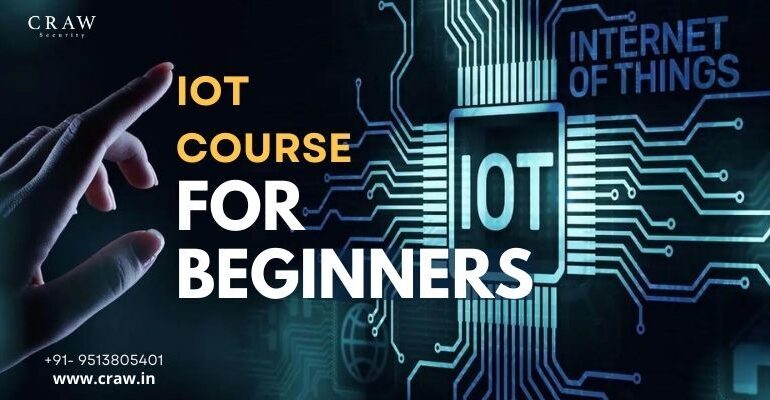 IoT Courses for Beginners | Internet of Things Course 2023
IoT Courses for Beginners | Internet of Things Course in India
Get to know the best-in-class IoT Courses for Beginners providing the most authentic training that brings better transition of basic individuals into full-fledged Cyber Security Experts.  There are several IoT Courses with Certificates that are nicely valid for most IT organizations in the global market.  In addition to promoting genuine IoT Courses for Beginners, Craw Security – the best Cyber Security Institute in Delhi, is facilitating world-class training services under the observation of premium trainers and mentors.
In this blog, we are going to read more about the best available IoT Courses for Beginners that possess the maximum knowledge related to their subject matter, such as Craw Cyber Security Institute's Internet of Things Course at its prime educational branches in Saket and Laxmi Nagar in Delhi NCR.
Introduction to Internet of Things Pentesting Course
As time is passing, this modern technological world is drifting more toward modern internet-based gadgets, which retain a large amount of sensitive and crucial pieces of information that we need to safeguard from the prying eyes of the black hat hackers.  Moreover, these IoT Courses for Beginners can be very beneficial for newcomers in this genuine background of cyber security as they possess all the fundamental knowledge that is duly required for entry-level candidates to learn.
In order to do a genuine Internet of Things Course from the best possible trainers and mentors in the vicinity of Delhi NCR, one can surely opt for Craw Cyber Security Institute at Saket and Laxmi Nagar educational branches.  In this course, you will be exposed to the IoT fundamentals under specialized IoT Training paving your way toward landing a great IoT professional job in some enterprise anywhere on the globe.
Best IoT Courses Online
Just to grab the authentic understanding of the IoT Courses for Beginners with full patience, learners tend to obtain the most from the IoT Certification Course Online with all the relevant information that they can extract from the knowledgeable trainer.  In addition, Craw Security thoroughly understands the prime concerns related to time to most learners nowadays as they are working somewhere and cannot compromise time schedule, even for the studies itself, that will certainly give their careers a push for a better future ahead.
On the high-end premises of Craw Security at Saket and Laxmi Nagar locations, there are two modes by which a learner can take the IoT Online Course with the specialized teachers doing the honors such as:
Prerecorded Video Format
VILT (Virtual Instructor-Led Training)
A person can sincerely have the Internet of Things Course Online with the same category of teachers that are delivering the offline version of IoT Courses for Beginners.  Moreover, the curriculum possessed in the IoT Online Course carries the same length, level, and details so that our students can get every benefit of the course that our usual offline class students get.
Internet of Things Devices
IoT Devices or the Internet of Things Devices are those devices or smart gadgets that are fully enabled with a good source of internet connectivity and are inter-connected to one another in order to process and work uninterrupted and unofficially.  Moreover, these devices perform a task genuinely with a single command from an operator sitting either inside the system or outside of it.
Since all of these IoT Devices are fully internet-based, they can be hacked using some predefined set of tricks, tools, techniques, algorithms, and patterns nicely practiced by a black hat hacker to their sensitive form of databases.  Thus, it is highly required to have a generation of practiced people with the right educational training that can mitigate those cyber threats or cyber attacks whenever an intruder tries to extract the database from the available resources.

IoT Courses with Placement
As there are numerous cyber security institutions in the wild that offer quality education in IoT Courses with Placement options*.  In addition, if a person is willing to start a genuine Internet of Things Training under the observation of a superior class training instructor possessing years of experience.  Moreover, a verified IoT Certification & Training is imparted with live project-based training in both VILT and offline interactive classroom sessions in our state-of-the-art facilities of Craw Security at Saket and Laxmi Nagar branches in the NCT of Delhi.
As CRAW is one of the primetime IoT Training Institutes in Delhi NCR which provides authentic fundamental concepts to the learners through our valuable training instructors having 10+ years of quality industrial experience in imparting genuine education to their students.  Furthermore, Craw Security is not only the best cyber security institute in the region of Delhi but also one of the sincere institutes that provide quality IoT Training in Noida and Gurugram as well.
*Placement is a subject of opportunities in the market that we provide as per the requirements.

Internet of Things Course Syllabus
Most institutes do not intend to show their prime syllabi that provide the fundamental training related to IoT Courses for Beginners while on the other hand, Craw Security is showcasing its valuable Internet of Things Course Syllabus possessed in the curriculum offered by some of the best IoT professionals in Pan India.  We have shown our valuable syllabus in the below-mentioned table:
| | |
| --- | --- |
| Module Levels | Description |
| Module 1 | Overview of Why IoT is so important |
| Module 2 | Introduction of IoT |
| Module 3 | Introduction to Sensor Network and Wireless protocol |
| Module 4 | Review of Electronics Platform, Production & cost projection |
| Module 5 | Conceiving a new IoT product- Product Requirement document for IoT |
| Module 6 | Introduction to Mobile app platform & Middleware for IoT |
| Module 7 | Machine learning for intelligent IoT |
| Module 8 | Analytic Engine for IoT |
| Module 9 | Iaas/Paas/Saas-IoT data, platform, and software as a service revenue model |
Frequently Asked Questions
About IoT Courses for Beginners
1: Why is it called internet of things?
As internet-enabled devices are interconnected to one another in a unified loop to work as one system for any multipurpose functionality, it is highly called the Internet of Things in the world of Cyber Security.
2: How do I start learning IoT?
By joining a genuine IoT Course for Beginners at the high-end facilities of Craw Cyber Security Institute at the Saket and Laxmi Nagar branches, one can learn the fundamental concepts of IoT so easily.
3: What are the courses for IoT?
There are many IoT Courses for Beginners duly available in the market that can provide a basic individual with much genuine knowledge related to IoT fundamentals such as the following:
IoT Course with Certificate by Craw Security
IoT Training Certificate by Bytecode Security
4: Which IoT course is best?
The superb IoT Course for Beginners is imparted by the superb category trainers and mentors with best-in-class self-evolving study patterns to cater to all the educational needs of our students at Craw Security in Delhi at its Saket and Laxmi Nagar branches.
5: Is IoT difficult to learn?
It falls under the category of Cyber Security and possesses a decent understanding of Python programming language, Networking administration, Linux OS, and many other technologies to perform the multi-functions of IoT Courses for Beginners.
6: What is IoT Beginner?
IoT Courses for Beginners is a specialized course offered by Craw Cyber Security Institute at its Saket and Laxmi Nagar premises to deliver the prominent fundamentals of IoT Penetration Testing.
7: How long is IoT course?
There are various institutions in the worldwide market that offer their own IoT Training for Beginners on their self-curtailed curricula.  In addition, Craw Security offers its IoT Courses for Beginners in 60 hours of course module timing.
8: Is there any course for IoT?
Yes, there are multiple courses available in the open that offer a quality introduction to Internet of Things.  In this regard, you may choose IoT Courses for Beginners with a full Govt. of India approved course curriculum by Craw Security – a valuable partner of FutureSkills Prime, a MeitY – NASSCOM, digital skilling initiative.
9: Is IoT a good course?
Yes, as it provides fundamental training to the learners about how a person can interconnect various IoT devices to one another, one can sincerely take IoT Courses for Beginners as good resourceful training to grab the details of this crucial technology.   In addition, if you wish to grab a genuine Internet of Things Course, you may choose Craw Security – the best IoT Training Institute in India.
10: How do I get a job in IoT?
After undergoing IoT Certification & Training sincerely, a good learner is likely to grab a decent job in IoT Courses for Beginners.
11: Does IoT have future?
Yes, the number of internet-based devices kept on increasing and the chances of getting them hacked are also growing at a rapid pace.  In order to curb the number of hacking activities, we need expert professionals in the current and futuristic organizations for a safe & sound working environment in both personal and official lives as our lives are increasingly full of these IoT devices.
12: What skills are required for IoT?
A person with a deep intention to learn the IoT Certification Course can opt for this magnificent IoT fundamentals course at Craw Security's state-of-the-art premises in Saket and Laxmi Nagar branches in New Delhi with the following qualifications:
Ethical Hacking Certification
Networking Fundamentals
Linux Essentials
Python Programming Language
Technical experience with at least 3 to 5 years of quality working knowledge.13: Who is father of IoT?
Wendell Brown is widely known as the father of IoT.
13: Which language is used for IoT?
The programming language C is massively termed as the mother language of every programming language in the world and is the most used programming language for developing and designing IoT fundamental applications after Java as per a survey of the Eclipse Foundation in 2018.  However, Python Programming Language is also gaining popularity and at a rapid pace in IoT development.
14: Does IoT require coding?
Yes, for successfully developing IoT applications in the real-time environment, there are many programming languages are utilized to make a successful module.  In addition, you may easily understand that the devices utilized are mere hardware components that genuinely require valid software to operate that possesses instructions and strict guidelines in it.
Conclusion
In a nutshell, I would to cater to your kind attention towards these high-end IoT Courses for Beginners delivered by superb training faculty members of Craw Cyber Security Institution at Saket and Laxmi Nagar branches.  Moreover, the authentic IoT Courses with Certificate will validate your skillset and make you eligible for applying for an IoT Professional in a reputed IT organization in the worldwide market.