Importance of Cybersecurity in Healthcare and Medical Devices
March 2, 2023
2023-03-10 13:27
Importance of Cybersecurity in Healthcare and Medical Devices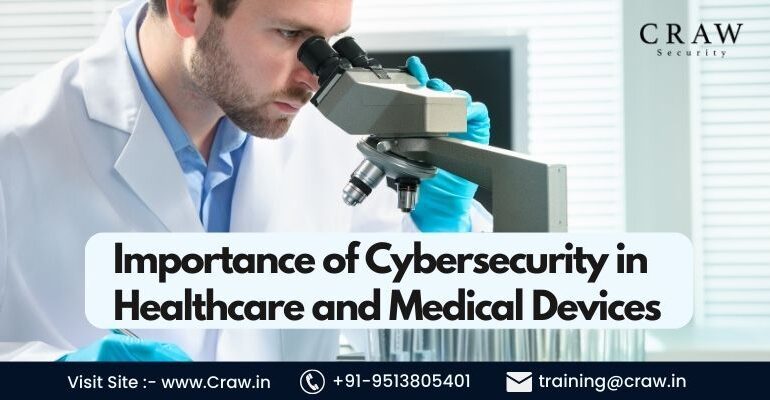 Importance of Cybersecurity in Healthcare and Medical Devices
Cybersecurity is highly crucial for medical equipment and the healthcare industry.  The risk factor of witnessing cyber threats and data breaches rises as medical equipment, and healthcare institutions rely more on technology with each passing day.
In this blog post, we will try to discover the mainstream features of the importance of cybersecurity in the healthcare industry.
Introduction
Definition of Cybersecurity
Protecting networks, systems, and programs from cyberattacks is the profession of cybersecurity where the working professional tends to save the digital assets from the preying eyes of black hat hacking professionals.  In addition, these assaults typically try to gain access to, alter, or delete sensitive data, demand money from users, or obstruct regular corporate operations.
Importance of cybersecurity in Healthcare and Medical Devices
As a general rule, cybersecurity is an essential component of healthcare and medical devices.  It is essential to guarantee that the systems are secure and shielded from any potential cyber threats because of the expanding usage of technology in healthcare.
Moreover, sensitive financial information, private medical data, and confidential patient information are all protected by cybersecurity.  It also aids in ensuring that medical products are in good working order and preventing illegal access to them.
Furthermore, cybersecurity helps safeguard healthcare facilities from malware and ransomware assaults resulting in patient care disruptions, system failures, and data breaches.  Finally, it contributes to maintaining the precision and dependability of medical equipment and systems, keeping patients secure and healthy.

Risks and vulnerabilities in Healthcare
Personal Health Information
The security flaws in cyber security allow the personal health information of patients to be nicely available for adversaries to use as per their own choice to gain some illegal monetary benefits by selling the same database to any rival companies and healthcare institutions.
Some of the medical devices can also be compromised, and the data comprised in them can fall into the wrong hands of black hat hacking professionals willing to compromise the datasets with their duly practiced wrong techniques.
Cyber Attacks on Healthcare
In the last few years, there has been a steep rise in the number of cyber attacks on healthcare institutions in order to fall prey to the sensitive medical records of high-profile dignitaries.  So that the data can be misused afterward, and many ill-intentioned benefits can be outcomes from them.
Consequences of Cyber Attacks on Healthcare
Healthcare cyberattacks can have major financial repercussions.  In addition, healthcare institutions may incur substantial losses as a result of cyberattacks due to lost revenue, penalties, and legal costs.
Moreover, healthcare companies might have diminished patient confidence and reputational harm, which would lower patient numbers and cost them money.  According to estimates, the average cost of a data breach in the healthcare sector is $7.13 million, with costs ranging from $3.78 million to $11.45 million.
Cyber attacks on healthcare can have a substantial influence on the image of an institution.   Such assaults have the potential to damage public confidence in the institution's ability to safeguard private information.
In addition, contributions may decline, and patient enrollment may decline if an attack is made public.   Also, it may harm the organization's standing with the general public and other organizations.
Moreover, this may make it more challenging to find and keep suitable employees, as well as win contracts with other businesses.  Also, the organization might be the target of legal action, and unfavorable media coverage might damage its reputation.
Legal Consequences
Based on the attack's actual severity and the laws of the country where it occurred, healthcare cyberattacks may have different legal repercussions.
For carrying out a cyber attack on medical facilities or patients, some people may be charged criminally.   Criminal charges could also include fraud, theft of data, or unlawful access to computer systems, depending on the local laws.
Ways to Improve Cybersecurity in Healthcare
The act of compressing a communication or piece of an informational object so that only those with the proper authorization can access it is known as encryption.  In addition, it encrypts the data using a key and an algorithm such that anyone without the key required to decrypt it cannot read it.  Both data at rest and data in transit are protected by encryption.
The practice of subdividing a computer network into several sections or subnetworks is known as network segmentation.  By segregating specific network segments from one another, it is highly possible to improve the efficiency and security of the network and to, allocate resources and manage traffic more effectively.  Many technologies, including virtual LANs, proxies, firewalls, routers, switches, and wireless access points, can be used to segment networks.
Training your employees with the right kind of knowledge can be very beneficial to enhance the knowledge parameters of your employees.  If an organization determines that it should get trained its employees under the observation of a well-qualified cybersecurity trainer having many years of authentic working experience as a proven trainer, the same can opt out of many premier benefits from this particular step.
Regular Security Assessments
Confirming the cybersecurity management of an organization includes regular security assessments as a critical component.  They entail a thorough examination of the firm's cybersecurity protocols, policies, and practices to spot any gaps or vulnerabilities that might result in a security event.
Moreover, frequent security audits also aid in identifying any fresh dangers that have emerged since the previous audit.  To make that the organization is still achieving its security goals, they should be performed on a regular basis, such as every six months or once a year.
Importance of Collaboration and Information Sharing
Sharing Best Practices
There could be many benefits of sharing your best practices of cybersecurity in the healthcare sector, such as the following:
Leverage multi-factor authentication for all users
Monitor and enforce strong password hygiene
Implement a least-privilege access policy
Use encryption and secure protocols
Perform regular security assessments
Information Sharing for Early Detection
Sharing information can be very important in identifying cybersecurity issues early on.  The following are some advantages of information exchange for the early identification of cybersecurity vulnerabilities:
Faster detection of vulnerabilities
Improved threat intelligence
Better response times
Reduced costs
Enhanced collaboration
Improved security posture
FAQs
About the Importance of Cybersecurity in Healthcare and Medical Devices
1: Why is cybersecurity important in healthcare?
Since this assists in preventing the release of private patient data to unauthorized parties, which could result in identity theft, financial loss, and other negative repercussions, cybersecurity are crucial in the healthcare industry.
Moreover, it aids in defending healthcare businesses against harmful cyberattacks and data breaches that may result in serious disruption and monetary losses.  Finally, it assists in ensuring compliance with rules and legislation like HIPAA that demand healthcare institutions to safeguard patient data.
2: What are some common cybersecurity threats in healthcare?
Some common cybersecurity threats in healthcare are as below:
Unsecured Medical Devices
Ransomware
Insider Threats
Phishing Attacks
Unauthorized Access
3: What is the importance of cybersecurity in medical devices?
Because medical supplies are linked to the internet, they frequently hold some of the sensitive patient datasets, which pose a high risk of serious damage or even death; cybersecurity is of utmost concern.
In addition, Cybersecurity aids in shielding medical equipment from nefarious external actors like hackers who might get access to the device and alter it or steal patient data.  Moreover, this can result in care interruptions, privacy violations, or monetary losses.  Medical equipment must be appropriately secured in order to protect patient privacy and safety.
4: What is the most important aspect of cybersecurity in healthcare?
Securing sensitive patient datasets is the most crucial component of cybersecurity in healthcare.  In addition, sensitive medical data about patients must be protected, and healthcare facilities are responsible for doing so.  To prevent unauthorized entry, alteration, and sharing of information, robust administrative, physical, and technical measures must be put in place and regularly monitored.
5: What are the 3 importance of cyber security?
The 3 importance of cyber security is as follows:
Protecting Sensitive Data
Protecting Against Cyber Threats
Maintaining System Integrity
6: What are the 5 reasons why cybersecurity is important now more than ever?
The mainstream 5 reasons to understand why cybersecurity is important now more than ever are as follows:
Protecting Sensitive Data
Mitigating Risks
Enhancing Regulatory Compliance
Strengthening Brand Reputation
Protecting Against Cybercrime
7: What are the 5 benefits of using cyber security?
The 5 prominent benefits of using cyber security are as follows:
Improved Data Protection
Reduced Risk of Cyber Attacks
Improved Regulatory Compliance
Enhanced Reputation
Increased Efficiency
8: What is the importance of cyber security?
Cybersecurity is essential as it helps defend vital IT infrastructures from cyberattacks and assists in safeguarding both financial and personal data.  Also, it's vital that companies safeguard their computer systems and data against hackers and other nefarious individuals who could attempt to obtain or corrupt the data.
In addition, cybersecurity aids in shielding businesses from monetary losses brought on by cyberattacks, as well as from legal and reputational harm.  It also aids in shielding people from malicious actions like identity theft.  Anybody who uses the internet needs cyber security since it helps to safeguard their data and privacy.
9: What are the 5 essential elements of cyber security?
The 5 highly essential elements of cyber security are as follows:
Secure Network Architecture
Data Protection
Identity and Access Management
Monitoring and Detection
Incident Response
10: What are the 5 C's of cyber security?
The widely famous 5 C's of cyber security are as follows:
Confidentiality
Compliance
Continuity
Control
Capacity
11: What are the essential 8 cyber security?
The immensely famous and highly essential 8 cyber security are as follows:
Application Security
Data Security
Network Security
Identity and Access Management
Disaster Recovery and Business Continuity
Endpoint Security
Cloud Security
Education and Training
Conclusion
In a nutshell, we would like to draw your attention to the mainstream factors related to the Importance of Cybersecurity in Healthcare and Medical Devices.  A person can nicely opt for a wholesome course on cybersecurity in the shape of a 1 Year Cyber Security Diploma Course by Craw Security under the expertise of a world-class training professional doing the honors to deliver excellence in global standard cybersecurity training.
To wrap up, if you are willing to know more about the upcoming batches and other corresponding details, initiate a quick call at +91-9513805401 and have a word with our highly experienced educational counselors.