Best Cyber Security Course in Pune 2023
May 11, 2022
2023-02-27 12:38
Best Cyber Security Course in Pune 2023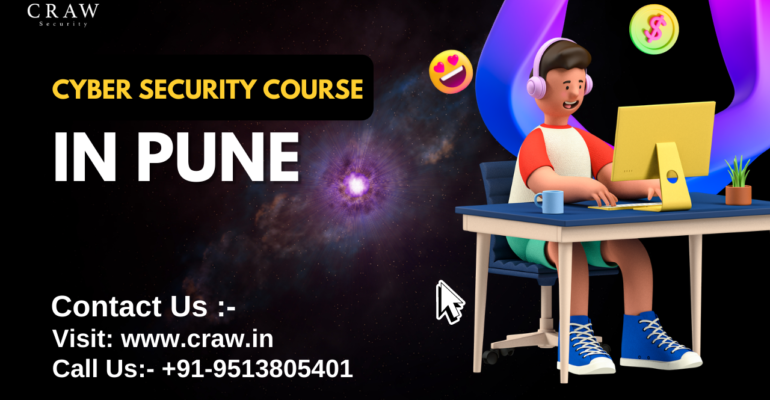 Best Cyber Security Course in Pune 2023
Join our Ethical Hacking Course in Pune and Learn to Protect Against Cyber Attacks
Cyber Security Course in 2023 can be the best career option for students related to the IT sector. What's so good about this course? Let's find out! Online involvement of the current generation has increased rapidly in these years. This growth is becoming the source of loads of data stealing. How's that? Let us explain.
Every other person in the world right now has access to the internet and obviously has social media accounts. The data uploaded to these accounts get saved in a big networking system. This system contains every personal information related to the user. The attachments are also saved if the user needs to look at them in the future.
Issues related to data online in a sense related to Cyber Security
This loads of data include the private information of the user that they might not want to reveal if they had privatized their account. However, the masterminds took their ambitions too high and revealed too much of their sensitive data on social media with an open network. It means anyone can follow them anyone can share their information with others.
Threats might threaten them with no Cyber Security
Above all, many cybercriminals stay active to steal data for their personal benefit. These types of crimes threaten the lives of the people who stay on the internet. Moreover, some people can get into someone else's private network and break into their database. There they can get the organizational business strategies data.
One can trade this information with someone who can benefit from this in any amount they ask for. It's because that data is more valuable than the capital they already have. Also, it can help increase the level of strategies they were working on in the past. These strategies, if they get leaked out, can make the company lose many things.
The solution to the issue
Also, the daily customers will back off from the company soon. The simplest reason for backing off could be Data Protection. Then what you need to do is hire a Cyber Security Expert. Or do you dream to be one of them? Let's find out!
Residing in Pune? Sign up for Cyber Security Training in Pune
Are you asking is there any Cyber Security Course in Pune near me? Well, for that, we have an answer for you. There are many Courses you can do to become a professional in Cyber Security. However, you can go for Cyber Security Course Certification. This course introduces students to a broad way of thinking and techniques that connects them to the cyber security world.

Cyberworld – An amazing place
The cyber-world is an amazing place where you can learn and earn many things. When it comes to providing someone the assurance of their safety? The first thing that comes to mind is – How to? Nothing is wrong with it; everyone does that. In the case of social sites, everyone is connected to everybody in some sense, and so their data are interlinked.
Cyber Criminals follow the links, paths, and network loopholes, then enter the system very sneakily. After that, they just send some viruses, malware, and ransomware to that system and try to take control of it. In the end, they'll get the data and will create a situation where all things will seem to be fine; however, in reality, the data has been lost.
Moreover, the evidence is also hidden in a format you might not get. For that, you need the skills of a Cyber Security Expert. Where can you learn these skills? Let's see! If you live in Pune and need the fastest way to learn these skills, you can apply for Cyber Security Certification Course in Pune.
What are the eligibility criteria you need for Cyber Security Course in Pune?
This means a lot to sincerely devoted people providing Cyber Security Services to firms/ someone important. So, they must be looking for a way to fill in the eligibility criteria and complete this course. Many institutions do have some strict rules about how things will happen and how the students will sign up for this course.
They only enroll graduated students from the science stream. In a few cases, one will down their eligibility standard for this course. Some of the students may want to pursue a Cyber Security Course in Pune after the 12th. Craw Security is offering this course for even 10th passed for those people.
However, there's this trip, and they need to be passed their 10th standard from a reputed educational board. Also, they'll need some knowledge related to the Information and technology field.
Best Cyber Security Training Institute in Pune
There you'll see several institutes calling themselves the best Cyber Security Training Institute in Pune. Those who want to gain deep knowledge in this course can contact Craw Security. If possible, they can come for offline training at Saket Delhi; even if it isn't, they don't have to worry about that. Craw Security also offers online classes for this course.
They can sit at their home and learn comfortably without going anywhere. There won't be any difference in the quality of teaching. Teachers here greatly manage to teach the students in the best theoretical and practical ways.
Thousands of students have already enrolled for this course. You can also get this opportunity to learn with the best to get the best results in the end. Cyber Security knowledge is a must for everyone, even if it's for your benefit or to protect your family from unwanted threats.
Cyber Security Course Certification in Pune Duration
Course Duration: 60 Hours
Course Level: Intermediate
Include: Training Certificate
Language: English, Hindi
Course Delivery: Classroom Training/ Online
Cyber Security Course in Pune Fees
Craw Security always thinks of students learning genuinely for their bright future. For them, Craw Security makes this course available on a Pocket-friendly budget. They won't be stressed about getting so much burden of course fees.
Cyber Security Course in Pune with Placement
Many MNCs are hiring candidates for several posts related to Cyber Security. The simplest answer would be they need professionals to handle their systems, networks, and devices against threats. A  Professional Certified Ethical Hacker can make protective barriers against Cybercriminals. Now, you don't need to worry about placements. Also, in this course, you'll be introduced to several parts of management in Cyber Security.

Benefits of Online Cyber Security Training
There can be several benefits of online cyber security training for beginners taken from Craw Security, such as the following:
| | |
| --- | --- |
| Cost Savings | Cost-effectiveness is one of the main advantages of online cybersecurity training.  Online courses typically cost a lot less than conventional in-person classes.  Businesses will find it simpler to guarantee that every employee has received the necessary cybersecurity training as a result of the cost savings. |
| Convenience | Online cyber security training for individuals is far more practical than traditional classroom instruction.  You can do it whenever you want and from wherever you are.  It is now simpler for firms to guarantee that all staff members receive training without interfering with their productivity. |
| Speed | Compared to traditional courses, online courses can be finished significantly more quickly.  As a result, companies can swiftly educate their staff on the most recent cyber security dangers and best practices. |
| Accessibility | Everyone can take online classes, regardless of location or schedule.  This makes it simpler for firms to guarantee that every employee has received the necessary cyber security training. |
| Adaptability | Online courses are simple to customize to a business's unique requirements.  This implies that companies can design unique courses that are suited to their particular requirements. |
Online Cyber Security Training for Small Businesses
Organizations falling in the category of small businesses can also opt for this world-class online cyber security training for small businesses catering to the needs of these small and medium enterprises by transferring them highly crucial knowledge to secure their IT infrastructure so precisely.  In addition, it will offer multi-level benefits if an organization trains its employees with the right level of cybersecurity training through online methodology, as they will nicely be able to react properly during and post the time of a cyberattack.
Moreover, if a participating learner chooses the online cyber security training for beginners by Craw Security, the same would get the opportunity to learn the fundamentals of cyber security from the grass-root levels.
Frequently Asked Questions
1. Which course is best for cyber security?
You can ask for Cyber Security Course Certification from a reputed institute. This course involves many things containing the techniques and tools related to Cyber Security.
2. What is the fees of cyber security?
The fees for this may differ and may put a burden on students who wish to pursue this course from other institutes. At the same time, pursuing this course from Craw Security will give you an advantage on this. Here, we introduce this course to students on a pocket-friendly budget.
3. What is the eligibility for cyber security?
Many aspirants get to know about this field from an earlier stage of their lives. For them, it's unusual to start late. They want to learn it as soon as possible. Several institutes ask for only graduated ones. On the other hand, Craw Security gives this opportunity to everyone, even if they're from the 10th standard.
4. Can I learn cyber security in 6 months?
This Cyber Security Course Certification includes several modules and is taught to get several designations. So, you might be able to finish this course individually in one part only. Also, it'll depend on your efforts.
5. Which academy is best for Cyber Security?
You can search for several academies where you live; however, when trying to look for the best, you can contact Craw Security Private Limited. Students here get the ideal studying environment. Also, they need better guidance to be a professional.
6. Which is the best institute in Pune for cyber security?
Pune has many institutes for Cyber Security courses. However, aspirants looking for the best can contact Craw Security, Now!
7. how much is a cyber security course?
Prices can be high at other institutes rather than contacting Craw Security. Craw makes it possible to pursue this course on the minor budget you have.
8. is cyber security course easy?
If you see everything positively, everything will look so easy. However, you can say it also depends on your tutor, who'll be tutoring you about what you want to read. Therefore, you need to look for the right teacher that'll bring you to the subject with the best guidance. Craw Security has the best team of teachers to provide the best guidance in Cyber Security Course Certification.