Craw Cyber Security Training Review | CHFI Training Review by MykhayloJazwinski from USA
March 16, 2021
2023-05-27 17:13
Craw Cyber Security Training Review | CHFI Training Review by MykhayloJazwinski from USA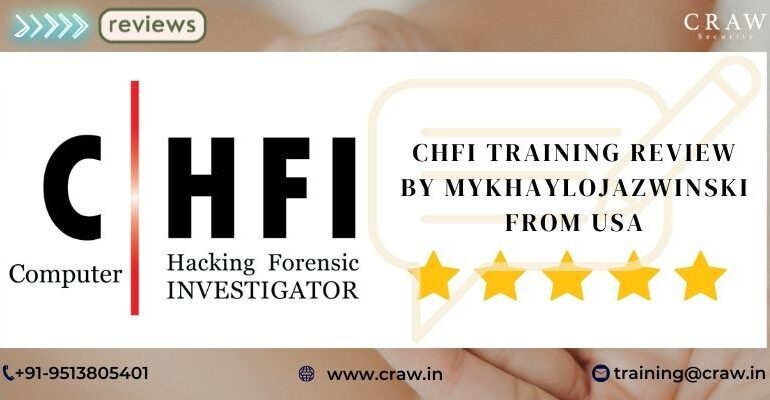 Craw Cyber Security Training Review | CHFI Training Review by MykhayloJazwinski from USA
We feel pretty fascinated when we see our work getting huge applause as well as appreciation from learners all over the world, especially our training faculties, educational counselors, and other management staff.  In this regard, Craw Security, which has been remarked as the Best Cyber Security Training Institute in India and other reputed nations throughout the world, provides world-class discounts in all its in-house and partner training courses.
Moreover, Craw Security has developed many international ties with several cyber security supergiants who are pretty famous for delivering globally famous information security certifications among interested personnel in cyber security.  For example, we have made successful tie-ups with Offensive Security, EC-Council, Red Hat Inc., CompTIA, CISCO, FutureSkills Prime (a MeitY – NASSCOM, Digital Skilling Initiative), and many more.
Coming to the crux, the following video is of one of our satisfied learners, MykhayloJaswinski, shedding some light on the successful implementation of his EC-Council's Computer Hacking and Forensics Investigation Course or CHFI Training and Certification journey with Craw Cyber Security Institute through VILT (Virtual Instructor-Led Training) methodology.