Corporate Training in Ethical Hacking Course [Updated 2023]
July 31, 2023
2023-08-28 13:42
Corporate Training in Ethical Hacking Course [Updated 2023]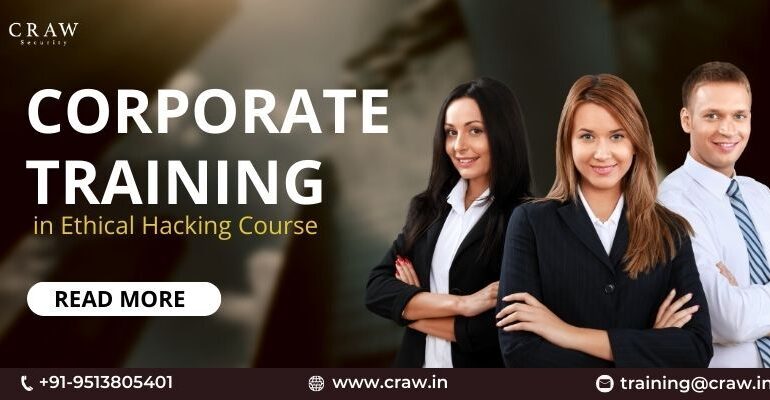 Corporate Training in Ethical Hacking Course [Updated 2023]
Introduction: The Need for Ethical Hacking Training
Cybersecurity is now a significant responsibility for both businesses and people in our growing digital environment.  Specialists who can protect sensitive data and secure digital assets are urgently needed, given the increasing number of cyber threats, data breaches, and hacking occurrences.  Ambitious cybersecurity professionals have a great opportunity to develop their talents and make a difference in protecting the online environment through corporate training in ethical hacking courses.
What is Corporate Training in Ethical Hacking Course?
Corporate training in ethical hacking is a specific course created to give people the skills, tools, and information necessary to spot potential security flaws in a computer system or network.  In contrast to harmful hackers, ethical hackers, commonly referred to as "white hat hackers," collaborate with businesses to find gaps in their defenses against cybersecurity threats and put in place effective security solutions.
Why Pursue Corporate Training in Ethical Hacking Course?
Enrolling in corporate training programs for ethical hacking can lead to a variety of career prospects in the cybersecurity industry.  Here are some convincing reasons in favor of choosing this course:
| | |
| --- | --- |
| Industry Demand for Cybersecurity Professionals | There is an enormous need for cybersecurity experts who can shield businesses from potential breaches due to the rapid development of cyber threats. |
| Fulfilling and Challenging Career | Professionals can keep one step ahead of thieves and protect digital assets by pursuing a fascinating and lucrative career in ethical hacking. |
| Global Scope and Versatility | Professionals with ethical hacking talents can find employment in a variety of industries, including banking, healthcare, government, and more. |
| Competitive Salaries | Because there are so few qualified professionals, ethical hackers frequently seek competitive pay and top perks. |
| Continuous Learning | Ethical hackers get to regularly refresh their abilities to stay at the cutting edge of technology because cybersecurity is an area that is constantly changing. |
Key Learning Areas Covered in Ethical Hacking Training
Various crucial subject areas are covered in a thorough corporate training in ethical hacking course. Let's look at the main issues that prospective ethical hackers can anticipate facing:
Introduction to Ethical Hacking
Learners in this subject learn about ethical hacking, its fundamental tenets, and how it contrasts with malevolent hacking.  They are also aware of how crucial ethical hacking is to improving cybersecurity.
Networking Fundamentals
For ethical hackers, networking fundamentals are essential.  Topics, including IP addresses, subnetting, protocols, and network architecture, are covered in this section.
Footprinting and Reconnaissance
Participants get knowledge about how to acquire data on specific networks and systems to identify weaknesses and possible routes of access for attacks.
Scanning and Enumeration
Learners investigate several scanning methods in this subject to find open ports, services, and system configurations.  Techniques for extracting useful information through enumeration are also presented.
Vulnerability Assessment
For ethical hackers, identifying flaws and weaknesses is highly essential.  Finding and evaluating system and network flaws is the focus of this section.
System Hacking
Participants gain knowledge of various defenses against such assaults while learning to exploit vulnerabilities and gain unauthorized access to target systems.
Malware Threats
This subject explores several malware varieties, their modes of dispersion, and successful defense strategies.
Sniffing and Spoofing
Students learn about network sniffing and spoofing attacks, as well as defenses.
Social Engineering
The psychology of human behavior and how it can be hacked are the main topics of this section.  Participants get knowledge of social engineering assaults and how to counter them.
Web Application Security
This module's major components are comprehending web application vulnerabilities and protecting web applications from potential threats.
Wireless Network Security
Learners examine the security issues that face wireless networks and discover how to protect them from various dangers.
Cryptography
This lesson discusses many cryptographic methods for protecting data, including encryption, decryption, digital signatures, and more.
Incident Handling and Response
The actions needed to handle and respond to cybersecurity issues successfully are understood by learners.
Ethical Hacking Tools
Prominent ethical hacking tools like Nmap, Metasploit, Wireshark, and others are demonstrated in person for participants.
Legal and Ethical Considerations
To guarantee ethical and responsible behaviors, it is crucial to comprehend the legal and ethical components of ethical hacking.
FAQs
About Ethical Hacking Training
1: What are the prerequisites for enrolling in corporate training in ethical hacking course?
Although formal training in computer science or other IT-related subjects is advantageous, it is also crucial to have a strong interest in cybersecurity, some familiarity with networking, and problem-solving abilities.
2: Can I pursue ethical hacking training while working full-time?
Yes, a lot of educational opportunities allow working professionals to balance employment and learning with schedules that are adaptable, incorporating part-time and online choices.
In this regard, Craw Security would be a great choice to provide you with on-site Corporate Training in Ethical Hacking Course through highly trained and well-qualified training professionals.
3: What certifications can I obtain through ethical hacking training?
The EC-Council CEH v12, EC-Council CPENT, CompTIA Security+, CISSP, and CISM are all well-known certificates.  Moreover, you may choose our world-class Ethical Hacking Course for your corporate employees in a highly customized way exclusively for your organization upon request by Craw Security.  You just need to give us a call at +91-9513805401 to get the Best Corporate Training in Ethical Hacking Course.
4: How does ethical hacking training contribute to a company's security?
Businesses can lessen their vulnerability to cyberattacks and data breaches by implementing strong security measures with the aid of ethical hackers.
5: Can ethical hacking training lead to a career in penetration testing?
Absolutely!  Prospective penetration testers who mimic cyber-attacks to evaluate a system's security benefit greatly from ethical hacking training.
6: Is ethical hacking a legal profession?
Yes, ethical hacking is acceptable as long as it is done with the business's explicit permission and has the goal of enhancing online protection rather than causing damage.
Conclusion
All in all, corporate training in ethical hacking is a priceless tool for anybody looking to start a successful and significant career in cybersecurity.  Interested professionals can arm themselves with the high-end knowledge, expertise, and abilities required to defend digital environments against malicious attacks through thorough training that cover crucial ethical hacking topics.  It's a good moment to explore the field of cybersecurity and contribute to a better digital future since, as technology develops, the demand for ethical hackers will only increase.
For the same sake, you may adopt the international-standard Corporate Training in Ethical Hacking Course by Craw Security, the Best Cybersecurity Training Institute in India, which offers highly trained, motivated, and skilled training professionals with many years of quality experience in the same domain.  Just give us a call at our round-the-clock call number, +91-9513805401, and initiate a chat with our highly experienced educational counselors.